Dating Apps 101: Your Quick Guide to the Latest Place to Find a Date in Manila
A crash course on some of the dating apps you can use in the city, and what (or who) you'll find in them.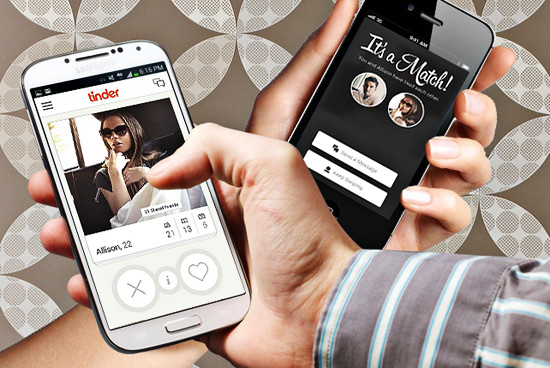 (SPOT.ph) In the Internet age, the boundaries seem to be endless-even in the realm of dating. With so many dating apps (and single folk) out there, the question is: which dating app (and person) is the right one for you? Maybe you're on the rebound after a bad breakup, maybe you think you could find "the one" in a sea of strangers, or maybe you just want to meet new people.
If you've decided to jump into the brave new world of dating apps, here's a quick guide to the more popular ones out there, and what (or who) you'll find in them. (Note: Use dating apps at your own discretion.)
Also read:
10 Things to Do on a Blind Date in Manila
10 Date Activities + Dos and Don'ts
Casual dating: Tinder and HowAboutWe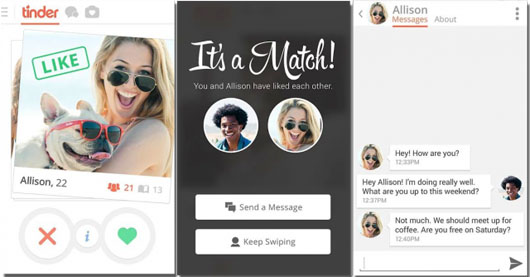 ADVERTISEMENT - CONTINUE READING BELOW
Tinder
Who you'll meet: Fellow Tinder users in your area who are down for a casual date (or something more). In the metro, Tinder is popular with the 20 and 30-something crowd, ex-pats, and tourists.
User-friendly? Totally. Just log in with your Facebook account (don't worry, none of your Tinder activities will be published on Facebook). As you browse people, you can also see if you have any mutual friends or shared interests. Swipe to the right (or tap the heart button) if you're interested, swipe to the left (or tap the "x" button) if you're not. Careful if you've got butterfingers! Once you've swiped to the left, you're probably never going to see that person again.
How you'll find a match: As the most popular dating app right now, you'll almost never run out of new faces to browse, so the probability of quickly getting a match is high. If you chose somebody you're interested in and they did the same with your profile, you'll be alerted of a match. The next step is having a conversation on the app's built-in messaging system. If you hit it off, then it's time to set a meet-up.
Tip: The first thing you or anyone will see is somebody's profile picture. Since this app is largely based on appearance, use a picture that will get somebody interested right away and make it easy to spark a conversation-like a photo of you at the beach (you love the outdoors and travel), you at a concert (you enjoy live music), or you with your pet (you love animals).
ADVERTISEMENT - CONTINUE READING BELOW
Availability: Free for iOS and Android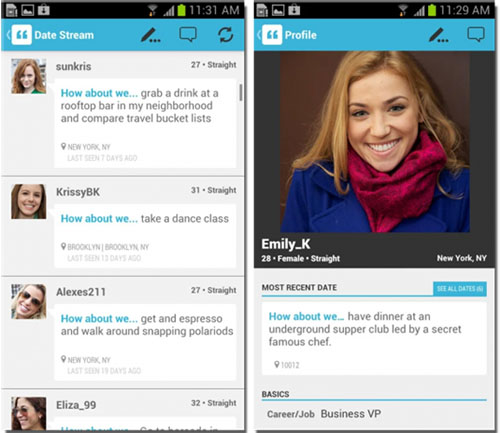 HowAboutWe
Who you'll meet: Single people in your area who just might share your idea of "fun." Want to check out the newest bar in Manila? Find that girl who knows everything about wine and cocktails. Want to try out trapeze-flying? Maybe the sporty daredevil you're looking for is using this app.
User-friendly? Friendly enough. You'll have to create an account after which you'll have to fill up profile questions, including your idea of a great date. If you're stumped for ideas, the app provides you with some. Seeing who's viewed is a premium feature, but you can get it for free if you invite three friends to try out the app.
How you'll match: The app will send you Daily Dates, a maxium of five dates that match your preferences. You can check out the date map for who posted what date and where. Interested in somebody's idea of a date? Message them and test it out.
ADVERTISEMENT - CONTINUE READING BELOW
Tip: Post a date idea that will make it fast and easy to get to know someone, like hitting up a DIY restaurant (a person's choice of pizza toppings speaks volumes) or pair drinks with some painting.
Availability: Free for iOS and Android
A serious relationship: OkCupid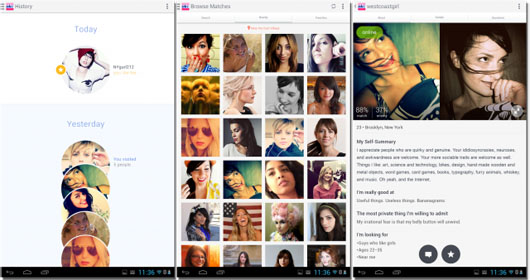 Who you'll meet: The old and the young, looking for something a little more serious.
User-friendly? Depends on how committed you are to finding a date. Once you've set up an account, you'll answer questions covering life views (religion, children), lifestyle choices (alcohol, cigarettes), relationship etiquette, and other personal interests. ("how would you spend a typical Friday night?") The app also has a picture-swiping feature similar to Tinder's.
How you'll match: After filling out all the specifics of your profile and your preferences, the Staff Robot will determine potential matches and send them to you. You can also search by topics, such as job, income, smoker, drinker, or what the other person is looking for. All matches have a "match percentage", so you can know to drop Mr. 30% and message Ms. 85%.
ADVERTISEMENT - CONTINUE READING BELOW
Availability: Free for iOS and Android
Hookups: Down Dating and Grinder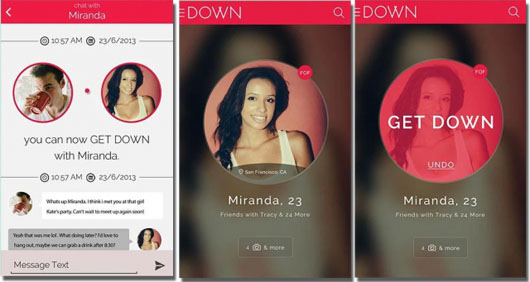 Down Dating
Who you'll meet: Your Facebook friends who are ready for some action (or ready to reveal their long-hidden crush on you). This app was formerly called Bang With Friends, so you get the idea.
User-friendly? Very. Similar to Tinder, you connect using your Facebook account. Swipe up if you're interested in a date, swipe down if you're interested in more, and swipe left to go to the next person. If you're both down, then it's time to set up that date you two were (apparently) were always meant to go on.
How you'll match: The app is limited to your Facebook friends as well as friends of friends, so the more you have, the merrier.
Tip: As a conversation starter, rack your brains for an event or a party where you met this Facebook friend you haven't spoken to in forever, but want to date. Because "hey, I think I met you at our mutual friend's band's gig" makes you seem less of a creep.
ADVERTISEMENT - CONTINUE READING BELOW
Availability: Free for iOS and Android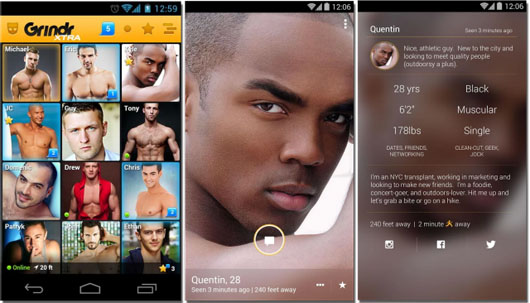 Grindr
Who you'll meet: Gay guys, young and old, serious and looking for fun.
User-friendly? As the dating app that came before all the other dating apps, Grindr has pretty much perfected its system. Once you've signed up, you can fill up your bio and choose your dating preference (dates, friends, networking, etc.).
How you'll match: Grindr is primarily location-based and the closer you are to somebody, the better. You can easily set up a date through the app's built-in messaging.
Tip: Show off your best assets-whether it's your six-pack abs or your killer smile. Grindr is for the gay and bi community and the only judgment you'll get here is how date-able you are.
Availability: Free for iOS and Android
Also read:
10 Things to Do on a Blind Date in Manila
10 Date Activities + Dos and Don'ts
ADVERTISEMENT - CONTINUE READING BELOW
Load More Stories