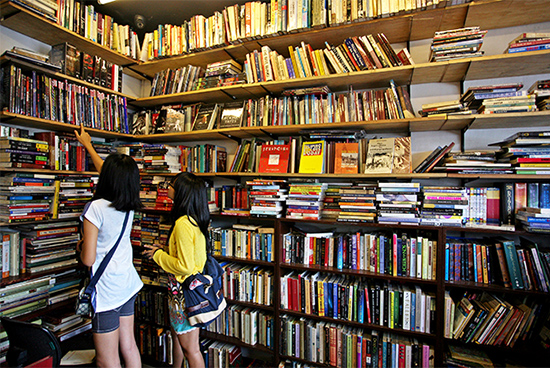 (SPOT.ph) When Frank Zappa said "So many books, so little time," he was probably thinking of the incurable urge of book collectors' to hoard as many editions of their favorite novels as possible. Raise your hand if you have more than one copy of your favorite book (one for reading, one for display purposes, one with a different cover art, one for lending, et cetera). Raise your other hand if you've gone broke because let's face it, reading isn't as cheap a hobby as it sounds.
But fret not! SPOT.ph is giving you a list of places where you can save...oh, who are we kidding? You're going to end up splurging on used books. Here's our list of the Top 10 Secondhand Bookstores in the city.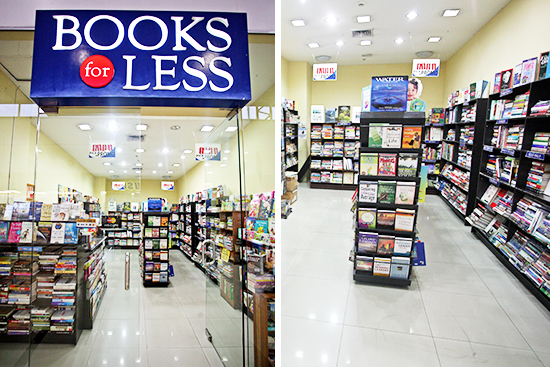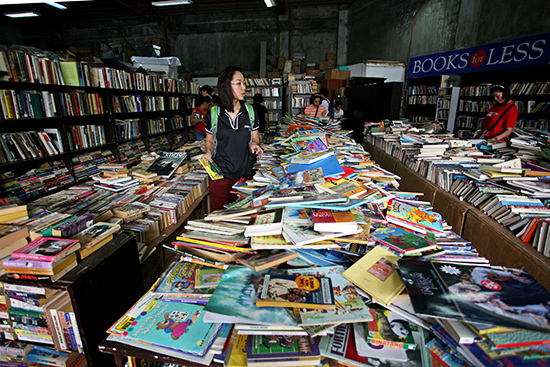 ADVERTISEMENT - CONTINUE READING BELOW
10. Books For Less
Visit their official website or Facebook page for a list of branches
While the store branches are carefully sorted out, their warehouse sale is a different matter. It is both a dream and a nightmare: P10 for all the books? Make sure you bring an eco-bag...or a box (maybe two?). Their stores are usually well-curated and everything is helpfully labelled, but their selection doesn't go beyond best-sellers. It's a good place to duck in once in a while, if you have time to spare, and you might see a rogue title if you're lucky.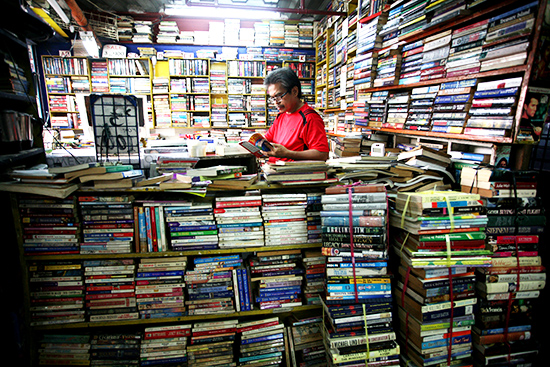 9. Jerbs Bookstore
G/F, 5-A No. 2, Guadalupe Commercial Complex Makati, Burgos Corner EDSA, Guadalupe Nuevo, Makati City
Open from 9 a.m. to 10 p.m. daily
Jerbs (formerly Juleric) has been in the business since 1996 and the owner, Mang Ed, has been reading books long before that. A bookstore always benefits from a kind face and Mang Ed is not one to shy away from dispensing a few words of wisdom or a line from one of his favorite books. His shop welcomes all sorts of readers, even carrying titles easily dismissed as low brow. Tagalog romance novels and low-profile writers? He's got 'em. Jerbs earns a spot on the list for doing away with the intimidating aura that books exudes and encourages people to read more by selling them at a really low price.
CONTINUE READING BELOW
Recommended Videos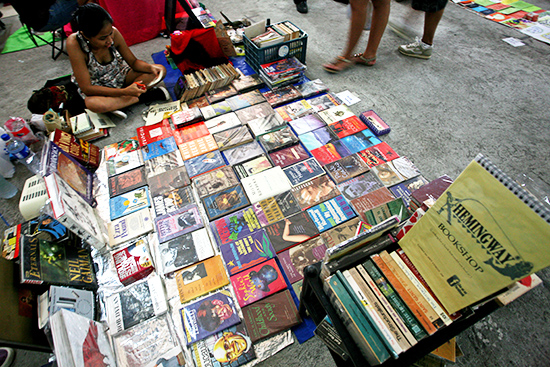 8. Hemingway Bookshop
(G/F First United Building, 310 Escolta Street, Binondo, Manila)
Open from 9 a.m. to 6 p.m. during Saturday Future Market at Escolta
Hemingway Bookshop is probably the most elusive one on this list-you only have one day in a month to catch it. This might be good for your wallet, because they have a great selection and you will end up spending more than you originally planned. They're hoping to rent a brick-and-mortar shop soon but for now, we'll have to make do with browsing through their ocean of books during some hip event in the city. The owners want to provide customers with affordable and quality books, though admittedly, they tend to favor literary classics and philosophy books. Check out their Facebook page to find out where to find them next (message the owners for inquiries, they're friendly).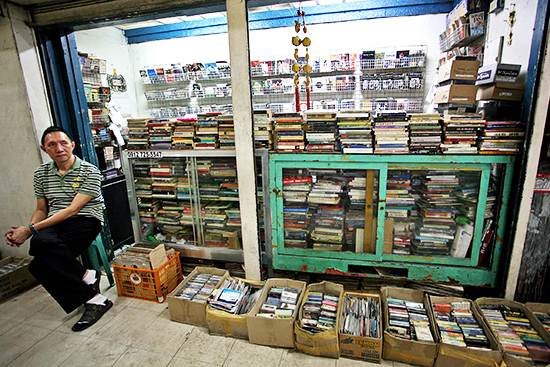 ADVERTISEMENT - CONTINUE READING BELOW
7. Recto Cartimar Bookstore
Stall 31, Cartimar Building Shopping Center, Severino Street, CM Recto, Quiapo, Manila
Open from 12 p.m. to 7 p.m. daily
A place for both bibliophile and audiophile -that is Mang Greg's store with its selection of books, CDs, vinyls and good old cassette tapes. There's always a nice song playing in the store, which makes browsing through the stacks of classics, best sellers, and titles from prolific authors even more fun. Mang Greg's philosophy when it comes to his prices is that he wants his customers to leave the store happy, perhaps even clutching a good book. With a price ranging from P50 to P250, you probably will. Some books are worn and may not be for those who faint at the sight of a wrinkled spine, but the fact that they've been read over and over again speaks for the quality of the content.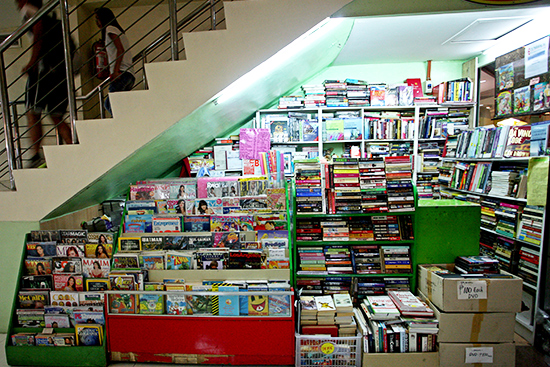 6. Books Please
G/F, University Mall, De La Salle University, Taft Avenue, Manila
Open from 10 a.m. to 7:30 p.m. daily
ADVERTISEMENT - CONTINUE READING BELOW
A quaint bookshop under the stairs of Taft's University Mall, Books Please is the go-to hub of students from nearby schools for their required readings and best-selling titles from Paolo Coelho and Nicolas Sparks. The shop is well-stocked on different genres, from classics to young adults and self-help books, pocketbooks and trade paperbacks-even textbooks. You could also browse their selection of consigned DVDs and magazines. Books Please is hoping to set up an official "game day" in the future but for now, visitors can rent out boardgames like Cashflow 101 and Taboo.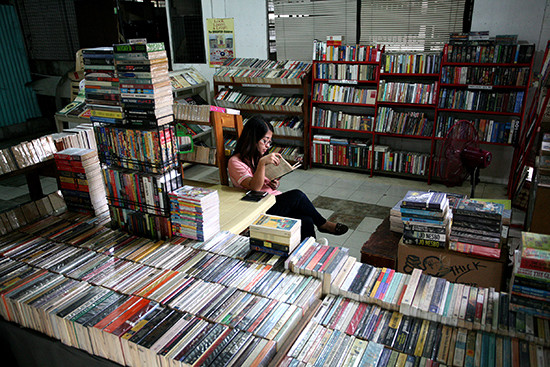 Bookmates Zone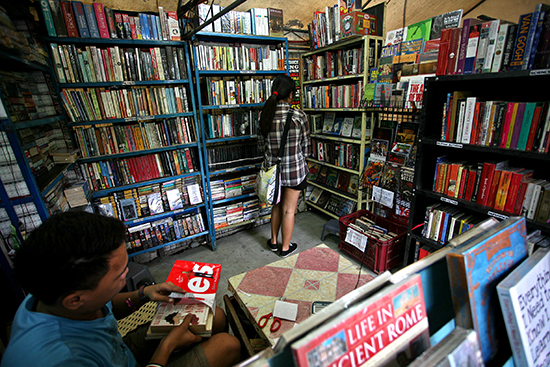 ADVERTISEMENT - CONTINUE READING BELOW
Books for Sale
5. Bookmates Zone and UP Books for Sale at UP Diliman
Bookmates Zone: Greenhouse AS Walk Palma Hall, open Monday to Friday from 8:30 a.m. to 5 p.m.
UP Books for Sale: Between UP Shopping Center and Workers Union Bldg, open from 9 a.m. to 8 p.m. daily
Heading over to UP, you could try hitting two birds with one stone: Bookmates and Books for Sale. Both have a wide variety of bestsellers and hard-to-find books that would leave you salivating. The only hassle is that you'd have to bring cash to binge-buy everything. These two bookstores are well-stocked with really good reads. The philosophy section is astounding (as expected) and the shelves are organized so neatly it will make you weep. With fiction on one side, titles are as arranged "required reading," "books that would make you smarter," and "leisure reads." They also carry collected comics (hey, Calvin and Hobbes) and graphic novels.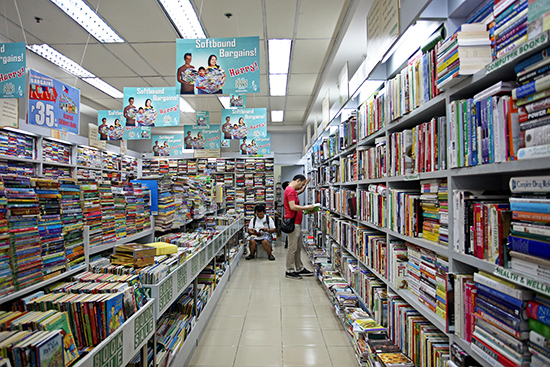 ADVERTISEMENT - CONTINUE READING BELOW
4. Booksale
Click here for store locations
Everyone knows Booksale with its over 30 branches in Metro Manila-they are the bookish counterpart of a candy shop with no health risks. Most of their bestsellers are usually carefully organised up front but it wouldn't hurt to browse their shelves and turn the store upside down (fortunately, the keepers of the store don't mind if you set up camp on the floor). You'd be surprised what titles are hiding underneath the most obscure nooks and crannies. Booksale belongs to the upper half of the list for making a wide variety of books accessible to lots and lots (and lots) of people.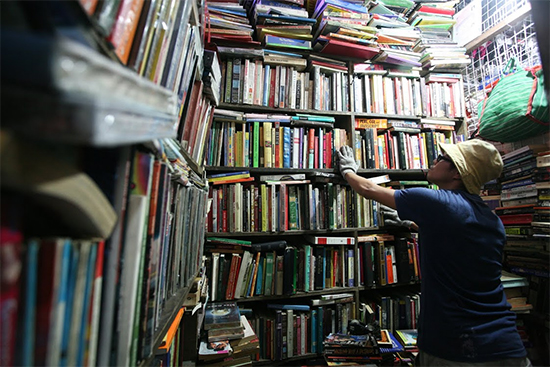 3. Books from Underground
Manila City Hall Underpass
Open from 3 p.m. to 12 m.n. daily
A bookstore is not something you'd expect while in transit in the middle of Manila City Hall's Underpass. Books from Underground is stocked floor-to-ceiling with obscure fictions, textbooks, and coffee table books, among others. You name it, the shop has it or had it at one point (if not, the owner is happy to find for you). Talk to Aj Laberinto and you'll find in him a bibliophile soulmate. Ask for a book and and he knows it, probably has read it and could talk to you about it. If he doesn't have a copy on hand, you could always ask him for recommendations with similar, if not better contents. Browse through their Facebook page and check out what's in store (he's open to reservations!).
ADVERTISEMENT - CONTINUE READING BELOW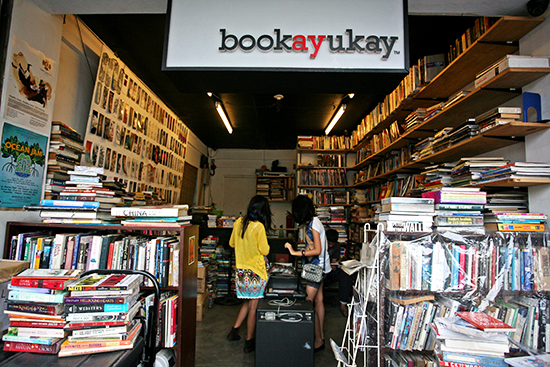 2. Bookay-ukay Libruhan II
No.78, Maginhawa Street, Teachers' Village, Diliman, Quezon City
Open from 10 a.m. to 11 p.m. daily
Bookay-ukay has been a part of the "book scene" hosting events and joining bazaars for a couple of years. It is a staple of Maginhawa's diverse culture and actually one of the establishments sought after in Teachers' Village. With its current location, it's a bit more cramped than their old one, but the inviting ambience remains. With wall to wall books, usually the ones sought after are in plain sight but chatting up the owner, Dan Gaffud (who usually mans the store) wouldn't hurt, as he is guaranteed to give out good recommendations.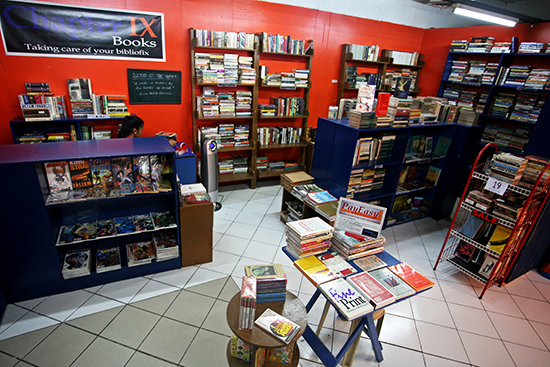 ADVERTISEMENT - CONTINUE READING BELOW
1. Chapter IX Books and More
2/F, Circle C Mall, Congressional Avenue, Quezon City
Open from 10:30 a.m. to 8 p.m. daily
Upon stumbling on Chapter IX, you'd be surprised how well-curated their stocks are. Gary Montenegro, the owner, insists on selling books that he likes and he'd want to share with his customers. Everything is a good find and reasonably priced, too. Unless you want to bring home the whole store, browse their shelves through their Facebook page before dropping by to make a shopping list. The curation, the location, the welcoming atmosphere, and the killer selection makes Chapter IX a destination used bookstore for bookworms.
Share this story with your friends!
---
Help us make Spot.ph better!
Take the short survey
Load More Stories