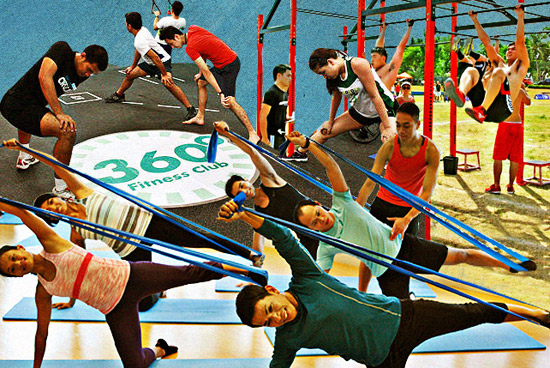 (SPOT.ph) If "lose weight" or "get back in shape" tops your list of New Year's resolutions, here's some good news: You now have more options than ever on how to score your strongest, hottest bod. Whether you're a newbie looking for the right workout or a gym rat wanting to shake things up, there's a class out there that'll reboot your resolve and help you reach your goals.
And if you feel like choosing the right one always turns into a confusing, even intimidating task, here's even better news: We've rounded up the most buzz-worthy workouts, based on the results of the annual American College of Sports Medicine's Worldwide Survey of Fitness Trends, so you can get started on those resolutions, stat!
This list is not ranked.
Also read:
10 Unique and Fun Classes to Check Out in Manila
10 Great Fitness Apps Worth Checking Out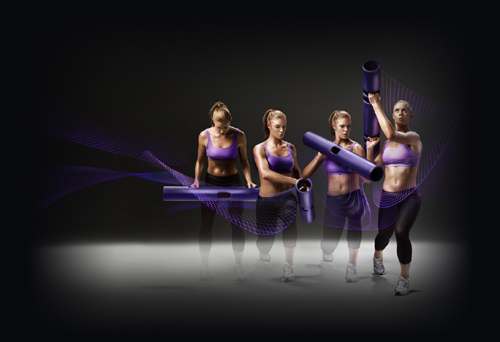 ADVERTISEMENT - CONTINUE READING BELOW
1. Body-Weight Training
No expensive memberships, no sweaty strangers-it's no surprise that body-weight exercises (which you can do at home!) land on top of the list of the hottest fitness trends. These beginner-friendly routines typically need minimal equipment, and only require you to use your own body weight for resistance-turning "classic" moves like push-ups, jumping jacks, squats, and planks into total-body toning exercises. Need help getting started? Download apps like SworkIt and Nike Training Club, then follow their 15-minute workouts. Ready for more challenges? Welcome some equipment home (like a yoga mat, stability ball, resistance bands, and a TRX Suspension System) to complement your no-fuss routine.
Reserve a spot at: Fitness First Platinum Aura, Levels 5 and 6, SM Aura Premier, 26th Street corner McKinley Parkway, Bonifacio Global City (808-9695)
Membership clubs are also offering more body weight-based classes. Try the ViPR class at Fitness First. Common body-weight resistance moves are turned into "loaded training exercises" with the use of the ViPR-a hollow rubber tube with handles that basically acts like the Swiss Army knife of exercise equipment; it can be carried, dragged, thrown, flipped, stepped on, and rolled to give you a total-body workout.
ADVERTISEMENT - CONTINUE READING BELOW
Recommended Videos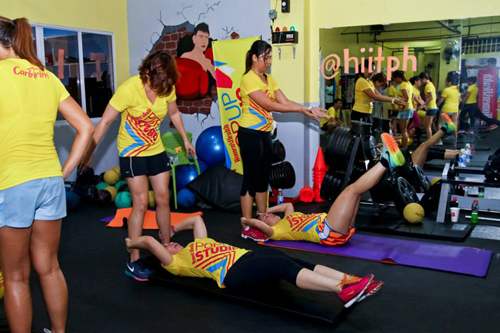 2. High-Intensity Interval Training (HIIT)
Trying to get fit fast? HIIT it up! Each High-Intensity Interval Training session combines a solid strength-training routine with a calorie-torching cardio workout, all done in under 30 minutes-perfect for time-strapped folks! Plus, research continues to back up this workout. One study published in the Journal of Obesity reports that 12 weeks of HIIT can result in significant reductions in total abdominal, trunk, and visceral fat, and can also up your fat-free mass and aerobic power.
ADVERTISEMENT - CONTINUE READING BELOW
Reserve a spot at: HIIT Philippines, Elorde Katipunan, Katipunan Avenue, Quezon City (0915-448-4448)
Sign up with the first HIIT center in the country. They offer classes that are both beginner-friendly, and fitness buff-approved.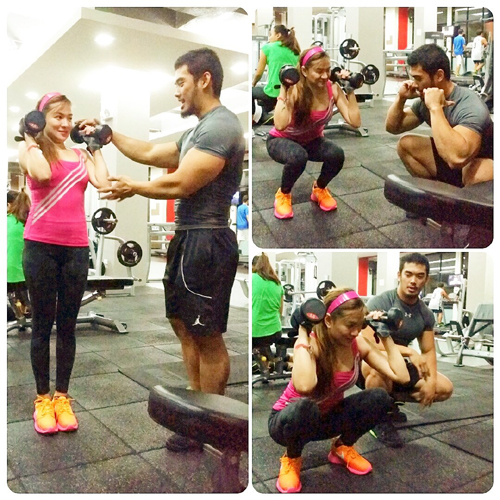 3. Strength Training
Typically considered an "old-school" workout, strength training is still relevant in 2015 because of one simple reason: It works! In fact, experts consider it the golden ticket to achieving the tight, toned body of your dreams, since lifting weights boosts lean muscle mass and fires up metabolism. Plus, it's an ace at improving bone density, joint mobility, body composition, and even mental strength.
ADVERTISEMENT - CONTINUE READING BELOW
(And oh, if you're a woman who steers clear of the weights room because of the fear of bulking up, know this: It just won't happen. Your testosterone levels are up to 20 times lower than those of men, so hormonally speaking, you really won't get as big as those dudes pumping iron.)
Reserve a spot at: Sky High Fitness Gym, Almond Nut Street corner Mayor Gil Fernando Avenue, San Roque, Marikina City (682-8943)
You'll love this gym's impressive weights area-it never feels packed even during peak hours. Sign up with one of their trainers (personal training is another top trend in 2015, by the way) if you want to get a program that's tailor-made for you.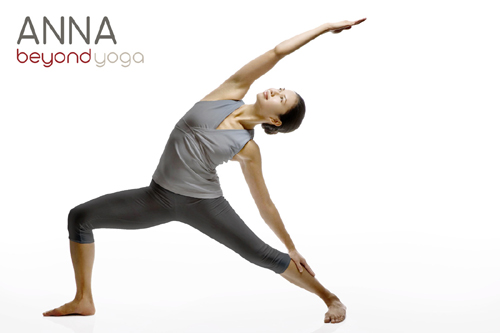 ADVERTISEMENT - CONTINUE READING BELOW
4. Yoga
Yoga lands on the ACSM trends survey for the sixth year in a row. This centuries-old practice is so 21st century because of the concerns it addresses. It's a mind-body exercise that offers stress relief and mental clarity (so important as you juggle your many roles), and a serious muscle-sculpting, flexibility-upping workout, usually packed into 60-minute sessions (perfect for busy bees). Try different yoga styles until you find one that meets your needs.
Reserve a spot at: Beyond Yoga, 2/F Metropointe Center, P. Guevarra corner N. Averilla Streets, San Juan (966-4494)
If you're looking for accessibility and a wide range of class offerings (from traditional to hybrid ones), this studio is right for you.
Also read: Top 10 Yoga Studios in Manila (2014 Edition)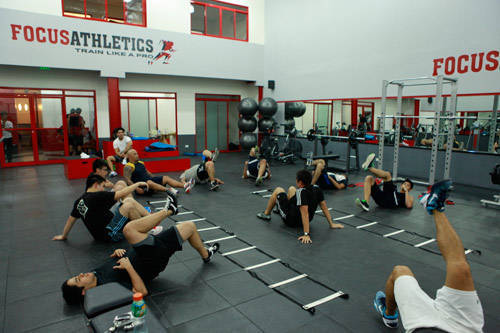 ADVERTISEMENT - CONTINUE READING BELOW
5. Functional Fitness
This is all about working with your body's natural movements to up mobility. The goal: improving balance, coordination, force, power, and endurance to enhance your ability to perform daily activities (say, lugging groceries, climbing stairs, or even carrying your baby) with ease. This total-body technique can be tailor-made to meet your goals and needs, and is also a great workout option if you're recovering from injuries.
Reserve a spot at: Focus Athletics, 2259 Pasong Tamo Extension, Makati City (817-4599)
The best perks of working out at Focus Athletics? Getting one-on-one sessions with a performance coach every time you visit, sessions are only an hour-long, and you get access to in-house physical therapists.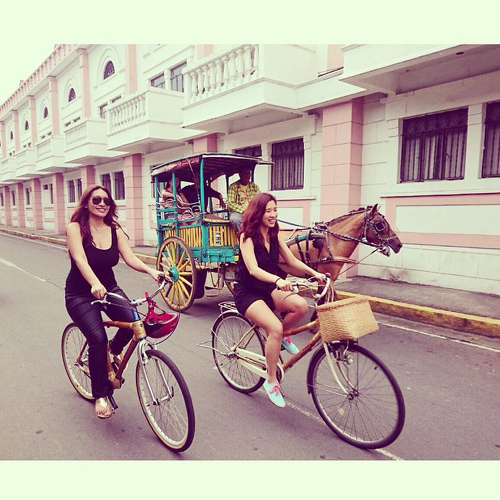 ADVERTISEMENT - CONTINUE READING BELOW
Photo courtesy of Trisha Bautista
6. Outdoor Activities
Is sweating it out at the gym starting to feel like a chore or a bore? Breathe new life to your routine by taking it outdoors. Popular outdoor activities include hiking, biking, kayaking, and going on overnight camping trips-all fun ways to sneak in exercise, and spend time with family and friends. Plus, working out al fresco offers this awesome perk: Researchers found that 71% of fresh-air exercisers felt less tense afterward, compared to their cooped-up counterparts.
Reserve a spot at: Bambike Ecotours, Plaza San Luis Complex, Real Street corner General Luna Streets, Intramuros, Manila (525-8289)
Ride around the historic walled city of Manila on a bamboo bike? Yes, please!
Also read: 10 Fun Walks and Tours to Help You Rediscover Metro Manila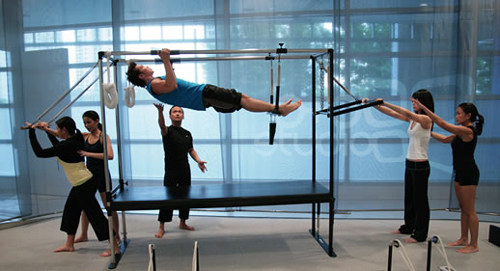 ADVERTISEMENT - CONTINUE READING BELOW
7. Wellness Coaching
Lifestyle weight management uses a one-on-one approach, similar to personal training, with the coach using a holistic strategy to provide support, guidance, and encouragement to clients. The focus is on helping you overcome challenges that get in the way of long-term weight loss. Translation: You'll get a personalized program that includes fitness, nutrition, and even behavioral modification plans.
Reserve a spot at: b+b Studio, Bonifacio Technology Centre, 31st Street corner 2nd Avenue, Bonifacio Global City (815-1009)
Pilates instructor and personal trainer Mitch Felipe-Mendoza is the resident certified weight management coach at this studio. She can help you get in shape-and stay that way.
Also read: Top 10 Pilates Studios in Manila (2014 Edition)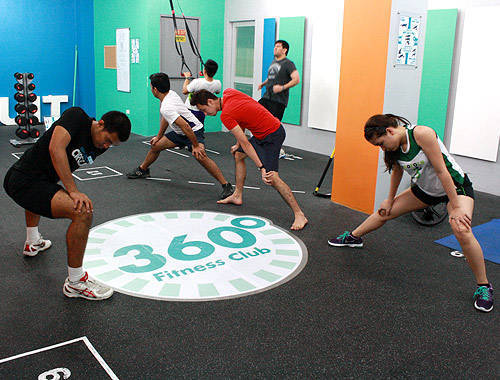 ADVERTISEMENT - CONTINUE READING BELOW
Photo by Bok Hong
8. Circuit Training
This fast-paced, full-body workout is composed of six to ten exercises completed one after the other in a predetermined sequence, and done for a specified number of repetitions before moving on to the next exercise. It combines both cardio and strength exercises, and utilizes multiple muscle groups to give you a complete workout in just 30 minutes. Plus, since circuit training is designed to keep your heart rate up, you actually torch more calories in a shorter amount of time.
Reserve a spot at: 360 Fitness Club, 22/F Strata 100 Building, F. Ortigas Jr. Road, Ortigas Avenue, Pasig City (577-7807)
Their signature 360 circuit-made up of 20 stations-challenges your entire body to develop a firm core, toned arms, and strong legs. Not bad for 30 minutes of your time.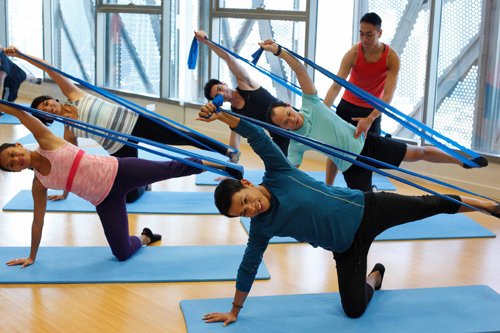 ADVERTISEMENT - CONTINUE READING BELOW
9. Core Training
There's more to core training than scoring a flat tummy. It actually improves the overall stability of your trunk and pelvis, allowing you to meet the demands of daily activities (yup, including bending down to tie your shoe laces or reaching for a book from the top shelf), and helping you perform better in sports that require strength, speed, and agility.
Reserve a spot at: Options Studio, 3/F Missouri Square Building, 101 Missouri Street corner Connecticut Street, Greenhills, San Juan (623-8449)
Pilates is really one of the best core training workouts. Some benefits you'll love: better postures (which reduces common aches and pains), sculpting long, lean muscles, and gaining an overall feeling of having more energy.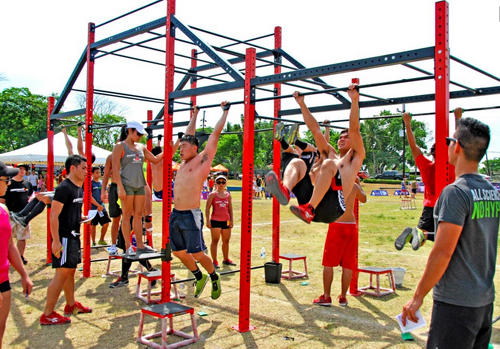 ADVERTISEMENT - CONTINUE READING BELOW
10. Bootcamp
This high-intensity workout, patterned after the US military's training programs for new recruits, is best known for combining cardio, strength, endurance, and flexibility drills into one session. The most popular bootcamp-style workout? CrossFit. What you'll love about it? No two days in the box (that's what you call a CrossFit gym) are ever the same-thanks to the program's WOD (Workout of the Day) routines, which change daily. The only thing that's constant is that intensity level is always in high gear. The results: You build muscle and strength, and torch megacalories.
Reserve a spot at: CFMNL BGC, Philippine Army Gymnasium, Lawton Avenue corner Bayani Road, Taguig (828-6068)
CFMNL is the first CrossFit box in the country, and now has six branches all over Manila. The BGC branch offers both bootcamp classes (or fat-burning exercises done without weights-perfect for beginners) and WOD sessions (or strength and conditioning program).
Photos taken from the establishments' official websites and Facebook pages
ADVERTISEMENT - CONTINUE READING BELOW
Share this story with your friends!
---
Help us make Spot.ph better!
Take the short survey
Load More Stories