Ian Somerhalder talks clothes, conserving the environment, and running around a Pinoy beach
TV's hottest vampire on everything from Penshoppe to his carbon footprint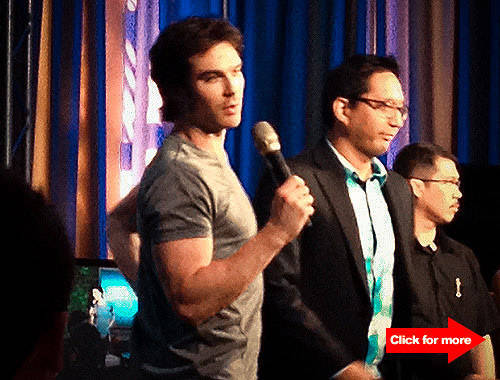 The Somerhalder Smolder. Click for more.
(SPOT.ph) "Ripping people's heads off and seducing women aren't bad." This is how The Vampire Diaries star Ian Somerhalder easily sums up the role that made him a household name. But while half-baked TVD fans know him only as the snarky, arrogant, and vengeful Damon Salvatore, in the real world--where vampires evoke fear and not giddiness--there's more to him than an extra-large set of fangs.
In a plain gray shirt and black pants, Ian could almost be called nondescript at the press conference for his latest Penshoppe endorsement. Save for the fact that he's a hit TV star, it's that bevy of girls screaming a chorus of "I love you!" and "Bite me!" that tells you otherwise. The humility is surprising. So is how he can encourage a group to conserve Mother Nature as easily as he could send fans into a frenzy with a simple blow of a kiss-an act he does ever so freely, by the way.
ADVERTISEMENT - CONTINUE READING BELOW
At the packed press conference, Ian served up his wit as he recounted his passion for the environment, thoughts about Penshoppe and the Philippines, and more.
On coming to the Philippines
I wasn't aware there were over 7,000 islands in the Philippines and when you look at it on the map, you can't quite grasp it. El Nido is so wonderful. Everyone has been so wonderful; the Filipinos are so soulful. The fact that it's surrounded by water, everyone's so connected with each other.
On "rabid" fans
It's wonderful. It's energy.
On using his fame to promote his causes
CONTINUE READING BELOW
Recommended Videos
The Vampire Diaries has a younger audience. What I realized [I could do] was to use that exposure for the greater good. We are doing ourselves a great disservice if we don't use this to empower our youth and to make them aware of conservation.
On possible movie projects
I would like for that to happen as quickly as possible. I can't quite find the right film to sink my teeth into, no pun intended. There are some things in the works though.
On wearing environmentally sound apparel and offsetting his carbon footprint
I've recently started finding clothing companies that use natural dyes, bamboo, and other sustainable methods. When I went to El Nido, we were on this small chartered plane (and I learned) that it takes six trees to offset your carbon footprint every time you fly. So I find out that people in El Nido plant six trees for every passenger who flies.
ADVERTISEMENT - CONTINUE READING BELOW
On keeping an upbeat attitude
The idea that all that positivity will lead to a healthier life... I'm an actor and I have to access that dark place sometimes. But I love to take it and turn it into positivity.
On balancing work for his foundation
I don't know where I find the time. I keep a notepad in my iPad and I scribble, scribble, scribble, then when I wake up, I'm like "What the hell is this?" It's the team. Teamwork. There are 101 people working for the Ian Somerhalder Foundation now, doing research, making plans.
On what he'll tell people about the Philippines
Friends, don't go there. They'll kill you with kindness. I was so surprised. I didn't really have expectations. I've been so humbled by your generosity, the beauty of this place. It's so progressive. (I'll tell them) you have to check it out-what their companies are doing for conservation.
On the highlight of his El Nido trip
Running around a secluded tropical island, drinking (from) coconuts, the palm trees, being shot by awesome photographers. It's not the worst thing you can do.
Share this story with your friends!
---
Help us make Spot.ph better!
Take the short survey
Load More Stories