These Local Makers Are Preserving the Honesty in Handmade Leather Bags
Bags by Rubbertree still operates out of a nondescript home in Quezon City.
(SPOT.ph) The Philippines has a vibrant community of artisans. From wood-carving and jewelry-making to creating decorations fashioned out of glass, Filipinos can get really creative with their ideas and their hands. And now, social media is making it easier for these artisans to reach an audience and sell their wares. But there are still some brands that prefer to stay under the radar, and Bags by Rubbertree is one of them.
Husband-and-wife duo Ruben and Trina Flores have been making bags by hand since 2012, and despite their business's steady growth, they've remained at the same studio all these years. Upon our arrival at their home along Maginhawa Street, a bubbly Trina emerges, and leads us to where the magic happens—a half-living room, half-workplace. Her husband, Ruben, enters the scene to put away tools and materials sprawled upon their desks, the product of a work-in-progress paused halfway, and apologizes for the mess. They sit on one side of the makeshift space, close to the wall where a few chairs huddle, and tell us to feel at home.
ADVERTISEMENT - CONTINUE READING BELOW
CONTINUE READING BELOW
Recommended Videos
A few steps away lies their work studio—the same studio they've had for seven years—and the very same studio where the couple work together to make bags out of leather, up until now. Rolls upon rolls of hide in different colors sit side by side in crates and bins, and all their tools are exactly where they need to be—moving around the space, for them, is a function of muscle memory built over time, an instinct developed only through endless repetition and improvement. Despite their relative success—they have nearly 20,000 followers on Instagram as of writing—and their adaptation to the changing times, the couple's resolve is firm: they are going to stay small as they make everything by hand, and it's just going to be the two of them at the helm.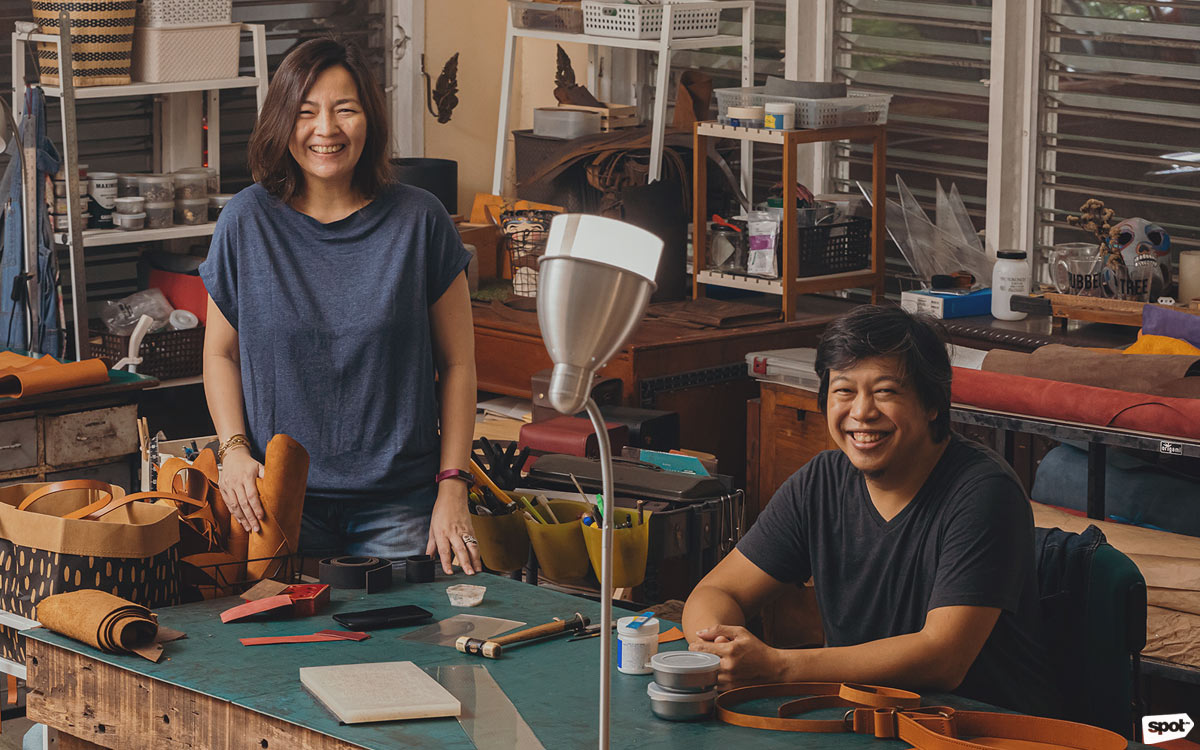 (L-R) Trina and Ruben Flores are the masterminds behind Bags by Rubbertree.
PHOTO:

Jilson Tiu
ADVERTISEMENT - CONTINUE READING BELOW
How Bags by Rubbertree Started
Ruben and Trina first met after they finished their Industrial Design and Studio Arts degrees, respectively, at the University of the Philippines - Diliman. By the time they graduated, allowance ceased falling into their hands, and like any fresh graduate thrust into the world of adulting, they had to find a source of income as quickly as they could. This led to them taking graphic work that not only involved picky and demanding clients, but also utilized the older iterations of the familiar programs we know today, such as Adobe Photoshop and Adobe InDesign. "May PageMaker pa nga noon," Trina recalls.
With the onslaught of clients, each with their own set of requests, the duo began to miss their roots. "We missed making with our hands," Trina says. Eventually, they returned to the studio and got to making again.
There was a lot of guesswork when they first started out: leather-crafting tools were not readily available in the Philippines and the couple had to be resourceful. They would invest in tools bought from abroad and even followed tutorials, but it just didn't work for them. "Dumating na 'yong tools [and] we tried to adapt, pero nag-iba 'yong itsura ng bags namin. So bumalik din kami sa makeshift methods namin. Of course, na-refine na namin over the years," Ruben shares.
ADVERTISEMENT - CONTINUE READING BELOW
The idea was born in 2009, but they really got down to making the bags by hand in 2012. Later that year, they joined their first pop-up at 10a Alabama Street, a two-day event housing a collective of artisans and crafters selling their goods and creations to interested buyers. They found themselves personally selling their bags at the small art fair, not just to make sure their work gets sold, but to meet the people who will provide homes to their handmade bags. The couple considers this the birth of Bags by Rubbertree.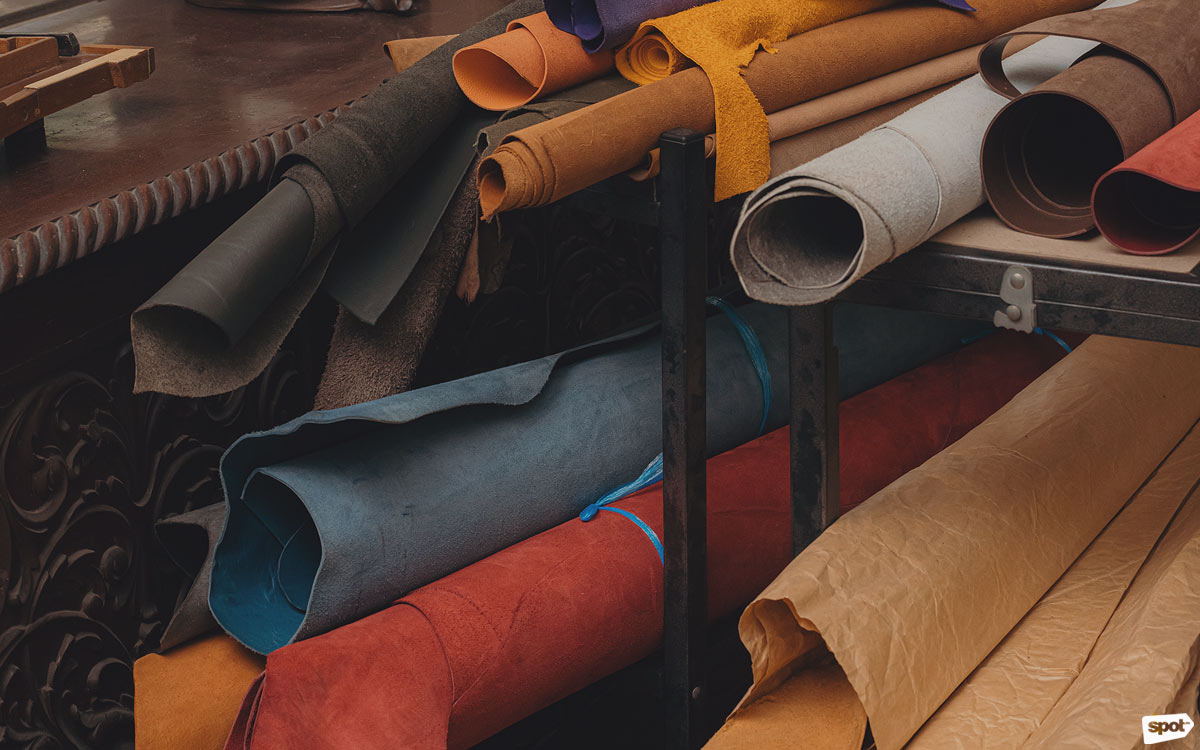 The couple carefully selects the hide they work with. Each roll is special in its own way.
PHOTO:

Jilson Tiu
The Process
Before the bags even came to be, the two were already in talks about how their logo would look like and how it would find its way onto a bag. "I-etch natin 'yong logo sa kahoy tapos lagay natin sa bags, pati 'yong numbering." The couple started out with prototypes. "We call the bags 'studies,' so study 1, study 2," Ruben counts. "After that, nag-start na kami mag-number," he adds. Each of the bags they make are numbered chronologically and signed, up until now.
ADVERTISEMENT - CONTINUE READING BELOW
The couple takes the documentation of their progress seriously—they consider it as a look back on their history and a good reminder of how long it's been since they've started. "Very embedded ang documentation from the time we begin a certain project. And [Rubbertree] still is a project until now. It's really fun. Hindi nakakasisi na we started documenting early on. So talagang you see the progression of the pieces. Even our design and aesthetic has evolved with age," Trina notes.
When purchasing rolls of leather, Ruben says they usually already have an idea in mind: "Alam na namin 'yong pieces na would work well with the build and the leather." The duo also doesn't buy multiples of a material with the intention of making designs in bulk, and it all boils down to what works best and what they find interesting, not what's extremely popular or what a client demands. "Like let's say, cherry [leather], we only have three of it and then that's it at one time. Most of the time it's like that, wala na," Trina points out. It keeps their work process and output interesting since the unpredictability of their materials makes room for experimentation, and clients can look forward to designs born out of their new approaches to different types of leather. They also make sure to use non-toxic materials and adhesive when assembling their bags.
ADVERTISEMENT - CONTINUE READING BELOW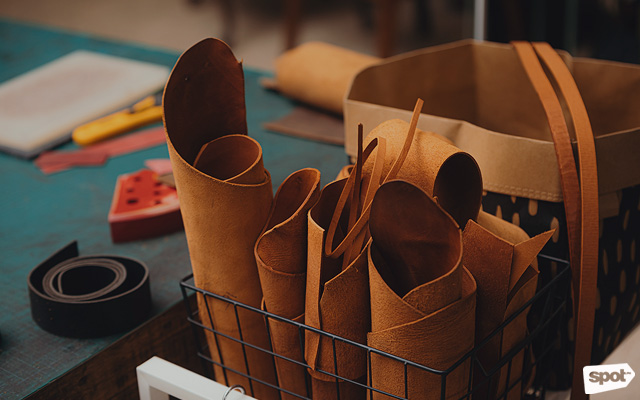 "Alam na namin 'yong pieces na would work well with the build and the leather."
Aside from the selection and curation of their materials and tools, Ruben and Trina also handle every step that comes after: from cutting, assembling, stitching, down to finishing. They take pride in being involved from start to finish and this is how they assure that the bags' quality is consistent. Moreover, this is how they know how to fix bags should a buyer come to them in need of repairs. "Ang maganda sa build namin, highly serviceable [siya] so kaya naming i-undo lahat, and assemble it again," Ruben explains, speaking of the process as a science. And as much as it is about fixing the bags they've made, it's also about finding ways to improve their process and techniques. "We need to see the breakdown, and why [and] how we can avoid it. On us talaga kapag may issue, unless na lang kung super abused na 'yong bag," he claims. When asked about getting rid of accidental stains on leather, he answers with a chuckle: "Wala kaming magagawa doon."
ADVERTISEMENT - CONTINUE READING BELOW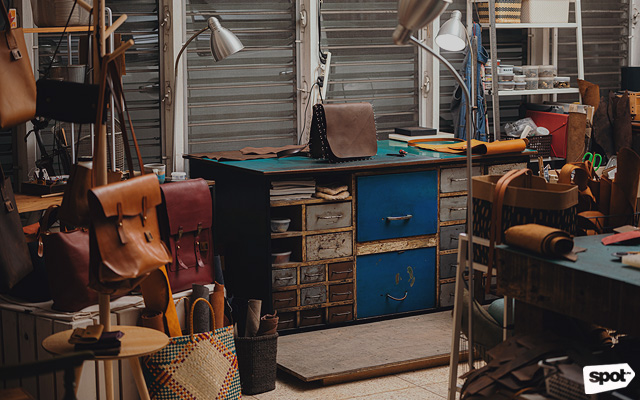 Most of the products they make are based off their own lifestyle and it's an answer to what their current needs are. They take these functions and transform the need into a bag that can easily service your daily lifestyle needs, from going to the grocery, down to international travel. They acknowledge that fundamentally, bags and organizers made from leather all serve one purpose, but they want to spice things up: "Other brands make cord tacos, and everybody makes cord tacos. We were like, "Don't make cord tacos because everyone's doing it already, so let's look for a different solution to the problem. Give an option, give an alternative."
ADVERTISEMENT - CONTINUE READING BELOW
Each piece is handmade, rendering each bag unique in its own way. They avoid making multiples to preserve the identity of each bag, and it is something their buyers put a premium on.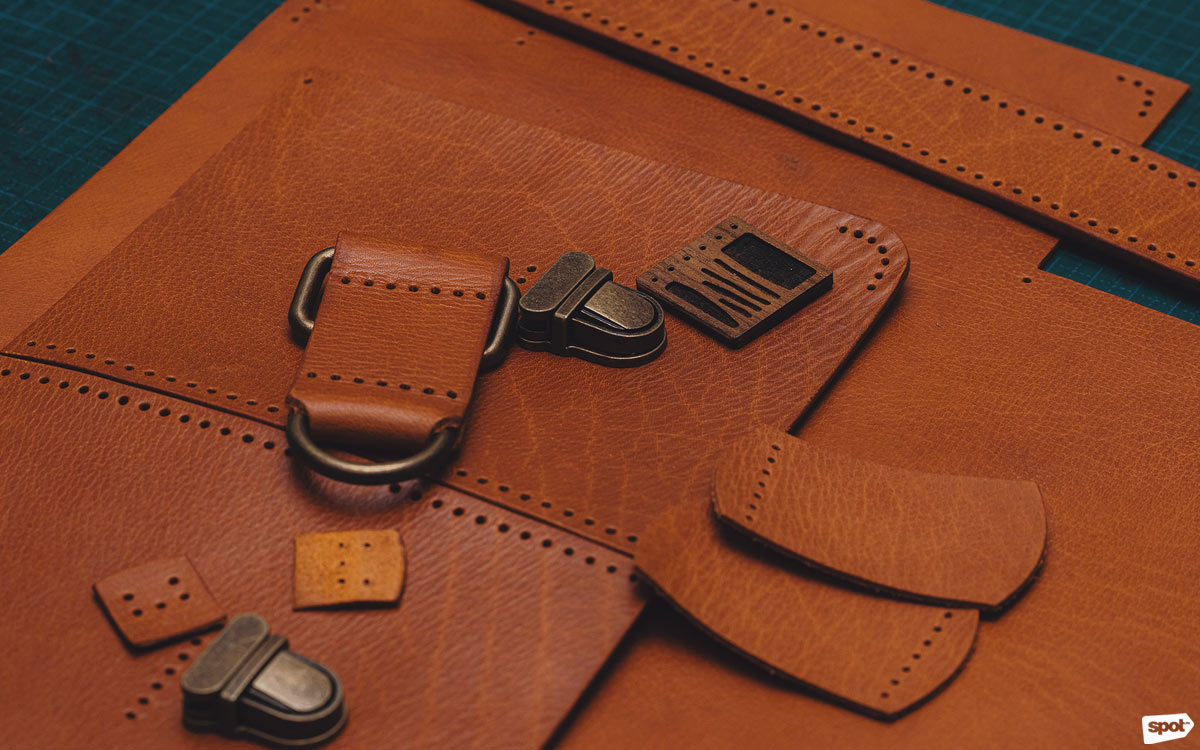 Everything is hand-cut, hand-stitched, and hand-assembled. Every hole is punched by hand as well.
PHOTO:

Jilson Tiu
Keeping It Small
Given the quality of their work and how long they've been around, it does beg a question: "Why not go commercial?"
It's not the first time they been asked that, and the answer is deeply rooted in their philosophy as makers. "It's the conscious decision to keep it intimate," Trina responds. Ultimately, she wants people to look at their bags, each one handmade, and buy one because it's their choice, not because they were forced to or because they're following a trend. "It's nicer—we're more connected to everybody who gets the pieces because we've never been believers of hard-selling. For us, I always say [that] a bag is an extension of you, so I can't force a design on you if you don't feel like it's comfortable for you," she shares. "It'll come. The bag for you will come," she claims. Ruben agrees: "Kasi kapag commercial, you have to push it and 'yon 'yong ayaw naming ginagawa. Parang mag-iintay ['yong bag] ng owner niya."
ADVERTISEMENT - CONTINUE READING BELOW
Aside from thinking about the relationship customers have with their bags, the couple believes the decision to stay small favors their process. "It really works with how we make. Kasi we can't get leather just for one type of bag, it never comes out like that. A hide could have [several designs] depending on the the type of [leather]," Trina says. "It keeps us happy. The making is interesting and every day is interesting," she adds. Another reason why they like this gamble with procuring different materials and constantly inventing new styles is because they don't want to return to a mundane routine: "Walang humdrum. It's the humdrum we're trying to avoid because in our years in the graphic scene, there's a routine."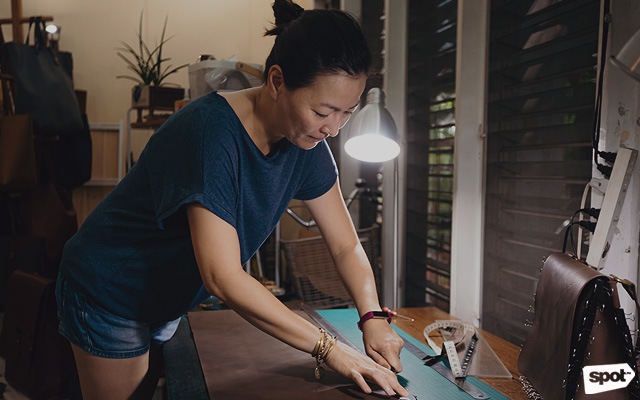 ADVERTISEMENT - CONTINUE READING BELOW
They also did custom orders in the beginning, but eventually stopped because of the toll it took on them. "Not only does it take a lot more time, it's also challenging to marry what the client wants," Trina laments. At times, the clients also don't know what they want, "so even if you try your best to do a good job, kapag hindi aligned 'yong expectations, wala [rin]," Ruben adds.
"It's nicer—we're more connected to everybody who gets the pieces because we've never been believers of hard-selling. For us, I always say this, a bag is an extension of you, so I can't force a design on you if you don't feel like it's comfortable for you."
Following trends is not their priority when making new designs, and they make it a point to avoid replicating anything that already exists in the market. "We are not merely in this industry to copy. I think it should be more grassroots in a way, na societal ang tingin mo, you observe what the people around you need," Trina stresses, and believes that there's more to making than simply churning out things that are trendy—they have to be functional as well. "The reason why you make is you look for a void in the needs of society in general, and as [makers] and [designers], that's our task," she explains.
ADVERTISEMENT - CONTINUE READING BELOW
Despite their firm resolve to stick to their principles, they're still running a business, but they don't let the money take reign and push the craft to the backseat. "If the money gets in the way, if you think about the money too much, the making gets dishonest," Trina says. They also don't think excessively about the numbers that go with it: "It's a very basic rule that we have." It may not be the heart of their making, but they still have an accountant to keep tabs on everything.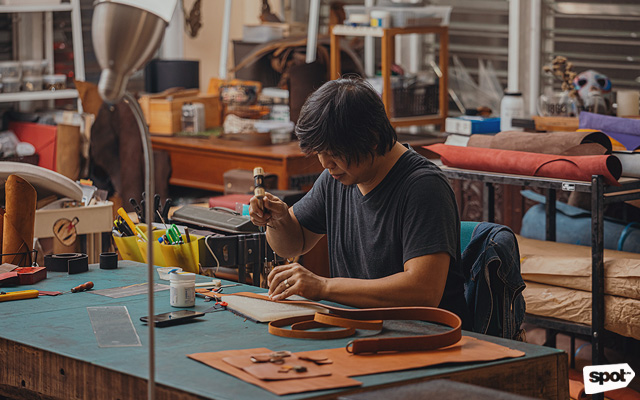 ADVERTISEMENT - CONTINUE READING BELOW
At the end of the day, their decisions are dictated by their commitment to the honesty of their craft. "We wanted to make sure that the bags don't lose the authenticity [and] the honesty. Because until today, all our pieces, it's just Ruben and I who cut and punch and repair everything. It's the two of us. We decide. It's a very intimate project; that's how we feel about it. It's like our third child," Trina expounds. They have the freedom to call the shots and the liberation that comes with it is something they enjoy.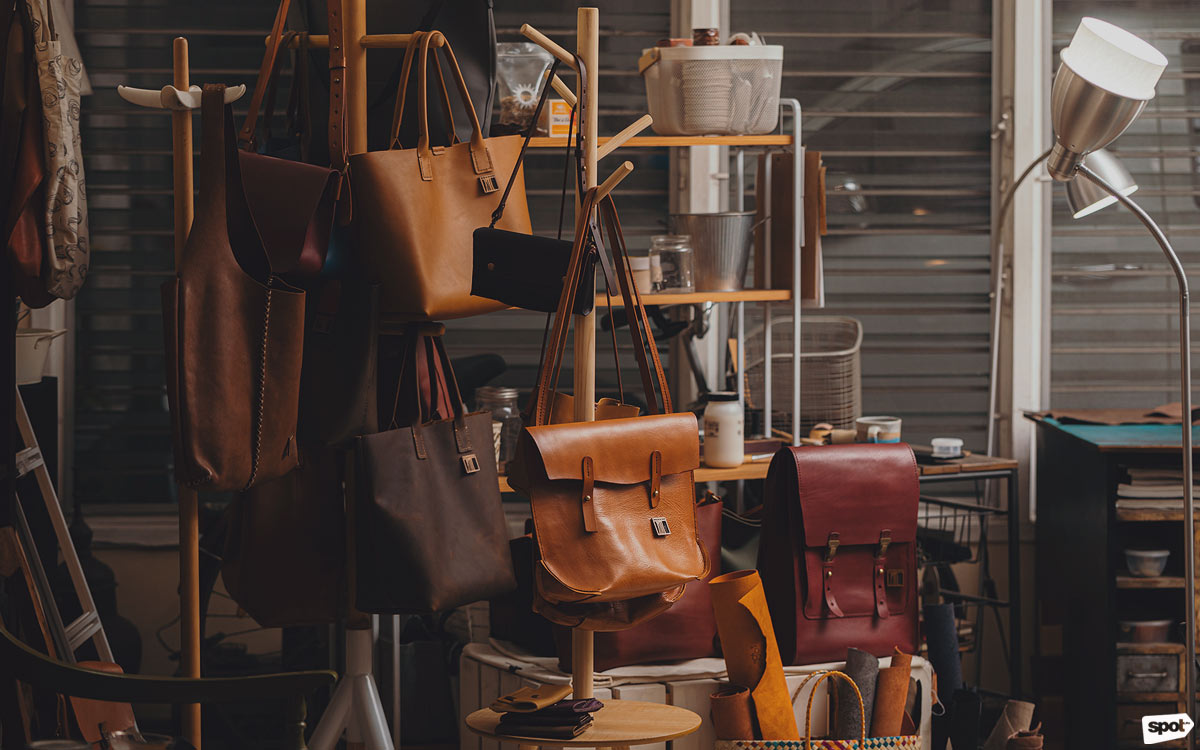 Interested buyers may choose their bags of choice, but the couple believes that each bag chooses its owner as well.
PHOTO:

Jilson Tiu
Building Connections
Every piece is imbued with patience and love, and because so much effort goes into a piece, it's a wonder they can let go of a bag they spent hours making. "It's very hard; each one you spend several days with on your desk," Trina recalls with a laugh. It may be bittersweet, but they relish their bags finding homes in other people: "'Pag may interested, it's always better."
ADVERTISEMENT - CONTINUE READING BELOW
They may value their craft, but they also treasure the relationships they've built with the people they've met through making and selling bags. Some buyers have even become their friends over the years. How they've set up Bags by Rubbertree allows them to not only engage with their buyers, but to also experiment, innovate, and improve the designs they originally started with. Some clients are such huge fans of their work that some of them even own all the iterations of a particular build. "A design is never finished," Trina sums up, and they're happy some customers take note of the small improvements and return to buy again.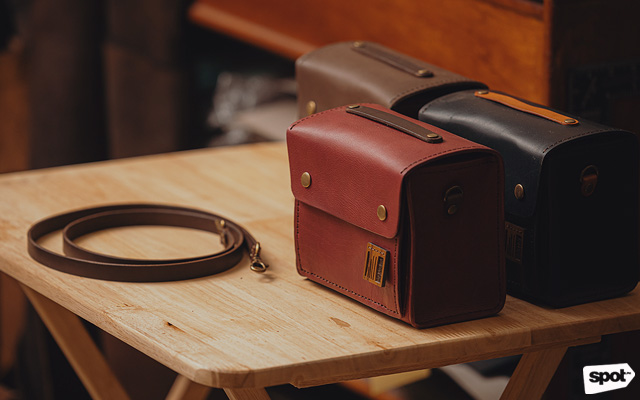 Moving Forward
ADVERTISEMENT - CONTINUE READING BELOW
You can browse their available designs and order a bag on their website, but if you want to inspect a bag with your own hands, the couple holds pop-ups at Shutterspace Studios along Katipunan Extension to showcase the bags they've made. They usually have three to four pop-ups a year, depending on how much they can produce and the stocks are always fresh and new, ready for the taking. As much as this setup works for them, they plan to move into a new studio outside of their home—one that doubles as a working space for making new bags and products, and as a showroom where clients can drop by to get a physical look at their bags. In the future, they plan to open up the studio for appointments should interested clients want to pick up an order or bring their bags for repairs.
When asked where they see themselves and the brand five years down the line, Trina sighs with a smile and answers: "Still like this, we hope. We have a healthy making process."
ADVERTISEMENT - CONTINUE READING BELOW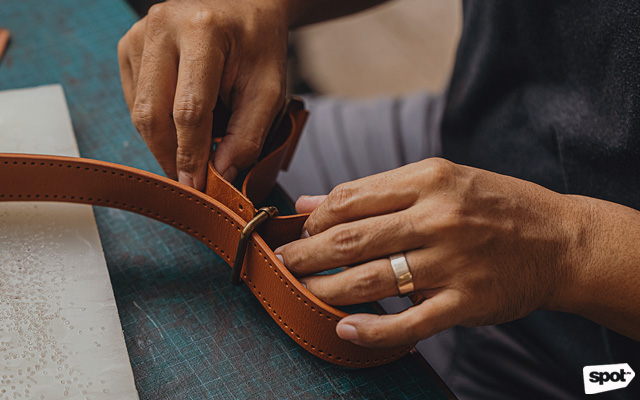 With how they approach the process of making with this excitement at the unpredictability of it all, it's never been a drag for them. The future can hold many different outcomes, but one thing is for sure: "We're not going to do the mall scene, definitely," she says firmly but with a lighthearted chuckle. They don't join mall bazaars or events that require a certain quantity because they don't want to make too much at a time and sacrifice the quality of their work.
ADVERTISEMENT - CONTINUE READING BELOW
There are many different factors that can decide how a bag is made and to whom it's going to belong, but if there's one thing that Ruben and Trina can hope stays the same, it would be their commitment to the honesty of their process. It's their philosophy and dedication to the craft that sets them apart, and it shows in every single item that comes out of their studio. The couple, along with other makers who share their philosophy, hopes that the local community will only grow more vibrant and deeply invested in creating quality creations with heart.
Photos by Jilson Tiu
For more information, visit Bags by Rubbertree's website.