Mangetsu Japanese Fusion Restaurant
RG4 Makati Creekside Mall
Amorsolo corner V.A. Rufino
Legaspi Village, Makati
Tel. (02) 8941553

As I was driving along Pharaoh KTV one day (I wonder what's inside there? So curious...) I spotted a bunch of new joints beside that quirky Japanese burger house, Sango The Burger Master. Restaurants around these parts have come and gone, but in recent years they are almost always of Japanese or Korean bent, and a lot of them are of very decent quality and have a big Japanese clientele (Little Tokyo, for instance.)
One that caught my eye was this place called Mangetsu. The exterior looked "right," sending my Spidey restaurant sense a-tingling. Then I saw the dreaded "f" word: "fusion," on a sign, and promptly put the idea of going in for a try in the back of my memory banks. When done properly, fusion cuisine, the food equivalent of mashups, can come up with delicious results. Unfortunately, both the word and the style of cooking have been abused more than your favorite, ratty, mangy looking t-shirt. Mention the "f" word to most respectable chefs, and expect some eye rolling and a whole lot of "Tssssss."
ADVERTISEMENT - CONTINUE READING BELOW
A few weeks passed, and though the thought of eating there was still filed away in my mind, it was very much in the back burner, that is, until a big-time member of the food cognoscenti whispered in my ear that I should give it a go. Inception at work here! Apparently, he was at the root of my going to Ukkokei Ramen Ron as well--a ramen joint that to me serves the best ramen in the city. Let's see if he was going to keep his track record going.
Entering the door seemed like you were entering a dungeon. No natural light streaming in, even during lunch. If you don't want to be found, this is the place. Perusing the menu made me realize why it was dark--though it didn't say it, this was an izakaya type of place--a place to grab a meal, then get sloshed on beer or sake. It was "fusion" because of some Western style dishes with some touches of Korean, even (created by the Western culinary school trained Japanese chef). However, at its heart, it is all quintessentially Japanese, and the flavors are almost always familiar.
ADVERTISEMENT - CONTINUE READING BELOW
Recommended Videos
It's a rather long menu, and with pictures to boot. Scan over the stuff and you will see all sorts of familiar friends like tempura and agedashi tofu. But the real treasures are found in the uncommon stuff. Though hardly something different, the wait staff suggested some sushi (P321.24-P475.50). Interestingly enough, it came in these perfectly round balls. It looked a bit odd upon first glance, but I can't really fault it for anything: the fish was very fresh, and the sushi rice properly cooked, with a slightly tart aftertaste from vinegar. It's a great way to start your meal, as is a plate of raw tuna tossed in soy sauce, a bit of sugar, chili flakes and sesame.
Uni tempura (P315.89) is one of those out-of-the-box treasures and, in my opinion, a must. Its actually pretty ingenious: fresh uni wrapped in nori sheets then done up, tempura style. The wrapping gets crisped, but the uni retains it's texture. After a brief dip into some shoyu with wasabi, down it--it spurts and oozes all that uni goodness after munching through the nori. Oh my. GOOD.
ADVERTISEMENT - CONTINUE READING BELOW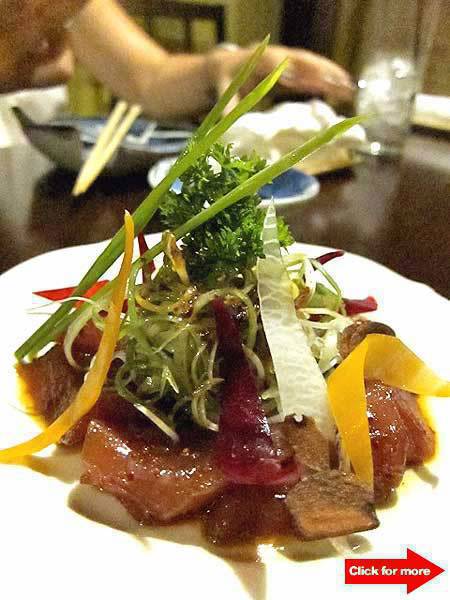 Marinated Tuna. Click for more photos.

Fried chicken (P400+) was also a great treat. Juicy chunks, tasting like it was marinated in some garlic and some citrus, with crunchy bits of chicken skin. You can squeeze even more citrus (kalamansi), then dip it into a trio of salts. Simple, well executed, with great portion size, it's one of the best fried chicken dishes I've had in a long while. Hits the spot, and then some. With a bowl of rice, this is the way to go. (Our kababayans in the Bay Area may have been to this little ramen house called Ryowa in Sunnyvale that serves a similar kind of chicken.)
ADVERTISEMENT - CONTINUE READING BELOW
Another dish that I ordered, just because it sounded funny, was fibrous beef (P424.82). It doesn't sound very appetizing, yeah? When it came out, it looked like bits of beef from around the tendon area--tough cuts that must have been slow cooked for a long time. Topped with leeks and chili powder, it was a revelation. It was soft and melted in your mouth, and the broth had absorbed all these flavors. It's probably the kind of stuff some Japanese grandmother would cook from her stove on a cold fall night--and man, did it hit the spot. A very happy discovery, considering we weren't expecting much from it.
Because it was a popular choice, we got a shrimp au gratin (P457)--a humongous dish of shrimp on rice, topped with béchamel and cheese, then baked. It's so amusingly Japanese, like something that the old Dean Street Café would serve (raise your hand if you miss that place!) Your first bite is quite yummy, but man, this goes straight to the gut. Not really my thing, this, but I can imagine a lot of people enjoying this.
ADVERTISEMENT - CONTINUE READING BELOW
We still hadn't had enough uni, apparently, so we ordered uni cream pasta (P413.93). This was one of the weaker links in our meal, in my opinion, though again--I can imagine people really digging this. It's basically sea urchin folded into some cream and tossed in spaghetti--it's crazy-rich and over the top, and I wouldn't recommend eating a whole order by yourself. Well, unless you can, of course (takaw mo.) Not that it tastes bad, but it's just that I would rather have the urchin flavors be more pronounced which, while still there, is a bit masked by the cream.
Everyone needs to eat more vegetables. We had some greens cooked in a mild shrimp paste and topped with bonito flakes (179.73). It's actually a very Chinese dish, and a welcome side to all the proteins we were consuming. We also had broccoli with mentaiko (marinated Pollock roe, P359.46)--which was crunchy and clean, or at least the bits that were on the outside, because the middle was drenched in the Mentaiko which was mixed with Japanese mayo. I do recommend this, but if you can, ask for the sauce on the side and just dab the greens with it.
ADVERTISEMENT - CONTINUE READING BELOW
For dessert, we shared a bit of adzuki bean paste on vanilla ice cream (P294.11), which also came with a macha (green tea) sauce that you could drizzle on top. The slight and refreshingly bitter taste of the macha perfectly cut through all the sweetness of the ice cream and red beans--a great way to end our meal.
As we were one of the last people in that night, as soon as they figured we weren't going to order anything anymore, they started hosing down the kitchen. I say this with admiration, actually, because this part of Makati is pretty old and run down--that they take much care in keeping their restaurant extra clean is a very positive plus, in my book. I will be honest--without going into details, I've heard of mini horror stories about this area--but if you get past that, dive in and enjoy it for what it is, then you may find yourself in for a delicious experience.
ADVERTISEMENT - CONTINUE READING BELOW
Mangetsu is the sort of place that I almost didn't want to write about because I wanted to keep it to myself--but that would be selfish. It's a neat, hidden little place (a bit of a dive, even) and the food is solid--fresh ingredients cooked excellently and with care. With but a few seats, I suggest you call in advance and book a reservation. Oh, and their lunch sets are a good deal--the fried chicken I mentioned comes with rice, miso soup and some pickles for around P300. Go investigate!

RATING: 3.5 out of 5 Spots



Share this story with your friends!
---
Help us make Spot.ph better!
Take the short survey
Load More Stories