MOVIE REVIEW: Going the Distance
Despite the rom-com formula, <em>Going the Distance</em> is perfect for viewers whose tastes have matured, says SPOT.ph movie reviewer Paul Daza.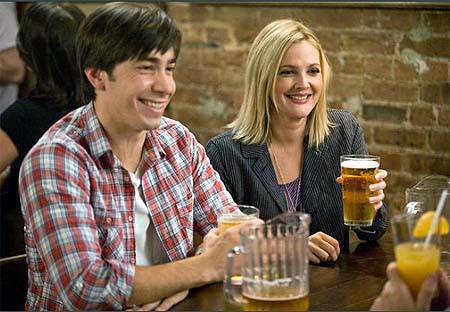 Going The Distance is a charming, biting, sometimes naughty romantic comedy about a long-distance love affair that's set in a USA, where even talented thirtysomethings have difficulty getting good jobs. Although the movie has the melancholy vibe of the excellent 500 Days of Summer, Going the Distance is more formulaic in structure and more adult in tone. Because of repeated use of profanity and brief nudity, it's rated R-13 by our MTRCB and Rated R by the USA's MPAA.


Erin (Drew Barrymore) is an intern in The Sentinel, a New York City newspaper. Garrett (Justin Long) works for a record label (also in New York) that discovers new musicians. One evening, they meet at a bar and bond over nostalgic games of Atari Centipede and pop culture trivia. After a night together in Garrett's apartment, they realize that what they have isn't just a fling or a one night stand--it's love. So even though Erin has to fly back to San Francisco (where she lives with her sister) because there's no work for her in New York, she and Garrett try to make the relationship work from opposite coasts. They call, they text, they try to be faithful to one another despite the temptations around them and the cynicism relatives and friends have about their long-distance relationship.

Like all love stories, Going The Distance is a formula movie. It starts by showing two people meeting, progresses with the realization of mutual attraction, escalates into full blown love, and then is complicated by all sorts of obstacles. What makes the movie worth watching, however, are the specific details that flesh out the plot--the where and when of the story, the idiosyncrasies of the characters, the nature of the complications, etc. Ultimately, it's in the selection of such details that determine whether the movie will be mediocre, good, or great.

Thanks to the ingredients which the filmmakers pour into the mix, Going The Distance is between good and great. The New York-San Francisco settings, for one, give the filmmakers lots of opportunities to compare and contrast the two great cities in very cinematic ways. Soon after Garrett and Erin are separated, we're shown a postcard-pretty shot of New York's Brooklyn Bridge at sunset, followed by a dreamy aerial shot of San Francisco's Golden Gate Bridge in mid-afternoon. It's my favorite cut in the movie, since it quickly and neatly establishes the time zones which separate boy and girl, while also serving as a poetic metaphor for the romantic bond they're trying to maintain across the miles. Also notable is the contrast between the cramped New York apartment Garrett lives in and the greener, airier home Erin shares with her sister and her family in San Francisco. It's a subtle touch which illustrates that the main characters are from two different worlds.

Needless to say, any good love story must have a sympathetic, relatable couple at its core, and Drew Barrymore and Justin Long are more than up to the challenge of sustaining our interest and attention. As the cellphone-dependent long-distance lovers, they're always effortlessly likeable whether the movie calls for them to be serious, funny... or nude. Their two intentionally awkward sex scenes in the film--one involving a dining table and the other an attempt to have phone sex--will keep you buzzing even after the movie's over. Of course, the ease with which they play off one another is hardly surprising, since they're reportedly a real-life (on again-off again-on again?) couple.

The revelations in Going The Distance are in fact the supporting players, who spice up  the proceedings with their quirks and peculiarities. As Erin's rigid and overprotective sister Corrine, Christina Applegate earns laughs in every scene she's in. Whether she's ordering her daughter to keep still or reacting to the sight of pubic hair on her dining table, Applegate's line delivery is always delightful, her reactions to strange circumstances, amusing feats of comic expression. As Garrett's offbeat friends Box and Dan, the heretofore unknown (to Filipino moviegoers) Jason Sudeikis and Charlie Day also enliven the New York scenes they share with Justin Long. Sudeikis' comic delivery is pitch-perfect in the hilarious, quotable scene where he explains why his mustache is the perfect bait to attract older women. Likewise, Charlie Day (as Garrett's roommate Dan) earns laughs even in the scenes where we only hear his voice through the apartment's thin walls as he plays "make out music" for Garrett and Erin's hookup.

In the end, such naughty moments and bizarre nuggets of wisdom are what make Going The Distance a uniquely rewarding romantic comedy despite its formulaic trappings. It's a more adult love story than moviegoers are used to, perfect for viewers whose tastes are maturing as well.

Rating: 4 out of 5 Spots
ADVERTISEMENT - CONTINUE READING BELOW
Check to see where the movie is showing.
Photographs from Warner Bros. Pictures.
CONTINUE READING BELOW
Recommended Videos
Share this story with your friends!
---
Help us make Spot.ph better!
Take the short survey
Load More Stories