Sen. Miriam Santiago's mad again, Mar and Noynoy reunited + more lowlights
Senator Miriam's enraged by <em>jueteng,</em> bromance time for the P-Noy and Mar Roxas in the US, and more lowlights.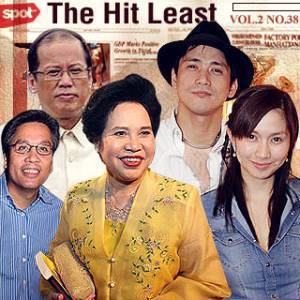 1. PARIS HILTON BANNED FROM ENTERING JAPAN, JAPANESE GOVERNMENT HATES JUNKIES--PAST OR PRESENT. Come to the Philippines, where we elect cocaine fans to Congress.
2. LANAO DEL SUR TOWN COUNCILOR NABBED AT THE AIRPORT FOR PACKING 13 STICKS OF MARIJUANA. Now that's what we call pasalubong!
3. DEPARTMENT OF JUSTICE SECRETARY LEILA DE LIMA DANCES THE CHA-CHA IN TONIGHT WITH ARNOLD CLAVIO. Niccolo Machiavelli said, "It's better to be feared than loved, if you cannot be both." (And when in doubt, just dance.)
4. AFTER THE FUSS OVER THEIR IBALOI WEDDING IN BAGUIO, ROBIN PADILLA AND MARIEL RODRIGUEZ FINALLY ADMIT THEY WERE ACTUALLY MARRIED IN INDIA. It's like The Amazing Race--only they get married at every pit stop.
5. INFORMAL SETTLERS ON AGHAM ROAD FIGHT OFF DEMOLITION TEAM, CAUSING EDSA GRIDLOCK. Nothing like squatters' self-righteous shtick to screw up your day.
6. BUREAU OF CUSTOMS SEIZES P10 MILLION WORTH OF ONIONS. Now we really have something to cry about.
7. MAR ROXAS JOINS PRESIDENT NOYNOY AQUINO IN HIS US TRIP. In lieu of a First Lady, the president has a First BFF. (If Roxas can pull off wearing a terno, we're all set.)
8. SEN. MIRIAM DEFENSOR SANTIAGO KILLS IT WITH HER "DILG + PNP = JUETENG" SPEECH. Another LOL Miriam quote: "Unless we in government take drastic measures, jueteng will not end today or next year; jueteng will end only four and a half billion years from now, when planet Earth is expected to die." (Bad news: Jueteng can't be stopped. Good news: The world won't end in 2012.)
ADVERTISEMENT - CONTINUE READING BELOW
9. ILOCOS SUR GOV. CHAVIT SINGSON FUMES AFTER SEN. MIRIAM DEFENSOR SANTIAGO TAGS HIM AS A "JUETENG LORD." To borrow a line from an Imodium ad, "Mukhang guilty!"
10. CATHOLIC CHURCH ALARMED BY DISCARDED FETUSES AND ABANDONED BABIES. Do we laugh or weep over this?
Art by Warren Espejo.
CONTINUE READING BELOW
Recommended Videos
Share this story with your friends!
---
Help us make Spot.ph better!
Take the short survey
Load More Stories