10 Best Happy Hour Deals
SPOT.ph leads the five-thirsty crowd to the joints with the best value-for-money happy hour promos.
American TV shows like Cheers and How I Met Your Mother glorify the significance of a good dive--a familiar hangout where one can meet up with friends, get a few post-work drinks after a harrowing day, or maybe a spot where you can score the next great hookup. But other than the crowd, the interiors or the vibe of the place, you cannot underscore the importance of why you're there: it's all about the alcohol.

While most establishments offer the same standard bar list and a few cocktails exclusive to the bar, it's their Happy Hour deals which attract frugal barflies wanting a round or two of drinks before dinner.

The term "happy hour" originated from the United States in the 1920s, and was slang for a scheduled entertainment time for the sailors in the Navy. The term started being used as a marketing term following a published article about military life in the Saturday Evening Post in 1959. "Happy Hour" now pertains to a period of time when a bar offers discounts on drinks (and the occasional free grub) and has become an after-office social activity.   

In Manila, some bars have their own "happy hour" promos, usually lasting a few hours before dinner. Check out our list of Top 10 spots with the best deals on cocktails or local beers for your next happy hour trip (we are excluding the Beer Bucket promos which are available in almost all of the bars in Metro Manila):
10. Attica Bar and Lounge
Address: G/F, A.Venue, Antel Lifestyle City, 7829 Makati Avenue, Makati City
Tel. No. 729-5121
ADVERTISEMENT - CONTINUE READING BELOW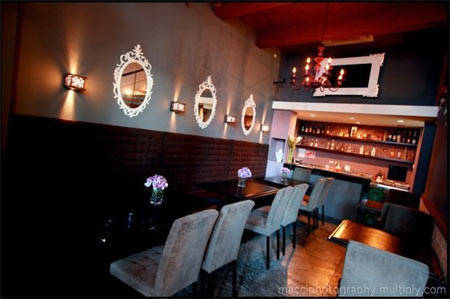 The vibe: A chill and effortlessly chic crowd gathers at Attica, where themed nights draw in fans of cheap liquor and good music. Modern interiors and plush seats add glamour to the hotspot, with a smoking area located on the second floor.

The deal: Beer drinkers will have a field day with Attica's 5-hour happy hour promo on Wednesdays: shell out P299+ and you get unlimited draft beer from 6 to 11 p.m. Their signature pizzas like Quattro Queso (P250) and Salmon Gravlax (P260) are highly recommended.


CONTINUE READING BELOW
Recommended Videos
ADVERTISEMENT - CONTINUE READING BELOW
9. Bubba Gump
Address: 2nd Level, Greenbelt 3, Ayala Center, Makati City (757-5154)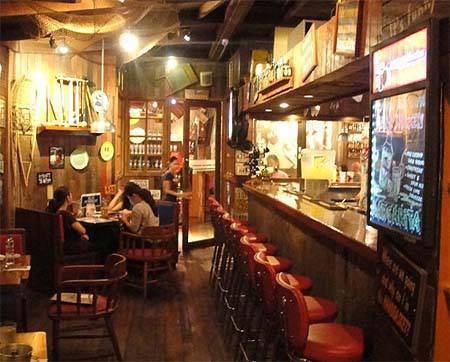 The vibe: The lunchtime crowd at Greenbelt is mostly made of Makati yuppies who like feasting on tasty clam chowder and big-sized servings of shrimp dishes in a fun and relaxed setting.   

The deal: From Mondays to Wednesdays 5-8 p.m., drink all the beer, margaritas, red or white wine you want at Bubba Gump: P299 for San Miguel beer and margaritas, while you only pay P499 for red and white wine. Pair your drinks with their Cajun Shrimp or Shrimper's Heaven, with servings of fried, chili and coconut shrimps with dipping sauces.


8. Ardi's Bar
Address: 148 Jupiter St., Bel-Air Village, Makati. Tel. No. 895-8176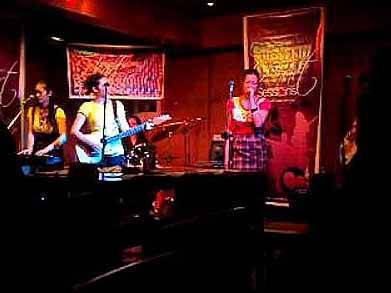 The vibe: Yuppies and executives head to Ardi's after a day at work as this spot offers entertainment options for the music-loving Pinoy--you can either listen to live bands or sing your stress away in their KTV rooms.

The deal: From 5-8 p.m., local beers are at P45 each (they have Beer Below Zero!) and cocktails are at 50% off, a cheap find for a Makati joint. Their bar chow and appetizers alre also under P500: check out the Beef Salpicao (P285) and the grilled specialties.


ADVERTISEMENT - CONTINUE READING BELOW
7. Guilly's Island
Address: 27 Tomas Morato corner Sct. Albano St., Quezon City. Tel. No. 416-4002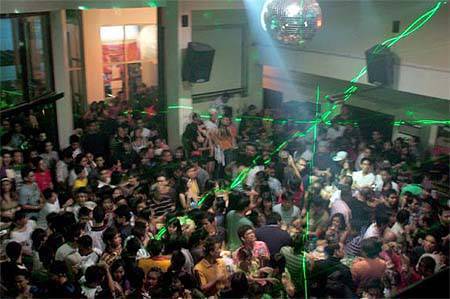 The vibe: Guilly's in Tomas Morato doesn't get packed before dinner on weekdays and is a cozy hangout, with booth seats and dim lights. A separate area also turns into a dance floor come 10 p.m. Bar chow is standard fare but drinks and cocktails come cheap.

The deal: You never have to stick to just one bottle when you're on a budget--local beers are at 50% off daily, each only at P35 (regular price is P70) from 5:30-10 p.m.


6. No. 38 Sports Lounge and Grill
Address: 114-A Jupiter Street, Bel-Air Village, Makati City. Tel. No. 519-1806.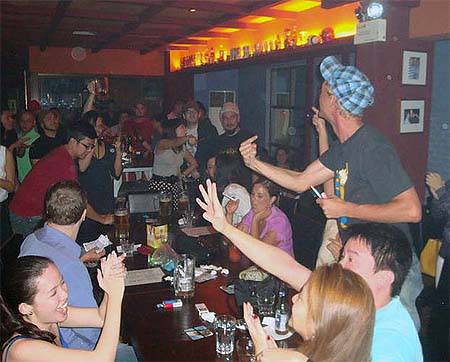 The vibe: Cozy, casual and much like hanging out at home, No. 38's crowd loves filling grub, lots of beer and a good game (it is a sports bar, after all). Jeff Buckley and Dave Matthews fans will also like Thursday nights at No. 38--the place gets packed with twenty and thirty-somethings who sing their hearts out for fun (bands start playing at 9 p.m.).

The deal: The P45 per bottle price tag is wallet-friendly for a Makati joint, and you can also get two cocktails for the price of one on selected drinks. Better yet, go for the 1-liter mug of San Mig Lite draft beer, available all night for only P180.
ADVERTISEMENT - CONTINUE READING BELOW
For the whole month of October, opt for the P299 drink-all-you-can on San Miguel beers from 6-9 p.m. Pair your alcohol with No. 38's overflowing plate of Awesome nachos (P350) or the Buffalo-Style Chicken Wings (P320).
5. Gweilos
Address: Ground Level F & M Lopez Bldg. 109 C. Palanca St., Legaspi Village, Makati City. Tel. No. 817-6083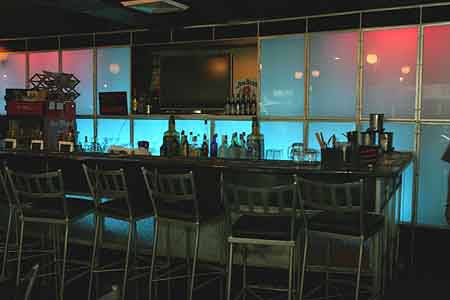 The vibe: Legaspi Village habitues who don't feel like trekking to Greenbelt for after-work drinks will agree that Gweilos has remained a faithful, reliable hangout while its neighbors--the defunct Bistro 110, 6Underground and Sake Bar---have moved or closed. A no-frills and casual joint catering to mostly beer-drinkers, Gweilos can also be noisy, depending on which night you're there (Gweilos has played host to Juan Pablo Dream and other bands on Friday nights).

The deal: From 5-9 p.m., local beers are at P44 per bottle (regular price is P60). Don't forget to order the Native Pizza (P308), a tasty thin-crust pie with kesong puti and anchovies.
ADVERTISEMENT - CONTINUE READING BELOW
4. Watering Hole
Address: G/F Carpark Bldg. Shangri-la Plaza Mall, EDSA cor. Shaw Blvd. Mandaluyong City. Tel. No. 634-0284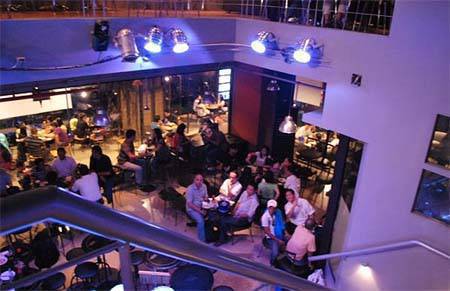 The vibe: Open since 1995, Watering Hole is one of the "oldest" bars in the Shangri-la Plaza Mall complex and has evolved into a 24-hour joint (veranda area only) to cater to call-center employees in the area. Don't expect flashy interiors at Watering Hole, bar regulars are casually-dressed and come here for the booze and the showbands.

The deal: Local beers aren't really expensive at Watering Hole (P37/ bottle) but during happy hour--3-7 p.m. and 3-11 a.m.--a bottle goes for P30 daily. Wander in between 5:30-8:30 p.m. and you can enjoy a dinner buffet for only P199 per person.   If you just want pulutan, go for the Calamares Fritos (P189) or the Inihaw Combo (P350/P650) with pusit, liempo, tilapia, chicken and talong.
3. Capone's
Address: 2nd Floor A.Venue Mall, Makati Avenue, Makati City. Tel. No. 729-0120
ADVERTISEMENT - CONTINUE READING BELOW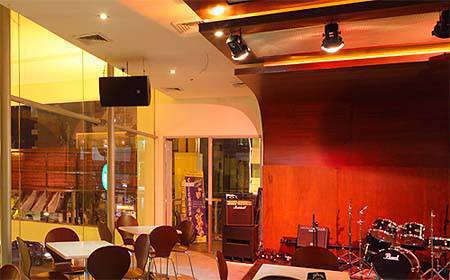 The vibe: A laid- back spot known for its nightly gigs, patrons head to Capone's for the drink-all-day vibe, and of course, the music. You'll find friendly regulars and music fans and the merrimentat Capone's never gets too rowdy.

The deal: As early as 11 a.m. until 10 p.m., you can go on a beer-drinking frenzy at Capone's where 3 bottles go for only P120 (local beers only, regular price is at P70 per bottle).
2.   Spicy Fingers
Address: Ground Floor, Greenbelt 2, Makati City. Tel. No. 729-8761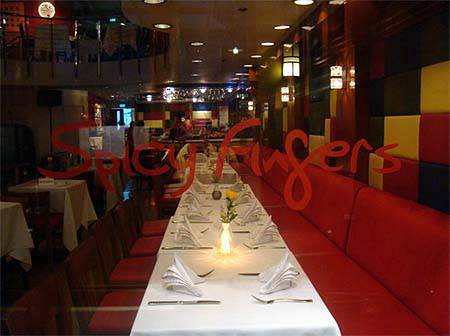 The vibe: Makati yuppies converge at Spicy Fingers where the subdued lighting tones down the dominantly red interiors and the relaxed ambience provides a casual backdrop to after-office dining (dishes are good for sharing!) and drinks. Mondays get packed because of their stand-up comedy gigs featuring the Comedy Cartel (call to check for schedules).

The deal: Spicy Fingers offers an impressive happy hour deal for a spot located in Greenbelt. Party owls make this establishment their first stop and fill up on booze: selected drinks at Spicy Fingers' are only P40 each. Take your pick from San Mig Lite draft beer, San Miguel Pale Pilsen draft beer, Margarita, Orange Blossom, Tequila Sunrise, and Rum Cokes from 12 noon-8 p.m. daily, including weekends. Spicy Fingers' Fajitas (chicken fajitas is at P300; beef fajitas is at P360 and vegetarian fajitas is at P250) and Hot Fingers (P250) are also a must-order.
ADVERTISEMENT - CONTINUE READING BELOW
1. NLo's
Address: 177 Aguirre Ave. BF Homes Parañaque City. Tel. No. 794-3499
Website: nlos.multiply.com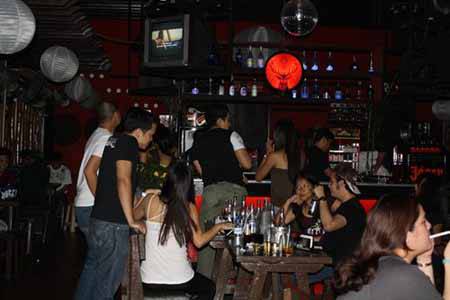 The vibe: One of BF Homes' most popular neighborhood bars, NLo's is a certified drinking joint with wooden tables and matching benches. Casual rules over glam when it comes to the dress code and the occasional event with guest DJs require a door charge.

The deal: For P20 a bottle on local beers from 5-9 p.m. on weeekdays, NLo's gets the thumbs up for beer-drinkers in the South. A casual spot which also serves house mixes named 50/50, 911, 69 and Zero.0, you don't need deep pockets to have your fill of alcohol.

On weekends (Fridays and Saturdays), happy hour is at 5-8 p.m.
Photographs from Spicy Fingers Facebook account, Bubba Gump Facebook account, Macy Yapkianwee (Attica), a-venue.com.ph (Capone's), nlos.multiply.com, Guilly's Island Friendster page. Main image from sxc.hu.

Share this story with your friends!
---
Help us make Spot.ph better!
Take the short survey
Load More Stories