Shalani joins Willing Willie, Antonio Margarito mocks Freddie Roach + more lowlights
Shalani teams up with Willie, Antonio Margarito mocks Freddie Roach, and more lowlights.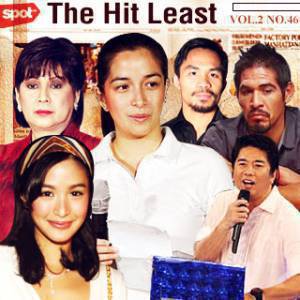 1. IN THE WAKE OF HER BREAK-UP FROM YOU-KNOW-WHO, SHALANI SOLEDAD DECIDES TO BECOME A WILLING WILLIE CO-HOST. Moving on is a painful process--and it can't get any more painful than this.

2. AFTER BEING EJECTED FROM MANILA HOTEL'S VIP AREA BY FORMER US PRESIDENT BILL CLINTON'S AIDE, JEJOMAR BINAY GETS BIRTHDAY GREETING FROM US EMBASSY'S FACEBOOK PAGE. If we had done this to the US vice president, do you think they'd let us get away with a greeting on Facebook?
3. ANTONIO MARGARITO POKES FUN AT PACMAN'S TRAINER, FREDDIE ROACH, WHO HAS PARKINSON'S DISEASE. We expect no less from Mr. Illegal Hand Wraps.
4. PETA MASCOTS, WHO WERE TAPPED TO SHOW SUPPORT FOR BILL CLINTON, NEARLY GET ARRESTED. Does giving up meat make you extra hungry for attention?
ADVERTISEMENT - CONTINUE READING BELOW
5. P-NOY'S SISTER BALLSY AQUINO-CRUZ CONFIRMS THAT HE'S DATING STYLIST LIZ UY AND OTHER WOMEN. If this information had come from Kris Aquino, all hell would have broken loose.
6. FATHER AND SON ARRESTED IN DRUG BUST IN STA. ANA, MANILA. There goes the dad's chance of snagging an Ulirang Ama award.
7. WOMAN IS STOPPED FROM BOARDING PLANE AFTER SHE CRACKS A "BOMB JOKE." Another case of diarrhea of the mouth.
8. HEART EVANGELISTA IS STRESSED OUT ABOUT HER RIFT WITH EX-MANAGER ANABELLE RAMA. Memo to Heart: The Great Wall of China was originally created to keep out Annabelle Rama--it failed miserably. (It's actually a Chuck Norris joke. We just replaced his name with Annabelle's. It works.)
CONTINUE READING BELOW
Recommended Videos
9. SURVEY SAYS FAMILY IS PINOYS' NO. 1 SOURCE OF HAPPINESS. Another survey says family is also the top trigger for insanity.
10. LOTTO WINNER WHO WON P82 MILLION IN 2004 SAYS HE'S NOW EXPERIENCING FINANCIAL DIFFICULTIES, SAYS MONEY ISN'T EVERYTHING. You can only say that money doesn't matter after you've wasted millions.
Art by Warren Espejo.
Share this story with your friends!
---
Help us make Spot.ph better!
Take the short survey
Load More Stories