Taj Mahal Kita: Robin Padilla's Pledge of Love
Robin Padilla proves that his palpable charm can still get the girl in the end-in this film and in real life.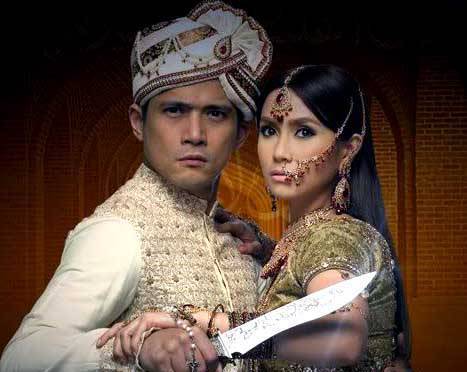 Robin Padilla and wife Mariel Rodriguez star in Tum: My Pledge of Love
Robin Padilla sure is the Comeback King. At 41, he's had a full career in film and television, was incarcerated for illegal gun possession, went through spiritual conversion and became a Muslim, divorced the mother of his grown children, and married a woman fifteen his junior. Now he has now written, directed, and starred in a new movie with new wife Mariel Rodriguez. Tum: My Pledge of Love is a great big mess of a movie: it's an action/romance/travelogue/musical/drama about religious tolerance and finding love, set in India with Filipino stars. Only someone like Robin Padilla, with his lion sized ego and palpable charisma, can pull off something like this.
Watch the trailer of Tum: My Pledge of Love
The movie sounds like fun but in truth it is a little bit ludicrous. Robin plays Ravaan Raza, a wayward Muslim whose Indian father dies. He goes back to Alipur, India to discover that he has inherited the proverbial kingdom, which includes a school where a sari-wearing Pinay named Linda Dimatumba (Mariel Rodriguez) teaches. Ravaan is told that he will only inherit if he marries Linda, a Catholic woman teaching Indian children in a school owned by a rich Muslim man. It's classic hate-at-first-sight for Ravaan and Linda, they can't stand each other at all-but because he wants to get his inheritance and she wants to stay in India and take over the school, they get hitched. Hurrah for the institution of forced marriage-for Linda, they have a Catholic ceremony with Hindu traditions, and for Ravaan's faith, a Muslim ceremony. At first Linda resists her new husband's attempts to woo her, but who can resist the charms of Robin as he practices martial arts shirtless on the veranda. Inevitably, they fall in love: Linda is singing on rooftops, Ravaan is becoming a good Muslim. For a while it's all blue skies and idyllic Indian landscapes because this is what love does to you. When religious extremists threaten their happiness, it's all-out action from Robin: slow motion bakbakan (ugh) and swordfights strangely without blood. And of course there's a happy ending.


ADVERTISEMENT - CONTINUE READING BELOW
As a director, Robin Padilla shamelessly uses the conventions of a bodice-ripper romance novel, borrows a few tricks from Bollywood (song and dance numbers using VST classics like Ipagpatawad Mo and Awitin Mo at Isasayaw ko), takes a few elements from the martial arts genre, and throws in lot of Pinoy-style melodrama.  Perhaps I would like to have seen more about the subplot that furthers the love-knows-no-boundaries theme: a romantic triangle between sweet Hindu girl Gheeta (Queenie Padilla, Robin's 19-year old daughter), Sameer, the Muslim boy she is engaged to, and hunky Filipino Muslim boy Ibrahim (Ejay Falcon).
Dare I say it's altogether too postmodern for me? This is haphazard filmmaking at its finest. The camera work is atrocious by the way-they went completely overboard with the crane and shot the weirdest angles. I won't even start on the wildly inconsistent color grading of this movie: it left me completely baffled.


Anyway.  So Robin and Mariel cavort through India-visiting Mysore, New Delhi, and of course Agra, where he takes her to see the Taj Mahal. I must say that despite the fairly awful qualities of this movie, it was nice to see newlyweds Robin and Mariel enjoy themselves. They are good-looking, young (well, she is) and obviously in love. They truly looked like they were having fun in Amazing India (I'm sure I would be having fun too if I were decked out in saris and jewels, twirling around various Indian parks and palaces).


Ultimately, it's good to see that Robin Padilla still has it: he still looks good in tight white shirts, ripped jeans, and cowboy boots-underneath all the swagger and ego is a big heart. That's why he always gets the girl in the end.

I just hope that monkey who ate the Styrofoam model of the Taj Mahal didn't die.

***

P.S.
For fun and for all you Robin fans out there: super kilig moments from Maging Sino Ka Man (1991), the best of old school Robin Padilla-style ligawan.


CONTINUE READING BELOW
Recommended Videos
ADVERTISEMENT - CONTINUE READING BELOW
Share this story with your friends!
---
Help us make Spot.ph better!
Take the short survey
Load More Stories