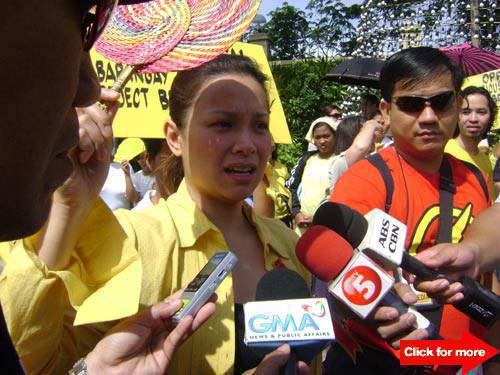 Broadway star Lea Salonga, who has openly opposed the ordinance,  joined the Ayala Alabang rallyists. Click for more photos.
It was the same scene two weeks ago, rallyists dressed in yellow with placards protesting the passage of a barangay ordinance that regulates the purchase, sale and promotion of condoms and other moderns forms of contraception. Only this time they were angrier, noisier and demanding.

Storming the gates of the uber posh Ayala Alabang Village, rallyists were vigorously waving signs.  Words that were previously only spoken in angered whispers or "shouted out" in the realm of Facebook, were now brandished in bold red letters: "I am a citizen of the Philippines, not Alabangistan!" read one placard. "AAV = Alliance Against Vaginas" read another placard, giving another meaning to the acronym of the village name. "Get bigots out of our bedrooms!" cried another. Other posters asked those passing by to show their support by honking their horns. And they had every right to be angry.

Since the last demonstration that coincided with the second public hearing on the controversial ordinance last March, there has been no word from the Barangay Council if they were going to repeal the ordinance which was rejected by the City Council and later declared as unconstitutional by various local government agencies.

"Wala pa kaming balita sa barangay council kung ano ang gagawin nila," said former DOH Secretary and Alabang resident, Esperanza Cabral."Hindi dapat pa patagalin ito." Cabral has been leading the efforts among the anti-ordinance group in the village.

Broadway star Lea Salonga, who openly opposed the ordinance said, "We live in a democracy and this is simply not right. Maigiging public record ang pabgili ng condoms at kahit ng pills na pwede naman hindi lang pang-contraception, pwedeng pang treat ng ovarian syndrome, magiging public record. It simply is not right." Salonga said she would have joined the previous demonstrations, but was out of the country.

Raoul, the 27- year-old resident whose attempt to buy condoms last March from a drugstore in Alabang Town Center was secretly captured on video, also revealed himself. "I'm an example of who this ordinance directly affects. I'm going to have to go to my doctor and get a prescription for condoms. And how will I even say it, "Doc I'm going out on a date and it might work out."? It's just crazy."

Despite a statement from Barangay Captain Xerex Burgos that the ordinance was not be implemented as it had not yet secured the approval of the City Council, condom sales are being regulated. This was validated by Raoul. "Just three days ago, I tried to buy condoms at the Rustan's supermarket inside the village and they wouldn't let me. Bawal daw." Raoul also explained that condoms were at the back and not accessible without the assistant of a pharmacist.

"We want a resolution to this already," added Cabral who said that since the March 19 rally, not yet had been done by the Barangay Council-not even an update. When asked about being prepared for the worst and the ordinance being kept in effect, Cabral said, "They cannot not repeal that. And if they don't then we will just keep on doing this," Cabral concluded.
ADVERTISEMENT - CONTINUE READING BELOW
Share this story with your friends!
---
Help us make Spot.ph better!
Take the short survey
More Videos You Can Watch
Load More Stories