Tumbok: Victims of Malice and Malas
See if our SPOT.ph blogger thinks <em>Tumbok</em> makes it <em>tumbok.</em>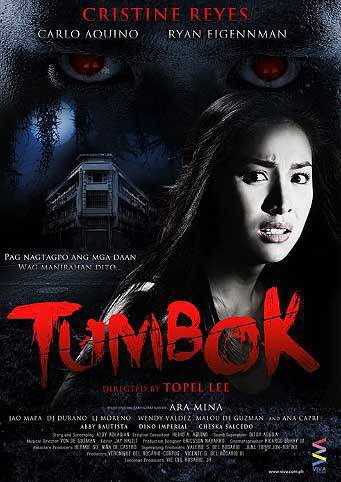 Tumbok stars Cristine Reyes and Carlo Aquino
(SPOT.ph) Two weeks ago I found myself at the Manila Central Post Office, built in the 1920s in the Neo-Classical style. The American-era building was destroyed in World War II and reconstructed in 1946. On the outside it looked a bit like an ornate birthday cake, and inside it was a gorgeous building with good bones, high ceilings, and lovely details. I needed to locate the marketing office-which was apparently on the third floor-and upon inspection of the ancient elevator I decided to take the stairs.  I ran up as fast as I could up the stairs, which were dark and shadowy even during the hottest time of day. When I reached the third floor I was greeted by an eerie silence and a little chapel. I found the marketing office at the far end of the hall, got what I needed and again took the stairs down to the basement that leads to the parking lot. Phew.
ADVERTISEMENT - CONTINUE READING BELOW
I've done my time in creepy stairways of old buildings and while I like soaking in the architecture, it was not my idea of fun. In the summer of 2006, I was working on the set of a horror film and we were shooting on location in an amazingly well preserved ancestral home in Bulacan. There was a lot of history attached to that house-according to legend, Jose Rizal was once a guest there. They say school children walking by after class would see a woman looking out the large windows.  Despite the scary reputation and the strange things happening on set, I have great memories of that house, which is a perfect example of the classic Filipino bahay na bato.
CONTINUE READING BELOW
Recommended Videos
Watch the trailer of Tumbok
The very same house appears in the beginning of Topel Lee's new horror film Tumbok, which revolves around Grace (Cristine Reyes) and Ronnie (Carlo Aquino), a young married couple who are in constant peril because of the cursed surroundings they have to live in. There is a death in the old house: Ronnie's father (Jao Mapa, aged in makeup) croaks but not without leaving a strange message for Ronnie not to go back. Back where? Could it be the old apartment unit Ronnie and Grace inherited from him?
From Bulacan, Grace and Ronnie are transplanted to Binondo, where they find the apartment and meet the building administrator Mark (Ryan Eigenmann, menacingly bald but slightly flabby). The old building is beautiful but sinister and soon Grace is seeing things and hearing things and she is slowly convinced that bad things lurk in the shadows. (Meanwhile, I could hardly wait for her ordeal to be over, mainly because I could not stand Cristine's super tarty outfits: black bra under tank tops and shorts that are tight-in-the-wrong places. Ugh.) So Grace tries to tell Ronnie there's something weird about the apartment.  They roll out one shallow scare after another-mostly creaking doors, flickering lights, and little girl ghosts-that mostly rely on overdone sound design that will make you jump in your seat. Only after 40 minutes is the concept of tumbok-the ever-so-malas T-Junction-brought up by Grace's sister Lumen (LJ Reyes). "Lahat ng negative energy nakatapat sa inyo, kaya dadapuan ka ng malas," she says as they light candles and shake the Balikbayan Handicrafts-style chimes around the apartment.
ADVERTISEMENT - CONTINUE READING BELOW

However, it seems this is more than just plain bad luck far beyond the help of New Age-y solutions. It's both human and supernatural evil: the neighbors are dying left and right, the mysterious building administrator is popping up in Grace's bedroom, even poor Lumen is beheaded in a brightly lit alley. Poor Grace and Ronnie, they are caught in a confluence of malas where there's no escape. An hour into the movie, the mystery finally unfolds and let me tell you-it is one big hellish mess.
Share this story with your friends!
---
Help us make Spot.ph better!
Take the short survey
Load More Stories