At Least Once On This Island
Lovi is pitch-perfect, Solenn is a natural, Marian and her diction are just right, and Heart is the loveliest face in Philippine movies right now, says our SPOT.ph blogger.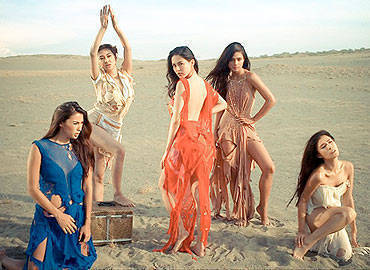 The Temptation Island beauties: Solenn Heussaff, Rufa Mae Quinto, Marian Rivera, Lovi Poe, and Heart Evangelista
We were there on opening night. Front row, full house. Joey Gosiengfiao's Temptation Island finally hit the screens last week, and so I called my fabulous and witty friend JP who knows all the lines in the movie and has the sharpest eye for cinematic detail. To see this new version written and directed by Chris Martinez, I needed to bring a true connoisseur of the film, someone who knows the aesthetic and understands the humor, someone with a true appreciation for naughty fun. My gay date did not disappoint.
Watch the trailer
Neither did the movie. Joey Gosiengfiao's Temptation Island succeeds because it is funny and fun: JP and I were cackling in our seats. He was reciting the dialogue and pointing things out to me-like the hokey fire effects, the hot boys, etc.
Chris Martinez has shown such dexterity with comedy that I'm almost not surprised his clever and glamorized version succeeds. It's a fitting homage to Gosiengfiao's specific genius for high camp and sex appeal. Martinez cast four gorgeous actresses to play the beauty pageant contestants: Serafina L. (Lovi Poe), Pura K. (Solenn Heussaff), Cristina G. (Marian Rivera), and Virginia P. (Heart Evangelista) stranded on an island with a hoity-toity gay in a white pantsuit and pearls (John Lapus), his young swain (Mikael Daez), a hunky waiter (Tom Rodriguez), smitten school boy (Aljur Abrenica), and the maid (Rufa Mae Quinto). Lovi is pitch perfect as the rich bitch, Solenn is a natural, Marian and her diction are just right, and JP and I agreed that Heart is the loveliest face in Philippine movies right now.
ADVERTISEMENT - CONTINUE READING BELOW
It's practically scene-for-scene and line-for-line from the original film but Martinez throws in some new jokes that stand on their own. Chris Martinez has the right touch by staying true to form but creatively reimagining portions of the movie for a current audience using language, pop culture reference, and cheeky visuals.  (I thought the new treatment for the famous roast chicken-and-ice cream fantasy sequence was super cute. Digo Ricio's production design certainly hits the spot.)
And so, yes I loved it and yes it made me laugh, along with the rest of the audience in a packed theatre. I'm so glad to see everyone was getting it. I'm gratified to know that Temptation Island was a box office hit in 1980 and made money again in 2011. And the winner is: Mother Lily over Optimus Prime, at least on this island.
CONTINUE READING BELOW
Recommended Videos
***
But the question remains: where did all the glamour go? Why does 1980 seem so much cooler than 2011? Is it because we're all so preoccupied with reality that we can no longer suspend disbelief in style? The future always looked so glamorously space age, but now it's just messy and post-apocalyptic.
It seems the dramatic and outré has died along with Ernest Santiago, owner of iconic Malate nightclub Coco Banana. Nothing has ever lived up to it.
Thank goodness for fabulous gay friends and this homage of Chris Martinez to Joey Gosiengfiao, reminders of glamour in dreary times.
***
Here's my favorite clip from Temptation Island (1980): dancing plus catfight with Giorgio Moroder playing in the background.
ADVERTISEMENT - CONTINUE READING BELOW
Check out photos from the Temptation Island premieres here.
***

July is a great month for Philippine cinema! Catch Cinemalaya at the CCP and Greenbelt on July 16 to 24.
Share this story with your friends!
---
Help us make Spot.ph better!
Take the short survey
Load More Stories