MOVIE REVIEW: The Beaver
Find out why SPOT.ph movie reviewer Paul Daza gave this Mel Gibson-Jodie Foster starrer 4 out 5 Spots.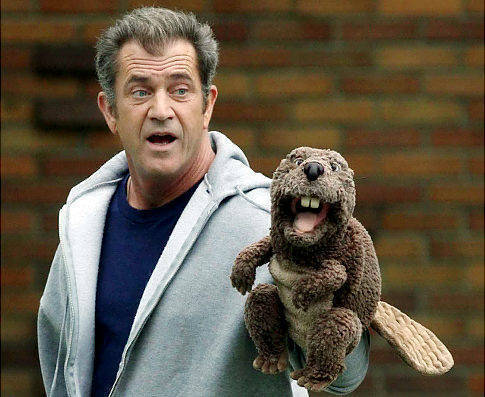 Academy Award winner Mel Gibson stars as Walter in The Beaver
Because it's more intellectually challenging to watch than a movie crammed with apes,  cowboys, aliens, Smurfs, and other computer-aided spectacles, the psychological drama The Beaver, astutely directed by Jodie Foster and starring Hollywood pariah Mel Gibson, has been relegated to a limited Metro Manila run in Ayala Malls cinemas.  That puts it in the company of such acclaimed films as The King's Speech and The American, which were also screened in only four metro screens for a week. Does The Beaver-a box-office dud when it was released in the USA last May-deserve to be in the company of these critical darlings?
Watch the trailer


Walter Black (Mel Gibson) is a family man who's been severely depressed for more than a year. Once a successful toy executive and devoted husband/father, he's now a near-catatonic, hollow shell of his former self, a man who can't even muster the energy to get out of bed. One day, his wife Meredith (Jodie Foster) decides she's had enough and kicks him out of their home, to the relief of their teen son Porter (Anton Yelchin). Isolated and alone, things look irreparably hopeless for Walter, until a large TV set falls on his head during a suicide attempt, knocking him out. When he regains consciousness, Walter has an epiphany and begins using a beaver hand puppet to communicate. Understandably alarmed by this strange development, Walter's family and employees soon warm up to "the beaver," especially when they see how it's helping Walter to reclaim his former, normal life. But just when it seems that Walter is headed for a full recovery, his overdependence on the puppet results in a life-threatening setback.

Like American Beauty and The Kids are All Right, The Beaver is a fascinating, affecting look at wounded adults, teenagers and children who are in dire need of healing. The Beaver, however, trumps those dramas by presenting a radical, offbeat "cure" for what ails suburban American families, one that seems absurd and ridiculous at first. But thanks to the superb story & screenplay by Kyle Killen, the seemingly ludicrous idea ends up working in fresh and intriguing ways. Among the fascinating people which the script conjures are a brilliant writer who deals with his insecurities by hitting his head repeatedly against a wall; a pretty valedictorian who cares so much about her valedictory speech that she's willing to commit a crime to make sure it's perfect; and, of course, a depressed dad whose emotional salvation seems to be linked to the fate of the muppet who inhabits his left arm. The script also proposes an intriguing idea for the perfect toy, and also wrestles with such universal themes as a son who's afraid of turning into his father.     

Fleshing out these characters and making them resonate onscreen is the brilliant cast, led by Mel Gibson. As Walter, Gibson has never been better, his portrayal of the damaged Walter never a chore to watch despite the character's unrelenting moroseness. Gibson also handles the beaver role superbly, using a voice and accent for the creature that's vaguely reminiscent of Johnny Depp's Jack Sparrow from Pirates of the Caribbean, one that's especially apparent when the beaver addresses ladies as "love." If Hollywood ever decides to make a dark psychological thriller starring the Muppets, Mel Gibson should be one of the first non-professional Muppeteers they hire, because he gives The Beaver a dark and twisted edge that makes him as scary as the murderous Chucky from Child's Play.

As the two troubled high school seniors who are brought together by a $500 business deal, Anton Yelchin and Jennifer Lawrence firmly establish themselves as part of Hollywood 's next in line. Their affecting portrayals as alienated teens trying to escape their tortured pasts are bound to resonate with similarly angst-ridden youths.  

As Gibson's no-nonsense wife, Jodie Foster is once again compelling, though her greater contribution to the film lies in her behind-the-camera work as its director. Foster's direction is masterful, with the composition of her shots, the unpredictability of her cuts, and the swiftness with which she alters the film's mood (from amusing to frightening, for example) all hallmarks of a skilled and confident storyteller. Her handling of the sequences where Walter is slowly taken over by The Beaver is a textbook example of how simple framing can speak volumes more than dialogue ever can, and is best exemplified in the shots where Walter and the puppet appear to have merged into one being at a classy restaurant. There's also an instance where Foster makes an abrupt cut when a character in the film says that he likes surprises, a moment which more conventional filmmakers would have allowed to linger for more emphasis. It's an edit that many viewers won't even notice, but one that contributes to the film's offbeat rhythm.

Also defying convention is the music score by Marcelo Zarvos, which goes a long way towards making The Beaver, in its first half, one of the lightest psychodramas made about a clinically depressed man. Zarvos accomplishes this by using cheerful, French accordion music as the sound of Walter's troubled soul, the same type of music that brought so much joy to my all-time favorite French film, Amelie.

In its ability to take viewers on an engrossing and eccentric rollercoaster ride through the broken hearts and damaged minds of its characters, The Beaver is a lot like Amelie-another Ayala Mall cinema exclusive when it was shown in Manila in 2001. The Beaver, however, isn't flawless like Amelie. Jodie Foster's film ultimately loses a point for an ending that distills the many provocative ideas the narrative poses into an abrupt and  unsatisfactory soundbite.      

Rating: 4 out of 5 Spots  ••••
ADVERTISEMENT - CONTINUE READING BELOW
Check out the movie schedules for The Beaver here.
CONTINUE READING BELOW
Recommended Videos
Share this story with your friends!
---
Help us make Spot.ph better!
Take the short survey
Load More Stories