CHECK IT OUT: Kanto at the Podium
A homey grub hub puts a spin on Pinoy classics and street food staples.
Kanto
G/F Podium Mall
ADB Avenue, Ortigas Center, Pasig
Tel. 4779045
Open daily, 11 a.m. to 10 p.m. on weekdays, 10 a.m. to 10 p.m. on weekends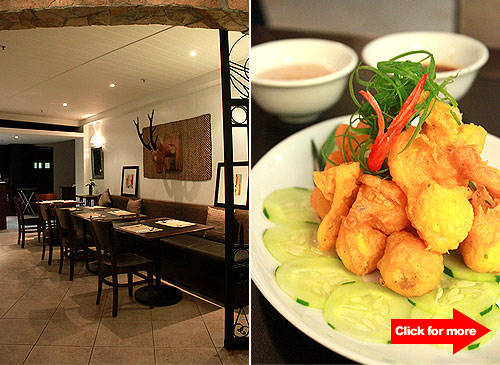 Your new tambayan: Kanto in Podium serves Pinoy staples and street food favorites.
Lately, Manila's going-out crowd seems to gravitate towards comfort food and restaurants offering a semblance of home. No fancy set ups; just a relaxed, fuss-free vibe where sit-down dinners mean staking your claim on comfy couch-style seating, and ordering food off a menu listing familiar down-home fare. Such is the school of thought that fuels Kanto, a new food haunt serving humble Pinoy classics in a space that recreates the comforts of a modern ancestral home.
ADVERTISEMENT - CONTINUE READING BELOW
Lots of wood, decorative mirrors, and furniture clad in warm earth tones decorate the space. A black-rimmed gate separates the foyer from the main dining area's sala-like set up; tucked in the back is a cozy, tavern-like "garaje" that will soon function as an after-hours bar. Upstairs, "bedrooms" serve as private function rooms. It's the kind of place that could be ideal for hanging out with the gang, but the dimly-lit foyer-high ceilings and all-creates a romantic, date-worthy feel, too.
The menu, spawned by the same chef who once helmed the Il Ponticello kitchen in Makati, lists Pinoy staples with a slight twist-nothing too adventurous, just enough to pique your curiosity. The Gambas Chorizo (P320), a plate-ful of succulent pieces of shrimp bathed in olive oil and smothered with garlic, toys with sili labuyo for a zestier flair. The adobong hito (P330) is a hit in the making: naturally buttery eel fried to a golden crisp, finished off with white adobo sauce (just vinegar and garlic, no soy sauce).
ADVERTISEMENT - CONTINUE READING BELOW
The Chicharon Liempo (P280), a big pile of thickly-cut meat that looks like bacon paired with sinamak sauce, is the kind great beer pairings are made of. So are the Dynamite (P250), Kanto's version of the popular pepper chow wrapped in crunchy breading and stuffed with ground beef and cheese, and the kwek-kwek (P110), a time-honored street food staple also served with sinamak and a sweet fishball sauce.
Don't miss out on Kanto's turon (P120) if only for the langka sauce that the chef makes from scratch. Tasty libations include Kanto's take on the banana daiquiri (P150), a creamy concoction that could double as your dessert, and a refreshing ginger mojito (P150), made with homegrown ginger liqueur.
Photos by Kris Alcantara
Recommended Videos
Load More Stories