Love Triangles: Ang Sayaw ng Dalawang Kaliwang Paa
This refreshing and original film, says our SPOT.ph blogger, just might make you fall in love with poetry again.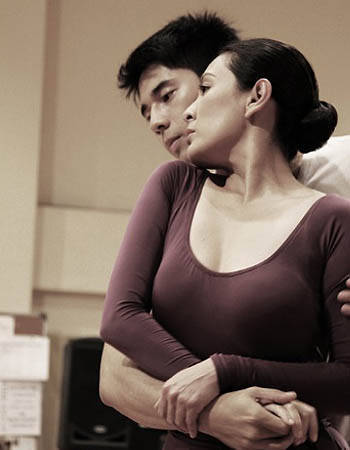 Jean Garcia and Paulo Avelino star in Sayaw
The last time I fell in love with a film soundtrack featuring poetry, it was with Il Postino (The Postman) which featured the poetry of Pablo Neruda, Tonight I can write the saddest lines read by Andy Garcia and all that. It seems that I remember the soundtrack more than the film-despite the fact that I watched it again, quite recently-because honestly, who can forget hot slacker poster boy Ethan Hawke reading a Neruda love sonnet in your ear?
ADVERTISEMENT - CONTINUE READING BELOW

And then last July, at Cinemalaya, came Ang Sayaw ng Daliwang Kaliwang Paa (The Dance of the Two Left Feet), which features six feminist poems from the foremost Filipina poets translated into music, dance, and drama. Writer/director Alvin Yapan and his producer Alemberg Ang, both professors of Philippine literature, came up with the idea of using poetry set to music as a soundtrack for a film about a dance teacher and her students. Ms. Jean Garcia (as she is billed in the film) is gorgeous and sad like a Japanese widow and she's perfectly cast as the teacher and older woman in this interesting love triangle that Alvin Yapan has constructed. Karen's student Marlon (Paolo Avelino) has a crush on her and wants to make a good impression so he signs up for private lessons with Dennis (Rocco Nacino), hoping to dance with Karen in her dance class. Meanwhile Dennis-with Rocco Nacino convincingly sexually ambiguous in this role-teaches Marlon how to tango. Is it me or are they swimming in seductive undercurrents?
ADVERTISEMENT - CONTINUE READING BELOW
Watch the trailer

In truth I was expecting a big ménage a trios in the end, but instead they dance. Jean Garcia, who apparently only took a year of ballet as a girl, plays the dance teacher perfectly, equally sensual and disciplined. At her age it's more about grace than flexibility, expression more than technique. It was smart of them to pair two relatively raw young actors with a veteran. Paolo's deer-in-headlights gaze is actually endearing. Rocco might make Tony Leung his peg if he decided to lose ten pounds and become a little edgier. I have high hopes for both of them.

At Cinemalaya, Sayaw won the award for cinematography (also best original score) and Alemberg Ang tried to explain to me the intricacies of shooting in a dance studio filled with mirrors. Indeed it must have been difficult to pull off this film, considering the amount of talent involved, the content they were handling, and the budget constraints of an independent production. But here they are, in theatres this week for their commercial release.
ADVERTISEMENT - CONTINUE READING BELOW

I have high hopes for this film, too, which already won in Bogota this year and was nominated in Hawaii. But most of all, because it is a clear departure from the formulaic and brain-dead entertainment we're constantly fed and getting used to. It's highly original and refreshing and surely a part of the audience will respond to it. Perhaps people are tired of seeing Jean Garcia playing the bitchy kontrabida and want to see her in a restrained and tragic role. Maybe we're done with stupid jingles or cheesy love song remakes and heck yeah, we're up for some contemporary Filipino poetry read by Paolo Avelino (who can read poetry to me anytime). Let's have an ambiguous ending instead of something predictable. And why not be hungry for some art with artista. Perhaps it is time to fall in love with poetry all over again.
ADVERTISEMENT - CONTINUE READING BELOW

***
Ang Sayaw ng Daliwang Kaliwang Paa (The Dance of Two Left Feet) opens on October 26, 2011 at selected SM Cinemas.

Original Motion Picture Soundtrack available at Astrovision/Astroplus SM MOA, Makati, Block, City, Megamall, Podium, Festival Mall, Robison's Galleria, Robinson's Ermita, Greenbelt, Shangri-la Mall, Trinoma, and Greenhills.
Recommended Videos
Load More Stories