10 Tunes to Listen to This Month
Britney Spears' new track, Justin Bieber's Christmas tune, plus new hits from Daughtry, The Bloomfields and more!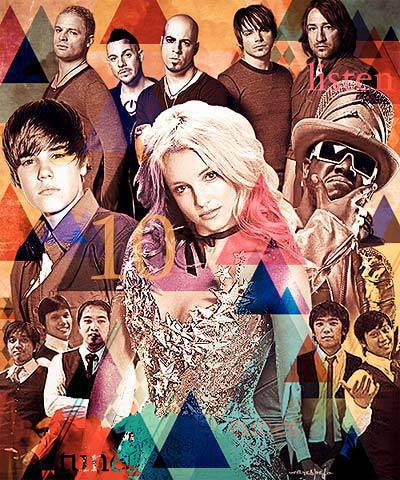 (SPOT.ph) This November, SPOT.ph recommends Britney Spears' hot new track, catchy tunes from The Bloomfields, love songs from Spongecola and Daughtry, plus a Christmas track from Justin Bieber, and more on our playlist this month:
Song: "Criminal"
Artist: Britney Spears
Britney Spears isn't the Pop Princess for nothing. In this hot new track (with a sizzling music video to boot), Spears sings about falling in love with a criminal in her signature sexy-pop sound. Need we say more?
ADVERTISEMENT - CONTINUE READING BELOW
Fun Fact: The music video was shot in London in September and was directed by Chris Marrs Piliero (the man behind "I Wanna Go") and co-stars Britney's real-life boyfriend, Jason Trawick.
Song: "It's Complicated"
Artist: The Bloomfields
We love the words and we love how this catchy track brings back memories from the music of the '90s. Take a listen and tell us which iconic English rock band this song reminds you of. Plus, it seems like an appropriate long-drive song this holiday season.
Fun Fact: The Bloomfieds' Rocky Collado has been dubbed the "Gene Kupra of the Philippines" because of his drum playing skills.
Song: "Mistletoe"
Artist: Justin Bieber
Get in the mood for Christmas and romance with Justin Bieber's latest single off his Christmas album titled Under the Mistletoe. Notice how his voice has matured? We think his music will only get better from here.
ADVERTISEMENT - CONTINUE READING BELOW
Fun Fact: The Under the Mistletoe deluxe CD/DVD priced at P550 in major record stores features 15 audio tracks with a DVD containing the making of the video for "Mistletoe," behind the scenes in the studio, and the video for "Pray."
Song: "Ang Sarap Maging Single"
Artist: Eevee
Up-and-coming band Eevee offers a fresh pop-rock sound influenced by the Eraserheads and Sugarfree. If you want to hear anti-sappy and feel-good love songs, we suggest you listen to their other songs like "Paramdam," "Larawan," and "Waiter."
Fun Fact: The four-piece rock band from Davao City-composed of Enzo Villegas (vocals and guitars), Paolo Segura (guitars), Paul Alef Hapita (bass), and Craig Neniel (drums)-is named after a Pokemon character.
Song: "Fine By Me"
Artist: Andy Grammer
We'd like to recommend more songs by street-performer-turned-Billboard-artist-to-watch Andy Grammer, but we're letting this track give you a sample of his upbeat and catchy pop sound. The dance-y melody and heartfelt lyrics are more than enough to get you up on your feet, singing and dancing.
ADVERTISEMENT - CONTINUE READING BELOW
Fun Fact: Before getting his big break in the music industry, Grammer practiced performing on the streets of Los Angeles.
Song: "Start of Something Good"
Artist: Daughtry
A song which Daughtry describes as, "probably one of the true love songs ever written," the new tune has 'pop favorite' written all over it. The heartfelt vocals and the hopeful lyrics make this song sweet, not mushy-emo.
Fun fact: The release date of their new album with "Start of Something Good" is on November 21, the same release date of their first album five years ago.
Song: 5 O'Clock
Artist: T-Pain featuring Wiz Khalifa and Lily Allen
We're currently digging this mid-tempo ditty perfect for relaxed cruising with unlikely collaboration partners Wiz Khalifa and London-based Lily Allen.  The buzz is that this single may appear on T-Pain's next album, "Revolver."
Fun fact: Lily Allen, who is pregnant, did not join the rapper in the studio to record the song. Verses were taken from her song, "Who'd Have Known."
ADVERTISEMENT - CONTINUE READING BELOW
Song: "Kay Tagal Kitang Hinintay"
Artist: Spongecola
The popular Pinoy pop-rock band is back with "Kay Tagal Kitang Hinintay," a slow, emotional love song which will tug at your heartstrings with frontman Yael Yuzon's signature pitch-perfect mellow singing voice which shifts to belt-out levels.
Fun fact: The music video for the song was shot entirely in Manapla, Negros Occidental and shows vocalist Yael Yuzon sporting a bruised face which had fans worrying about him.
Song: "What Makes You Beautiful"
Artist: One Direction
Simon Cowell knows his stuff: this upbeat, catchy song from the teen boyband, One Direction, is a fun tune to listen to. The song highlights pop guitar riffs and has an easy-going vibe, a tune we don't mind adding to our 'new song' track list.
Fun fact: The group was formed at the bootcamp stage of UK's X-Factor in 2010 where they placed 3rd in the finals.
ADVERTISEMENT - CONTINUE READING BELOW
Song: "Mr. Know It All"
Artist: Kelly Clarkson
The American Idol star had us singing and bobbing our heads to this new song reeking of girl power. Her powerful feisty voice and the sassy lyrics of this song is a departure from her usual belt-out ballad but we're loving the punchy tune just the same.
Fun fact: The video for this song was directed by Justin Francis, who has been tapped to direct music videos for Alicia Keys and Mariah Carey.
Artwork by Warren Espejo
CONTINUE READING BELOW
Recommended Videos
Share this story with your friends!
---
Help us make Spot.ph better!
Take the short survey
Load More Stories