PHOTOS: Benetton's Controversial "UNHATE" Campaign
The controversial campaign features US President Barack Obama, French President Nicholas Sarkozy, and more.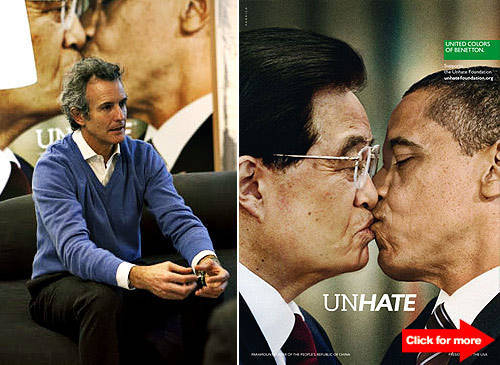 Alessandro Benetton: "While global love is still a utopia, albeit a worthy one, the invitation 'not to hate', to combat the 'culture of hatred', is an ambitious but realistic objective." Click for more photos from the campaign.

(SPOT.ph) No, these are not real photos of world leaders kissing. Fashion brand Benetton launched a worldwide campaign, dubbed "UNHATE," at the Benetton flaghsip store in Boulevard Haussmann, Paris, featuring "purposely fake" photos of world leaders locking lips such as US President Barack Obama, French President Nicholas Sarkozy, and more. The November 16 unveiling was also met with controversy: the Vatican balked at the campaign's inclusion of a purposely fake photo of Pope Benedict XVI kissing the Egyptian imam, Sheik Ahmed el-Tayeb, as part of the campaign.
ADVERTISEMENT - CONTINUE READING BELOW
Watch the video for the "UNHATE" campaign


The campaign, says Alessandro Benetton, Executive Deputy Chairman of the Benetton Group, aims to promote the concept of tolerance by contrasting the culture of hatred and promoting closeness between peoples, faiths, cultures, and the peaceful understanding of each other's motivations. "Ours is a universal campaign, using instruments such as the Internet, the world of social media, and artistic imagination," Benetton said according to a press release on the "UNHATE" campaign.

The UNHATE project includes a series of coordinated initiatives and events, which started on November 16 in the newspapers, major publications and websites around the world. The campaign includes "purposely fake" photos of world leaders kissing as a universal syumbol of love: Barack Obama and Chinese leader Hu Jintao, Pope Benedict XVI and Ahmed Mohamed el-Tayeb, Imam of the Al-Azhar mosque in Cairo (the most important and moderate centre for Sunni Islamic studies in the world); the Palestinian president Mahmoud Abbas and the Israeli prime minister Benjamin Netanyahu.


ADVERTISEMENT - CONTINUE READING BELOW
Recommended Videos
Load More Stories