The 23rd Gawad CCP para sa Alternatibong Pelikula at Video: NKOB (New Kid on the Block) 2011
On the new batch of alternative and indie films: "New blood is always fun," says our SPOT.ph blogger.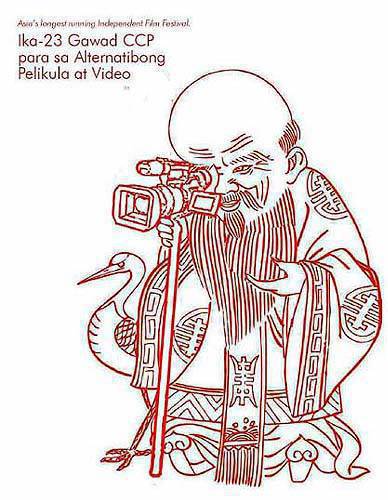 I caught the last set of films screened at the 23rd Gawad CCP para sa Alternatibong Pelikula at Video, which is kind of the granddaddy of independent film festivals in the Philippines because it's been around since 1987. Their poster this year is cute, sort of Confucius-meets-D.I.Y. It's appropriate for the do-it-yourself ethos of Philippine filmmaking-along with the Filipino's inherent survivalist flexibility and natural talent. This is what keeps Philippine cinema thriving. Anyway, new blood is always fun.

I wish I had time to see a bit of everything but I missed all the animation, experimental films, and documentaries. I did have time on a Saturday afternoon to catch the last six short films. Honestly, I feel so much better that I went to see them instead of watching-very late in the game and yes it's still showing-Praybeyt Benjamin. (I just wanted to see why it made tons at the box office; now I guess I'll never know.)
ADVERTISEMENT - CONTINUE READING BELOW
Trailer for Ang Umaatikabong Buhay ni Badong Aguirre

Josephine Carreon's Ang Umaatikabong Buhay ni Badong Aguirre breathes some fresh air into the dead genre of Pinoy action films-it opens with a hilarious action sequence, which looked better choreographed than many bakbakan scenes in recent history. It's a heartfelt and stylish comedy about a lowly pedicab driver-turned-action-hero, filled with pop culture references and very Pinoy humor. (If this film had been made commercially in 1989, it would have starred Jimmy Santos as Badong and Kris Aquino as Princess, the kidnap victim.)

Taking Chances by Renard Torres (of the College of Saint Benilde School of Design and Arts) is a super awkward love story about Anne, a first-year film student, who falls for her classmate Kiko. Terrible in its innocence, juvenile but endearing-it made me realize that I would rather die than be seventeen again.

Yutaka Yamakawa's Tama (Deranged) starts off as a straightforward romantic drama about best friends-Lian is a nice girl in love with Rocky, her good-looking best friend, who is too busy chasing other women to notice her. Everything rapidly goes downhill when Rocky starts dating someone else-the film itself veers into weirdness and never comes back. But it doesn't have to be good to be edgy and unexpected.
ADVERTISEMENT - CONTINUE READING BELOW

Tanghanling Tapat by Ian Umali, unfortunately, I didn't get. Not one bit. The story of two brothers, Dale and Onic, and there's some sort of implied sibling rivalry. Was the theme of this film about the loss of identity? Maybe. I was certainly lost.

In Viscera by Herwin Cabasal is a film where a cop questions and tortures someone tied to a chair. Children are going missing, turning up without their internal organs, and the suspect claims to know nothing about it. Intense and literally nauseating, this film again re-imagines the aswang myth but with Hostel-style violence and gore.

Thankfully the last film, Taho by FEU's Marie Frederick Bensan, opens with shots of wild flowers and green fields. Macoy, a regular guy, starts his day walking the streets and supplying various neighborhood characters with taho. Among his regular customers is Stephanie, who really likes him. When Macoy meets pretty Nicole one day, he falls in love with her but finds his heart broken when he realizes she's with someone else. It's a gentle, charming film and a classic story that could have been a Dolphy movie from the 1950s. Taho is probably my favorite film out of the six, because it ends, not with a generic happy ending, but rather with the promise of something new.
ADVERTISEMENT - CONTINUE READING BELOW

***

Next week:  Sarah Geronimo and Gerald Anderson's new romcom! I can't wait!
CONTINUE READING BELOW
Recommended Videos
Share this story with your friends!
---
Help us make Spot.ph better!
Take the short survey
Load More Stories