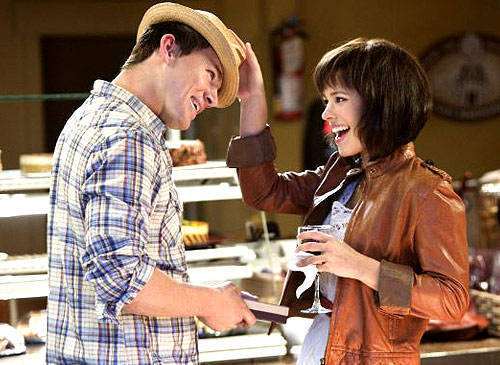 Channing Tatum and Rachel McAdams star in The Vow
(SPOT.ph) The Vow isn't a perfect Valentine movie, but it has its moments. While it's way more enjoyable than the star-studded, light-hearted silliness of 2010's Valentine's Day, it's not nearly as impactful as the poignant weepie that was The Notebook.


Inspired by a true story, The Vow nonetheless follows Nicholas Sparks' romantic formula, telling the tale of a happy, very-much-in-love couple torn apart by a tragedy. Paige (Rachel McAdams) and Leo (Channing Tatum) are young and married, living in Chicago. She's a talented, promising sculptor, he's a musician who owns a struggling music recording studio. One snowy and slippery night, the two fall victim to a car accident. Leo survives intact, but a head trauma erases Paige's memory of her four-year relationship with him. Leo must now try to make her fall in love with him again despite the fact that her parents (played by Sam Neill and Jessica Lange) are doing their best to separate her from him permanently. Also waiting in the wings is successful businessman Jeremy (Scott Speedman), to whom Paige was once engaged, and is now attracted to again.
ADVERTISEMENT - CONTINUE READING BELOW
Watch the trailer


The Vow starts out powerfully and stays strong for about forty minutes. The scene depicting the accident that results in Paige's memory loss is harrowing and almost poetic, showing Paige's head bursting through the windshield in horrifying but graceful slow-motion. We're then treated to flashbacks which show Leo and Paige meeting and falling in love against the backdrop of such rhapsodic locations as the Chicago Art Institute and its uniquely inviting skyline. We see the couple bonding over pastries in a charming  eatery called Café Mnemonic, as a voiceover by Leo meditates on how such seemingly tiny moments ultimately define us as human beings. Buoyed by engaging songs and the easygoing rapport of McAdams and Tatum, this half of the film is sealed by Leo and Paige's intimate and off-beat wedding, during which Paige recites her poignant, self-composed promise,  "I vow...to live within the warmth of your heart and call it home."


Soon after this, however, the movie goes south. Instead of handling Paige's memory loss in a delicate, original way, The Vow takes the standard route of the TV soap opera, using Paige's amnesia as an excuse to heighten the drama rather than illuminate it. Conveniently, the deletion from Paige's memory of those years of her life restores her father's ability to manipulate her, and gives her former fiancé the cheek to win her back even though she already dumped him the first time.

The fact that many of the characters who figure in this half of the story are two-dimensional at best doesn't help the movie's cause. As Paige's father Mr. Thornton, Sam Neill is a hissable villain from his first appearance to his last, so much so that I thought he was still playing Damien Thorn from the third Omen movie, The Final Conflict. At least Oscar winner Jessica Lange, as Thornton's better half, has one good scene near the end. To get to that scene, though, she has to wade through many forgettable sequences which don't demand much from an actress of her caliber. Then there's Scott Speedman as Jeremy, the handsome lout whom Paige is still engaged to in her post-accident state of mind. Jeremy is ostensibly in the film to turn the central relationship into a love triangle, but his character is so unsympathetically sketched that there's never any doubt that the steadfast Leo will be the one who will win Paige over eventually.
ADVERTISEMENT - CONTINUE READING BELOW


Adding to the film's second-half woes are scenes where Leo gives up on Paige just when he's making progress at winning her heart once more, and a conclusion that punctuates  the film almost as abruptly as...this.


RATING: 3 out of 5 spots  •••
Share this story with your friends!
---
Help us make Spot.ph better!
Take the short survey
More Videos You Can Watch
Load More Stories