10 Tunes to Listen to This Month
Madonna's wild club anthem, Usher's winning slow jam, Turbo Goth's new and out-of-this-world music video, and more!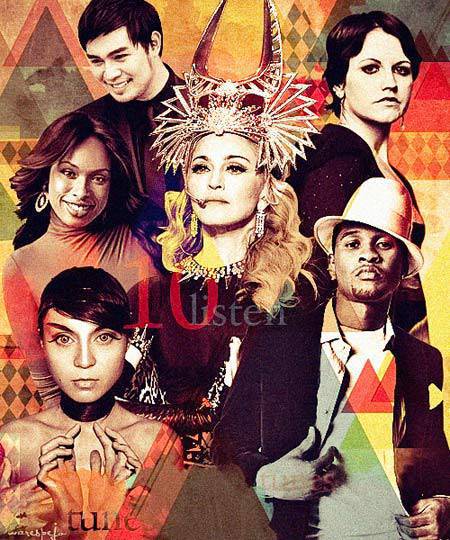 (SPOT.ph) This March, we bring you Madonna's wild and infectious club anthem, Usher's irresistible slow jam, The Cranberries' catchy new release, Jennifer Hudson and Ne-Yo's R&B collaboration featuring Rick Ross, and The All-American Rejects' new sound. Plus, check out local tunes you'll love like Turbo Goth's chilling ditty, Jed Madela's stirring ballad, Multo's trippy track, Chillitees' soulful single, and Sitti's jazzy love song.
Song: "Girl Gone Wild"
Artist: Madonna
The Queen of Pop's latest dance ditty is, no doubt, club anthem material. Produced especially for the ladies, the latest single off Madonna's forthcoming album titled MDNA is a hypnotic electropop tune with popping bass and beats.
Fun fact: Madonna shows what a "Girl Gone Wild" really is with the single's cover, where she wears Agent Provocateur.
Song: "Venus Flytrap"
Artist: Turbo Goth
Electronic rock duo Turbo Goth's new music video for the single "Venus Flytrap" is not to be missed. The alien-themed video is in perfect harmony with the track that features heavy guitar beats, chilling electronics, and ethereal vocals. We think it makes a great driving song for the summer.
Fun fact: Turbo Goth is composed of tattoo artist, illustrator, and model Sarah Gaugler on vocals and her boyfriend Paolo Peralta on vocals, guitars, drum beats, and synth.
Song: "Climax"
Artist: Usher
Those who miss Usher's slow jams are in for a treat with his latest single titled "Climax." The throbbing track highlights the R&B master's impeccable vocals, as he sings of love that has lost its flames.
ADVERTISEMENT - CONTINUE READING BELOW
Fun fact: Producer, DJ, and songwriter Diplo produced the single for Usher, giving it a fresh and light electronic sound.
Song: "Ikaw na Lang ang Kulang"
Artist: Jed Madela
Balladeer Jed Madela puts a lot of heart and soul into this love song off his new album Breathe Again. The soothing guitar sounds are in full harmony with the crooner's smooth and clean vocals.
Fun fact: Madela's Breathe Again also includes upbeat tracks like "I Have You Here" and "We're Having a Party."
Song: "Tomorrow"
Artist: The Cranberries
Dolores O'Riordan's dreamy singing in this track off The Cranberries' new album, Roses, will take you back to the group's early days and keep you smiling. You'll love the simplicity of the new release, from the relaxing vocals to the percussion and guitars that will have you swaying.
CONTINUE READING BELOW
Recommended Videos
Fun fact: The Cranberries will perform at the Smart Araneta Coliseum on April 10.
Song: "Upon Returning"
Artist: Multo
Allan Lumba, who has been making music under the name Multo since 2006, has just released this slightly gloomy yet enchanting single off his forthcoming album, Dead Stars. The mix of relaxing melodies and trippy percussions is a pleasant break from today's mainstream pop ditties.
Fun fact: According to the Number Line Records website, Multo's songs are recorded in a bedroom somewhere in Quezon City.
Song: "Think Like a Man"
Artist: Jennifer Hudson and Ne-Yo featuring Rick Ross
There's no denying the power in Jennifer Hudson's voice. In this track, the soulful R&B songstress is aided by Ne-Yo-another R&B favorite. And to add more attitude to the song, Rick Ross injects some rap and rhyme.
ADVERTISEMENT - CONTINUE READING BELOW
Fun fact: "Think Like a Man" is the title track for the comedy film starring Chris Brown, Kevin Hart, and Gabrielle Union.
Song: "Why, Why, Why"
Artist: Chillitees
The local "alterna-soul" group's new song features vocalist Uela Casco's refreshing jazzy voice complementing the band's soulful rhythms. It's the perfect soundtrack for chill-out nights.
Fun fact: Chillitees started out in 2001 and released their first album, Extra Rice, in 2006.
Song: "Beekeeper's Daughter"
Artist: The All-American Rejects
Don't expect the earlier sound of alternative-pop-rock band All-American Rejects (remember "Move Along" and "Swing Swing"?) from this tune off their forthcoming album, Kids in the Street. The single has a brighter vibe with a lot more pop influence in it. The track may not be as kick-ass, but you have to admit it sounds fun enough to induce LSS.
Fun fact: Kids in the Street is expected to be released worldwide on March 26.
Song: "Sinong Mag-aakala"
Artist: Sitti
Sitti shows her versatility in this jazzy acoustic track off her self-titled album. It's a pleasant surprise to hear her sweet-sounding vocals melt into the non-bossa melody.
Fun fact: Sitti first grabbed the attention of the public when she joined and emerged as one of the winners in MTV Philippines' MTV Supahstar: D' Super Search in 2004.
Art by Warren Espejo
Share this story with your friends!
---
Help us make Spot.ph better!
Take the short survey
Load More Stories