SPOT.ph's Top 10 Pinoy Vacation-Themed Movies
Going on a road trip or flying off for some much-needed R&R? Get in the mood with these local vacay flicks.
(SPOT.ph) Looking for vacation inspiration this summer? Our suggestion: a movie marathon. To aid you, we list 10 local vacay flicks set in inviting spots here and abroad. Aside from visual pleasure, you'll be treated to all kinds of entertainment-from brainless fun to campy humor and tearjerking scenes. We've got picks for all you hopeless romantics, adventure-seekers, and soul-searchers. Happy viewing!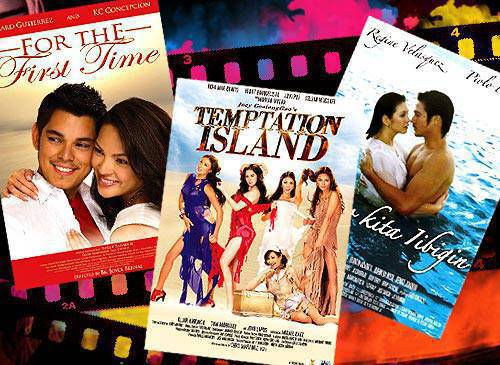 ADVERTISEMENT - CONTINUE READING BELOW
Plan your summer vacay with the help of these reel treats.
Artwork by Warren Espejo

10. Ouija (2007)
Destination: Camiguin
How they got there: Half-sisters Romina (Jolina Magdangal) and Aileen (Judy Ann Santos), along with their cousins Sandra (Iza Calzado) and Ruth (Rhian Ramos), take a break from their busy lives in Manila and head to Camiguin for the wake of their grandmother.
The tale of the trip: The four ladies find their old Ouija board and decide to call on spirits like they used to during their younger years. Before they could finish the ritual, the Ouija board catches fire trapping a restless spirit in their presence. Terrifying things start to happen, and the only way to put the spirit to rest is to find its burial ground.
What to watch for: The four fresh-faced stars make horror look so good in this Topel Lee masterpiece.
ADVERTISEMENT - CONTINUE READING BELOW
9. All My Life (2004)
Destination: A cruise with stops at Thailand, Malaysia, and Singapore
How they got there: Louie (Kristine Hermosa) goes on a cruise after she learns that her fiancé, Joey (Bernard Palanca), has impregnated another girl. She meets Sam (Aga Muhlach), a playboy with a painful secret.
The tale of the trip: The short time they spend together and their apparent differences don't prevent Sam and Louie from falling in love with each other-but that's not enough reason for them to keep in touch. Still haunted by their past, the two part ways and don't meet until some time later. Then they realize it's their second chance at love.
What to watch for: Get ready for heart-wrenching moments set against an awe-inspiring backdrop. This one's a solid tearjerker. 
8. Paano Kita Iibigin (2007)
Destination: A run-down resort in Zambales
How they got there: Fresh from getting fired from her job, single mom Martee (Regine Velasquez) and her asthmatic son head to Zambales for some quiet time.
ADVERTISEMENT - CONTINUE READING BELOW
The tale of the trip: During their stay at the resort owned by the rebellious and handsome Lance (Piolo Pascual), Martee discovers they just got evicted from their apartment. She is then hired as the resort manager. Determined to establish a new home for her son and increase the place's clientele, she does everything she can even if it causes her to clash with Lance. But the more time Martee spends working with Lance, the more she discovers what's underneath his complicated façade.
What to watch for: Eye candy Piolo Pascual and singer-actress Regine Velasquez's chemistry in this Joyce Bernal film is undeniable. Also watch for funny woman Eugene Domingo's spotless comedic acting.
7. Siquijor: Mystic Island (2007)
Destination: Siquijor
How they got there: A crew, working on a primetime show featuring horror stories based on real life, visits the mystic island of Siquijor to shoot some footage.
ADVERTISEMENT - CONTINUE READING BELOW
The tale of the trip: When the team couldn't get the footage they want and runs out of time, they agree to stage a possession and exorcism. Back in Manila, strange things start to happen to each of them, and the answers can only be found in the Siquijor footage.
What to watch for: Though a scarefest isn't the ideal vacation, this one's for all you thrill-seekers. The chilling scenes in the flick will remind you never to mess with the supernatural, whether or not you're a believer.
6. Gigil (2006)
Destination: Boracay
How they got there: China (Katrina Halili) heads to Boracay after a heartbreak.
The tale of the trip: After being left at the altar by her gay fiancé, China goes from good girl to wild vixen in Boracay. She parties like crazy and swears off love. Eventually, she meets Felix (Alfred Vargas), an irresistible dive master, whom she suspects to be gays as well. Eager to uncover his real sexual orientation, she sets out to investigate. Pretty soon, the jaded and bitter China finds herself falling for Felix.
ADVERTISEMENT - CONTINUE READING BELOW
What to watch for: All the sexy bodies and beach shots will amp up your excitement for that upcoming beach trip.
5. Here Comes the Bride (2010)
Destination: A beach resort
How they got there: A group of wedding attendees make their way to a resort to join the merriment.
The tale of the trip: Five interesting characters-an innocent bride, an uptight lawyer, a gay "image stylist," an old rich man, and a meek maid-switch bodies after a car crash during a solar eclipse. The phenomenon causes mayhem before, during, and after the wedding. They find out that the only solution to their problem is to stage another car crash on the next solar eclipse.
What to watch for: Eugene Domingo and Angelica Panganiban both show their comedy acting prowess in this hilarious flick. Plus, the scenic beach shots will have you packing your bags with all your summer essentials.
ADVERTISEMENT - CONTINUE READING BELOW
4. TGIS the Movie (1997)
Destination: A beach resort
How they got there: A bunch of teenage friends decide to go on a sembreak getaway. One of them (Bobby Andrews as Joaquin/Wacks) volunteers his father's yacht without permission.
The tale of the trip: All is well until the yacht breaks down and drifts away, leaving the group stranded on a nearby island. While their relatives search for them, the young castaways struggle to survive. They get caught in various misadventures and at the same time face their adolescent issues.
What to watch for: Relive your TGIS days and get giddy over the Bobby Andrews-Angelu de Leon love team.
3. Trip (2001)
Destination: Caliraya, Laguna
How they got there: A group of friends go on road trip during school break.
The tale of the trip: The friends' vacation turns into one life-changing trip as they face their family, relationship, and identity issues: Joboy (Marvin Agustin) and his family are about to be thrown out of the apartment they're renting;  Louie's (Onemig Bondoc) girlfriend, Ola (Desiree del Valle), is pregnant; Celine (Kristine Hermosa) discovers that her childhood love is now married; and couple Athan (John Prats) and Faye (Heart Evangelista) struggle with jealousy.
ADVERTISEMENT - CONTINUE READING BELOW
What to watch for: Aside from the cast members we fell in love with in the '90s, you'll enjoy the old-school barkada fun and cheesiness in the film. This one will have you reminiscing your carefree high school and college days.
2. For the First Time (2008)
Destination: Santorini, Greece
How they got there: Pia Sandoval (KC Concepcion), a real estate marketing workaholic, escapes to Greece for some well-deserved R&R. There, she is forced to stay in the house of Seth Villaraza (Richard Gutierrez), an irresistible womanizer.
The tale of the trip: Pia hates Seth's guts for breaking her best friends' hearts. That's why when she unexpectedly meets him in Greece, she considers her whole vacation ruined. Left with no choice but to crash at his place in Santorini, Pia bears with Seth and his antics. Unsurprisingly, Pia falls for the bad guy (who isn't so bad after all).
ADVERTISEMENT - CONTINUE READING BELOW
What to watch for: In this flick, the setting takes the cake. After watching, you'll feel like hopping on a plane, flying off to Greece, and falling in love-not just with a charmer but with the breathtaking scenery.
1. Temptation Island (1980, 2011)
Destination: A desert island
How they got there: An unlikely bunch-composed of four beauty queen hopefuls (supermodel wannabes in the 2011 remake), a gay pageant coordinator, one loyal maid, and three hunks-is stranded on a desert island after the ship they're riding en route to the evening gown competition catches fire.
The tale of the trip: We call this one a "forced vacation." All nine castaways, shaken out of their comfort zones, do whatever they can to survive on the island with no resources and only a lot of temptation. The ordeal worsens when their personalities clash and physical exhaustion takes over.
What to watch for: Aside from the spot-on campy humor of this cult classic, brace yourself for a slew of quotable quotes: "Rub a dub dub, two bitches in a tub," "I'm a crook, a damn good crook," and "Walang tubig, walang pagkain, magsayaw na lang tayo." And while we don't wish you to get shipwrecked on your next vacation, we think this flick deserves the top spot for showing us all how to survive the worst possible scenario-even while on the brink of sanity.
ADVERTISEMENT - CONTINUE READING BELOW
CONTINUE READING BELOW
Recommended Videos
Share this story with your friends!
---
Help us make Spot.ph better!
Take the short survey
Load More Stories