Azkals in the doghouse, Grace Lee's goodbye to Good Times + more lowlights
Plus, Boy Pick-Up picks Miriam, Dr. Vicki Belo's love life, and more crazy stories.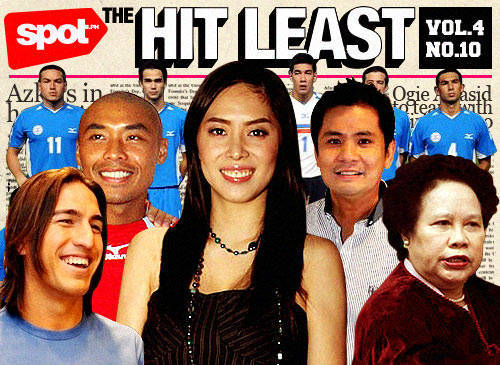 1. AFP AND PNP DISMISS DESTABLILIZATION RUMORS, DECLARE "MORALE IS HIGH" AND TROOPS ARE LOYAL TO P-NOY. Awwww, how sweet.
2. AFP CONFIRMS THERE ARE PEOPLE WHO WANT TO OUST P-NOY. Break out your Coup D'Etat Emergency Kit, folks!
3. ONE OF THE MEN  WHO ROBBED AND KILLED A UP LOS BAÑOS STUDENT SAYS HE REGRETS WHAT HE DID, EXPLAINS THEY JUST REALLY WANTED TO ROB THE STUDENT. Don't you just love it when criminals say they're sorry after they kill someone?
ADVERTISEMENT - CONTINUE READING BELOW
4. DRIVER AND CONDUCTOR NABBED AFTER ALLEGEDLY BEATING UP A "BATANG HAMOG" WHO REPORTEDLY STOLE THEIR EARNINGS; KID'S PARENTS CHARGE THEM WITH CHILD ABUSE. Best crime scheme ever: Get an underaged kid to steal things so you can cry "child abuse" when the kid gets caught. (Not that what the driver and conductor did was right.)
Load More Stories