MOVIE REVIEW: Moneyball
Our SPOT.ph movie critic Paul Daza gives this Oscar-nominated film a perfect score.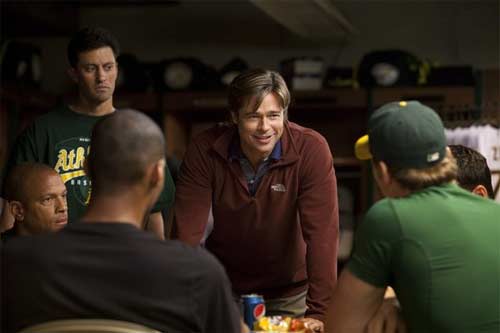 Moneyball was nominated for several Academy Awards including Best Picture.
(SPOT.ph) If you don't know much about baseball, don't let that be your excuse to miss Moneyball, a superbly scripted, powerfully under-acted, multiple-Oscar nominated film. Based on  true events, Moneyball stars Brad Pitt and Jonah Hill in a story about how a new statistical system known as "sabermetrics" forever changed the way professional baseball was played in the USA some 10 years ago. Nominated for best picture, best actor (Pitt) and best supporting actor (Hill) at last month's Oscars, Moneyball is another one of those Oscar darlings like The Descendants, Hugo and My Week With Marilyn which has struggled to find an audience in its Philippine theatrical release. The key to being excited about Moneyball is to look at it not as a story about baseball or complex mathematical formulas, but as a story about an underdog triumph. Like The Social Network, Moneyball is also about how one man can make sweeping changes in the world by questioning the status quo and daring to try something new despite the seeming certainty of failure. It's a wonderful movie to draw inspiration from, and certainly not one to be intimidated by.
Watch Moneyball's trailer here.
In his Academy Award nominated performance, Brad Pitt plays Billy Beane, the general manager of the underperforming baseball team, the Oakland Athletics. As the 2001 season ends, Beane isn't totally surprised when he loses three of his best players to a rival team that's offered them bigger paychecks. Desperate to form a good team despite limited funding, Beane hires Peter Brand, a Yale economics graduate who convinces him to use complex formulae called "sabermetrics" to identify talented but undervalued players that they can afford. With everything to gain and not much to lose, Beane champions the experiment, triggering a series of seismic changes in the game of baseball whose effects are still felt today.
ADVERTISEMENT - CONTINUE READING BELOW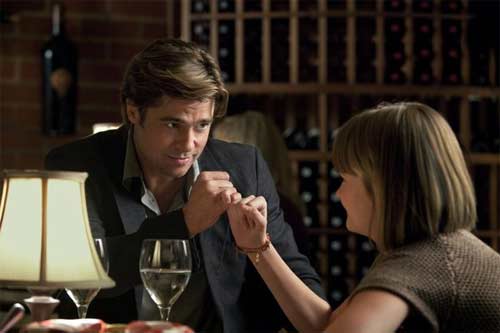 Brad Pitt plays Billy Beane, the general manager of an underperforming baseball team.
CONTINUE READING BELOW
Recommended Videos
As expected of a film that was nominated for best picture, Moneyball is an outstanding motion picture, its chief asset being its Oscar-nominated script by two Oscar-winning writers, Steven Zaillian (Schinder's List) and Aaron Sorkin (The Social Network). Zaillian and Sorkin succeed in making the niche worlds of baseball talent scouting and complex statistical analysis so accessible that those who know next to nothing about baseball (like me) can easily follow the film's many discussions about what makes for a good and a bad baseball player. You do hear alien terms like "RBI" roll off the tongues of the film's characters every now and then,  but these are outnumbered by the more humanizing statements and observations made about the athletes. As someone who isn't heavily into sports, I was fascinated by the meetings depicted in the film showing how a team's managers decide which players to draft. I had no idea that a talented athlete could be rejected simply for looking funny, or for having a girlfriend who wasn't pretty enough. The beauty of Moneyball's screenplay is that it exposes you to this previously hidden world, and makes it clear that the so-called experts in a particular field are as prone to making errors in judgment as the next man.
ADVERTISEMENT - CONTINUE READING BELOW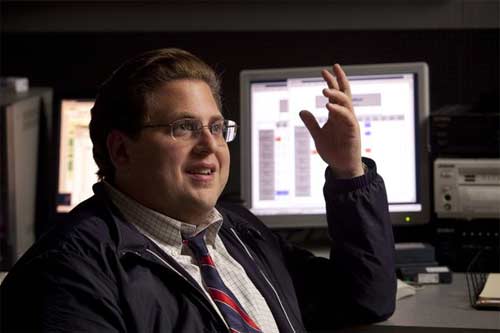 Jonah Hill takes on a more serious note as Yale graduate Peter Brand.
Another thing which I found uniquely refreshing about Moneyball compared to other sports movies is that its best moments don't even take place in the field or arena during a climactic championship game. The best scene in the film for me is the one where Beane and Brand are trying to trick other managers into trading their best players to Oakland  over the telephone without their knowing it. It's a gripping, absurdly unadorned scene,  driven solely by two superb actors "simply" delivering their lines. The antagonists, namely the managers Beane is negotiating with, are present only through their voices on the telephone loudspeaker. Simple as it is, this scene is one of Moneyball's defining moments, and it's not played out in a baseball diamond with stirring music accompanying  the sight of a player sliding into home plate amidst an avalanche of flash bulbs a la The Natural.
ADVERTISEMENT - CONTINUE READING BELOW
Similarly, Moneyball's most moving moment doesn't take place on a baseball diamond either, but rather, in a room where Brand is showing Beane video footage of a pudgy player trying desperately to reach first base while the crowd is laughing at him. Like the earlier conference room sequence, this scene isn't accompanied by manipulative music  either. And yet, it made tears well up in my eyes because of the way Brad Pitt and Jonah Hill-especially Jonah Hill-played it.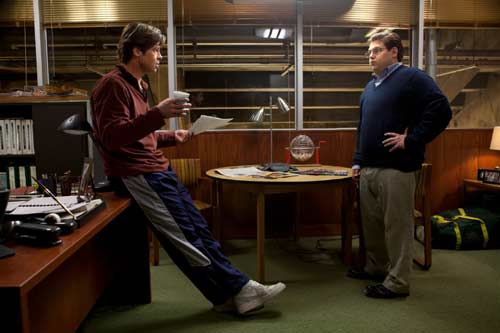 The pair worked to improve their team by using a complex statistical formula.
As Billy Beane, Brad Pitt has never been better. I enjoyed his work here even more than I did his previous Oscar-nominated turn as the title character in The Curious Case of Benjamin Button, where he got loads of help from a small army of visual effects artists. In Moneyball, you'll see a pure, unadorned Brad Pitt at his under-acting best.
ADVERTISEMENT - CONTINUE READING BELOW
As Beane's plus-sized sabermetric statistician, Superbad star Jonah Hill is quite the revelation. The only caveat to his work in Moneyball is that it's difficult to see him ever getting a role as good as that of Peter Brand in the future.
The same can be said for the film itself. After watching Moneyball, you'll feel like it'll be quite a feat for another movie about sports to top it.
Rating: 5 Spots out of  5 .....
Share this story with your friends!
---
Help us make Spot.ph better!
Take the short survey
Load More Stories