Joseph Estrada and Jejomar Binay reconnect, Amalia Fuentes slams Annabelle Rama + more lowlights
Plus, Rufa Mae Quinto and Boy2 Quizon are an item!? (And more nutty news.)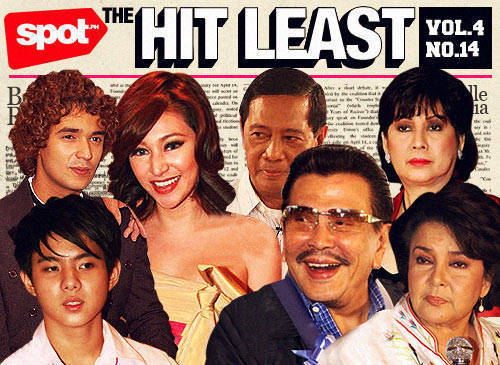 1. FORMER CHILD STAR JIRO MANIO GRADUATES FROM HIGH SCHOOL, NAMED "MOST INSPIRING STUDENT" AFTER FATHERING A CHILD AND A STINT IN REHAB. Let's get this straight: The route he took is hardly inspirational.
2. CHILD ACTRESS JILLIAN WARD GRADUATES FROM PREP SCHOOL. Kid, don't rely on No. 1 for inspiration, OK?
ADVERTISEMENT - CONTINUE READING BELOW
CONTINUE READING BELOW
Recommended Videos
3. BOXER-LAWMAKER MANNY PACQUIAO KEEPS DECLARING THE BIBLE HAS REALLY CHANGED HIS LIFE. OK, we believe you-so please shut up and just go do a lot of uncredited good deeds. (God doesn't need a press conference.)
4. AT THE HEIGHT OF THE HOLY WEEK EXODUS SOME BUS DRIVERS-TWO FROM METRO MANILA AND 13 FROM CEBU-TEST POSITIVE FOR DRUG USE. This is one of those times when being positive is actually a negative.
Load More Stories