10 Local Acts You Don't Know But Should (2012 Edition)
Expand your mind...and your music playlist.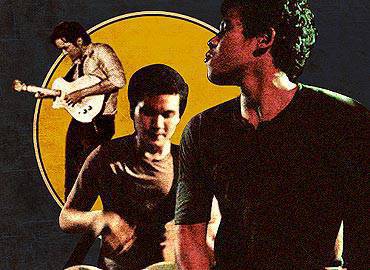 (SPOT.ph) For every Jessica Sanchez that storms her way into the hearts of the world's TV-watching population, there are dozens of underappreciated acts that toil away in Metro Manila's hole-in-the-wall haunts, gigging week after week to an audience that constitutes barely a fraction of Ms. Sanchez's American Idol voting army. For every Billboard-conquering hit that Charice Pempengco churns out, there are scores of wondrous songs by underrated artists that have less than five hundred plays to their name, but whose inspiring style and sheer sincerity bowl you over more than any major-label earworm can.

SPOT.ph rounds up 10 great acts who may not have racked up as many YouTube views as the aforementioned pint-sized Pinoy superstars, yet have vision and talent spilling out of them in buckets. We've included links to their Facebook pages so you can hit that like button and show them the love they deserve.
Yolanda Moon
File under: Neo soul
Sounds like: 21st century soul flagbearers Jamie Lidell and Mayer Hawthorne
ADVERTISEMENT - CONTINUE READING BELOW
Yolanda Moon is like a sweet, sultry breath of air in the local music landscape. With silky vocals, exquisitely textured arrangements, and gentle pacing perfect for late-night lounging, the music they create carries with it traces of 70s R&B legend Al Green. In OPM's prevailing sonic zeitgeist of guitar-cradling crooners, larynx-busting rockers, and eardrum-shattering birit queens, Yolanda Moon's smooth, old-school soul sheen is a welcome respite.
Visit their:
Facebook: http://www.facebook.com/YolandaMoonMusic
Twitter: http://twitter.com/yolandamoonsays
Soundcloud: http://soundcloud.com/yolandamoon
Wilderness
File under: Progressive rock
Sounds like: A glorious racket that points to prog rock heavyweights The Mars Volta as its muse
Wilderness are a ragtag group of youths who seem to have made a pact to make as much noise as they possibly can. With a guitarist, a bassist, a drummer, two percussionists, an extended family of members with dubious roles in the outfit, and no vocalist, Wilderness's banging psychedelic jams are loud and trippy enough to give virgin-eared folks a minor heart attack.
CONTINUE READING BELOW
Recommended Videos
Wilderness have brought their cacophonous chorus overseas, joining other rock acts in the region at the recently held Grunge Meets Rest gig in Indonesia.
Visit their:
Facebook: https://www.facebook.com/ohmywilderness
Twitter: http://twitter.com/wildernessph
Bandcamp: http://wildernessph.bandcamp.com/
Soundcloud: http://soundcloud.com/wildernessph
People's Future
File under: Hip-hop
Sounds like: The 'hood of early-90s greats A Tribe Called Quest and The Roots, revisited
Despite the hordes of Kanye and Jay-Z fans in the country, the local hip-hop scene leaves much to be desired, with only a handful of acts scoring mainstream success since Francis M, or more notoriously, Andrew E. Yet underground acts continue to spin their beats and spit their rhymes, a testament that their love for the form is more than just the stuff of adolescent fad. Case in point: People's Future.
ADVERTISEMENT - CONTINUE READING BELOW
With their smooth, funk- and jazz-flavored rhythms, People's Future harks back to the glory days of early 90s hip-hop. And these wordsmiths don't just talk the talk: besides penning lyrics with a social conscience, People's Future have donated proceeds from the listening party for their new EP What The Dilis to farmers of Hacienda Luisita.
Visit their:
Facebook: http://www.facebook.com/peoplesfuture
Tumblr: http://peoplesfuture.tumblr.com/
Child/ren of the Pilgrimage
File under: Folk rock
Sounds like: 70s-tinted tunes that bring to mind John Lennon, all wrapped in a warm lo-fi haze
Jep Cruz has big shoes to fill. Child/ren of the Pilgrimage's bandleader has crafted a 70s-style effort that sounds like something your mom would've listened to on one sticky summer back in the day, prompting listeners to draw comparisons to no less than a certain ex-Beatle.
Nevertheless, the wistful, nostalgia-soaked charm of Child/ren of the Pilgrimage's lo-fi jangle pop seems to have worked, because the band's first single "Your Soul's A Jet" snuck into the Pinoy MYX Countdown late last year and hung in there for four weeks-an impressive feat for an indie act that hasn't even released an album yet.
Visit their:
Facebook: https://www.facebook.com/pages/Children-of-the-Pilgrimage/184533581580019
Myspace: http://www.myspace.com/566232292
Modulogeek
File under: Ambient electronica
Sounds like: Film scores rather than actual songs
Hong Kong-based Pinoy electronic artist Joon Guillen is a self-confessed geek-and proud of it. In fact, he carries this geekery over to his passion for music, enlisting a laptop and a monome music controller, in addition to a dizzying gaggle of other audio equipment, as his bandmates.
ADVERTISEMENT - CONTINUE READING BELOW
You would think, with the sheer amount of gadgetry involved, that what Modulogeek creates could only be music for robots. On the contrary, he mesmerizes you by weaving waves of feeling that shift from euphoric to sensual to contemplative to lovelorn from track to track, letting you fill in the sonic spaces left by the lack of words with your own secret thoughts.
Visit their:
Official site: http://modulogeek.com/
Facebook: http://www.facebook.com/pages/Modulogeek/167632983262442
Soundcloud: http://soundcloud.com/modulogeek/
The Butchercons
File under: Garage rock, punk
Sounds like: It belongs on a 70s punk bill alongside The Clash
Since The Butchercons released their debut album Coalesce last year, they've been tirelessly stomping their way through the Metro Manila gig circuit, piercing the cigarette smoke-filled air with high-pitched shrieks, dirty guitar riffs, and a relentless rhythm that will shake you to attention.
While the description above sounds a tad too rough for plebeian ears, rest assured that The Butchercons are not unguided missiles that spontaneously set off in a spitfire of noise. In fact, the four-piece is gifted with a tight dynamic, infectious energy, and an entirely danceable pop-punk panache that will turn even girly girls into potential fans.
Visit their:
Facebook: http://www.facebook.com/thebutchercons/
Myspace: http://www.myspace.com/thebutchercons
Encounters with a Yeti
File under: Post-rock, instrumental rock
Sounds like: Mogwai, Explosions in the Sky, and other bands whose music can only be described as "epic"
If there's anything Encounters with a Yeti's music achieves, it is this: it dispels ignorantly held views that songs with no words belong only in elevators and car showrooms. With arena-sized guitars, a generous heaping of effects, and colossal dynamics that buoy the listener through peaks and falls, EWAY ambushes your senses, grips your heart, and leaves you feeling as if you just experienced a spiritual transformation-all this without so much as a whispered word to aid it in its assault.
ADVERTISEMENT - CONTINUE READING BELOW
Visit their:
Facebook: https://www.facebook.com/encounterswithayeti
Twitter: http://twitter.com/reclusiveyeti
Myspace: http://www.myspace.com/encounterswithayeti
Similar Objects
File under: Electronica
Sounds like: A spellbinding spectrum of sounds that spans Justice to James Blake to Jose Padilla
Jorge Wieneke a.k.a Similar Objects was once singer of a punk band who, perhaps wisely, decided to pack up the act and hole up with his laptop. Since then, he has been busy conjuring shapeless electronic soundscapes that find their muse in phenomena so diverse, they will leave you scratching your head: semi-precious stones, Carl Jung, and astral travel, among others. Because of this, Similar Objects has become somewhat of a paradox: he is both the scientist who creates measured beats with masterful precision and the mystic who translates existential awakening into song.
Visit their:
Facebook: http://www.facebook.com/pages/Similarobjects/186615864716554
Twitter: http://twitter.com/similarobjects
Tumblr: http://www.similarobjects.tumblr.com/
Bandcamp: http://similarobjects.bandcamp.com/
Outerhope
File under: Indie pop
Sounds like: American folk-pop act The Weepies, only they're brother and sister instead of husband and wife
Armed with a guitar, a synthesizer, and occasionally, a glockenspiel, Outerhope have been crafting charming twee lullabies since 2004. But even with three independent releases already under their belt, the bashful brother-sister duo of Micaela and Mike Benedicto still admit to succumbing to stage fright.
It looks like Outerhope won't remain spotlight-shy for long, though: they recently performed at the NYC Popfest and the San Francisco Popfest, music festivals that gather the best indie pop acts in the US and abroad. They subsequently found their way to MTV Iggy, a music website that has its eye on the most promising under-the-radar acts from around the world.
ADVERTISEMENT - CONTINUE READING BELOW
Visit their:
Official site: http://www.outerhope.com/
Facebook: http://www.facebook.com/outerhope
Twitter: http://www.twitter.com/outerhope
Bandcamp: http://outerhope.bandcamp.com/
Ang Bandang Shirley
File under: Indie alternative
Sounds like: English band The Magic Numbers' earnestness, playfulness, and predilection for girl-boy singing, all present and accounted for
Ang Bandang Shirley have been around since 2003, making them veterans by this list's standards. But when you hear the amiable vocal harmonies and big-hearted pop hooks that fill their debut album Themesongs, you wonder if there's something seriously wrong with the country's collective hearing, because this band is nowhere near as big as it should be.
Ang Bandang Shirley are set to release the follow-up Tama Na Ang Drama this year. While the new album looks to be more background music for romantic frustration than gleeful singalongs for barkada trips, the instantly familiar, unfailingly relatable sentiment that has become the band's trademark is bound to tug at more hearts than ever before.
Visit their:
Facebook: https://www.facebook.com/angbandangshirley
Twitter: http://twitter.com/thebandshirley
Tumblr: http://angbandangshirley.tumblr.com/
Myspace: http://www.myspace.com/angbandangshirley
Share this story with your friends!
---
Help us make Spot.ph better!
Take the short survey
Load More Stories