The Ara Mina-Cristine Reyes catfight, Heart Evangelista's love life review + more lowlights
Plus, Manny Pangilinan's quest to buy GMA-7 and other nutty tales.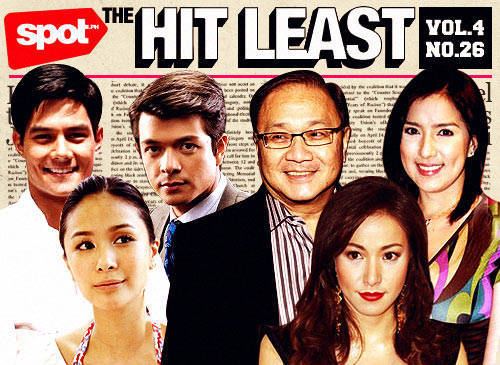 1. MORE THAN 13 MILLION FILIPINOS HAVE NO BIRTH CERTIFICATE BECAUSE A NUMBER OF MOTHERS WHO GIVE BIRTH AT HOME DON'T KNOW THAT IT'S NECESSARY TO HAVE  BIRTH CERTIFICATES. Is it safe to say that we're in serious trouble in this department?
2. THE GOVERNMENT STILL HAS NO DEFINITE DECISION ABOUT THE PANATAG SHOAL SITUATION. Wow, we're really surprised by this. (Not!)
ADVERTISEMENT - CONTINUE READING BELOW
3. A MAID CLAIMS THAT HER EMPLOYER, A RESIDENT OF QUEZON CITY, MALTREATED HER FOR TWO YEARS AND, AT ONE POINT, HIT HER SO HARD THAT SHE HAD TO UNDERGO EYE SURGERY. If this case is presented to P-Noy, do you think he'd make a decision about it ASAP or would he form a study group to look into the matter further?
4. STUDENTS IN A NEGROS ORIENTAL SCHOOL CLAIM TO BE POSSESSED BY EVIL SPIRITS. It's a more exciting way to say, "I don't want to go to school."
5. ANIMAL RIGHTS ADVOCATES CONTINUE TO ASK MANILA ZOO TO TRANSFER THE 36-YEAR-OLD ELEPHANT, MALI, TO A SANCTUARY IN THAILAND. Based on reports, it seems that Mali is being treated like the zoo's "white elephant." (When you become your own metaphor, is it still a "metaphor"?)
Recommended Videos
Load More Stories