Top 10 Hair Salons in Manila
We take the stress out of deciding where to take your tresses with SPOT.ph's list of Manila's top salons.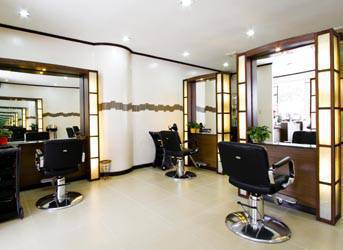 Address: G/F City Center Bldg., 338 Ortigas Ave., Greenhills, San Juan
Contact: 726-9928
Operating Hours: 9 a.m. to 8 p.m. (last call is at 7 p.m.), Monday to Sunday (except special holidays)
How much to shell out: Ladies' cuts range from P400 to P2,500, Men's from P300 to P2,500; Color starts at P2,000
The lowdown: After learning the ropes at Vidal Sassoon, Japanese hairstylist Shuji Kida opened his own salon and expanded to different branches in the United States and Asia. His quick, efficient hands have styled the locks of celebs like Jennifer Aniston. Kida visits Manila once or twice a year to service special clients, and when he isn't around, his team, headed by creative director Shigeki Ogaki, provides loyal clientele with the fashionable precision cuts and up-to-the-minute coloring that Kida is known for.
The verdict: Whether it's the ancient art of the Tea Ceremony or the traditional way of preparing sushi, the Japanese have a way with rituals. They are simple yet intricate, and that's what Shuji Kida Hair Salon is all about.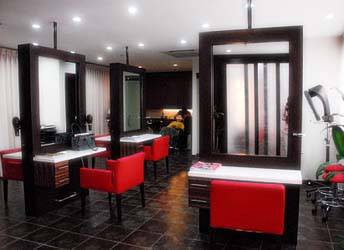 2. Sei Salon
Address: 6/F Republic Glass Building, 196 Salcedo Street, Legaspi Village, Makati City
Contact: 812-0943
Operating Hours: 9:00 a.m. to 6:00 p.m., Monday to Saturday (except public holidays)
How much to shell out: Cuts are at P1,700; Color starts at P2,000
The lowdown: Every haircut begins with a mind-blowing shampoo and conditioning treatment that feels like 10 minutes, then hair stylist and co-owner Chiyo Tagami gives you a comprehensive once over. She studies your head shape, hair type, lifestyle, and facial features, then begins her trademark precision haircut. Sitting in Chiyo's chair is like kneeling in a confession booth: you're put in a vulnerable spot, and any sins from your hair's past cut are miraculously absolved.
The verdict: The ultra efficient and professional staff (no exchanging gossip or belting out pop songs), the extra mile in service (they'll cover your freshly brewed Lavazza coffee when you leave your seat), and the meticulousness of Chiyo's cut makes this salon a must-visit.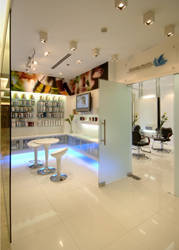 Address: Heaven on the 5th, Rustan's Makati
Contact: 893-5007
Operating Hours: Sunday to Thursday 10 a.m. to 8 p.m., Friday to Saturday, 10 a.m. to 9 p.m. (except special holidays)
How much to shell out: Cuts are between P1,000 to P5,000; Color begins at P3,500
The lowdown: Known for its luxurious price tags on cut and coloring, Univers Phyto Salon makes every appointment worth your while. Loyal clientele have been visiting Vidal Sassoon-trained precision cut stylist Jude Hipolito, who meticulously studies you from head to toe, making you stand up to evaluate your body type-hair style ratio. Master colorist Rose Velasco comes in to complement your cut with a color you're comfortable with, but if you're willing to push the envelope, she'll gladly give you daring, of-the-moment shades.
ADVERTISEMENT - CONTINUE READING BELOW
The verdict: You might balk at the P5,000 haircut, but believe us, you won't have to come back for another three or four months after Jude's tremendously precise cut.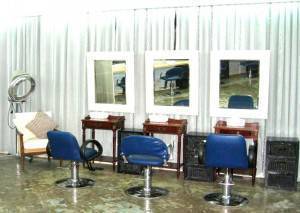 Address: Unit 303, Greenbelt Mall 1, Paseo de Roxas, Makati
Contact: 893-4098; telefax 840-4773; mobile (0917) 830-6515
Operating Hours: Monday to Saturday 9 a.m. to 8 p.m.; Sunday 9 a.m. to 6 p.m. (except special holidays)
How much to shell out: Cuts start at P700, color starts at P2,100
The lowdown: Coiffure connoisseurs Alex Carbonell, Jing Monis, and Jay Lozada, pioneers of the upscale salon experience, continue to primp and prime men and women, more than 10 years after they opened Propaganda. Their shabby chic interiors give customers that homey vibe (their sofas are so cozy and comfortable, you'll find it hard to get up to get your locks worked on), while their stylists' skilled hands deliver cuts, color, and treatments that have Propaganda devotees coming back for more.
The verdict: We like that we can just sit in the stylist's chair and keep to ourselves, not be bothered by stylists trying to peddle us additional treatments or services, or even sell us bottles of shampoo or conditioner.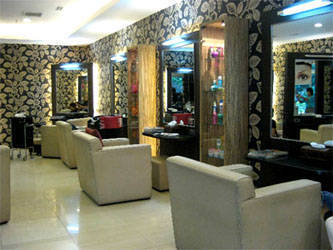 Address: One McKinley Place, G/F, 4th Ave. corner 25th St., Fort Bonifacio, Taguig City
Contact: 856-3388; 856-4848
Operating Hours: 8 a.m. to 8 p.m. daily (except special holidays)
How much to shell out: Cuts start at P1,280, color starts at P2,000
Creative director and owner Louis Kee snips, cuts, and crops your locks like he's moving to music. Watching him work is like looking at a rockstar perform with great flair and workmanship. Want your cut conservative or au courant? Kee listens, then delivers. Apart from the regular snip and shade, the salon offers in-house radio frequency treatments, which makes the place a veritable one-stop shop. "You're waiting for your color to finish anyway, so why not do something constructive [like shedding extra pounds through a fat-burning treatment] while waiting," says Kee.
The verdict: Two thumbs up for the salon's imaginative add-ons (Ask for the Ooh-la-la, a tribal cleansing ritual for your nether region). We also love how, in spite of its highbrow neighborhood, prices are not extremely costly.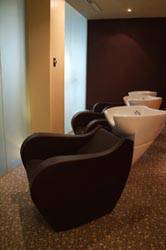 Address: EDSA Shangri-la Carpark Building, Shangri-la Mall, EDSA
Contact: 638-2222; 638-6666
Operating Hours: Monday to Sunday 10 a.m. to 8 p.m. (except special holidays)
How much to shell out: Cut starts at 400; color starts at P2,100
ADVERTISEMENT - CONTINUE READING BELOW
The lowdown: The yellow lights, fashionable ambiance, and trendy vibe make you feel like you've entered a hip club, sans the blaring music or cigarette smoke. To add to the club atmosphere, the salon offers probably the widest array of refreshments, housed in a cool bar. Owner and creative director Stefan Wilczynski gives contemporary cuts, complemented by hair pampering treatments (try the Vita Ciment Vial with Top Seal) that will make you want to linger.
The verdict: Basement is your best bet if you're looking for a young, vibrant salon experience. We especially liked that stylists had their names embroidered on their aprons--that way we could address them properly, not just by "miss," or "sir."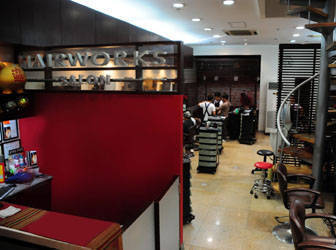 Address: G/F BSA Tower, 108 Legaspi Street, Legaspi Village, Makati City
Contact: 888-4817 or 888-4819; hairworks_salon@yahoo.com
Operating Hours: Monday to Friday 10 a.m. to 9 p.m., Saturday 10 a.m. to 8 p.m., Closed on Sundays
How much to shell out: Cuts start at P280; Color starts at P1,904
The lowdown: If you've been sporting the same cut for years, trust owner Jasmine Lisbona and coloring guru Chrissy Calderon-Uy to update your look. They regularly go abroad for training, so they know what's of-the-moment, and what will work for you. If you're stuck with impossibly wild curls, kinky tresses or uber flat locks, Lisbona and the rest of her team first show you how to deal with the hair you were born with before resorting to less natural solutions like perming or rebonding.
The verdict: Whether or not you're a movie star (the salon is teeming with celebrity clients), the staff will roll out their red carpet for you. Here, everyone is a star.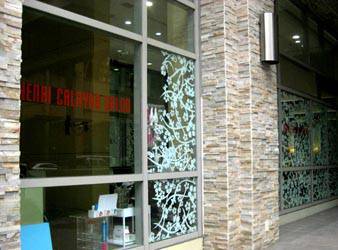 Address: G/F The Residences at Greenbelt (TRAG), Esperanza Street, Ayala Center, Makati City
Contact: 799-1495/491-4596; (0920) 918-1880; henricalayag_salon@yahoo.com
Operating Hours: Daily from 10AM to 8PM (except special holidays)
How much to shell out: Women's cut and blowdry starts at P700, Men's at P600; color starts at P2,000++
The lowdown: Stylish Greenbelt is the backdrop of this equally stylish salon, so it's a treat to people-watch as you sip on a cup of coffee and sit on the stylist's chair. While waiting, check out owner and creative director Henri Calayag's mineral makeup line and brushes, which salon clients are crazy about.
The verdict: We love that the salon's pocket-sized menu that contains a comprehensive list of services and their prices--they're the type that you'll actually keep because it's not a flimsy flyer. The menu also contains your stylist's name, the date you arrived, and when you should come back, that way you have a reminder that you can take along with you.
ADVERTISEMENT - CONTINUE READING BELOW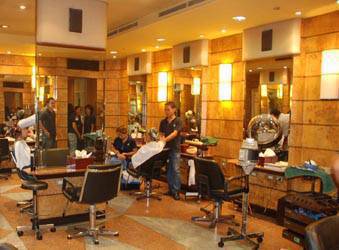 Address: Ayala Basement, The Peninsula Hotel, Ayala Avenue, Makati City; Rockwell G/F Joya at Rockwell, Plaza Drive cor. Joya Drive, Rockwell Center, Makati City
Contact: 843-7629; 403-0117 and 19
Operating Hours: Monday to Sunday 8 a.m. to 8 p.m. (except special holidays)
How much to shell out: Ladies' cut starts at P750, Men's at P630; Color starts at P1,600
The lowdown: Victor Ortega, the salon's mane man, rescues badly-cut locks and brings them back to life, which is one of the reasons he's on Pantene's Council of Style. Also among the salon's top stylists is Lourd Ramos who just got back from Paris and is teeming with cuts and styles from Fall '09 until Spring/Summer 2010. If you're looking for a super up-to-date look he's the one to see.
The verdict: Service deluxe is what this swanky salon is all about. They pay attention to the smallest detail, down to the room temperature, so that we felt comfortable every step of the way.
10. Philippe's Salon
Address: Jannov Building II, Pasong Tamo Extension, Makati City (near UCPB)
Contact: 830-3030
Operating Hours: Monday to Saturday, 9 a.m. to 8 p.m.
How much to shell out: Cuts start at P500; color starts at P1,900
The lowdown: Like a true French salon, Philippe's Salon is simple and chic, not overly embellished with imposing salon interiors or complicated equipment. The French stylist and owner carefully crafts your hair into a mane masterpiece that will make you hopelessly devoted to him. If you happen to stray and try another stylist behind his back, he'll joke, "Never cheat on a Frenchman," but will gladly take you back.
The verdict: Bring your man along; he can perfect his putting stance in the salon's little golf green while waiting for you. Bring your girlfriends along, too. If they can resist the salon's tempting treatments, they can go shoe shopping at What Shoe Wearing, conveniently located next door.
Click here to read Top 5 Cheap N' Chic Haircuts Under P500.
Beauty writer and makeup artist Marie Calica is the former beauty editor of Marie Claire. Visit her beauty blog at www.thebeautycoach.wordpress.com.
Photos by Marie Calica, Patrick Martires (Shuji Kida), Rica de Jesus for heart-2-heart-online.com (Sei), and courtesy of Univers Phyto Salon (Univers Phyto).
Load More Stories