10 Fab Finds at the MaArte Fair 2015
Missed the MaArte Fair (or suffering from buyer's regret)? Here are our top home and fashion picks and where to find them next.
(SPOT.ph) It's a great time for Filipino products—there's an abundance of local talent, increasingly inventive ways to preserve and promote our indigenous materials and artisanal crafts, and a growing market embracing proudly Pinoy finds (#madeinthePhilippines!). The MaArte Craft, Art, Food and Design Fair has always been a treasure trove of local gems, and now on its 7th year, over 70 exhibitors curated by the Museum Foundation of the Philippines were on hand to provide inspiration, pride, and retail therapy from August 28 to August 30 at the Rockwell Tent.
Excluding hall of fame favorites (like Filip + Inna, Natalya Lagdameo, Domesticity, and Casa Mercedes), here's a compilation of the home and fashion finds that caught our eye this time around.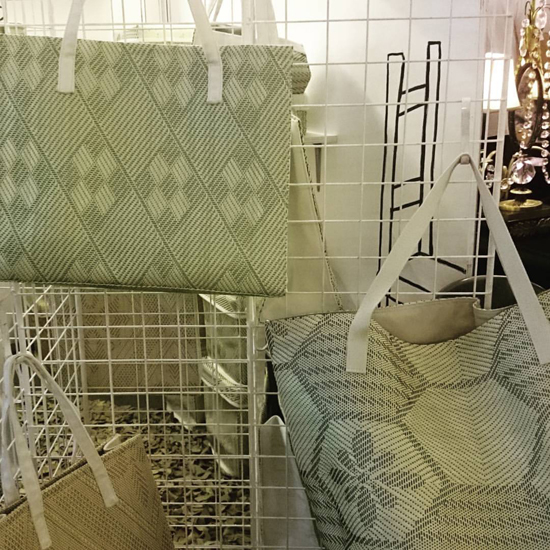 ADVERTISEMENT - CONTINUE READING BELOW
Photo by Ginger Roxas-Arzt
Recycled banig totes by Pambahay by Halo + Halo
In subdued neutrals and patterns, bayongs have never looked this chic. Manned by adorable trio Rocco Sumabat, Cara Sumabat, and Marco Limjap, the Pambahay stall sold out in a jiffy! A spin-off of the Halo + Halo Made by Filipinos bag line, the new home décor line also features recycled banig placemats and trays, for the homemaker with a more streamlined yet distinctly Filipino taste. Brownie points for their retro-inspired promo materials (find them on Instagram, @Pambahay).
For inquiries, e-mail pambahay.halohalo@gmail.com, contact 0917-883-3140, or follow Pambahay by Halo-Halo on Facebook.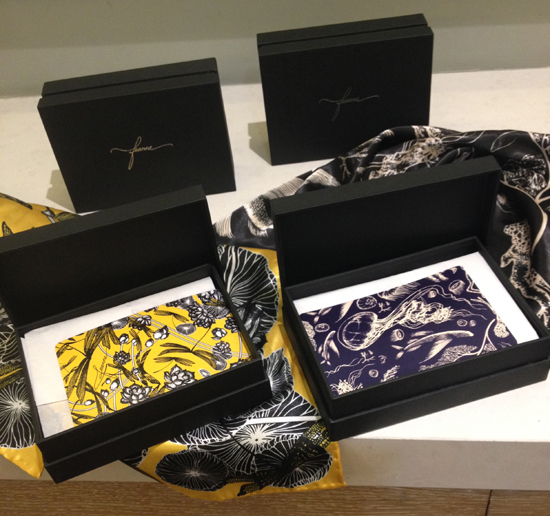 ADVERTISEMENT - CONTINUE READING BELOW
Illustrated scarves by Feanne
We've been fans of these seriously lovely scarves on Instagram, so it was such a treat to see them (and the artist behind them) in person at the MaArte Finds section. Feanne's designs are inspired by natural history, and her limited edition scarves are all printed, sewn, and packaged locally. Why scarves? "I like multi-function apparel and, like a malong, a scarf can be used in many ways—as a backless halter top, bolero, wrap skirt, bag accessory, or even tote bag," she told us. The polyester-silk blend scarves are washable and easy to care for, and priced at P2,700 each—a steal, for wearable art.
For inquiries, e-mail feanne@feanne.com, follow @feanneart on Instagram, or visit www.feanne.com.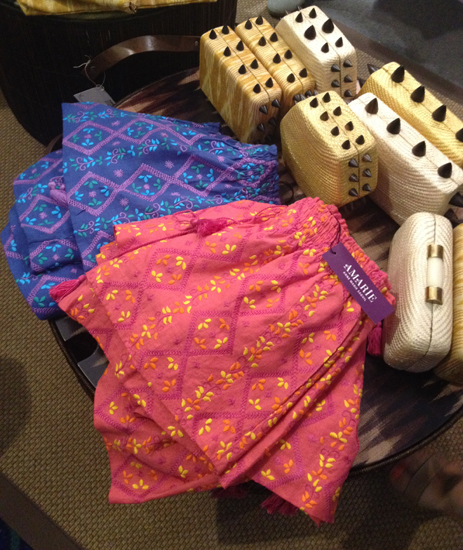 ADVERTISEMENT - CONTINUE READING BELOW
Embroidered apparel by AMarie by Anne
With the vision of providing sustainable livelihoods and preserving tradition, Anne Marie Saguil offers exquisite caftans, dresses, and separates hand-embroidered in the barong-inspired style by the women of Taal and Laguna. Perhaps one of the prettiest representations of local color, AMarie by Anne designs are now highly sought-after both here and abroad. Her newest top and shorts sets were already sold out when we arrived at her booth—aren't they love?
Available at Shop 8483 Kalayaan Street (above Tommy's Coffee), Makati City, and soon at www.amariebyanne.com. Follow AMarie by Anne on Instagram (@amariebyanne).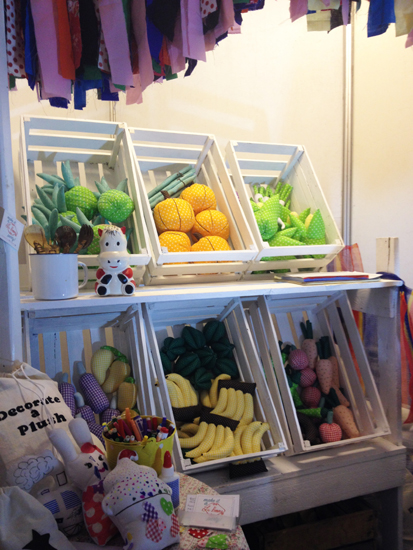 ADVERTISEMENT - CONTINUE READING BELOW
"The Palengke Series" by La Pomme
With its "palengke-style" set up of handmade plushies, Real Living's editor-in-chief Rachelle Medina gushed, "It was the prettiest booth in the fair!" La Pomme's creative director and founder Apol Lejano-Massebieau rocked a tindera outfit while peddling her plushie produce (Pinya! Okra! Saging! Sili!) to the delight of kids and adults alike. Are you thinking what we're thinking? For your next kiddie birthday celebration, contact "Aling Apol" and make it a La Pomme craft party!
For inquiries, e-mail lapommehome@gmail.com, contact Apol at 0919-993-4795, or visit lapommelove.com.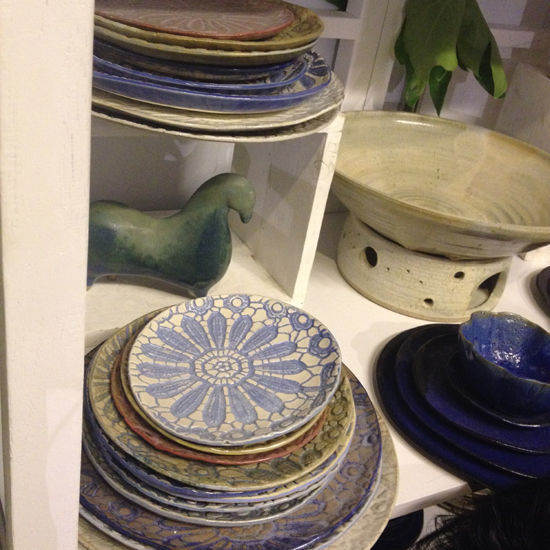 ADVERTISEMENT - CONTINUE READING BELOW
Handmade plates by Cornerstone Pottery
Cornerstone Pottery featured lovely earthenware, tinkling wind chimes and collectible pottery by EJ Espiritu, but it was the charming handmade plates tucked in the corner of their booth that fired up our imagination—we could already imagine throwing tea parties, or giving them as gifts to blue-and-white dinnerware obsessed friends.
Catch them at the monthly American Women's Bazaar at the SMX Convention Center, or for a more authentic experience, visit the Cornerstone Pottery Farm Mud Pit and Café in Silang, Cavite.
For inquiries, e-mail evaespiritu@yahoo.com or visit www.cornerstonepotteryfarm.com. You can also follow them on Instagram and Facebook.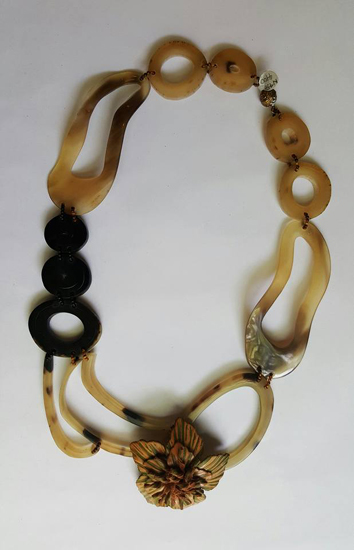 ADVERTISEMENT - CONTINUE READING BELOW
From Eccentrics Limited's FB page
Statement accessories by Eccentrics
Carabao horn and other indigenous materials collected from travels get a stunning second life in the hands of Juliana Santos-Garrett. These unique, head-turning accessories crafted in Santos-Garrett's "eccentric" style are a jetsetter's perfect statement piece—slip it on, count the compliments, and don't forget to say it's proudly made in the Philippines!
For inquiries, e-mail ecceltd14@gmail.com, contact 0998-546-2944, or check out Eccentrics Limited on Facebook.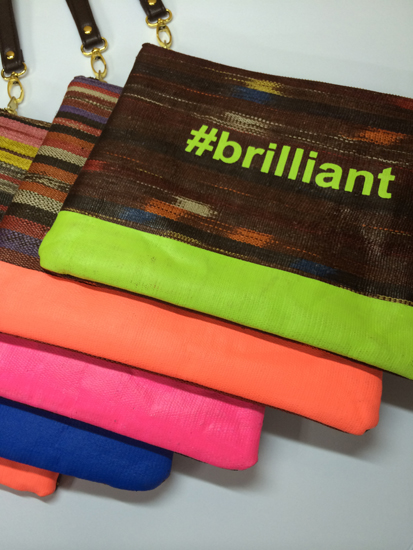 ADVERTISEMENT - CONTINUE READING BELOW
Bagobo textile clutches by GREAT Women
The gypsy nature of the Bagobos makes them hard to track and thus their work is hardly supported or represented, but GREAT Women aims to change that. GREAT is an acronym for Gender Responsive Economic Action for the Transformation of women, and the GREAT Women products build a supply chain from small producers and artisans, supported by women business owners and designers who link them to global markets. Aside from the brightly colored woven bags, statement clutches, and small home accessories featuring Bagobo weaves, GREAT Women products also include apparel with indigenous touches like beading or embroidery (available at Tint at Greenbelt 3), as well as limited edition linens featuring prints from Jeannie Javelosa's artworks (soon available at Rustan's).
For inquiries, contact Jeannie Javelosa at 0917-819-4395 or e-mail jeanniejavelosa@gmail.com.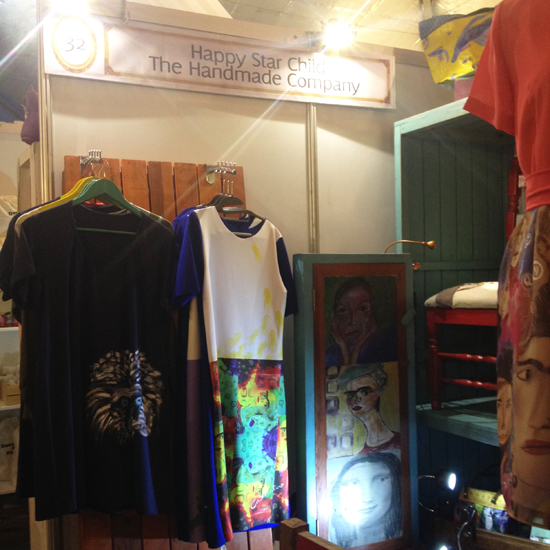 ADVERTISEMENT - CONTINUE READING BELOW
Hand-painted furniture and dresses by Happy Star Child
Bold, colorful, and original hand-painted home accessories and dresses immediately caught our eye, but we especially loved that they are products of a collaboration between owner/artist Connie Macatuno and her 11-year-old son Caxantino. Caxantino creates or envisions many of the pieces, while Connie hand paints them, making each piece unique, one-of-a-kind, and imbued with exuberance for life and art.
For inquiries, e-mail happystarchild@yahoo.com or contact Connie at 0917-531-5099 or 585-7883.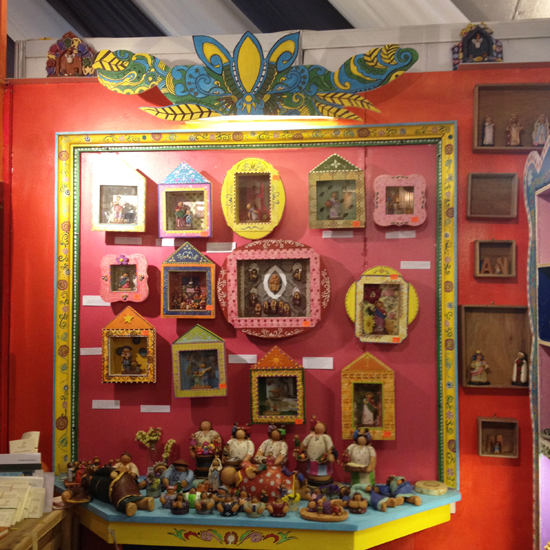 ADVERTISEMENT - CONTINUE READING BELOW
Clay Storytellers by Casa San Pablo
Casa San Pablo gets our vote for most adorable belens ever, plus it's a wonderful gift idea for that Tita who loves quaint things! Clay Storytellers are hand-pinched and hand-painted terracotta pieces inspired by Oaxan and Peruvian clay figures, but given a distinctly Pinoy spin. Take a closer look, and you're bound to connect with the stories they tell—from the Lola Basyang Dolls, an homage to Severino Reyes' iconic storyteller, to the Kwento de Kahon, a retablo series featuring small town Filipino traditions.
Visit the birthplace of the Clay Storytellers at Casa San Pablo, a B&B in San Pablo, Laguna, where clay artist-slash-writer An Alcantara and her husband are "innkeepers."
Visit www.casasanpablo.com, e-mail analcantara@gmail.com, or like Casa San Pablo Clay Storytellers on Facebook.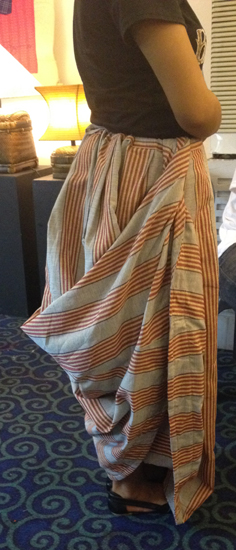 ADVERTISEMENT - CONTINUE READING BELOW
Inabel Skirts by Balay ni Atong
Al Valenciano's Balay ni Atong is a perennial fair favorite year after year for its lovely hand-woven Ilocano textiles (Inabel) made on wooden looms, in their advocacy to preserve the low-land weaving culture. The beautifully-handwoven blankets and 100% silk barongs are the type that are lovingly handed down through generations, but this year, we were swayed by the woven maxi skirts that trailed along the floor (or simply tuck the end into your waistband for a more contemporary look!).
For inquiries, e-mail balayniatong@yahoo.com, balayniatong@gmail.com, or call 0917-918-1623.
The author thanks Ginger Roxas-Arzt of Museum Foundation of the Philippines.
Recommended Videos
Load More Stories