15 Homegrown Sticker Brands That Totally Slay
These local adhesive artworks will leave you shookt!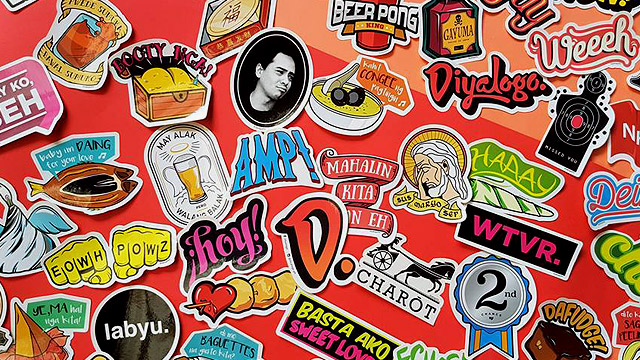 (SPOT.ph) In the last few years, there's been a resurgence of '90s pop culture and trends, from baby-doll dresses to Pokémon and more recently, the likes of Skeet Ulrich appearing on Riverdale. (And don't get us started on former teen dreams Tom Everett Scott and Alicia Silverstone playing parents in the latest Wimpy Kid movie.) Now, the '90s childhood hobby of sticker collecting is back with a vengeance as more and more homegrown brands are selling their works in adhesive form.
These days, stickers aren't just limited to being children's party favors featuring toon characters. They now have a wider range of styles, textures, and designs that'll guarantee a perfect fit for any personality. You can breathe new life into bland normcore items by slapping on a witty sticker or two.
Showcase some stickers so you can shout out who you are at the top of your lungs without uttering a single word. Here are some great examples.
ADVERTISEMENT - CONTINUE READING BELOW
Carawrrr
@carawrrr
Feel the summer vibes 24/7 with neon highlighter hues featuring kooky graphics like a monkey rocking a Pharrell-style hat, a goofy-looking uniwhale, and a pineapple with beach waves crashing inside it. These stickers would look at home printed across a surfboard—you can almost imagine a sea-salt scent wafting off them.
Whimsicute
@whimsicute
Squee over these gorgeously girly anthropomorphic avatars that show off Pinoy pride by giving us halo-halo, buko, mangoes, and the like. There's also a sticker set starring some Insta-worthy mermaids. 
Cassykicks
@cassykicks
Rep your Koreaboo fandom with stickers of your fave K-drama heroines and oppas in marvelous millennial colors. There are also original designs that would definitely level up your journal game.
CONTINUE READING BELOW
Recommended Videos
Fandom Feels
@fandomfeelsph
www.facebook.com/fandomfeelsPH
For the unapologetically geeky, you can say it loud and proud with FF's wide array of stick-on shout-outs. They cover all corners of geekdom including (but not limited to) cartoons, TV shows, movies, video games, and even musicals (their Hamilton sets are the bomb). Sporting an FF sticker is a great way to spot a kindred spirit. #NewfoundFandomFriend
megumoo
@megumoo
This artist's stickers are, in a word, adorkable. The classically cute characters, in shades of muted pastel, have a sort of nervous energy around them (see: Sailor Moon's Usagi Tsukino panicking). You can't purchase these stickers online yet, but you can follow megumoo's IG to keep tabs on future pop-up bazaar appearances.
edenstreet
@edenstreet
When you're feeling down in the dumps, seek comfort in these motivational words set against soft gradients. Let these uplifting sticky notes become a constant reminder to keep moving forward.
ADVERTISEMENT - CONTINUE READING BELOW
Jem and The Holochans
@ jemandtheholochans
www.facebook.com/JemandtheHolochans
Jem and The Holochans is an artist collective of young designers who just want to share their fandom in adhesive art form and geek out like the rest of us. It's a one-stop shop for all your sticker needs, from fishball stickers to adorable corgis.
Kwan
@kwanangdalaw
Kwan's stickers feature cheeky prints of telenovela kontrabidas, local slang, Pinoy celebs (Jose Mari Chan, anyone?), and mouthwatering street food. These stickers are reserved for those who don't take themselves too seriously in a crazy world.
The Offbeat Cat
@ theoffbeatcat
www.facebook.com/The-Offbeat-Cat-600283016788972
We are definitely feeling this local brand's obsession with kitties. These stickers are the purr-fect gift for the crazy cat lady or lad in your life. And guess what? Part of the proceeds goes to funding animal welfare groups so you're also stickering for a good claws, er, cause.
Raco
@racodrawsstuff
www.redbubble.com/people/raco/shop
Tote graffiti-style graphics like zombie babes and angry kaijus wherever you go by getting these sticker sets. The overall look is giving us mad skater #aesthetic and is just effortlessly cool.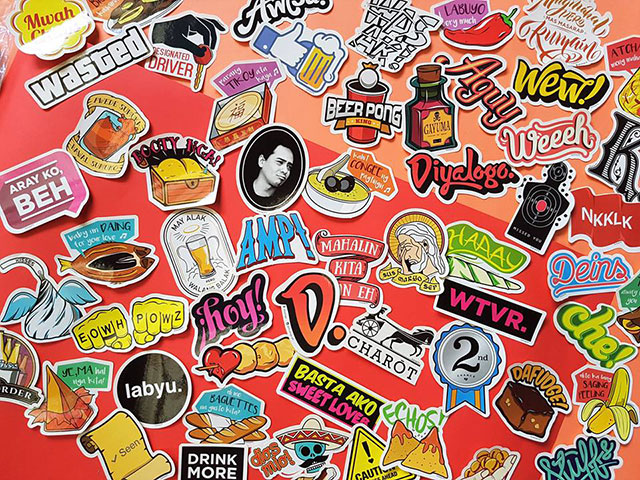 ADVERTISEMENT - CONTINUE READING BELOW
Diyalogo
@diyalogo.ph
Check out these statement stickers that will make you nod vigorously in agreement and say #Relate and #ItMe. "Extra Rice Club," "Don't Make Me Hangry," and "Send Foods" speak to our foodie soul. These comical prints will turn any item into a conversation piece.
Sticks and Tones
@sticks.and.tones
www.facebook.com/sticks.and.tones.ph
The hand-drawn chibi peeps and quotable word art are worth the buy. The weeb at heart would definitely dig their Yuri on Ice collection and the bookworms will love the Harry Potter and Little Prince stickers. (Or heck, maybe you like both!)
Sha Erandio
@shaerandio
Sha's cute designs range from real life animals (googly-eyed doggos and kittens), to fictional critters (Pokémon and No Face). Her latest sticker set features computer icons, including the infamous Mr. Paperclip, in all its '90s cyber glory.
Beyond Reverie
@beyondreverie
www.facebook.com/beyondreverie
Feast your eyes on quirky caricatures of your fave TV show characters, plus food that looks so realistic that you want to pop it in your mouth instead of stick it on your notebook.
Ayeza Mallari Art
@a.yeza
Ayeza Mallari's stickers feature ethereal beauties in washes of watercolor set in an intergalactic backdrop. Just staring at these designs will make you feel instantly Zen.
---
Help us make Spot.ph better!
Take the short survey
Load More Stories