Your Complete Guide to Vintage and Surplus Shops in Kamuning
Kamuning Road is not just for car owners and gearheads.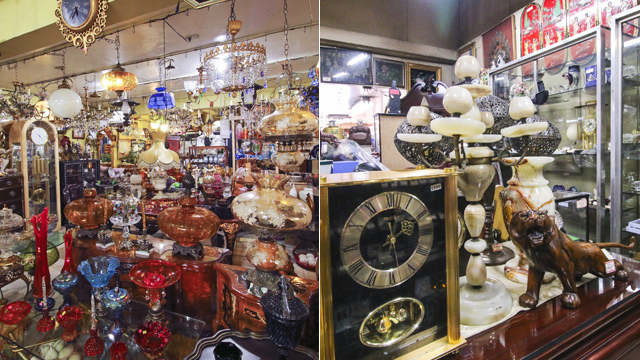 (SPOT.ph) Kamuning Road is a curved road that starts from Tomas Morato Avenue in Quezon City and terminates at EDSA. The area is popular to many for its numerous auto supply stores, spas, and several couture shops, as well as its proximity to restaurants along Tomas Morato Avenue. Bookending Kamuning are several stores where you could score great finds for you and your home.
Whether you're a newbie or a Kamuning veteran, shopping there would be a lot more pleasant if you keep these things in mind:
Plan your route.
Kamuning Road could be quite a stretch if you're not fond of walking and while taking a car is an option, parking space is always at a premium. Jeepneys ply along this road and could save you several minutes of walking under the sun. Jeepneys often come and go along Kamuning from Project 2 and 3. There's Project 2 and 3 via Kamuning, E. Rodriguez to Recto; Project 2 and 3 via E. Rodriguez to Welcome Rotonda; Project 2 and 3 to Vito Cruz Mabini; and Arroceros via Espana and E. Rodriguez to Project 2 and 3.
ADVERTISEMENT - CONTINUE READING BELOW
As most of the shops are on both ends of Kamuning Road, you could actually start on whichever side you like. But if you want to end your shopping spree with a good meal or sit down with a cup of coffee, start from EDSA and then finish at Tomas Morato.
Ditch the backpack and big bags.
Shops are either compact or packed to the rafters. So if you're not absolutely careful, you might bump into a couple of items, cause them to crash, and then have to pay for things you've broken unintentionally.
If you like it, buy it right away.
Items are usually one-of-a-kind and chances are, the person behind you is also eyeing whatever you're holding in your hands. If you love an item and have the cash for it, pay for it the same day you see it.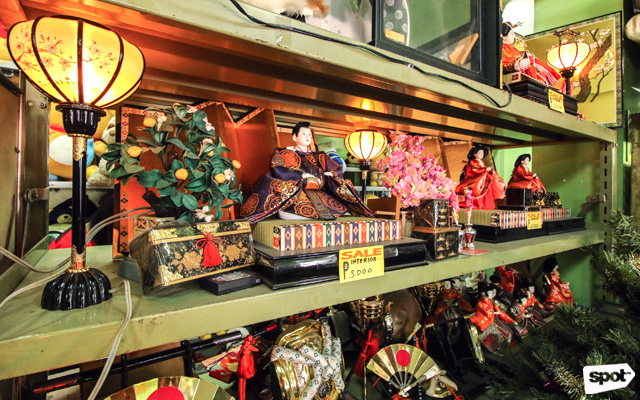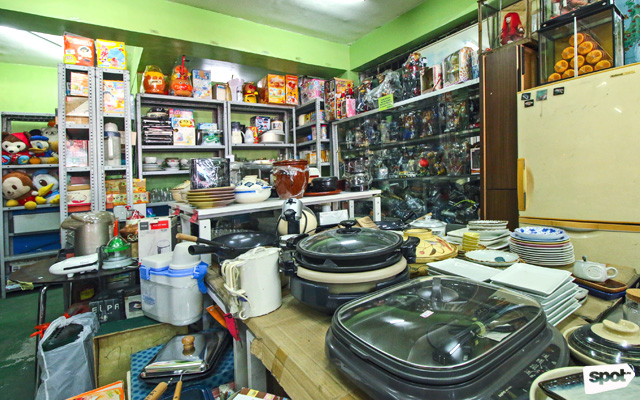 ADVERTISEMENT - CONTINUE READING BELOW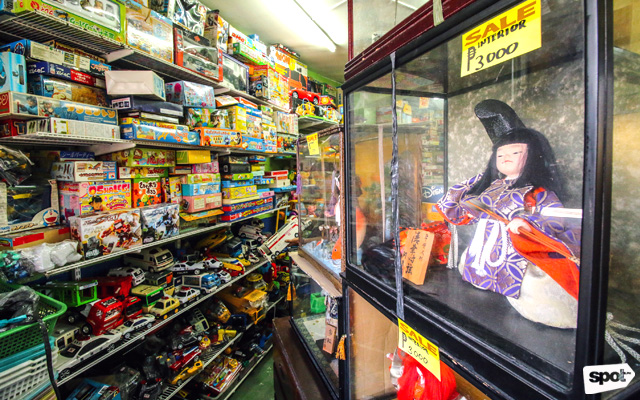 Japan Selections
6 Kamuning Road, Quezon City
Contact: 0933-179-9905
Open daily from 9 a.m. to 8 p.m.
As the name suggests, items from this store are from Japan. They carry pre-loved baby goods such as cribs, strollers, walkers, and playpens, to name a few. People also flock to this store for the usual thrift store finds, like cooking ware, glassware, dinnerware as well as toys of all kinds: Robots, diecast, matchbox, battery-operated ones; furniture pieces, pianos, tents, sleeping bags, golf clubs, shoes, ladies bags, and of course, those ubiquitous Japanese dolls encased in glass boxes.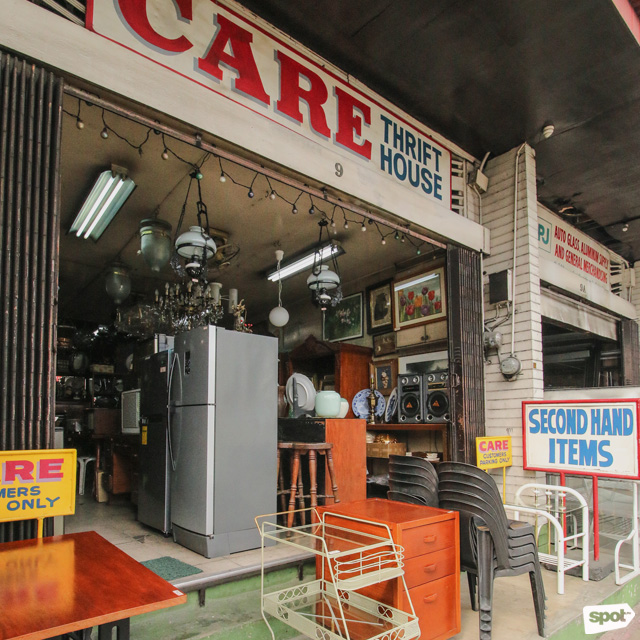 ADVERTISEMENT - CONTINUE READING BELOW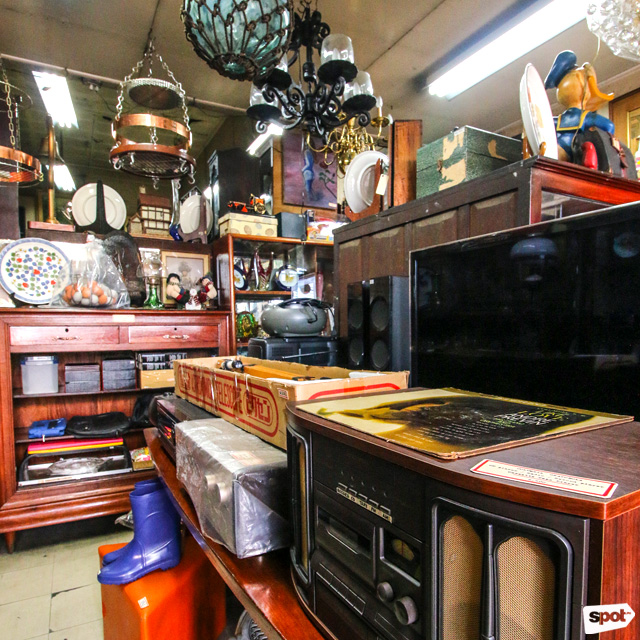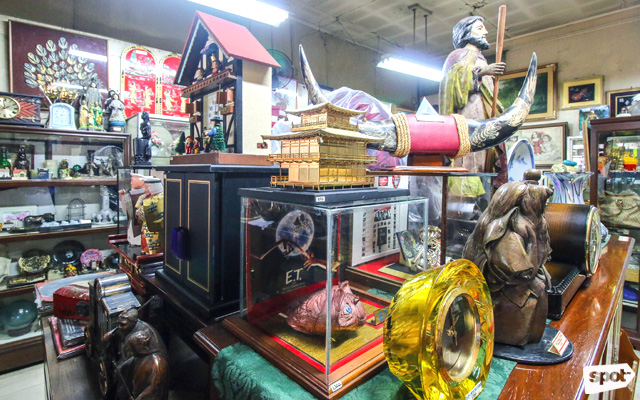 Care Thrift Shop
9 Kamuning Road, Quezon City
Contact: 0920-232-3808
Open daily from 9 a.m. to 6:30 p.m. (with 12 p.m. to 1 p.m. lunch break) 
Quite different from the rest of the shops in the area which specialize in grand European furniture, Care Thrift Shop offers Asian pottery and décor, old electronics, jewelry, and wristwatches. But before you think they're limited to those, they also offer cabinets, shelves, and even bar carts. Visit the shed next door, because that's where they stash other big pieces like wooden cabinets, pieces for your living room, armchairs, and drum sets.  
ADVERTISEMENT - CONTINUE READING BELOW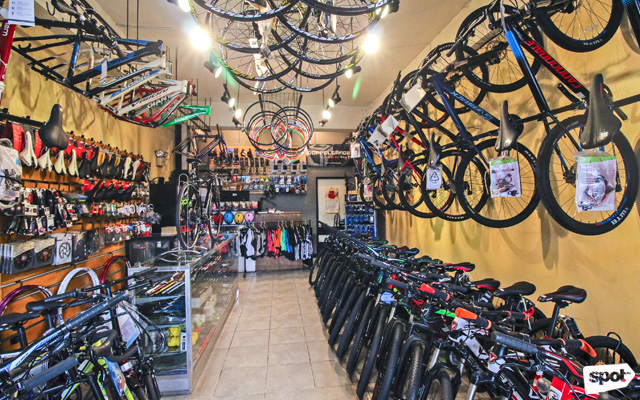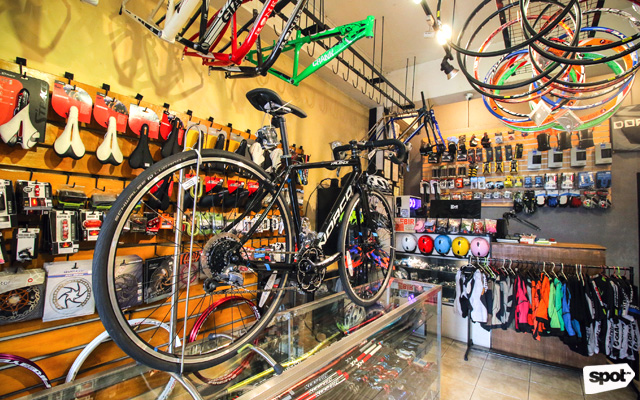 Bike Haus 
39A Kamuning Road, Quezon City
Contact: 374-1548; 0916-370-9181
www.facebook.com/bikehaus
Open daily from 9 a.m. to 7 p.m. 

For guys—and girls—who are more into two wheels than four wheels, there's Bike Haus. They offer all kinds of bikes—mountain bikes, road bikes, folding bikes, BMXs which are all brand-new. They sell anything and everything you need to make your two-wheel ride road-legal like lights, reflectors, bells, speedometers, and helmets. You can also find items that would make your ride more comfortable, like water bottles, bottle cages, and gloves. You already own a bike but needs a tune-up? They can do that for you, too.  
ADVERTISEMENT - CONTINUE READING BELOW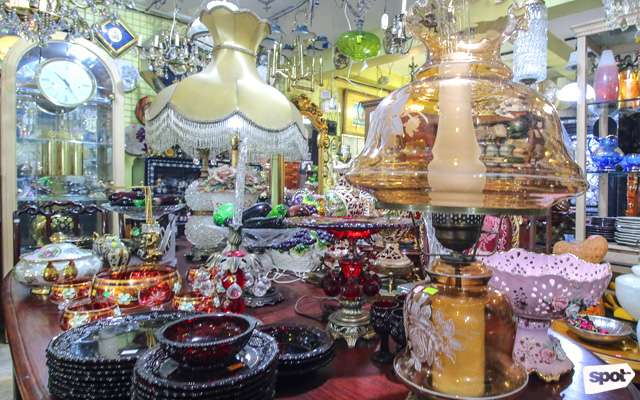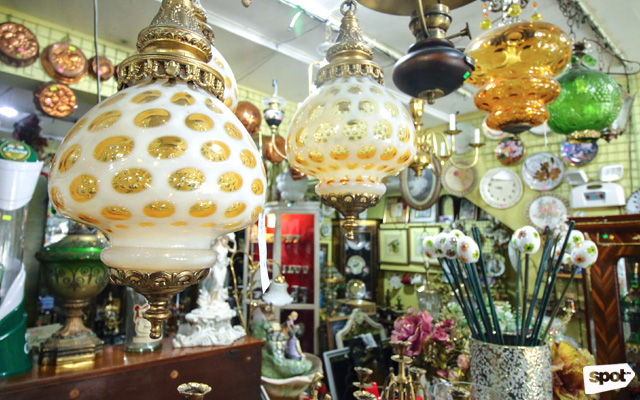 Altheo Decors
103 Kamuning Road, Quezon City
Contact: 352-2950 
www.facebook.com/Altheo-decors
Open daily from 8:30 a.m. to 8:30 p.m.
Altheo Decors is so packed that their furniture pieces spill out through the front door. They have small and big items such as curio cabinets dining sets, buffet tables, and beds imported from Europe and the U.S., the most popular of which is their wide selection of gorgeous chandeliers and table lamps in all shapes and sizes. People also drop by for their Swarovski, Baccarat, Lalique crystal pieces, and Lladro ceramic figurines.
ADVERTISEMENT - CONTINUE READING BELOW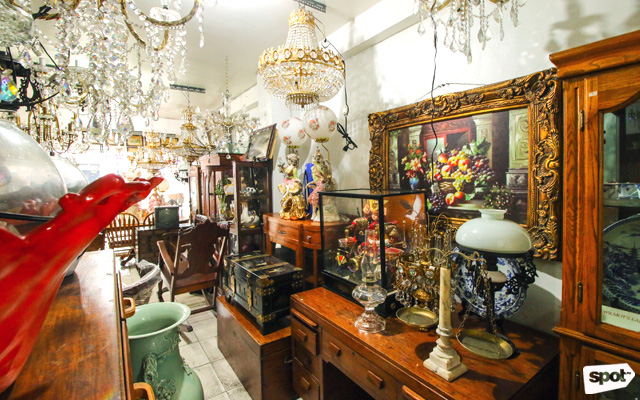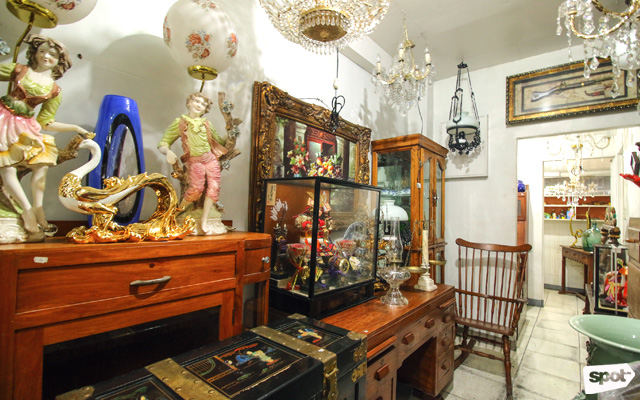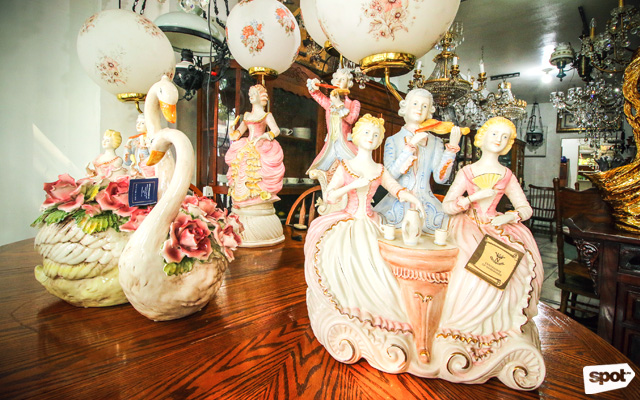 ADVERTISEMENT - CONTINUE READING BELOW
MSS Thrift Shop 
123A Kamuning Road, Quezon City
Contact: 0921-370-9687
Open daily from 10 a.m. to 7:30 p.m.
Behind the MSS Thrift Shop window is their piece de resistance: Capodimonte Italian Porcelain table lamps. Enter the shop and you'll be welcomed by its stunning companions—chandeliers and lamps that are imported from Italy and Spain as well as furniture pieces from abroad with the exemption of their narra pieces. These are sourced from locations around the Philippines such as a 1980s dressing table, a platera from the 1950s, and a sewing table from the 1930s.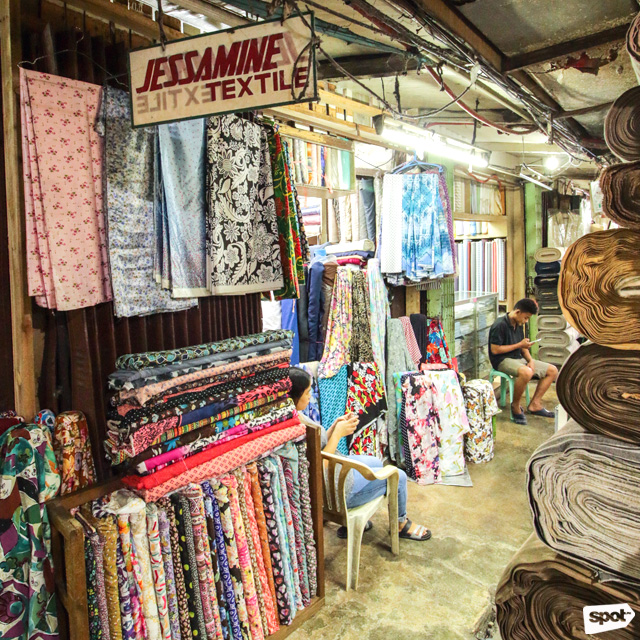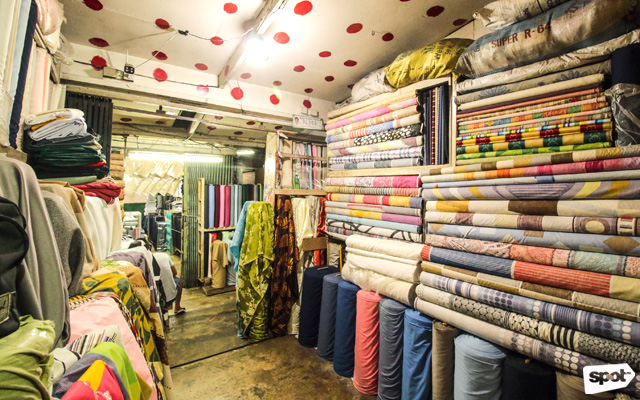 ADVERTISEMENT - CONTINUE READING BELOW
Kamuning Market 
L. Sianghio Street, Barangay Kamuning, Quezon City
Open daily from 8 a.m. to 7 p.m.  
The Kamuning Market Dry Goods section is famous for its wide variety of textile offerings. They have fabrics for upholstery, uniforms, suits, and dresses as well as the sewing and embroidery services. But apart from the textiles, the dry goods section also has soft furnishings like curtains, beddings, tablecloths, and furniture covers.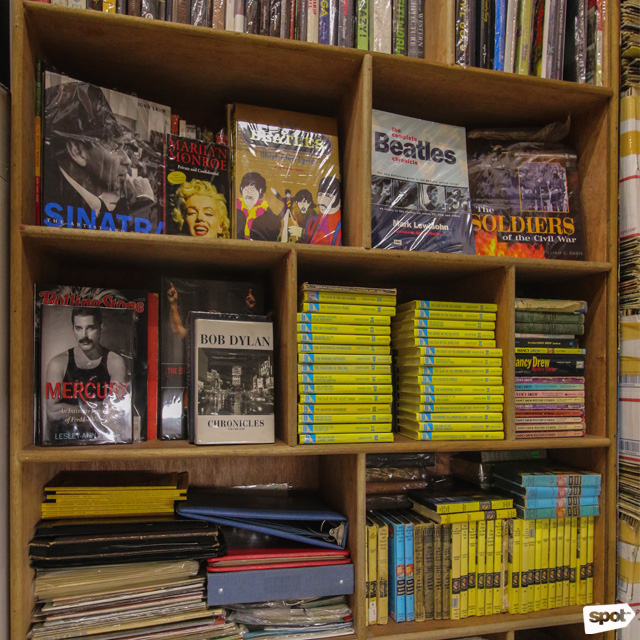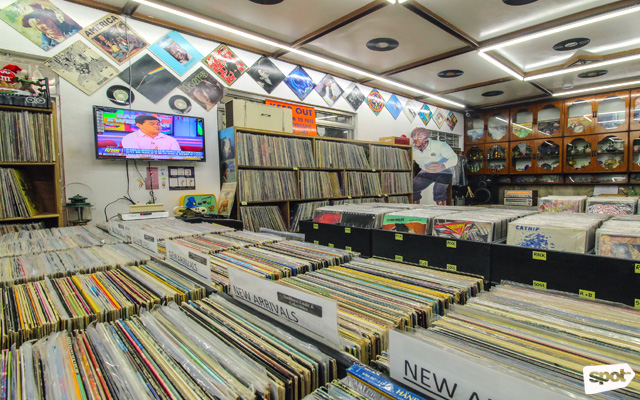 ADVERTISEMENT - CONTINUE READING BELOW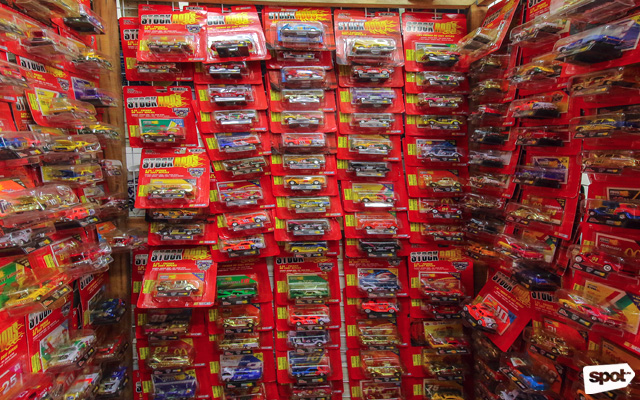 Northwest Estate and Collectibles
170 K-1st Street, Barangay Kamuning, Quezon City
Contact: 0905-315-9388 
www.facebook.com/Northwest-Estate-and-Collectibles-166194386769424
Open daily from 9 a.m. to 8 p.m.
Right off Kamuning Road and along parallel K-1st Street is Northwest Estate and Collections. If you're looking for records, like 45s and LPs, this is the place to go. They have rows and rows of it, categorized by genre for easy browsing. The shop is also dotted with other collectibles such as Star Wars toys, Hardy Boys books (the only missing in their collection is #55!) and a Teen Wolf standee. Head upstairs and there are still more items from your childhood, like Tonka toys, Matchbox cars, and action figures.
Load More Stories