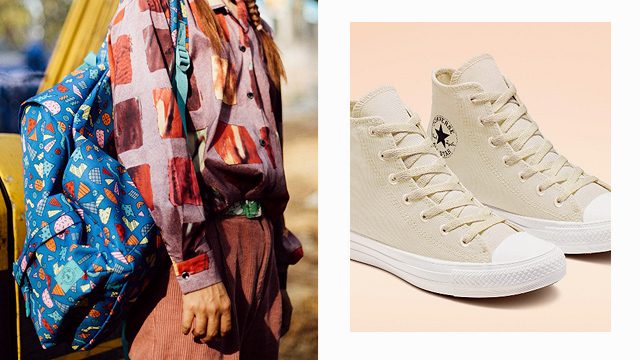 (SPOT.ph) They say that necessity is the mother of invention. With today's pressing need to save the environment from major threats like plastic, more and more brands are upcycling plastic and other waste materials to create eco-conscious products for the discerning customer. The process alone is fascinating, and the end products are just as good and durable as the originals, if not more.
ADVERTISEMENT - CONTINUE READING BELOW
Check out these brands that recycle plastic and other waste products to come up with creative and eco-friendly apparel and accessories:
Sora
Behind the aesthetically pleasing designs and subdued colors of Sora's towels are eco-conscious and innovative practices. Each Sora towel is made of eight recycled plastic bottles—that's eight plastic bottles saved from going to a landfill site or worse, the ocean. How does it work? Sora collects plastic bottles and removes the labels and lids. After a thorough wash, the bottles are crushed into flakes, which are dried and melted into pellets. The pellets are then extruded into a yarn, which is used to make the towels. Each towel is made of 85% recycled materials, and the fabric that Sora uses is certified by the Global Recycled Standard. To add to that, the towels are wrapped in paper made from recycled wheat straws and packed in biodegradable cotton drawstring bags.
Body Party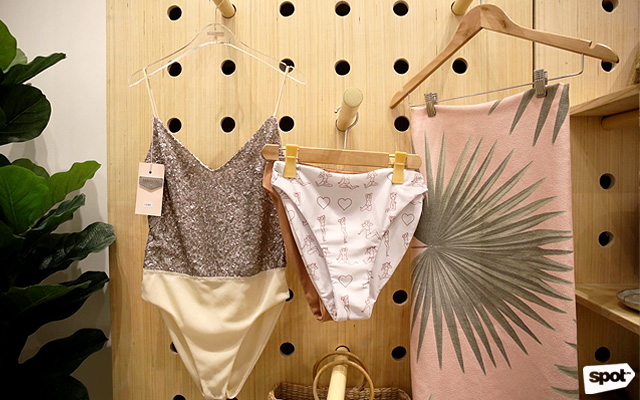 This swimsuit brand shows its respect for both the female body and the environment by creating flattering cuts for different body types using sustainable fabric. Fishing nets, fabric scraps, and old carpets make up the Econyl yarn that the brand uses to create the suits. Made in Italy, Econyl sources waste materials from various initiatives including Net-Works, which has a supply chain for discarded fishing nets and other wastes in developing countries. One collection hub is in our very own Danajon Bank and Bantayan Islands in the Visayas region. In 2018, Solenn Heussaff collaborated with Body Party to create a line made of 100% recycled fishing nets and plastic bottles, with 20% of the proceeds going to the Save Palawan Seas Foundation.
ADVERTISEMENT - CONTINUE READING BELOW
Nike
As of 2018, 75% of all Nike shoes and apparel contain some recycled material. The crowd favorite Flyknit line uses 100% recycled polyester for the core polyester yarn, which has saved more than four billion plastic bottles from landfills to date. A material called Flyleather developed in 2017 is made from at least 50% recycled leather fiber. Aside from recycling materials for its own products, Nike has been sending surplus materials like rubber, foam, and fiber to surface manufacturers around the world since 1992. Through Nike Grind, scraps, unsellable products, and old Nike sneakers are turned into basketball courts, running tracks, and even retail spaces.
ADVERTISEMENT - CONTINUE READING BELOW
Veja
You might have spotted Veja's signature V logo on your favorite celebs and the Instagram crowd, not to mention Her Royal Highness Meghan Markle. The French sneaker brand prides itself on streamlined designs made from different types of upcycled materials. B-mesh is a fabric made purely out of recycled bottles, and three bottles make a pair of Veja B-Mesh. The polyethylene terephthalate bottles are crushed into flakes and turned into polyester fiber via extrusion. They make for light, breathable, and waterproof, not to mention very cool sneakers. Meanwhile, Veja's J-Mesh is made of a blend of jute, recycled cotton, and recycled polyethylene terephthalate (PET) bottles. Veja also has the CWL line of vegan "leather" shoes made of corn waste, as well as fish leather shoes made of tilapia hides that are usually discarded.
ADVERTISEMENT - CONTINUE READING BELOW
Parkland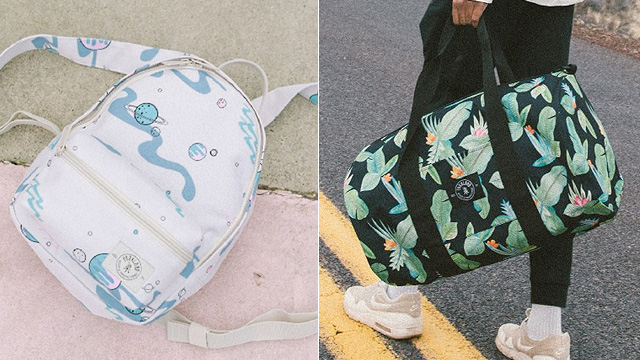 There's a lot that goes into each quirky bag from Parkland. All their backpacks, duffle bags, tote bags, and other accessories have an exterior fabric made of 100% recycled water bottles. Clear PET bottles are collected, cleaned, and crushed into small pellets, which are spun into thread. The exterior of one backpack uses 12 plastic bottles that would've otherwise been discarded. Parkland also uses apple "leather," a vegan material made of apple waste from juice production. Aside from using recycled materials, Parkland prides itself on following international standards when it comes to labor, wage, and safety practices.
ADVERTISEMENT - CONTINUE READING BELOW
Sperry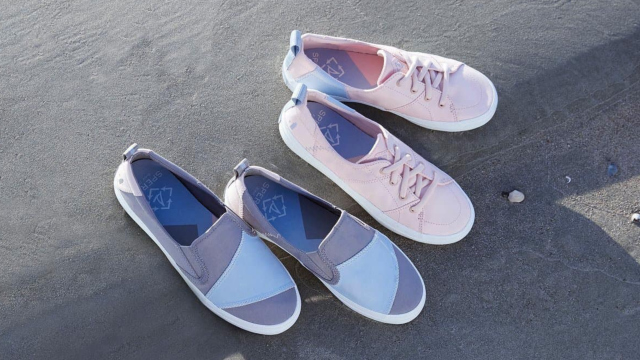 In March, the boat-shoe brand launched the Bionic line, with each pair made from an average of five recycled plastic bottles. Sperry worked with Waterkeeper Alliance, a non-profit organization that aims to provide clean water for communities around the world, and Bionic, a material engineering company that creates yarns and fabrics out of ocean waste. It's from the two organizations' Ocean Plastic Recovery Initiative, where Sperry sources their new line of sustainable shoes. The shoes come in boxes free of adhesives, made of recycled materials, and printed with water- or soy-based ink, so you can easily recycle them, too.
ADVERTISEMENT - CONTINUE READING BELOW
Converse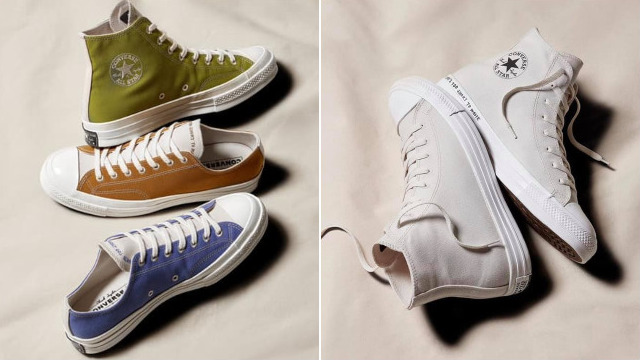 A fresh twist on your favorite Chuck Taylors, Converse Renew Canvas is a new line of sneakers with an upper exterior made from 100% recycled bottles. Aside from being eco-friendly, the new line is fully customizable: mix and match colors, pick a patch, and choose a message to print. The shoe brand is set to launch Converse Renew Denim, a line that uses old denim jeans that would've otherwise been sent to landfills. Since the materials are secondhand denim, you can expect each pair of shoes to have a unique design.
ADVERTISEMENT - CONTINUE READING BELOW
Timberland
The outdoor lifestyle brand makes a commitment to the environment with Thread Ground to Good, fabric made from 50% recycled plastic bottles reclaimed from Haiti and Honduras. The fabric is used in various collections showcasing the brand's iconic boot aesthetic. You'll find it on the canvas uppers, mesh lining, and outsole of the boots. Not only does the initiative upcycle discarded materials, it also provides jobs around the world and helps restore communities.
ADVERTISEMENT - CONTINUE READING BELOW
Fjällräven
The IG-famous Swedish brand uses recycled plastic PET bottles, unusable fabrics, and fabric scraps to create backpacks, fleece jackets, trousers, and other apparel. Spearheading Fjällräven's upcycling initiatives, the Re-Kånken is a special-edition backpack made entirely of polyester from recycled plastic bottles that is just as durable as the original backpack. Each Re-Kånken recycles 11 PET bottles, and the bag itself is recyclable.
ADVERTISEMENT - CONTINUE READING BELOW
Adidas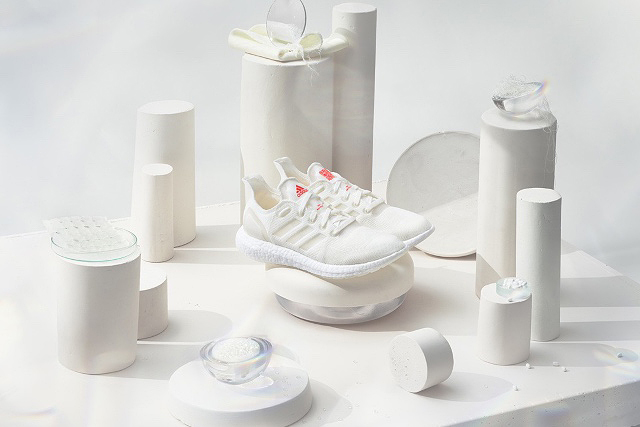 Collaborating with the organization Parley for the Oceans since 2015, Adidas has released a line of training wear made of at least 75% recycled plastic trash. Adidas x Parley is produced through a low-energy and low-water printing process for maximum sustainability. Parley brings together leaders and creators like Adidas to come up with ways to save the ocean from major threats like plastic. As a founding member of Parley, Adidas upcycles plastic waste from Parley's global cleanup network. The plastic is cleaned, sorted, and crushed into pellets, which are spun into Ocean Plastic, a high-performance polyester yarn that's just as good as new plastic. Adidas uses this yarn to create shoes, shirts, tights, and more training wear. The brand aims to completely close the loop of plastic waste through FUTURECRAFT.LOOP, running shoes that can be 100% recycled into another pair of running shoes. The global beta program is scheduled to launch in 2021.
ADVERTISEMENT - CONTINUE READING BELOW
Share this story with your friends!
---
Help us make Spot.ph better!
Take the short survey
More Videos You Can Watch
Load More Stories