(SPOT.ph) How many white T-shirts do you own? Trick question—the answer is "not enough." The closet staple has quite a storied history and through decades of existence and pop culture presence, it remains a classic, effortlessly cool, stylis-through-all-seasons piece that you can always reach for at a moment's notice and pair with pretty much anything. While they may look a little repetitive hanging in your closet side by side, there's an endless number of ways you can use your white tees—the limit simply does not exist. Below, we list 10 easy and effective ways to style your ol' reliable white tee.
Also read:
10 White T-Shirts You'll Thank Us For Later
10 Minimalist Pieces You Can Get Away With Wearing Over and Over
10 Versatile Black Tank Tops You'll Want to Stock Up On
10 Nude-Toned Picks for the Minimalist Dresser
10 Chic White Fashion Pieces for a Fresh Summery Look
Creating a Closet Staple: The Fascinating History of the White T-Shirt
Make the most of your plain white T-shirt! Here are 10 ways you can style the classic piece:
Keep it simple with a pair of jeans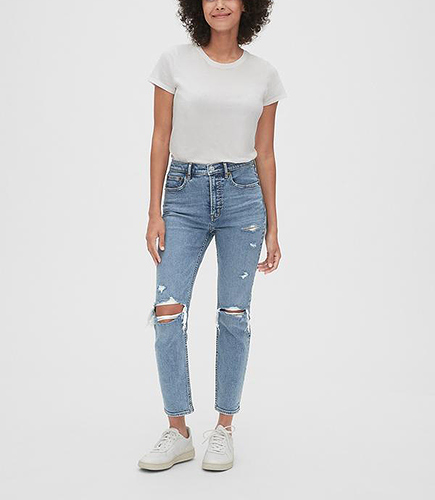 ADVERTISEMENT - CONTINUE READING BELOW
When all else fails, you can't beat the no-nonsense combo of your fave white tee and a good old pair of blue jeans. Whether you're out to run errands or meet your loved ones for Sunday brunch, the comfy but chic ensemble will never let you down. Pile on gold jewelry and wear some strappy sandals if you want to glam it up, but of course you can always keep it laid-back and practical with your trusty white sneakers.
Tuck it into a skirt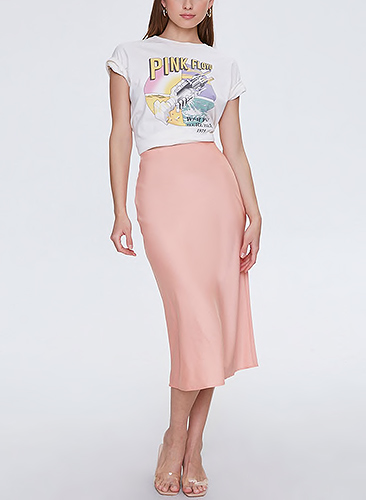 Show off your figure by tucking your loose tee into a form-flattering, high-rise pencil skirt. It's dressy enough for a night out or a big date, but still super cozy and manageable in any weather—not to mention, does away with the hassle of having to iron a blouse. Whether you want to opt for a long skirt or show off your legs is up to you!
ADVERTISEMENT - CONTINUE READING BELOW
Recommended Videos
Make it grungy with a flannel button-down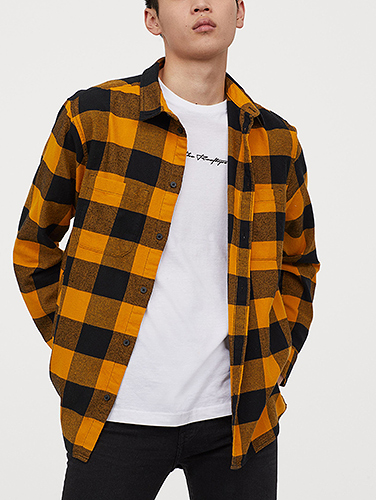 Channel your inner '90s kid and throw an old plaid button-down over your T-shirt for a look that's as angsty as your taste in music. You can keep the look laid-back with just the flannel top, but if you really want to amp up the vibe, put on some chunky combat boots, your most ripped jeans, and maybe even a choker. Dark eyeliner optional, but very much encouraged. Plus, if it gets a little too hot in the middle of the day, you can always tie the shirt around your waist, which adds to the cool-without-even-trying feel.
Tie it into a crop top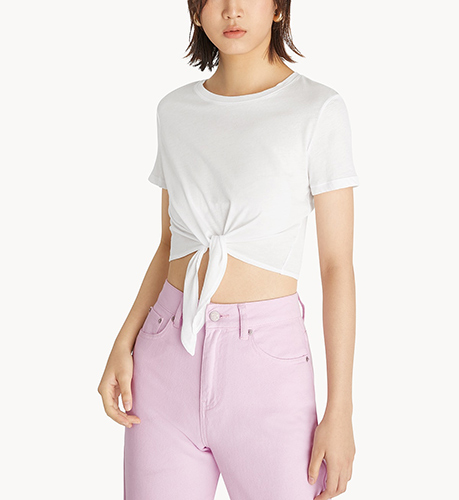 ADVERTISEMENT - CONTINUE READING BELOW
Love rocking crop tops in the summertime? In case you don't want to splurge on new pieces, there are many tutorials online for how to tie your plain white tee into a cropped blouse. This is especially perfect if you can't commit to cutting your own shirts to make them shorter. Plus, that way, you can always go back to its original form—basically like owning two shirts in one. Once your tee has that cropped silhouette, it automatically has a more carefree, hot-girl-summer vibe and would look especially great with high-rise bottoms.
Go for a monochromatic, all-white look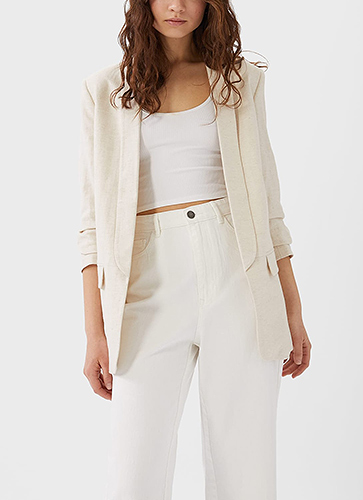 One of the easiest ways to make an outfit look like you spent hours curating it is by rocking the same color head to toe. This technique is especially handy with white clothing because it creates a pristine, classic look that's borderline Greek goddess. So take your white T-shirt and pair it with whatever other white pieces you can find—some linen trousers, an ivory blazer, a cute white purse, some eggshell shoes. You'll be amazed at how chic the results are!
ADVERTISEMENT - CONTINUE READING BELOW
Make it dressy with a blazer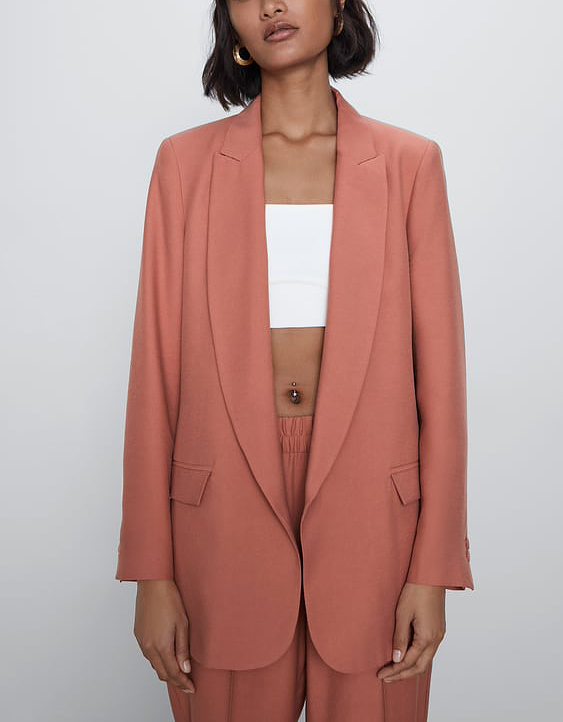 Got a casual dinner after work? If you'd prefer not to show up to late-night hangouts in your office attire, you can make your outfit dual-purpose by throwing a formal jacket over a cotton white tee. Add some chunky gold accessories, too, to really dress up the look—no one at work will be able to tell you're just wearing an old T-shirt. Once you're off the clock, just take off the blazer and you're ready to unwind with friends.
Wear it under a strappy top or dress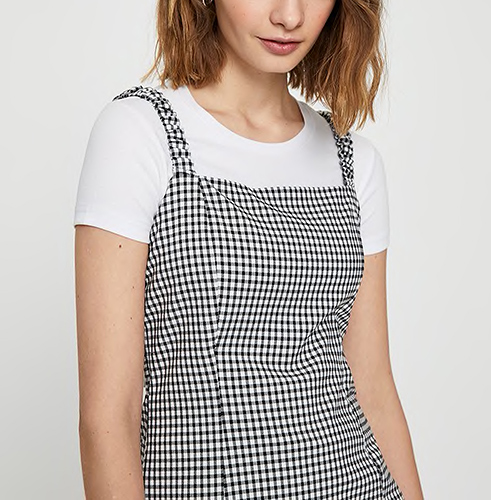 ADVERTISEMENT - CONTINUE READING BELOW
Add a little quirk and vintage flair to a blouse or dress with thin straps by wearing a fitted white T-shirt underneath. This is also a great hack if you've been wanting to wear a certain sleeveless top or dress, but haven't been able to wax your underarms—don't worry, it happens to the best of us. The piece will look just as chic, but with a preppy '90s touch—think Baby Spice or Cher from Clueless.
Throw a statement jacket on top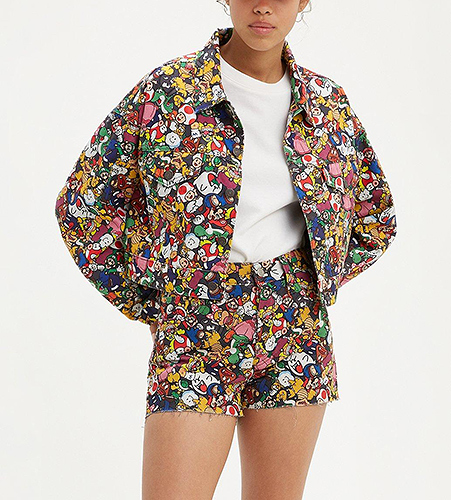 Perhaps you woke up today and didn't really feel like putting any effort into your outfit; white T-shirt and jeans it is. But as you're about to head out the door, you look in the mirror and think maybe you ought to spice up the look a bit. The easiest fix? Throw a statement jacket over top. It will add instant flair to your plain look. Plus, the color or pattern of whatever topper you pick out will be extra punctuated by the bright white shade of your inner shirt. Slip into white sneakers to tie the look together and you're good to go.
ADVERTISEMENT - CONTINUE READING BELOW
Go nude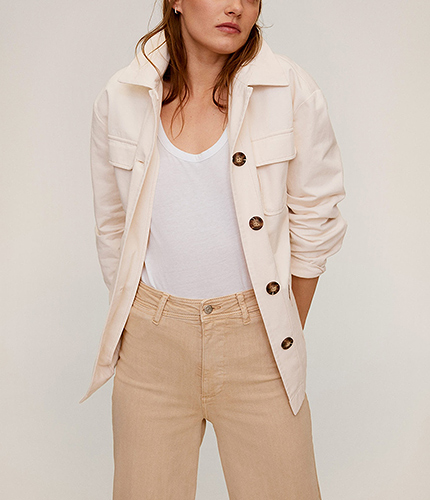 You already know that white is a fool-proof neutral that flatters all skin tones and styles, but another closet staple worth investing in are clothes in nude shades. Nude-toned pieces have the same subtle elegance as white, but with the added bonus of variety in terms of hue and shade. In case you're looking to spruce up your white looks while still maintaining that pristine neutral color scheme, try light earth tones. Wear linen trousers in shades of cream and ecru or jackets in skin-toned hues. Feel free to throw in a few deep browns in there, too.
Try a T-shirt dress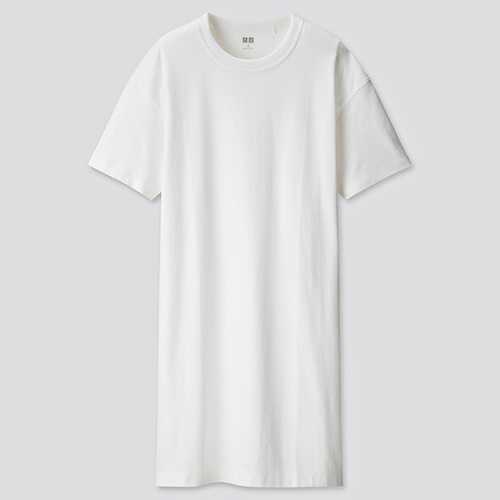 ADVERTISEMENT - CONTINUE READING BELOW
Ditch the bottoms altogether and try out a T-shirt dress if you want to go all-out effortless. You get the same classic, no-frills style, but with even quicker prep time—all you have to do is throw it on and you're ready for the day. It's basically like wearing a nightgown out, except you still get to look put-together. Tie a jacket around your waist if you want to show off your shape and pair with any shoes because it'll go with pretty much everything.
Share this story with your friends!
---
Help us make Spot.ph better!
Take the short survey
Load More Stories