We Got Our Hands on the Samsung Galaxy Z Flip3 and It's a Charming Head-Turner of a Phone
This might just be your first foldable phone after a long while.
(SPOT.ph) Truth be told, it took this writer a while before tinkering with the Samsung Galaxy Z Flip3. Straight out of the box, it was in its "unfolded" form: A typical candy bar of a phone with a 6.7-inch touchscreen. That is, until you check out its back and see the thick aluminum line right smack in the middle for its hinge, a detail that you wouldn't see in most smartphones.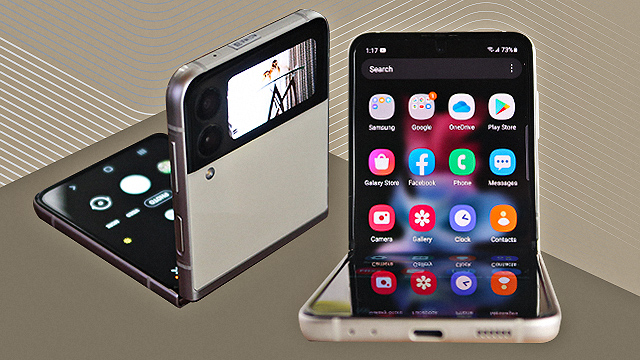 It's easy to dismiss the folding mechanism in the Flip3 as a novelty—especially if you're coming from years of owning candy-bar touchscreens. The Flip3's screen is made with Samsung Ultra Thin Glass, which is said to have an additional panel layer and protective film and can withstand up to 200,000 folds. The thought of intentionally folding a smartphone with a glass screen seems so outrageous even in this day and age—we repeat, it's glass—but hey, it's here and it does fold seamlessly, painlessly.
ADVERTISEMENT - CONTINUE READING BELOW
Also read: FIRST LOOK: The Samsung Galaxy Z Fold3, Galaxy Z Flip3, and Galaxy Buds 2
Not gonna lie, the first few minutes spent with the Flip3 was all about repeatedly folding the device. It's not every day you come across flexible glass, and that feature itself made us pretty apprehensive about actually folding the device in the first place. In one instance, we tried smacking the phone shut ever so slowly, our ears peeled, just to check whether we would hear a crack. Paranoid, we know. After a couple of tries, we got out of our funk and reminded ourselves that even the early 2000s had its share of phone builds that we didn't even dare question the durability even if they could be folded, or sometimes, twisted.
CONTINUE READING BELOW
Recommended Videos
Samsung Galaxy Z Flip3: Evolution From the First Galaxy Z Flip
In case you were wondering whether you missed the Flip 2, the quick answer is you didn't: While the Flip3 is the successor of the Flip, the 5G version is considered its second iteration.
The most obvious change from the Flip is in the design department. In terms of colors available, the Flip3 comes in four colors, unlike the first Flip which only came in Mirror Black and Mirror Purple. 
The Cover Display is larger than it is on the first Flip at almost two inches wide, allowing it to display more elements on the screen. The cameras on the newer model are laid out vertically with the flash on top of the first camera. A quick run-through of the spec sheet shows how most specs are unchanged from the first iteration, from the cameras to the sound, but there were some slight improvements in terms of the display.
ADVERTISEMENT - CONTINUE READING BELOW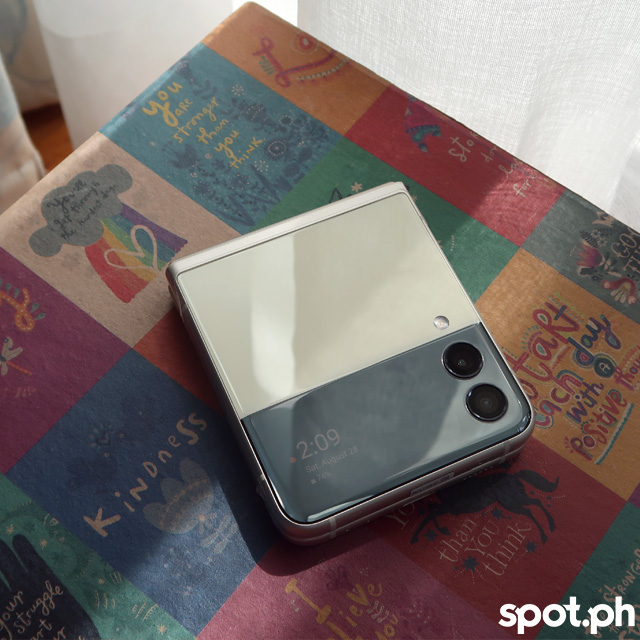 Speaking of the display, the first Flip was reportedly susceptible to scratches and dings despite having a second layer which, as The Verge puts it, felt "like having a plastic screen protector on a regular phone." There doesn't seem to be anything like it on the Flip3's main display, and it feels natural to the touch. The plastic bezels surrounding the phone seem to be thinner than the older iteration, making it really blend more amidst the other non-foldable Samsung smartphones of the present. 
Samsung Galaxy Z Flip3: Design and Form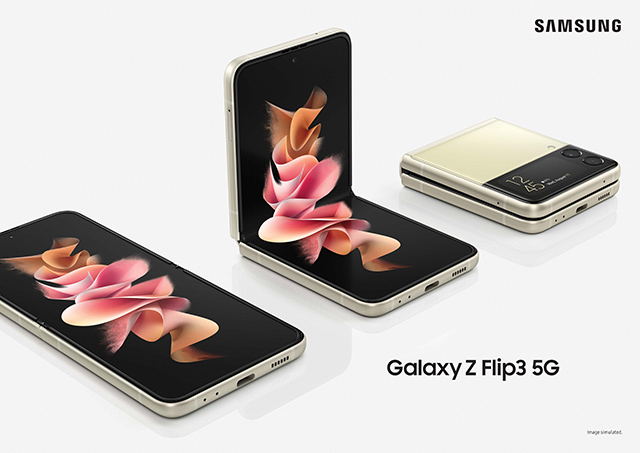 ADVERTISEMENT - CONTINUE READING BELOW
Appearance-wise, the Galaxy Z Flip3 is a looker. Our review unit came in this pretty chic shade of Cream, but you can get it in colors such as Lavender, Green, or Phantom Black as well. The front of the phone has a two-tone look to delineate the outer display and the dual cameras, while the aluminum on the edges and the hinge of the phone adds to the phone's sleek vibe.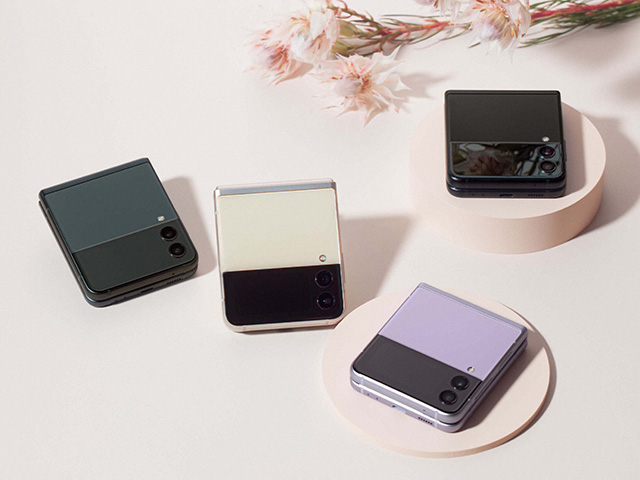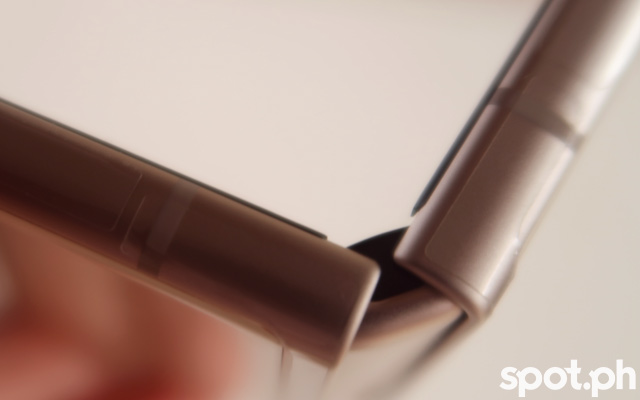 ADVERTISEMENT - CONTINUE READING BELOW
The Samsung Galaxy Z Flip3 could very well pass as a cute BB cream cushion compact. It's about the same height as a tube of lipstick, a handy alcohol spray, or a pocket mirror; it's even smaller than a coaster. Nowhere would you find a feature-packed smartphone that could comfortably fit in your smallest purse or even your jeans' pocket, until now.
Also read: A Throwback to Foldable Phones, Back When Smartphones Weren't a Thing Yet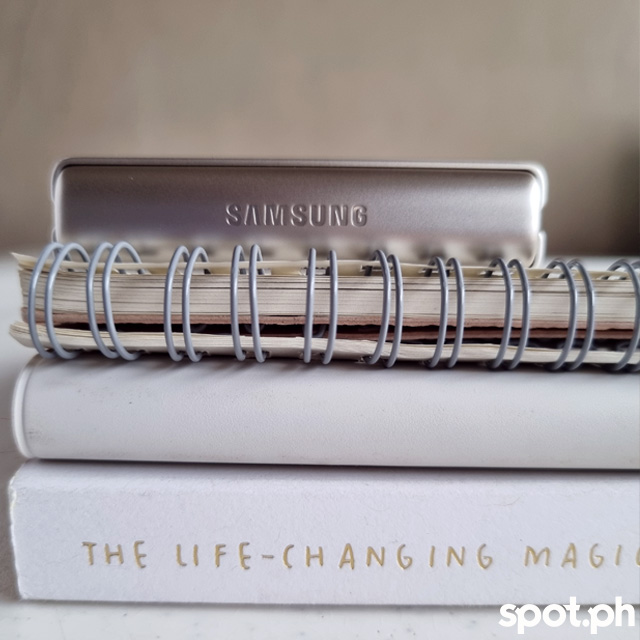 For those who want to own a foldable device so they could dramatically slam a phone shut after a call, do note that unlike the phones of the past, you can't whip the Flip3 out from your pocket and easily fold or unfold it using just one hand. Other reviewers seem to be able to do it rather comfortably, but maybe we're being extra careful here; to us, it's not as seamless or effortless as it was, say, with the thinner, smaller foldable phones of yore.
ADVERTISEMENT - CONTINUE READING BELOW
Samsung Galaxy Z Flip3: Display
When unfolded, the Galaxy Z Flip3 could very well blend with its non-folding contemporaries. If you spotted it unfolded on someone's desk, you could easily mistake it for what it is—a smartphone—save for that almost invisible crease. We say "almost invisible" because you'd only notice that line at a certain angle and at such close distance, or if you put your fingertip right where the crease is. It's not going to get in the way of you surfing the Internet or talking to your friend on your favorite chat app, but the user experience would also depend on the lighting condition and the angle by which you are using the phone. Understandably, the "fold" could be pretty obvious when it's in its folded position, but we can't say it's an eyesore. Besides, the screen has a bright and vibrant display, similar to the quality you could get with recent flagship releases of Samsung.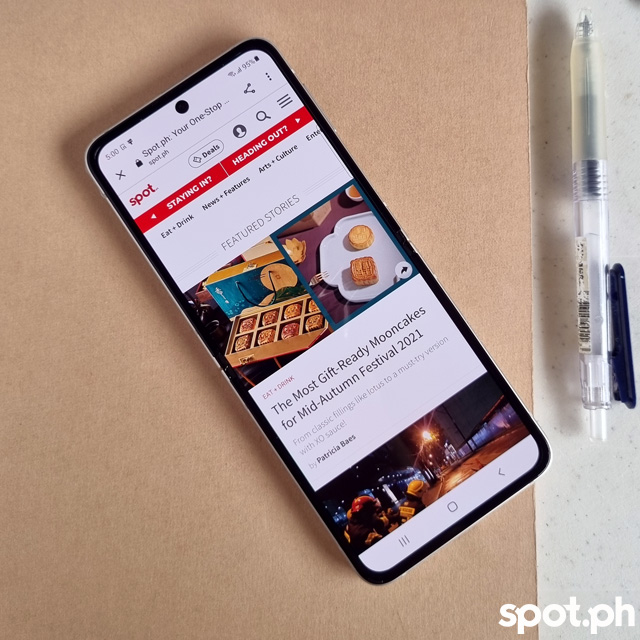 ADVERTISEMENT - CONTINUE READING BELOW
When the Flip is folded upright, it goes into Flex Mode, where the app reorients to fit the upper half of the screen, while the lower half is utilized for controls, details, or navigation. This feature is compatible with several apps. At the moment, supported apps include YouTube, Chrome, Facebook, and Gallery. For most of these apps, the app will occupy the top half of the screen while four icons appear on the lower part of the screen: a shortcut to pull down the navigation bar, a one-press screenshot shortcut, brightness control, and volume control. Some apps will utilize the screen real estate depending on their interface. YouTube, for instance, will move the video to the upper half of the screen, while the lower half will be dedicated to the video description and comments.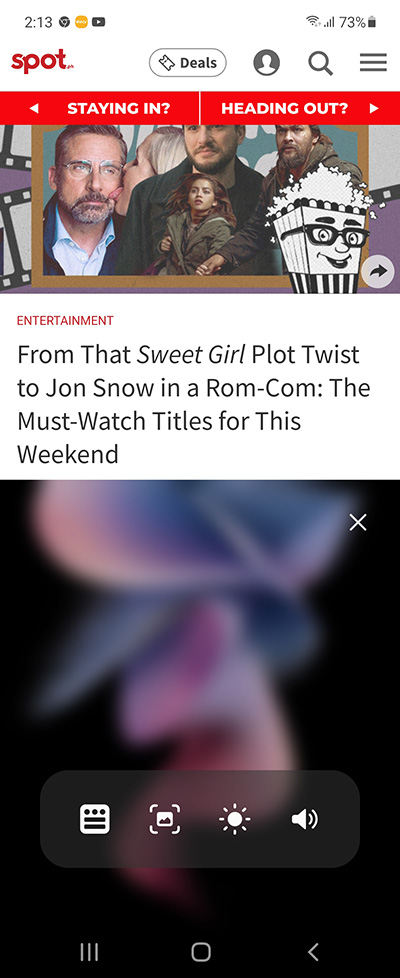 ADVERTISEMENT - CONTINUE READING BELOW
The Always On Display, though not a new feature on Galaxy devices, is both a feature on the main screen and the Cover Screen. The latter in particular lets you take a look at what's playing, alarms, and a timer shortcut. You can also add other widgets, ranging from weather updates, upcoming events, and a dedicated menu for your earphones.
Samsung Galaxy Z Flip3: When Folded + Apps
Camera
Those who are serious about their for-the-'Gram shots will find this phone to be very versatile. The Flip3's Cover Screen can also be used as a viewfinder a.k.a. Cover Screen Preview to make sure you're in the frame when you take your selfies. This lets you see what's in the frame when you're using the camera while the phone is folded and its screen is facing away from you.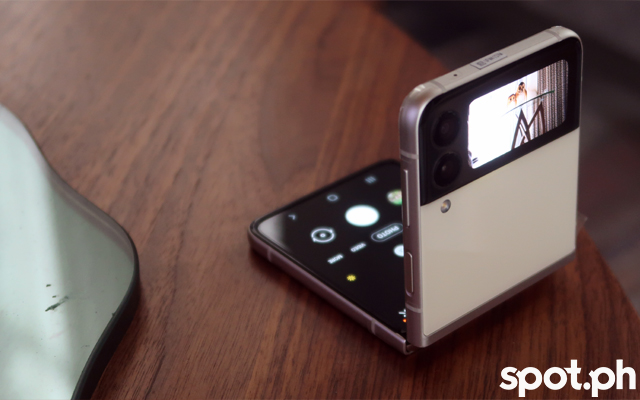 ADVERTISEMENT - CONTINUE READING BELOW
As the Samsung Galaxy Z Flip3 could sit on its own at a 90-degree angle, there's no need for a separate tripod in most cases. When taking snaps, you just have to place it on a flat surface—think shelves, tables, chairs, floors, on your car's dashboard—and pose away. Best part? You're not limited to propping it down at a certain orientation or angle, so you can take creatively executed photos as you please. Think placing them on the window ledge to capture movement outside your window or place it on the pavement as you document someone riding a bike.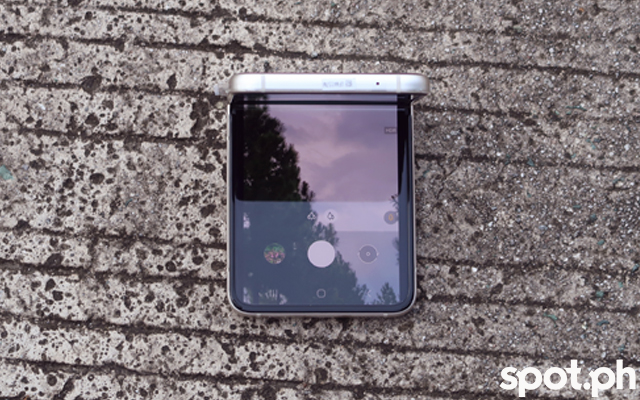 Gallery
The lower half of the screen becomes a touchpad of sorts when folded. When viewing videos, the bottom half has controls like taking a screenshot, play and pause, and sound on and off, alongside the carousel of other content you might have on your device. It's a pretty nifty feature, but one that you might need to get used to. After all, with the 6.7-inch screen size, vertical videos would be a joy to watch in their full glory instead of their minimized version.
ADVERTISEMENT - CONTINUE READING BELOW
Messaging 
Unlike the foldable phones in the late-'90s and 2000s, typing your message on the Flip is still best done unfolded. Sure, you could still tap the keyboard on the screen to type words but it would mean holding the phone at a rather strange, unnatural angle. We easily felt dizzy from typing gibberish in Messages.
Watching videos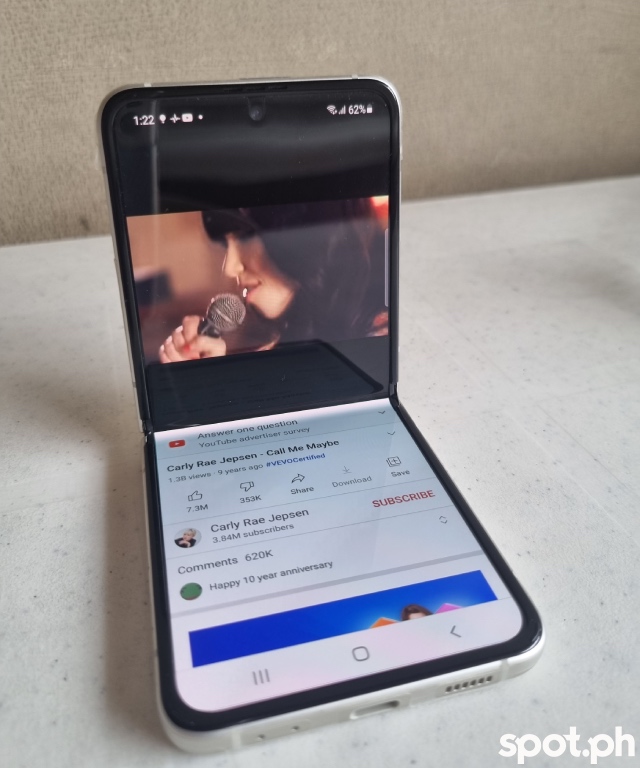 YouTube is one of those apps that turns Flex Mode on by default. Watching videos on YouTube, for instance, means you no longer have to put your phone in one of those phone stands. The top part of the screen is where you'll find the video itself, while the lower part is where you can read the description and the comments. It adjusts the scale when you unfold the phone. 
Gaming 
We tried some built-in games in the Game Launcher app, where you can instantly play games without having to download them. Most games on the platform do not have a Flex Mode Panel feature, and perhaps that might be the same case even for those games that could be downloaded via Galaxy Apps or Google Play. But wouldn't it be great if games made specifically for the Fold comes up? Think Nintendo DS but both screens can be operated by touch. 
ADVERTISEMENT - CONTINUE READING BELOW
Samsung Galaxy Z Flip3: Battery and charging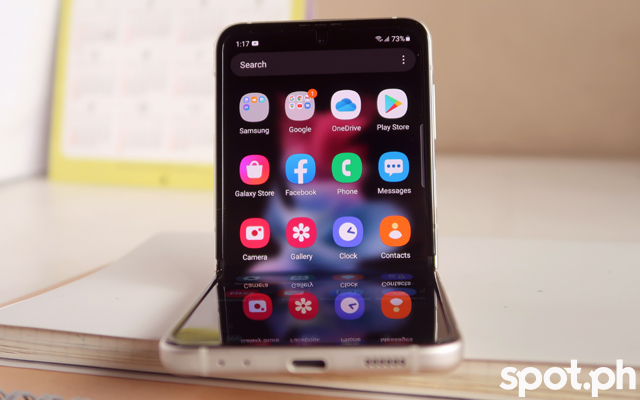 The Flip3 comes with a 3,300 mAh non-removable Li-ion battery, same as its predecessor, which is pretty much on the lower range compared to most phones' battery capacity nowadays. For comparison, the Samsung Galaxy S21 5G is equipped with 4,000mAh, the Note 20 at 4,300mAh, and even the recently released mid-range Samsung M11 is at 5,000mAh.
Full charge could last about two days, but that's an estimate for our average daily usage that's pegged at 29%. We would use the Flip3 for more or less an hour in a day, mostly to take a couple of photos, maybe check out a video, tinker with settings a bit, or play a game for almost an hour—but all with the WiFi always on. Heavy users might need to bring a charger or a power bank with them, especially since real-world usage would involve calls, sending messages, and looking up information on the Internet from time to time. It supports 15W fast-wireless charging, which is a bit of a let down versus 25W fast-charging seen in models like the Galaxy S21 5G. You can also charge the Flip3 wirelessly, but at 10W.
ADVERTISEMENT - CONTINUE READING BELOW
Despite its capacity, it's coupled with Wireless PowerShare, which supports 4.5W reverse wireless charging for your Galaxy devices. It could be quite hard to find the sweet spot from which you should place your Galaxy Watch or Galaxy Buds, but it's a handy feature for when you forget to pack the Watch's charging cable in particular and you'd need to charge (as the Buds can be charged using the same USB Type-C cable as the Flip3).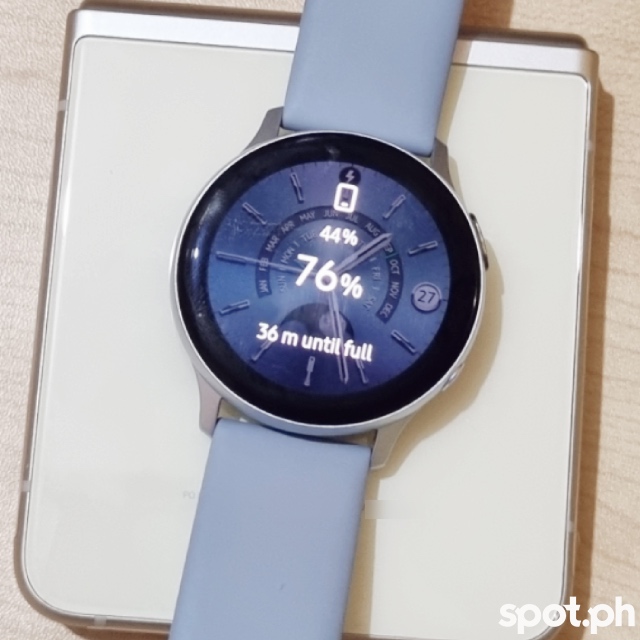 Samsung Galaxy Z Flip3: Prices
The Galaxy Z Flip3 5G is priced at P52,990 for the 128GB and P56,990 for the 256GB. For reference, the first version of the Z Flip retailed at P79,990 in 2020. From Samsung's current lineup, the closest to this price range would be the Galaxy S21 5G (P49,990/256 GB), followed by the Galaxy S21+ (P57,990/256 GB). Both phones were released in January 2021.
ADVERTISEMENT - CONTINUE READING BELOW
Samsung Galaxy Z Flip3: The Verdict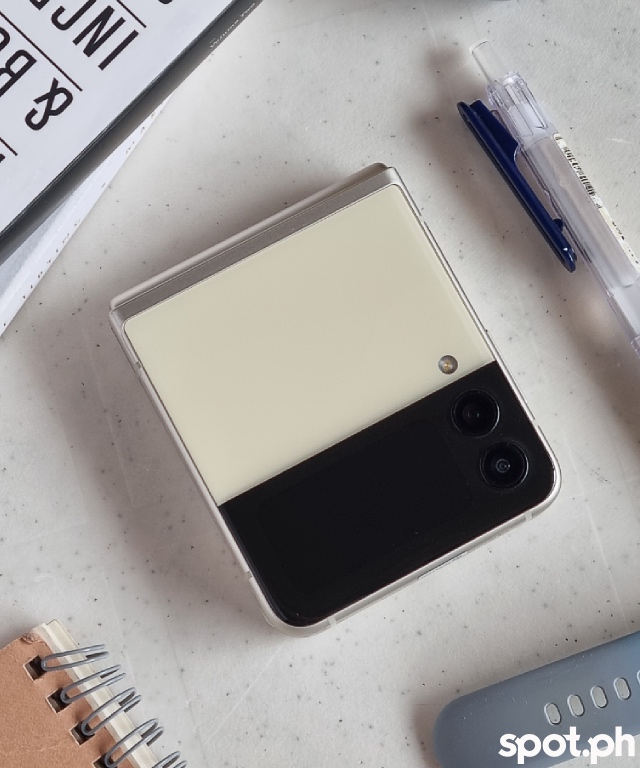 It's not every day that you come across a foldable smartphone—one that has a sturdy build, a stylish form, and is pocketable. Coming from years of using candy-bar smartphones and even a whole line of phones that have a pen you could pull from the device's bottom, we say this is the phone that made us think twice after a long, long while—in a good way. Existing Galaxy users with plans to upgrade should check this out first instead of defaulting to the latest S-series release in the market.
We've yet to see how the folding mechanism will fare in the long run; 200,000 times of folding and unfolding seems like a far-off number if you open and close the phone an average of 50 times a day, anyway. With the flexibility (pun intended) coupled by familiar features and specs, making the shift would be almost seamless—we won't be surprised if you end up being a loyalist of what seems to be Samsung's next best phone idea after the Note devices.
ADVERTISEMENT - CONTINUE READING BELOW
Samsung Galaxy Z Flip3: Specs 
At a Glance
OS: Android 11
Dimensions (HxWxD): 166mm x 72.2mm x 6.9mm
Dimensions when folded (HxWxD): 86.4mm x 72.2mm x 15.9 to 17.1mm
Weight: 183 grams
CPU: 2.84 GHz, 2.4 GHz, 1.8 GHz, Octa-Core
Main display: 170.3mm (6.7" full rectangle) / 166.4mm (6.6" rounded corners); 2640 x 1080 (FHD+); Dynamic AMOLED 2X
Sub display: 48.2mm (1.9" full rectangle) / 46.0mm (1.8" rounded corners); 260 x 512; Super AMOLED
Memory: 8GB RAM, comes in 128GB or 256GB, no card slot
SIM: Dual-SIM
USB interface: USB Type-C
Sensors: Accelerometer, Barometer, Fingerprint Sensor, Gyro Sensor, Geomagnetic Sensor, Hall Sensor, Light Sensor, Proximity Sensor
Cameras
Rear cameras: 12 megapixels, f/1.8; 12 megapixels, f/2.2
Front camera: 10 megapixels, f/2.4
Video recording resolution: UHD 4K (3840 x 2160) at 60fps
Battery
Internet usage time (LTE): Up to 12 hours
Internet usage time (Wi-Fi): Up to 13 hours
Video playback time (Wireless): Up to 16 hours
Audio playback time (Wireless): Up to 51 hours
Talk time (4G LTE) (Hours): Up to 26 hours
Battery capacity: 3,300mAh, non-removable
Audio and Video
Stereo Support: Yes
Video playing formats: MP4, M4V, 3GP, 3G2, AVI, FLV, MKV, WEBM
Video playing resolution: UHD 8K (7680 x 4320) @ 60fps
Audio playing formats: MP3, M4A, 3GA, AAC, OGG, OGA, WAV, AMR, AWB, FLAC, MID, MIDI, XMF, MXMF, IMY, RTTTL, RTX, OTA, DFF, DSF, APE
Services and applications 
Gear Support: Galaxy Buds Pro, Galaxy Buds Live, Galaxy Buds+, Galaxy Buds2, Galaxy Buds, Galaxy Fit2, Galaxy Fit e, Galaxy Fit, Galaxy Watch4, Galaxy Watch3, Galaxy Watch, Galaxy Watch Active2, Galaxy Watch Active, Gear Fit2 Pro, Gear Fit 2, Gear Sport, Gear S3, Gear S2, Gear IconX (2018)
Samsung DeX Support: No
Mobile TV: No
ADVERTISEMENT - CONTINUE READING BELOW
For more information, visit Samsung Philippines' website.
Hey, Spotters! Check us out on Viber to join our Community and subscribe to our Chatbot.
We are now on Quento! Download the app and enjoy more articles and videos from SPOT.ph and other Summit Media websites.
Share this story with your friends!
---
Help us make Spot.ph better!
Take the short survey
Load More Stories