FROM OUR PARTNERS AT LAZADA: 9 Deals to Look Forward To at Lazada's 9.9 Sale
You're looking at deals that go for as low as 99 cents.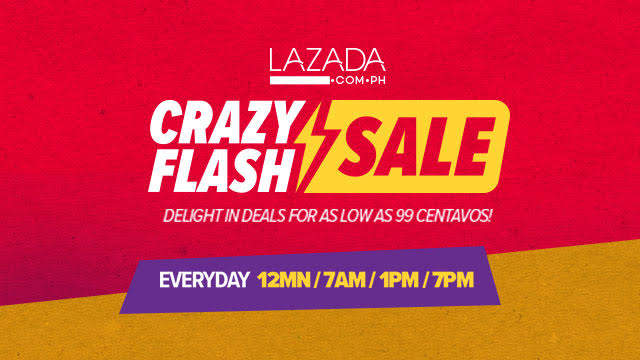 Lazada, Southeast Asia's biggest online shopping and selling destination, ushers in the -ber months with discounts of up to 90 percent, courtesy of the Lazada 9.9 Sale. We're talking about deals that go for as low as 99 centavos! Here are nine deals worth looking into:

1. For first-time parents: The Pampers Baby Dry Taped Diaper New Born and Premium Care Diaper Pants M in 4s are available at 99 centavos. Both variants come in a handy pack for going out with their little ones.

2. For guys who really pay attention to haircare: the 70ml Head & Shoulders Cool Menthol for Men and Head & Shoulders Old Spice Shampoos, both of which can be yours for 99 centavos.

3. For girls who are always on-the-go: Protect your crowning glory with Pantene's 70ml Hair Fall Control Shampoo and 3 Minute Miracle Hair Fall Control Conditioner. 

4. For car owners on a budget: Lazada's portable car vacuum cleaner can be yours for only P39.  

5. For stylish and outdoorsy folks: the Sunnies Gradient Lens Metal Frame Aviator-style Fashion eyewear is available at P44.

6. For guys who have their own skincare kit: Pond's Men Facial Wash White Boost and Pond's Men Facial Wash Acne Solution are available at P69 each. 

7. For responsible drivers: Lazada's 1080P Wide Angle Dash Camera is up for grabs for P99. 

8. For gadget junkies: This Samsung EVO Plus Micro SDHC, which comes with an adaptor, can be yours for only P149. 

9. For women who have no time for touchups: the Colourette FlexiPowder in Pecan is available for P299.

These items will be available via Lazada's new shopping game "Slash It!"—a feature that allows customers to lower the price of a product through a referral link sent to friends to slash the price. Vouchers and discount codes are also up for grabs via the Shake It! feature, where customers can score more discounts by shaking one's mobile phone at designated time slots.

Aside from the deals mentioned above, you'll be entitled to even more discounts when you use any of the following voucher codes at Lazada:

Citibank
Enjoy a discount of up to P500 for a minimum purchase of P2,500 with voucher code LOVE2CLICK99 

Mastercard
Get 12% off (P200 max) on flash sale items with voucher code MCDEBITFLASH

RCBC Savings
Up to 30% off for a minimum spend of 999 with voucher code RCBCSAVINGS9999

GCash
35% your purchase when you use code GCASH35SEPT. Maximum discount of P200

You can also win a new phone from PeraSwipe when you use the voucher code PERASWIPE99 (with a minimum purchase of P99). Lastly, you can win a trip for two to Singapore when you use voucher code IWANTEVIAN on any purchase.

Get #AllYouEverWanted by downloading the Lazada app! To know more about the Lazada 9.9 Sale, go to lzd.co/SpotPH99 and follow Lazada on Facebook.
This article is sponsored by Lazada.