FROM OUR PARTNERS AT SEAOIL: Lifetime FREE Gas Up For Grabs!
Your P500 gas money could go a long way.

SEAOIL—the largest and leading independent fuel company in the country—is granting four lucky participants the rare privilege of never having to pay for gas for the rest of their lives, courtesy of the Lifetime Free Gas, Oh My Gas! Promo.

Think endless road trips, more money for dining out, and being able to chase your dreams. Here's why you should bet your money on it:

You can go extra
With the rising cost of basic goods and services, budgeting your expenses has never been more difficult. But with a lifetime supply of gas, you can instead use your gas money to pay bills or grow your savings.

Create more memories
With an unlimited supply of gas, your family and friends are never ever going to leave your side. Together, you can explore more places and share new experiences.

Traffic is not a problem
Being stuck in traffic won't hurt as much since you're no longer worried about gas consumption. Besides, you can go to a nearby SEAOIL station at any given time.

Change your life in five minutes
"It only takes five minutes to register online," Monica Poliquit, last year's grand winner of the Lifetime Free Gas, Oh My Gas! Promo, points out. From August 18 to November 18, you can get one raffle coupon and a chance to win instant prizes for a minimum purchase of P500. To double your chances of winning, register at www.lifetimefreegas.com and enter the promo code from the raffle coupon.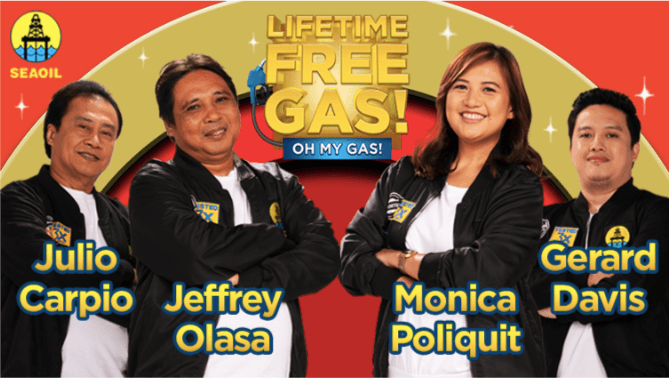 There will be four grand winners of lifetime free gas and over 100,000 winners of instant prizes. SEAOIL gift certificates worth P10,000 will also be given away to 10 winners each month from the online registration.

To know more about the Lifetime Free Gas, Oh My Gas! Promo, visit www.lifetimefreegas.seaoil.com.ph.

Per DTI-FTEB Permit No. 12771 Series of 2018
This article is sponsored by SEAOIL.