FROM OUR PARTNERS AT TUMI: TUMI's New Collection Is All About Functionality and Minimalism
Each style features tons of pockets, maximum storage, and a 15-inch laptop compartment.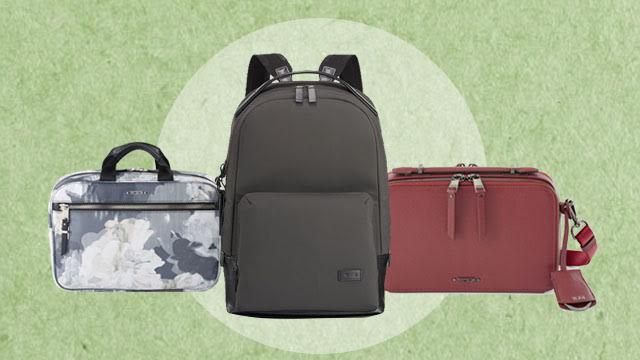 TUMI's Fall 2018 Men's collection is all about versatile designs for business and everyday use. These distinctly modern styles combine luxury and practical professionalism.

Taking inspiration from the simplicity, functionality, and minimalism of Scandinavian design, the collection explores the natural beauty of the region and celebrates intentional, thoughtful design.

The newest incarnation of the Tahoe collection fosters an urban, minimalist aesthetic with a focus on functionality and design-driven details. The modern and sleek silhouettes also have a hidden functionality, keeping them true to the TUMI DNA.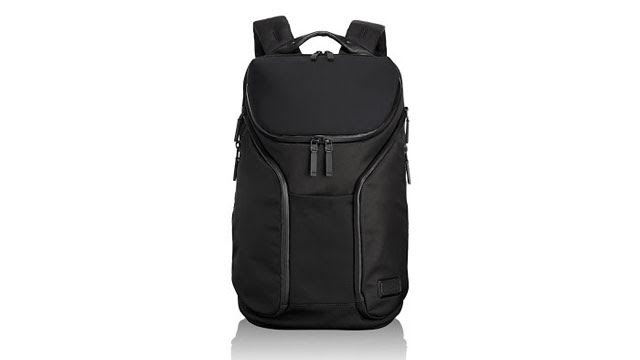 Tahoe Rockwell Backpack in Black

Each piece is constructed from a highly durable blend of polyester and matte nylon that gives the appearance of neoprene. This fabric gives the bags a smooth, tactile feeling. New energetic linings with reflective accents also highlight the organizational features, making the interior easier to navigate. 

Select styles, including the Rockwell, Lakeview, and Westville Backpacks even have a rain cover to protect your bag from the elements. 

Each style features tons of pockets, maximum storage, and a 15-inch laptop compartment. Offered in Black and the new seasonal Digital Tide print, these backpacks are geared toward the outdoors-inspired lifestyle. 

The Westville features an elastic band on the front with toggle closure—perfect for your jacket or yoga mat. Lastly, Tahoe is also introducing the Boulder Backpack Duffel, a unique construction that doubles as a backpack and weekender pack, with removable, tuck-away backpack straps and handles.
Designed with form and function in mind, the Alpha Bravo collection is updated with a new style, color and print introductions. Crafted in TUMI's durable Ballistic Nylon as well as Black leather, the iconic collection tells a strong story with its modern military characteristics and stand-out gunmetal zipper highlights.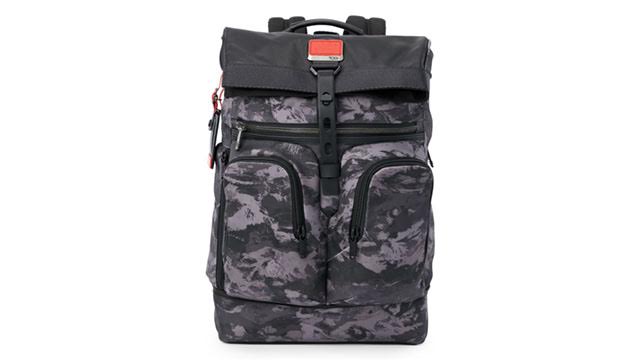 Alpha Bravo Roll-Top Backpack in Charcoal Restoration

This season, Alpha Bravo introduces new seasonal prints, including Charcoal Restoration and Reflective Tundra, which continues the assortment's reflective accents with a green shade that matches back to the seasonal palette.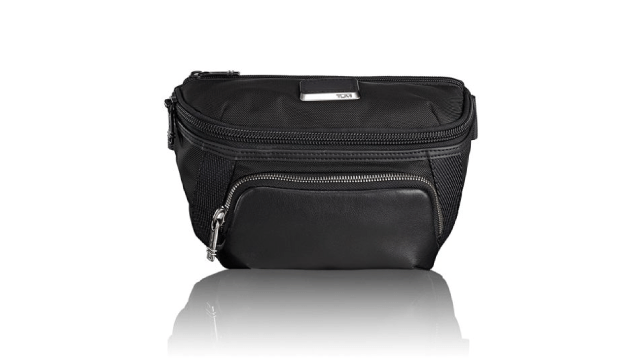 Alpha Bravo Columbus Utility Pouch in Black

The Columbus Utility Pouch presents a trend-focused style that can be worn many ways—as a waist pack, a crossbody across the front, or as a sling. This versatile style can organize your essentials in front zip pockets and has special protective interior pockets for secure and hands-free travel.

Meanwhile, the Harrison collection continues to offer a series of functional day bags and accessories with a clean, streamlined aesthetic. 

The Daniel Utility Pouch can be worn as a waist pack, across the body, or as a sling. The style offers a secure and hidden entrance to the main cavity via a back zipper pocket (ideal for traveling with important documents or items). It also features a rear zip quilted pocket and organizational front pocket with a key leash. 

TUMI continues to expand on its accessories collection with the new Province SLG collection. This collection focuses on travel accessories and offers a variety of silhouettes with fresh aesthetic details. 

The core colors include a warm color palette of Black, Blue, and Orange, with Ember and Maroon offered as seasonal colorways. Highlights from the collection include the Luggage Tag, Passport Case, Passport Cover, and Travel Organizer.

TUMI's Fall Women's Collection

Meanwhile, TUMI's Fall 2018 Women's collection combines elegant beauty and sophisticated professionalism, providing a seamless experience for women on the go.

This season, Voyageur is relaunching with a new attitude and refreshed silhouettes. The Fall 2018 assortment takes shape with a mix of bold prints and accents of color. The collection opens with Maroon and Pink Ombre, along with the core Black, Mink, and Navy colorways. Later in the season, the collection will launch more variations (Magenta, Camo Floral).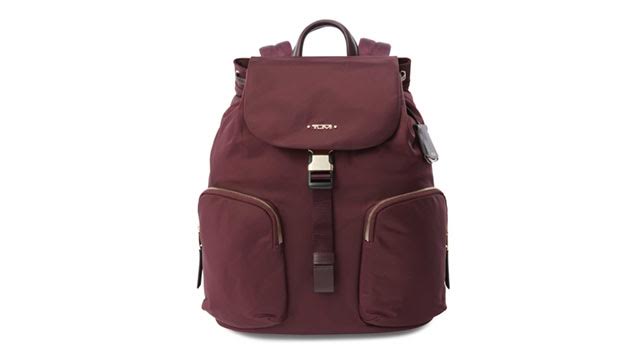 Voyageur Rivas Backpack in Maroon

Voyageur is also introducing new backpack styles, including the Carson, Hagen, Dori, Bryce, and Rivas Backpacks. The spacious interiors have a variety of organizational elements, including open and zip pockets and a padded compartment for tablets or laptops. The exteriors also feature a quick-access phone pocket on the backside of the bag.

Additional new styles include the Ruma Crossbody, Mariel Hip Bag, Tres Leger Carry-On, and Basel Triangle Pouches. They all include a locking zipper pull for extra security, an easy grip rolled top handle, a hidden quick-access phone pocket with magnetic bar closure, a new dangler with key ring, a hidden tracer tag, and a water bottle pocket (select styles).

Voyageur Novelty will introduce a subtle Camo Print in both Black and Green, as well as new embellishments throughout the assortment. Other elements such as chains and studding will also be offered in the Whitney Backpack and Troy Crossbody.

The Voyageur Business assortment will gain enhanced styles, including the Sheryl Small Business Tote, which will be executed in nylon with a more structured shape. Updates to the Voyageur Leather collection, which highlights best-selling nylon silhouettes and translates them into leather, will be introduced in Black and Brick Red.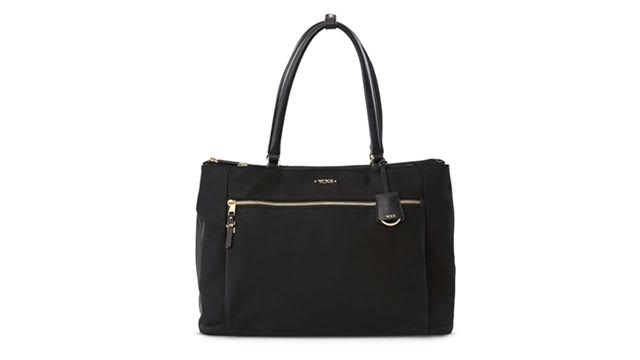 Voyageur Madina Classic in Black

TUMI Travel Collection

The TUMI Fall 2018 Travel collection also takes inspiration from Scandinavian design and explores these ideas, focusing on the relationship between the technical and the handcrafted. The collection is a study in color, texture, and tone.

The Latitude collection defies durability and engineering standards while pushing design boundaries. Made from groundbreaking material and executed in a modern design, the collection is the pinnacle of form and function.

The bags are built to handle any journey. Crafted from TUMI's innovative Self-Reinforced Poly-Propylene (SRPP Ballistic)—an ultra-durable material that is both lightweight and strong, Latitude provides a blend of performance and style for the TUMI consumer.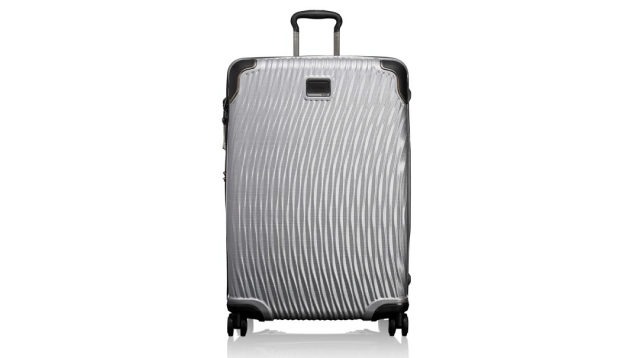 Latitude International Carry-On in Silver

All silhouettes include tie-down straps, multiple pockets, a hanger bracket, and more. All styles also feature integrated low-profile TSA locks, TUMI Tracer®, soft-touch top and side handles reinforced with plastic substructures, and a patented X-Brace 45® telescoping handle system crafted from lightweight aircraft-grade aluminum.

The new colorway will be offered in a range of carry-on and check-in sizes, which includes an International Carry-On, Short Trip Packing Case, and Extended Trip Packing Case.
TUMI is also launching a new 19 Degree Aluminum collection, featuring new seasonal colors Ember and Fall Foliage. Offered in International Carry-On, Short Trip Packing Case, and Extended Trip Packing Case (Ember only) sizes, this aluminum assortment features a frame case design—with two snap closures for carry-on bags and three snap closures for check-in bags—and die-cast corner caps for additional protection.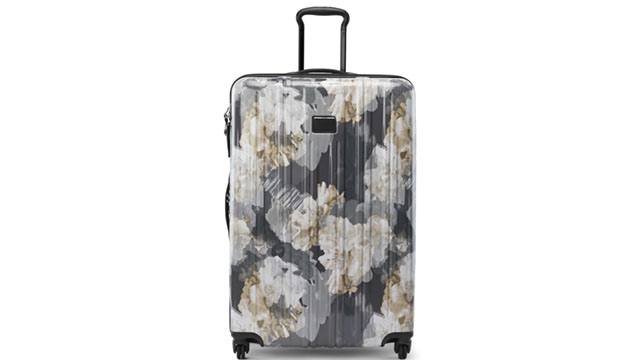 V3 International Carry-On in Camo Floral

The interior is expertly appointed with the finest aesthetic and organizational features, including a lightweight lining with an embossed diamond pattern that complements the unique exterior pattern.

Follow @TumiTravel on Facebook and Instagram.

Tumi is exclusively distributed by the Primer Group of Companies, an ever-expanding retail and distribution company of the world's top and premium consumer brands. Tumi is available at TUMI Greenbelt 5, TUMI Shangri-ka, TUMI Solaire Resort & Casino, TUMI Ayala Center Cebu, and selected The Travel Club stores.
This article is sponsored by TUMI.