Signs It's Time to Break Up With Your Bank
Some relationships are just not meant to last.

GIF via mtv.com

(SPOT.ph) There are plenty of reasons why romantic relationships ultimately don't work out, be it infidelity, money issues, or the lack of time and trust. At the end of the day, nothing worth your while is supposed to be easy.

But did you know that love actually has a lot in common with banking? For starters, if it's not working out for both parties, we highly suggest you take the high road and end it.

We've all been there before—forgotten bank app passwords, interbank transaction charges that continue to pile up, ATM cards that are useless abroad, and complex mobile banking. After all, it's hard to appreciate your bank account when you have no control of it.




But you know what? Plenty of Pinoys know that feeling all too well. Which is why last Sunday, November 8, an army of Megan Young lookalikes staged a protest at various malls in Metro Manila in an attempt to put an end to all the stresses of banking. Here's a list of their demands:

1. Freedom from mobile banking apps that are complicated and hard to use.

2. Freedom from banking app passwords via iOS thumbprint technology.

3. Freedom from basic inter-branch transaction fees.

4. Freedom to send cash to anyone with a mobile phone.

5. Freedom to use their ATM card for withdrawals abroad.

6. Freedom to do international and online shopping with an ATM card that has a built-in MasterCard Debit facility.

7. Freedom from worries with its Withdrawal Text Alerts.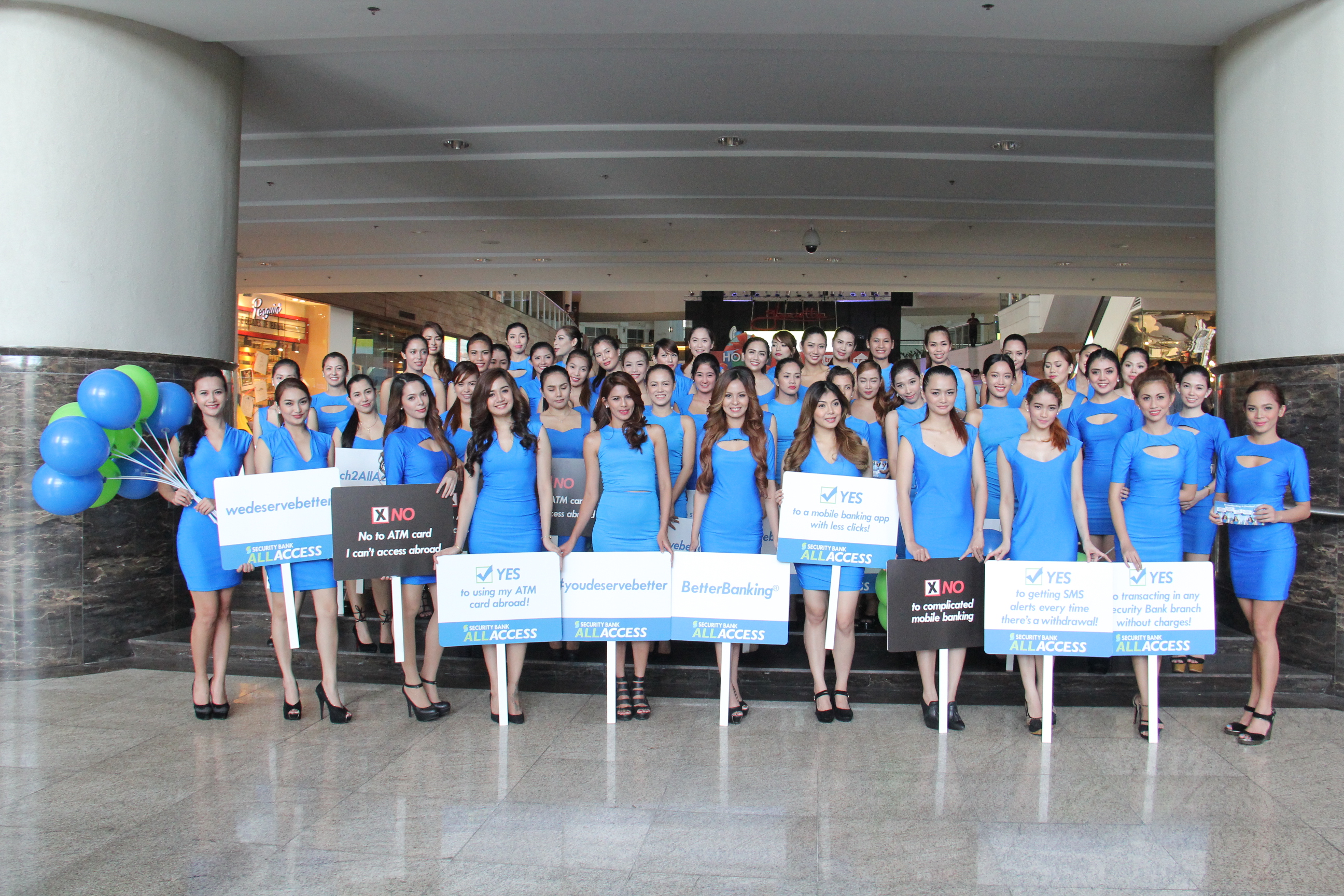 The good news is their protest did not end in vain, because these smart and pretty ladies were able to successfully launch the Security Bank All Access account.

With a minimum deposit of only P5,000, you will attain banking freedom in so many ways, including the ones that are cited above. Take your right to BetterBanking further by visiting participating Security Bank branches, hearing what they have to say about the amazing account and leaving your signed business card for a chance to win 1 of 25 P25,000 All Access accounts for free!

Winners get all the banking essentials (passbook, checkbook and an Everyday ATM Debit Mastercard) in just one account plus hassle-free online and mobile banking and other exclusive privileges like waived fees.

For more information on Security Bank All Access account, visit www.securitybank.com/freedom.