Sunshine and Pastel Dreams With Sakroots Spring 2018
These bags bear the brand's commitment to make the world a better place.
(SPOT.ph) Rooted in self-love and love for others as its guiding philosophies, Sakroots is a U.S.-based lifestyle brand founded in 2009. Nearly a decade later, Sakroots continues to nurture a decade-spanning relationship with free-spirited and young-minded women with its ever-evolving range of unique and functional artist-driven bags and lifestyle products.

But more than just a brand, every product made by Sakroots becomes a vehicle of change as each of its artist prints bears a corresponding nature-related charity as its beneficiary. Indeed, one of the most defining qualities of Sakroots is how it inspires women to lead impactful and meaningful lives.

From its first-ever "Peace Print" design, Sakroots continues to expand its collection of prints to feature no less than a growing array of vibrant and meaningful patterns by various artists from all over the world. For Spring 2018, Sakroots draws from its design dossier to create another line of bags and accessories that all bear the brand's commitment to make the world a better place.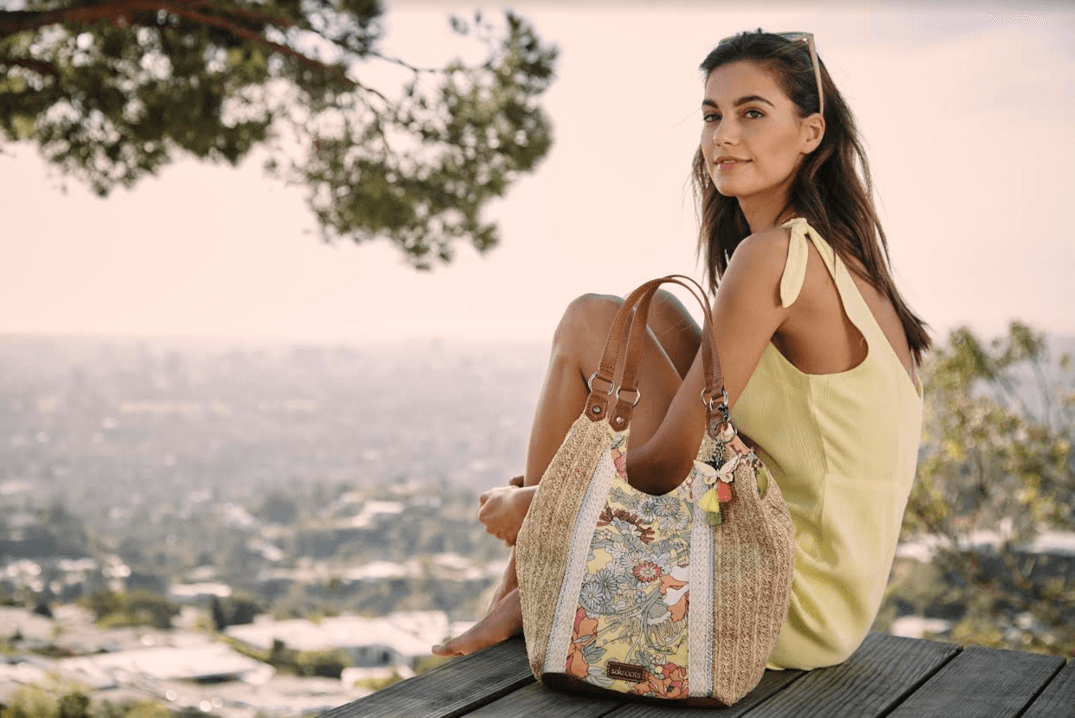 Sunlight Flower Power

This season, Sakroots highlights one of its signature prints to come up with a line of bags and accessories. Combining tropical fabrics and materials such as straw and coated canvas with a lush floral design pattern inspired by embroidered Japanese kimonos, Sakroots introduces the Sunlight Flower Power collection.


Perfect for a day of shopping or a relaxing day by the beach is the Roma Shopper handbag. Roomy yet structured in form, the Meadow Medium Straw Satchel is the perfect companion whether for the beach or for when running errands.


For days that call for more control, one will find the Soft Bucket crossbody bag a clever yet fashionable choice. Handier than most yet capable of holding all the essentials, another great option is the Foldover Crossbody which features a modern patchwork design and fun mix of straw and prints. Meanwhile, the top-selling Basic Crossbody lets you go hands-free all day in style with its multi-pocket design and spacious interior space.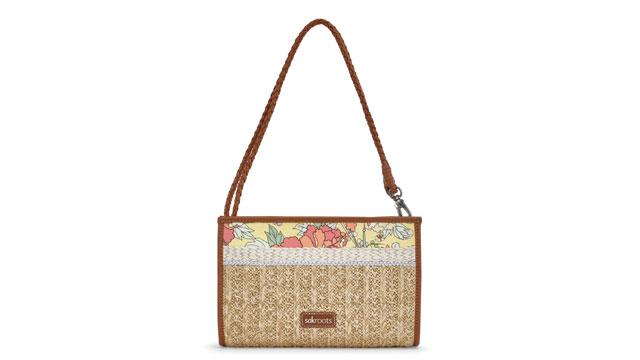 Roma Mini Crossbody in Sunlight Flower Power, Php 2,490
Those who prefer to travel light will love the selection of mini crossbody bags and clutches in the new collection. Wearable as a crossbody, shoulder bag, or clutch, the Roma Mini Crossbody lets you make the most out of your day. Functional and straightforward both in its design and aesthetic, the Camden Small Crossbody has an adjustable strap which allows its wearer to also use it as a clutch. Love tote bags but want something a bit more discreet? The Small Satchel is your best bet as it is pretty and only requires easy-cleaning and care.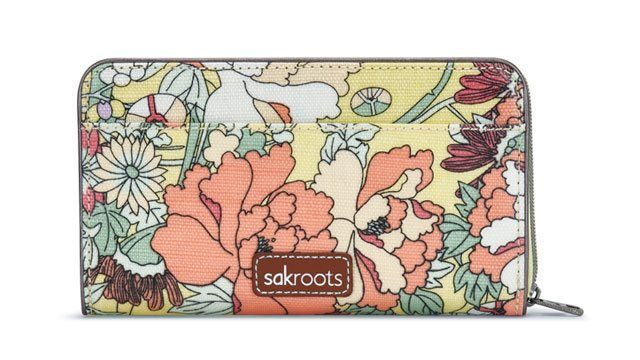 Large Zip Around Wallet in Sunlight Flower Power, Php 1,990
Proving that fashion and function can coexist in perfect harmony are the tech clutches and accessories in the all-new Sunlight Flower Power print such as the Luna Smartphone Crossbody, Large Smartphone Crossbody, Ella Smartphone Sling, and the Large Zip Around Wallet.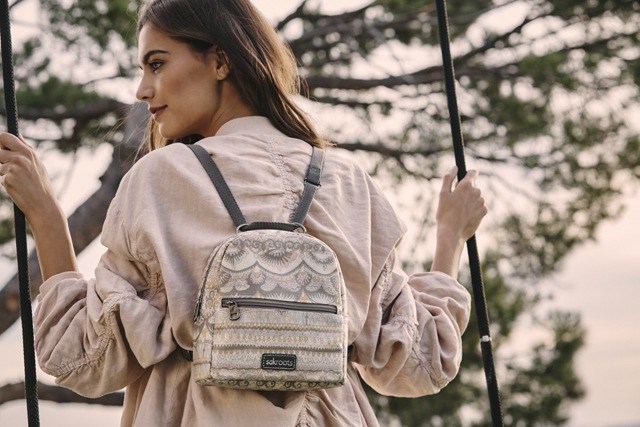 Pastel One World

Another one of Sakroots' most well-loved prints, the One World is all about celebrating unity and love for all sentient beings. This season, however, the iconic print gets an update with the Pastel One World collection, which features a wide range of printed casual bags in soft, muted tones.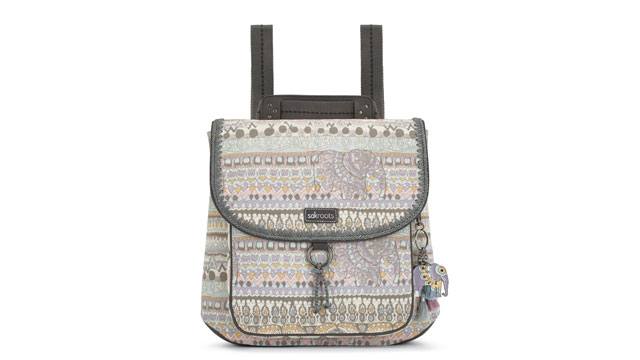 Convertible Backpack in Pastel One World, Php 3,790
Highlighting the collection is the Convertible Backpack that's equally stylish as it is versatile. Dive right into the action with a bag that can be worn as a backpack and a messenger bag with plenty of space. Similarly, cool and functional is the adorable Mini Crossbody Backpack that lets you convert itself from a super cute backpack into a charming crossbody—ideal for nights out and outdoor festivals.

Breathing life into the ordinary, Sakroots relaunches its top-selling crossbody bags in the Pastel One World print. Among these include the roomy City Satchel, the multi-pocket Basic Crossbody, and the lightweight Foldover Crossbody which stands out with its mixed materials and hints of print.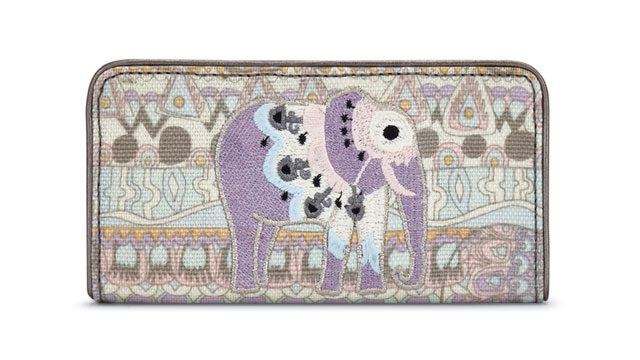 Slim Wallet in Pastel One World, Php 1,490
Also included in the Pastel One World collection are stylish yet economical bags such as the Luna Smartphone Crossbody and Small Satchel as well as accessories like the Large Zip Around Wallet and the Slim Wallet.

Characterized by a more subdued palette, each of the bags featured in Sakroots' Spring 2018 collection is sure to lend a fresh and carefree vibe to any ensemble. This season, waltz into the world with Sakroots' utterly cool yet feminine selection of casual bags and everyday accessories.

Sakroots is available at The Travel Club and Bratpack stores nationwide and online at Zalora.
This article is sponsored by Sakroots.