Thinking of Vacationing in Thailand? Pia Wurtzbach Supports You
The former Miss Universe shares why visiting Thailand is a good idea.
SPONSORED BY TOURISM AUTHORITY OF THAILAND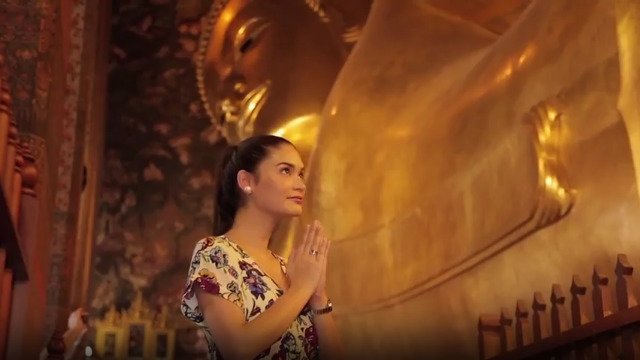 (SPOT.ph) "I like that it feels like home, and this is an honest truth. And for the women, it's very safe, you can travel alone if you want. That's what I did. It really has so many things to offer," says Miss Universe 2015 Pia Wurtzbach when asked of Thailand—a country she has traveled to and from before, during, and after her beauty queen reign.
Thailand is a haven for Pia, a go-to destination she has constantly returned to for work and leisure. In fact, Thailand played a significant role in her journey to the crown, seeking peace and blessings in Thai temples when she lost the second time in her bid to be the Philippines' Miss Universe representative. Coming back from her Thailand trip, Pia took on the Binibining Pilinas pageant for the third time—and this time, she bagged the right to represent the country for Miss Universe. The rest, as they say, is history. 
Pia, along with other influencers around Asia, want women travelers to know how Thailand is the perfect place for travel. So the beauty queen serves as the Philippine representative to the Tourism Authority of Thailand's (TAT) Women's Journey Thailand 2017, a tourism campaign that promotes travel for women in Thailand. 
Here's what's in store for ladies who want a quick getaway in the sunny country:
Thailand is a beauty and wellness capital
Thailand is home to the best spas and resorts, and no one should go home without experiencing a proper Thai massage, one of the best services the country has to offer. According to Pia, two hours of Thai massage is just as restful as having a proper overnight sleep. 
You'll go crazy shopping in Thailand
From novelty finds at the Chatuchak Weekend Market to stylish looks at The Platinum mall, the country is a haven for both cheap buys and—if you search hard enough—unique pieces that only you will be in possession of.
There are peaceful spaces for prayer and meditation
Pull a Pia Wurtzbach and pray to the gods for inner peace as you meditate in Thailand's ornately beautiful temples.
Learn how to cook exquisite Thai food 
While cooking is an interest both men and women can enjoy, Thai cooking lessons are a fun and interactive experience for women traveling alone or together.
Kick off your new fitness regime with an authentic Thai boxing session
Popularly known as Muay Thai, the national sport of Thailand is an intense combination
of boxing, kicking and elbow combat, practiced by people all over the world. What better
way to treat yourself to the most effective of all full body workouts than where Muay
Thai itself originated. Brace yourself though—it's not for the weak-hearted!
Enjoy more of Thailand by visiting www.tourismthailand.org or following TAT's Facebook page. 
This article is sponsored by Tourism Authority of Thailand.