A Filipino scientist's discovery might just stop malaria from claiming a child's life every 30 seconds.
Rhoel Dinglasan
, an entomologist and biologist at the Johns Hopkins University Hospital in Maryland, USA, developed a malaria vaccine that stops mosquitoes that carry the disease from spreading it, reports
Time
.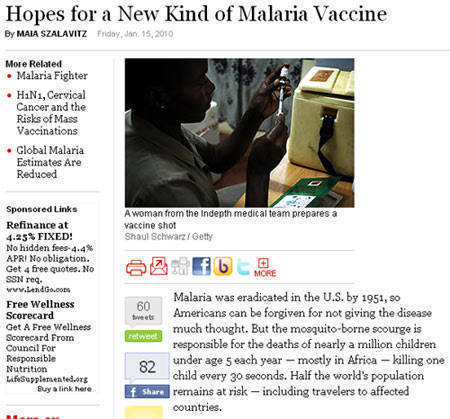 Screen capture of Time's article. Click the photo to read the entire article.
Dinglasan discovered that an antigen, the AnAPN1, causes the body to create antibodies that lock up malaria in mosquitoes. With enough antibodies from biting vaccinated humans, mosquitoes lose the capability to transmit the disease. So far, the vaccine has knocked out the major types of malaria and tested mosquito species.
Dinglasan's method differs from the traditional way that vaccines work where a weakened version of a disease is injected in the body prompting the immune system to produce antibodies against it that come handy if the actual disease hits the body later.
ADVERTISEMENT - CONTINUE READING BELOW
In 2007, Dinglasan told the Royal Society of Chemistry, "Current treatments look to target the parasite, so we flipped the paradigm and targeted the mosquito instead."
Dinglasan's transmission-blocking vaccine is not the first of its kind, but two predecessors caused skin disorders. Meanwhile, "the AnAPN1 vaccine has been tested in human blood only in the lab, and while it's effective there, no one knows if it causes any negative reactions in people," reports Time.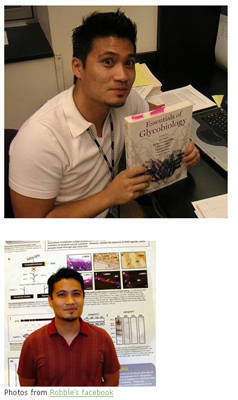 Rhoel Dinglasan (screen capture from Daphne Osena-Paez' blog)
"[Malaria is] a dark cloud. We're talking about the deaths of small children. They can't get past the age of [five]. I don't know if you can measure the full impact of that," Dinglasan told Time.
Dinglasan's brother Robbie, a TV commercial director and creative consultant wrote on his Facebook, "This is me the older brother gushing with pride over my younger brother's incredible accomplishment. His work on a new malaria vaccine was picked up by Time Magazine! Hopefully it will be picked up by other press and media and soon his work will finally be able to help millions of children who still die from malaria today!" according to the blog of TV personality Daphne Osena-Paez, who worked with Robbie on a skin care commercial.
ADVERTISEMENT - CONTINUE READING BELOW
Recommended Videos
Share this story with your friends!
---
Help us make Spot.ph better!
Take the short survey
Load More Stories