Manila is No.9 in The Atlantic's "30 Most Dynamic Cities in the World"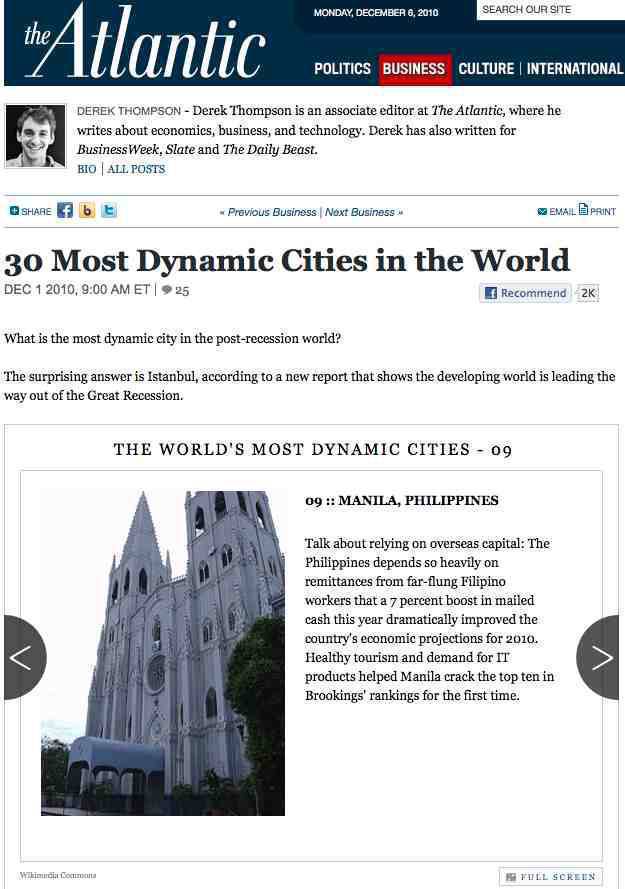 Screencap from TheAtlantic.com.
American magazine The Atlantic has named Manila as the ninth most dynamic city in the world. Istanbul (Turkey) ranked first, Shenzen (China) second, and Lima (Peru) third, according to TheAtlantic.com.
The cities were ranked by the Brookings Metropolitan Policy Program based on the growth of income and employment. According to the magazine, results show that "the world's fastest recovering cities are overwhelmingly in three key areas: China and India, Southeast Asian islands, and Latin America." No European cities made it to the list and only three cities from developed countries made the cut-Melbourne (Australia), Austin (USA), and Montreal (Canada).
ADVERTISEMENT - CONTINUE READING BELOW
CONTINUE READING BELOW
Recommended Videos
The Atlantis also reported that "healthy tourism and demand for IT products helped Manila crack the top ten in Brookings' rankings for the first time." The report added that the Philippines "depends so heavily" on overseas capital that the 7 percent increase in remittances this year "dramatically improved" its 2010 economic projections.
For more on this story, log on to TheAtlantic.com.
Load More Stories