Top 10 Chocolate Lava Cakes
They're like chocolate cakes, but better.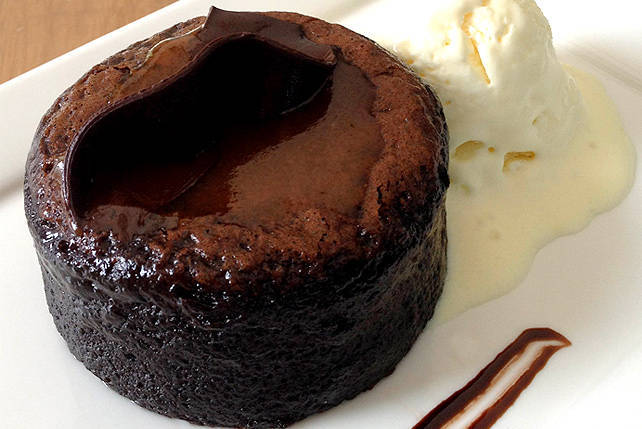 (SPOT.ph) There's always a bright side to any accident. In this case, that bright side is a rich, decadent, deliciously gooey explosion that can overcome your deepest troubles and relentless woes, relieving your burdens in a way only chocolate can. Chocolate lava cakes, according to popular wisdom, were born from an undercooked chocolate cake. The individual-sized confection came out of the oven a bit too soon. On the outside, it looked like any delicious chocolate cake, but the center was a thick batter that made for an extra luscious affair.
It was an accident, but baking it on purpose is the trickier thing. Timing is key to getting the right proportion between lava and cake. Topple the scale and you either get an "ordinary" chocolate cake or something akin to mush. In Manila, numerous cafes and restaurants have given the ubiquitous cake their own spinsome work, some fall short. We list the 10 most explosive lava cakes.
ADVERTISEMENT - CONTINUE READING BELOW
ALSO READ:
Top 10 Chocolate Cakes
Top 10 Brownies
Top 10 Local Gourmet Chocolates
Top 10 Carrot Cakes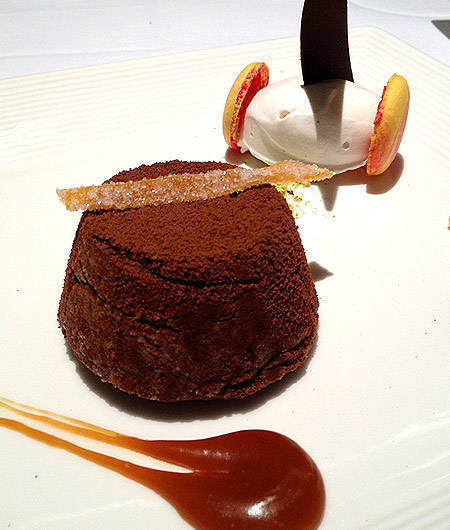 10. Warm Peanut Butter and Choco Fondant (P250) from Madisons Moderne Bistro
A few savory details take the spotlight away from the actual cake. There's the creme Chantilly sandwiched in between multi-colored macarons, a piece of candied nut that's been rolled in choco powder, and the candied orange zest strips that are a sweet snack all on their own. But amid the distractions, the lava cake shines. Prod the tiny tower with your fork and you'll realize that this one is just bursting with lava underneath the thin blanket of cake. A sauce of chocolate-infused peanut butter oozes out with barely any effort. With its rich lava action and no-fail flavor fusion, this dessert proves that some parts are better than the whole.
ADVERTISEMENT - CONTINUE READING BELOW
Madisons Moderne Bistro is at G/F EDSAShangri-LaHotel, Garden Way, Ortigas, Mandaluyong City (631-4675).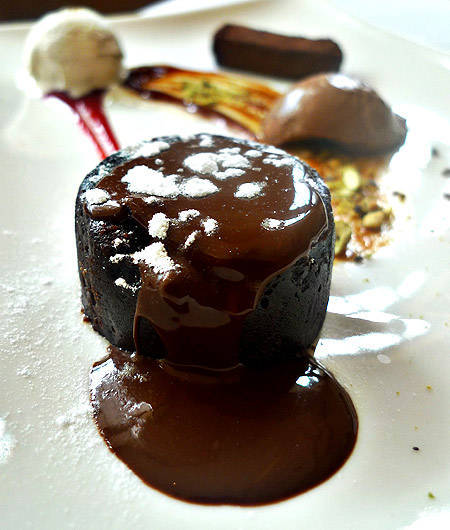 9. Choco Sampler (P350) from Zuni Restaurant and Wine Bar
The lava cake is part of a sampler so it's easy to understand why it's slightly smaller than a billiard ball. Plus, you can't complain when the other items on the plate are a quenelle of chocolate mousse and a chocolate bar, in the company of a swipe of caramel with chopped pistachio nuts, a swish of raspberry coulis, a scoop of roasted marshmallow ice cream, and chocolate shavings. The cake itself is drenched in a milk chocolate sauce before being dusted with powdered sugar. The sweetness level teeters over to intense, which shouldn't be too much of a problem for the sweet-toothed. You can order the cake individually for P175. Still, balance it out with the other desserts.
ADVERTISEMENT - CONTINUE READING BELOW
Zuni Restaurant and Wine Bar is at Greenbelt 5, Legaspi Street, Legaspi Village, Makati City (757-0361).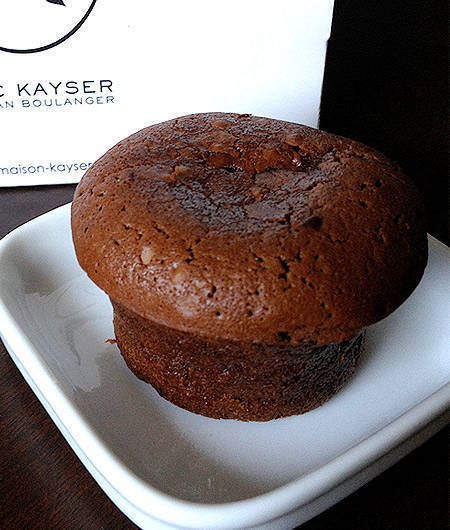 8. Chocolate Mi Cuit (P150) from Eric Kayser Artisan Boulanger
You don't always have to innovate when you know what you already have is so good. Case in point, Eric Kayser, who keeps a classic just that, with perfect technique and spot-on flavors. The Chocolate Mi Cuit is shaped like a cupcake and it is chocolate through and through. No embellishments and no other flavor to take away from the bittersweet perfection that the chocolate provides. The cake is good but only good for takeout. It's served in a little box with a tag that says "Best enjoyed warm," but with no further instructions. How good it becomes then depends on how well you heat it.
ADVERTISEMENT - CONTINUE READING BELOW
Eric Kayser Artisan Boulanger, Concourse Level, Marketplace by Rustans, Power Plant Mall,Rockwell, Makati City (890-0850).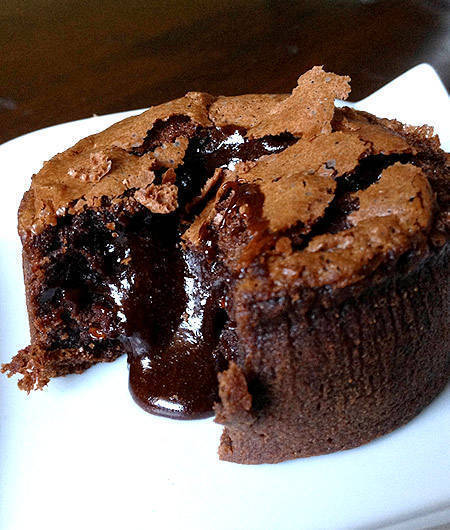 7. Choco Lava Cake from Goodies N' Sweets (P175)
The solitary chocolate edifice is a bit bigger than average, but Aileen Anastacio has perfected the skill of letting her customers really indulge. Halfway through this exceptionally rich cake, you'll find yourself wanting more instead of waving the white flag. Thanks to the outstanding balance of flavors: sinful but not too sweet. The lava center will have you scraping, maybe licking the plate if no one's looking. If you're a fan of Anastacio's Fallen Chocolate Cake (available at her other restaurant, Marmalade Kitchen), you'll definitely love this one too.
ADVERTISEMENT - CONTINUE READING BELOW
Goodies N Sweets is at Unit 105, G/F San Antonio Plaza Arcade, Makati City (0922-875-7517)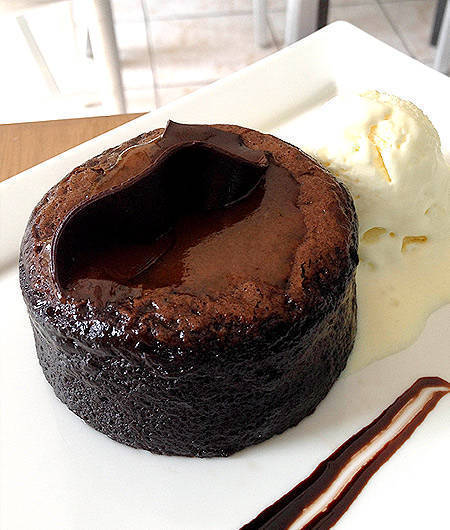 6. The Next Best Thing (P135) from Fleur de Lys Patisserie and Cafe
This cake has been one of the shop's bestsellers since day one and it's not too difficult to understand why. It's been 10 years and there's unfailing magic in the warm, heavenly pastry that flaunts a very soft sponge cake-like texture. A caramel sauce brings out a different dimension to the richness of the cake. Right now it's served with vanilla ice cream, but it's set to be replaced with a homemade salted caramel ice cream made with carabao's milk. It's a wise revision. That touch of salt amid the thick sweetness of caramel will only reinforce the marriage of the original two components.
ADVERTISEMENT - CONTINUE READING BELOW
Fleur de Lys Patisserie and Cafe is atFLP Building, 305 Tomas Morato Avenue, Quezon City (372-0631, 0922-8FLEUR8).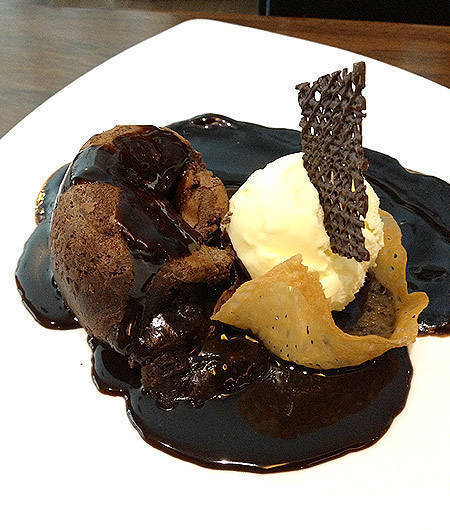 5. Sweet Revenge (P195) from Maitre Chocolatier Boutique Cafe
If there was such a thing as having too much chocolate, this could be the closest to it. The cake, made with 70% Lindt dark chocolate, is thick, but softer and lighter than a brownie. There's a moat of chocolate sauce around it, making it appear as though the lava had already erupted and we're only waiting for what happens next: fire. The cake is spiced, treating your taste buds to a novel tingling sensation from the heat. When things get too hot, seek refuge in the vanilla ice cream nestled on the side. This stunning display of balance will surely challenge even the biggest chocolate lover.
ADVERTISEMENT - CONTINUE READING BELOW
Maitre Chocolatier Boutique Cafe is at 28 Jupiter Street corner Astra, Bel-air, Makati City (897-8559).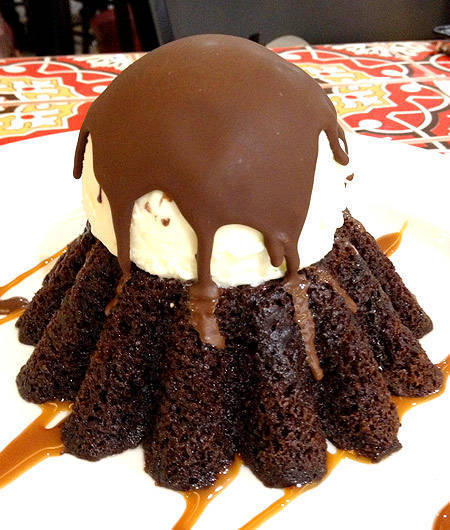 4. Molten Chocolate Cake (P395) by Chili's
Chili's looks like mamon in shape and texture. The difference is that runny chocolate surprise in the middle. This delicious edifice is a lesson in proportion: it has just the right ratio of cake and lava. It's not so much that you'll feel like you're drinking soup and it's not so little that the soft core appears to have been undercooked accidentally. Each bite is just a decadent, moist, chocolatey benediction. There's a drizzle of caramel at the bottom like a bonus sauce, and on top? A huge scoop of vanilla ice cream cloaked with crisp chocolate.
ADVERTISEMENT - CONTINUE READING BELOW
Click here for a list of Chili's branches.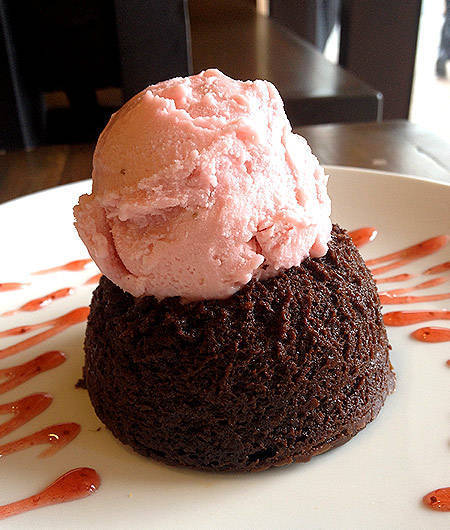 3. Matt's Chocolate Cake (P190) from Kuppa Roastery and Café
Kuppa takes their time preparing the cake, but every minute spent on waiting is erased with one bite. This version is cakier than the rest, served with strawberry coulis and crowned with a scoop of gelato that threatens to overpower the cake in terms of size. The molten cake is served fresh off the oven, which is how it should be, and the chill from the ice cream is just the perfect foil to emphasize those warm, deep, bittersweet notes of chocolate. Then there's the natural tartness of the strawberry that gives it a tickle of freshness.
ADVERTISEMENT - CONTINUE READING BELOW
Kuppa Roastery and Cafe is at Commercenter Building, 31stStreet corner 4th Avenue, Bonifacio Global City (552-1057).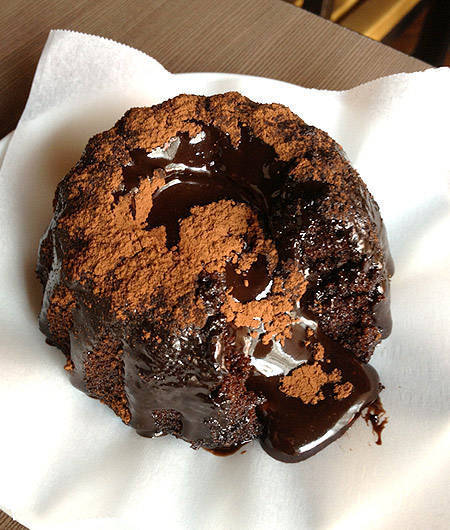 2. Chocolate Lava Cake (P120) from Afters Espresso and Desserts
There's something substandard about the presentation. The cake is messy and lies flatly on a piece of parchment paper and white plate. It looks sad and underwhelming, but the element of surprise is important in a molten cake and surprised you will be when you see the flow of luscious lava cascading from the inside as you take your first slice. The cake is fluffy, reminiscent of the mother-of-all-chocolate-cakes, Ms. Polly's. It hollows when the batter core seeps out, but there's still enough for that incredible balance of pastry and sauce. The final dusting of cocoa powder on top? It's just a sweet little gesture that's needless, but makes us believe that Afters really cares.
ADVERTISEMENT - CONTINUE READING BELOW
Afters Espresso and Desserts is at 20 Lansbergh Place, 170 Tomas Morato Avenue, Quezon City (791-8789, 340-3168).
1. Warm Dark Choco Truffle Cake with Liquid Center from Cirkulo (P295)
This is the only cake that's designed for you to finish every last bite-no matter the size of your appetite. The owners were considerate enough to add natural freshness to the plate: a strawberry on the side and a sprig of fresh mint over the perfectly round scoop of vanilla ice cream that's sitting steadily on a bed of sliced almonds. Cirkulo doesn't scrimp on the chocolate and you're going to need the brightness from the fruit and the refreshing taste of mint to balance out the richness. Apart from its perfect serving size, there's a good proportion of cake to lava, too. Every forkful is just a melt-in-your-mouth indulgence that turns whatever sore feeling you have into bliss. The best way to go about eating this is to just dive in and revel in the moment.
ADVERTISEMENT - CONTINUE READING BELOW
Cirkulo is at 900 A. Arnaiz Avenue corner Paseo De Roxas, San Lorenzo Village, Makati City (810-2763).
ALSO READ:
Top 10 Chocolate Cakes
Top 10 Brownies
Top 10 Local Gourmet Chocolates
Top 10 Carrot Cakes
CONTINUE READING BELOW
Recommended Videos
Share this story with your friends!
---
Help us make Spot.ph better!
Take the short survey
Load More Stories