This is Banana Bread You Eat By the Loaf
It's not loaf-all-you-can, but the Undercover Eater seems to think it is.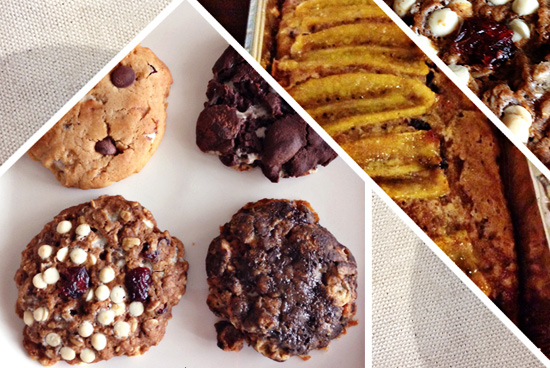 (SPOT.ph) There is something nostalgic and homey about banana bread. Perhaps it has something to do with that main fruit component—the banana is one of the first solid foods most of us are made to consume. As wee tots, we are fed a fugly yet flavorful gruel of the fruit with silicon spoons. Later on, overripe bananas are sliced and mixed with batter to make fluffy, potassium-enhanced pancakes drenched in syrup. Don't even get me started on banana splits.
ADVERTISEMENT - CONTINUE READING BELOW
My personal love for banana bread was rekindled thanks to a photo on Instagram. A friend posted a photo of this lust-worthy Choco Chip Banana Loaf (P300) from @thebaldbakerPH and something about the glazed and caramelized top and the brûlée-d sliced bananas called out to me. Serendipitously, it somehow found its way into my hands and I was beyond excited to have a try.
It is as good as it looked—obviously, I was so excited to eat it that I wasn't even able to take a good photograph—moderately sweet, allowing the natural flavors of the fruit to come through, the bread itself moist and just dense enough to hold its form when you slice through it. Just the right dose of chocolate chips enhance the flavors and do not overpower. Cy Henares a.k.a. The Bald Baker shares that the cake is sour cream-based to ensure moisture and that a kilo of bananas go into each loaf.
ADVERTISEMENT - CONTINUE READING BELOW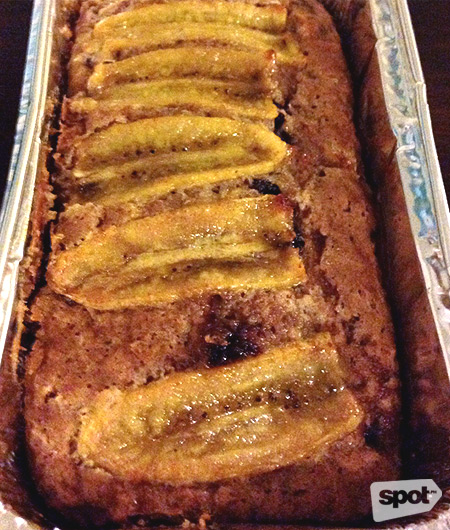 Here's a photo of the Banana Loaf
Business has been lucrative enough for this former advertising executive that he decided to leave the industry forever ("I loved it though," he swears) and focus on The Bald Baker. Now, he bakes his goods at home and sweet-toothed customers can pick up their banana loaves and cookies at the lobby of his Bonifacio Global City condo.
ADVERTISEMENT - CONTINUE READING BELOW
I was also able to try his other "kids"—which is what Cy fondly calls his home-baked products. Perhaps my penchant for chocolate steered my preferences, but there seems to be a flavor in there for everyone.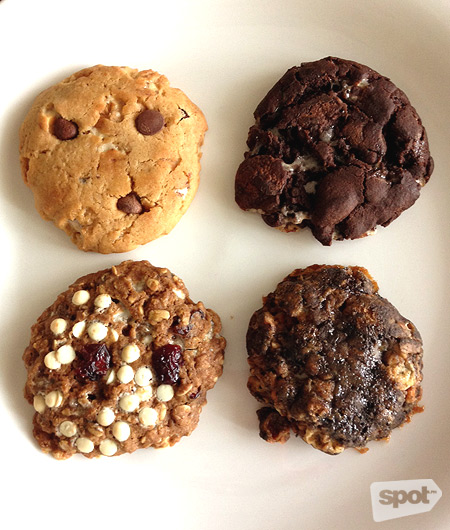 Find your cookie match
Cy's new flavors stood out: Both the Choco Chocollows (P65) and Orange Miso (P65) chips were immediately wiped out. The former has the deep, fudgy flavors of a brownie enhanced by a mix of dark and semi-sweet chocolate chunks and—the kid in me squeals—chocolate coins. A light sprinkling of kosher salt cuts through the sweetness and uplifts the entire thing. The Orange Miso is more subtle. The caramel nuances from the miso gives the chewy vanilla cookie some depth, while the dark chocolate is a classic pairing with the fragrant citrus.
ADVERTISEMENT - CONTINUE READING BELOW
The Compost Cookie (P65) is an original. "It's a vanilla cookie loaded with basically everything in my kitchen," Cy explains. It's quite interesting to note the contents of his cupboards: cacao nibs, dark choco butterscotch, choco covered rice crispies, Ruffles potato chips, pretzels, crushed graham crackers, Oreos, marshmallows, and salted caramel. Yes, truly everything but the kitchen sink. And, yes, it works.
A surprise favorite is the White Chocolate and Cranberry Cookie (P65). Maybe because Cy was quite liberal with the white chocolate, covering almost the entire surface with the stuff. The dried cranberries give it just enough tang adding another flavor dimension.
Both banana loaf and cookies come in sleek white boxes with The Bald Baker logo, making it a great gift. But if you're like me, those boxes will probably not make it out your driveway. That's ok, I don't judge.
Prices of cookies are per piece.
For orders, contact The Bald Baker at 0917-511-6370. Follow @thebaldbakerPH on Instagram and Facebook for more information and updates.
ADVERTISEMENT - CONTINUE READING BELOW
The Undercover Eater works with food on a daily basis and hunts for hidden gems in his spare time. For this voracious and, dare we say, professional foodie, eating is more than a necessity—it's a vocation. Contact him at undercovereater.spotdotph@gmail.com.
Recommended Videos
Load More Stories