Smoked lengua should be a Christmas staple
The Undercover Eater sneaks into The Plaza's 50th anniversary. Turns out, they have more than ham.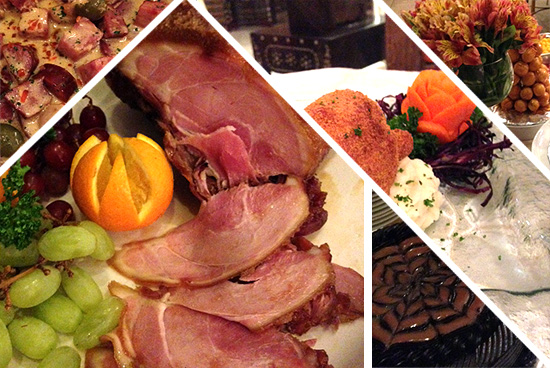 (SPOT.ph) "He was in his death bed when he told me." The Plaza's Karla Reyes demonstrates length with her hands, holding them up in front of her around 12 inches apart,"'Bigger! Pan de sal!'"
Karla was talking about the last conversation she had with her grandfather, a discussion that forged another innovation in their 50-year-old catering company. Today, The Plaza may be known more for their ham which has created an indelible presence in the local mall culture. The elder Reyes' last wish is now being offered as an option for their ham sandwiches—a foot-long pan de sal meant for sharing. Something he believes would appeal to a younger market with heftier appetites.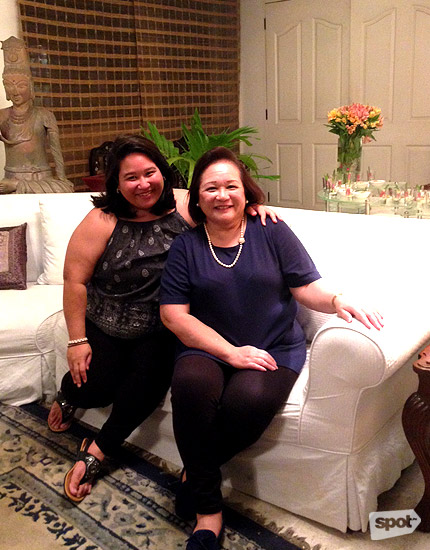 Karla Reyes with her mom, Mellie
When Karla—the only daughter of The Plaza heiress Mellie Reyes—came on board to help out in the family business ("We even have an employment contract," Karla rolls her eyes. "My mom even framed it! So weird!"), it helped bridge the generation gap that the catering titan was experiencing with younger consumers. "People my age only know The Plaza because of the ham. They don't know that we've been catering for decades. And yet, there are also those who only know us as caterers and have never heard of the restaurant where it all started. We've been around for so long."
ADVERTISEMENT - CONTINUE READING BELOW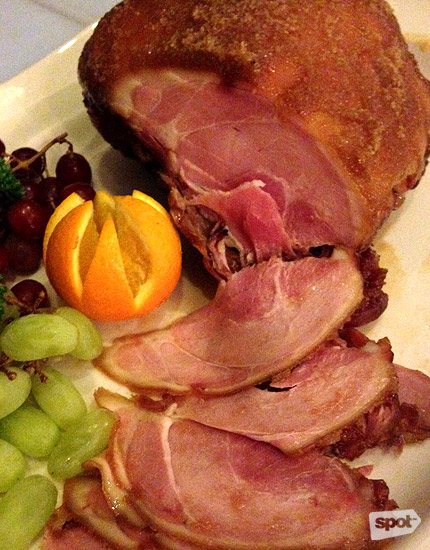 CONTINUE READING BELOW
Recommended Videos
The Plaza Ham
This is why, despite The Plaza enjoying regular business from loyalists of the brand, they have decided to update their tried-and-tested menu. During an intimate celebration at Karla's home, the Undercover Eater was given a sampling of dishes from the young Reyes' test kitchen, as well as a gentle reminder of the classics that have made them famous.
Traffic made me a tad late, so I skipped the Caviar Blinis and Smoked Salmon Pinwheels, and made my way towards the buffet. I helped myself to heaps of their Smoked Tanguigue and its accoutrements, plus some of the salad with Brie and strawberry vinaigrette.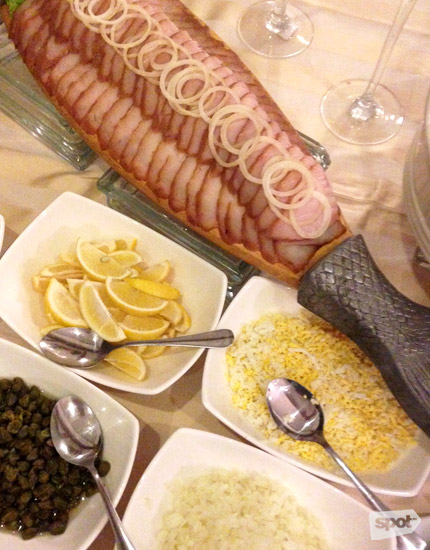 ADVERTISEMENT - CONTINUE READING BELOW
Smoked Tanguigue
Parties at my aunt's always had The Plaza's Boiled Corned Beef, so I was shocked to know that they also offered Roasted Corned Beef carved on-the-spot. Flaky and salty, I have a feeling the leftovers would even be better with some brown bread and grainy mustard.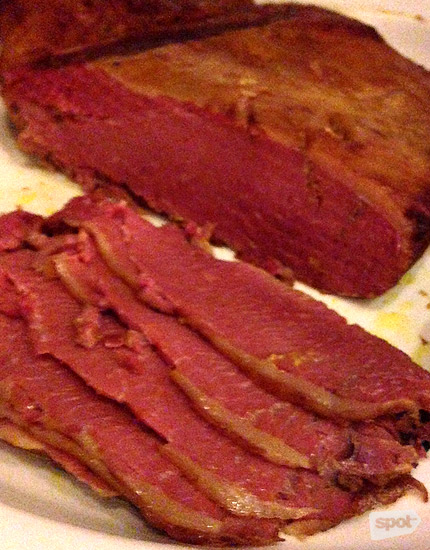 Boiled Corned Beef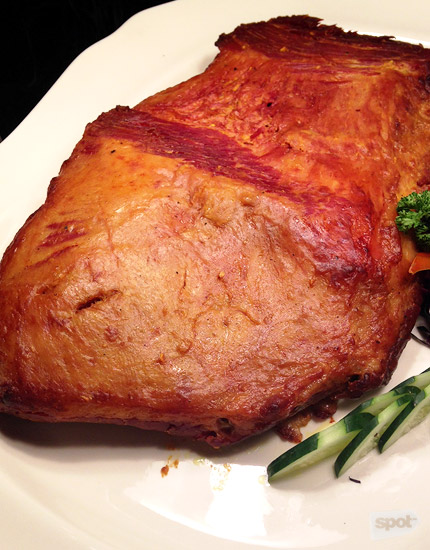 ADVERTISEMENT - CONTINUE READING BELOW
Roasted Corned Beef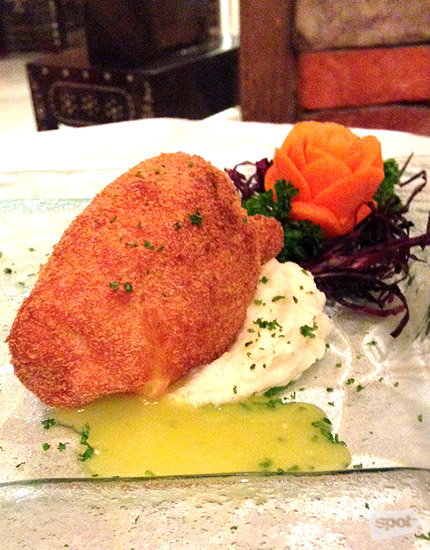 Chicken a la Kiev
Aside from the juicy and buttery Chicken a la Kiev, another dish put on a pedestal that evening was their Cured Pork Knuckles with sauerkraut, marble potatoes, and mustard.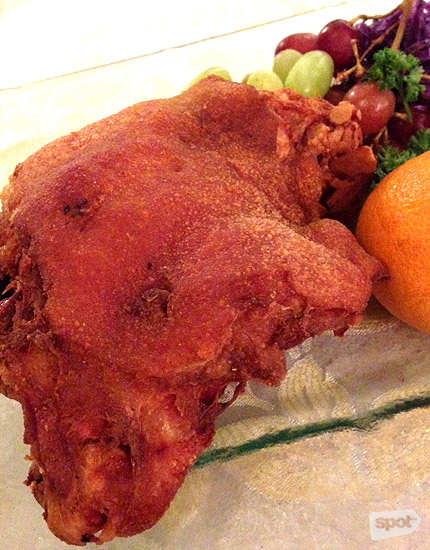 Cured Pork Knuckles
Yes, those two were good and will definitely impress their clients' guests come Noche Buena. But, what really got everyone's attention was the creamy lengua dish, which could have been easily lost in the buffet. Beef lengua in creamy mushroom sauce is a reliable standby in the local catering industry—it's relatively cheap to make, can be prepared way ahead of time (just keep the sauce cool and clean), and stays juicy and delicious all day in the warmer.
ADVERTISEMENT - CONTINUE READING BELOW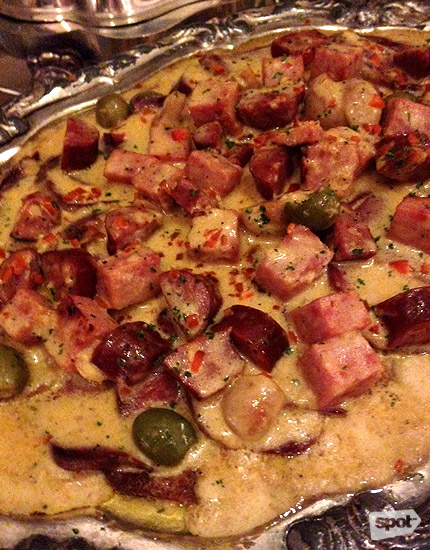 Smoked Lengua
However, The Plaza's Smoked Lengua with cream sauce, mushrooms, and olives is not your office party's Christmas buffet staple. The ox tongue—flaky and pillow-soft—has that unique flavor attributed to gentle yet laborious smoking. On its own, it already is highly edible as a sandwich (or lengua tacos, anyone?). But smothered in cream sauce abundant with salty ham, olives and hefty slices of mushrooms, it is a most festive and decadent holiday dish. I couldn't get enough of it and even broke one of my own rules and asked the hostess for some to take home.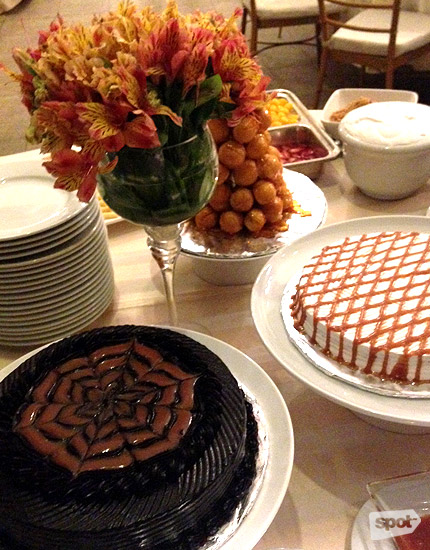 ADVERTISEMENT - CONTINUE READING BELOW
Decadence Table
The cheerful vibe had everyone taking photos with the charming Reyes ladies, while some (okay, me) took the chance to have a little alone time with the timeless Decadent Chocolate Cake and the much trendier Salted Caramel Cheesecake. While I double-fisted my dessert with some Glenlivet, Karla whispered in my ear, "You might want to try putting the cheesecake in the crepe, then top it with some chocolate sauce. That's what I would do, anyway."
Some would snicker at what seems to be a child-like antic, but try it yourself and you'll discover that it's delicious. Proving that: 1) Karla Reyes is likely going to make her lolo proud; and 2) The Plaza is up for some really tasty and fun updates.
For food orders and catering inquiries, contact The Plaza at 729-0001 (local 03), 890-8446; or e-mail info@theplazacatering.com.
The Undercover Eater works with food on a daily basis and hunts for hidden gems in his spare time. For this voracious and, dare we say, professional foodie, eating is more than a necessity—it's a vocation. Contact him at undercovereater.spotdotph@gmail.com.
Share this story with your friends!
---
Help us make Spot.ph better!
Take the short survey
Load More Stories