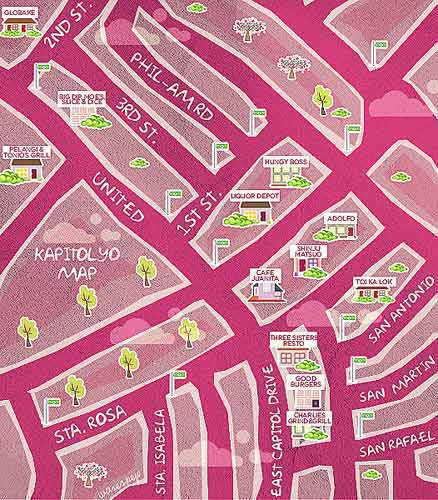 Click for downloadable PDF version.
Sandwiched between the major roads and high-rise buildings of Pasig City is Barangay Kapitolyo. With EDSA, Pioneer Street, Shaw Boulevard and Pasig Boulevard at its borders, this residential hub is walled by towering establishments like hotels, malls, schools and corporate offices.
Life in the Kapitolyo neighborhood is just as vibrant as the city life outside it. The major routes like United Street, East Capitol Drive and West Capitol Drive are bustling with motorists navigating through the town. But as some motorists come and go, some stay. Parked cars dot the streets marking the most happening Kapitolyo spots. For residents, there's no need to exit the neighborhood for some amazing finds. For non-residents (especially foodies), Kapitolyo is certainly worth the travel.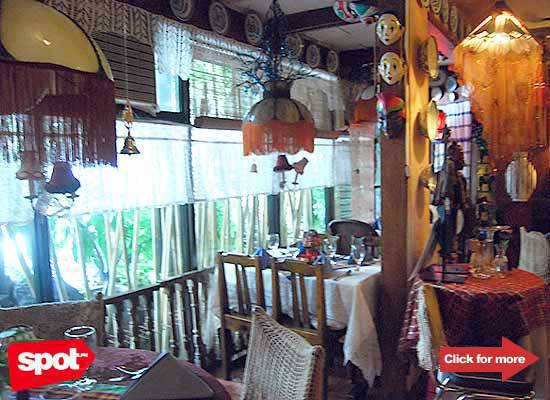 19 West Capitol Drive, Barrio Kapitolyo. Click for more photos.
ADVERTISEMENT - CONTINUE READING BELOW
Chow points
If you're looking for a quality bakeshop, you should check out Globake. The shop has everything from the classic pandesal to some special flavored buns like the Pepperoni Bun (P29.75) and Tuna Bun (P17). Other must-try Globake creations are the Pork/Chicken Empanada (P16) and Choco Cream Puff (P28.25).
Those who enjoy dining American-style should visit The Big Dip Diner and try the bestselling Fish N' Chips basket meal (P150)-"fish fillet with crispy fries and choice of dip. Another must-try is the Pinoy B.L.T. (P145)-"a triple-decker sandwich with lettuce, cheese, tomato and tapa meat.
Beside The Big Dip Diner is the Persian bar restaurant Uncle Moe's Shawarma Hub. Patrons keep coming back for the Chicken Kebab with Butter Rice and Salsa (P115) and the heavy All Beef Shawarma (P110 to P150). You're sure to enjoy the really tender meat.
Next to Uncle Moe's Shawarma Hub, to complete the United Street chow trio, is Slice N' Dice Steakhouse. This joint boasts its P99 and below char-grilled steaks-"heaven for diners who want some juicy and affordable T-Bone or Tenderloin. For a budget of about P120-P150, guests can walk out full and satisfied.
ADVERTISEMENT - CONTINUE READING BELOW
Recommended Videos
Now, here is a place for the hungry and adventurous. Hungry Boss is a small, open-air, buy-one-take-one pizza and pasta store. Yes, you read it right. Buy one pizza or pasta and get another one free. The rules are pretty simple; you have to pay for the more expensive dish. The meals are quite affordable with pastas ranging from P120 to P190 and 10-inch pizzas priced from P260 to P310. A must-try pasta is the Baked Zitti (P165) and for the pizza, the Bacon Burger Mushroom Pizza (P310).
Because of its continuing success, Cafe Juanita moved to a new spot from their former space at United Street. Among the must-try dishes are the Sisig on Tofu (P279) and Kare-Kare ni Juanita (P483). The prices are a bit steep but their pool of regulars should be enough to prove that dining here is worth every peso.
Next to the old Café Juanita is Kainan au Gusto. The place is an alternative spot for diners who want to save some bucks. The interiors are softly lit with decorations like disco balls (yes, disco balls), eccentric pieces and antiques (which are also for sale). The cafeteria set-up has a spread of home-cooked meals priced P50 and above.
ADVERTISEMENT - CONTINUE READING BELOW
There's a spot along East Capitol Drive that's always packed with guests feasting on heavy burgers. Ask for locations to Charlie's Grind and Grill and you'll probably get something like, "down the street, beside a carwash". The fact that it's beside a busy carwash doesn't turn off customers who adore the Black Angus Burger with Fries (P175), Fish and Chips (P180) and Cheese Steaks (P220-P380).
Health-conscious burger lovers can enjoy their burgers with either chicken or veggie patties at Good Burgers. The Persian Burger (P75 to P100) and Bacon Mozza Melt (P95-P120) are some of the must-try selections. Diners can also add some Veggie Meat Strips (P35) to their meals.
If there's dining spot in Pasig that has stood the test of time, it has to be the Three Sisters Restaurant of Pasig. Since 1941, this restaurant (formerly called Three Sisters Refreshment Parlor and used to be located at the poblacion of Pasig) has been serving Filipino dishes in Lola Rosa's (founder) original recipes. Bestsellers include the Beef Kaldereta (P170), Pancit Bihon (P240 and up) and Pork Barbeque (P35).
ADVERTISEMENT - CONTINUE READING BELOW
Gourmet food and froyo fit perfectly together at Poco Deli. Aside from the must-try dishes like the U.S. Steak Sandwich (P180), Pomodoro Pasta (P155) and Quattro Formaggi Pizza (P300), customers can also try Dave's Naturals Premium Frozen Yoghurt. There are many flavors to choose from but the Premium Pistachio (P80 and up) and Intense Chocolate (P80 and up) are highly recommended.
Near Poco Deli is Lia's Cakes in Season. The shop's signature creation is the original Avocado Cake (P85 per slice and P670 per whole cake)-"avocado flavored sponge cake in rich icing topped with pistachios. Other locally inspired cakes are also recommended like the Ube Cheesecake (P75 per slice and P620 per whole cake) and Calamansi Tea Cake (P45 per slice and P340 per whole cake).
Balay ni Juan. Click for more photos.
ADVERTISEMENT - CONTINUE READING BELOW
Night spots
Just outside the Kapitolyo neighborhood, along Pioneer Street, is Central Bbq Boy Grill. The friendly service, good food and affordable prices of Central continue to attract customers. Among the must-try dishes are the Pretty Boy Sizzling Sisig (P95 to P105) and Inihaw na Pakpak (P70). The staple house mixes like Squeeze Me (P180 per pitcher) and Bad Boy (P180 per pitcher) are also worth the "shots."
Inside the Pioneer Center compound is Pelangi Bar and Restaurant. If you are looking for some cheap karaoke time with friends and are not too picky, this is the place for you. The small room can accommodate seven people for P100 per hour. The medium room for 12 people is priced P150 per hour and the large room for 15 people is priced P180 per hour. All rates are for sing-all-you-can. The place also has a plump menu with sizzlers (P100 to P380), beers (P38 and up), cocktails (P110) and shots (P70 and up).
ADVERTISEMENT - CONTINUE READING BELOW
Balay ni Juan is a happening place at night. The interior has sturdy wooden chairs and tables and so does the smoking area outside. Among the must-try dishes are the Tofu with Shitake Mushroom (P140) and Squid Sisig (P205). All beers are priced P40, while cocktails and mixes are priced from P50 to P65. There are also drinks sold by the pitcher (P180 to P240).
Shunji Matsuo Hair Studio beside the new Café Juanita (from the same owner), shouts beauty. Walk through the door and you'll get transported into an oriental hub with colorful fixtures and decorations from different parts of Asia. The hair studio, with branches in Malaysia, Indonesia, Japan and now in Metro Manila, offers innovative hair treatments like Powerdose (P1, 200 and up) and Hair Masque (P700 and up). They also offer waxing (P200 and up) and nail care (P100 and up) services, among others.
ADVERTISEMENT - CONTINUE READING BELOW
Adolfo Skin and Hair Clinic, also from the owner of Café Juanita and Shunji Matsuo Hair Studio, offers facial treatments like Hydrating Facial for Dry Skin (P350), Deep Cleansing Facial for Oily Skin (P450) and Anti-Acne Facial (P450). More services are about to be offered like massage treatments and laser treatments.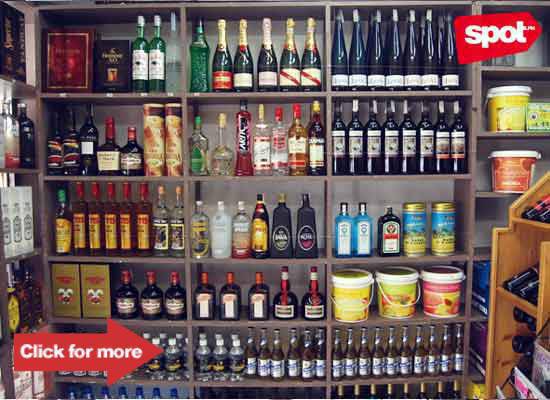 Liquor Depot. Click for more photos.
ADVERTISEMENT - CONTINUE READING BELOW
Good buys
If you often get cravings for oriental food or if you like cooking up some oriental dishes, you can try visiting Tai Ka Lok Oriental Store. The store is complete with oriental food, spices, condiments, supplements, and more.
Liquor Depot houses a variety of liquors. The shop is complete with both local and imported beers, different types of wines, rums, vodkas, brandies and cocktail mixes.
Photos by Jean Natividad. Additional photos (Cafe Juanita food) by Myrza Sison.
Share this story with your friends!
---
Help us make Spot.ph better!
Take the short survey
Load More Stories