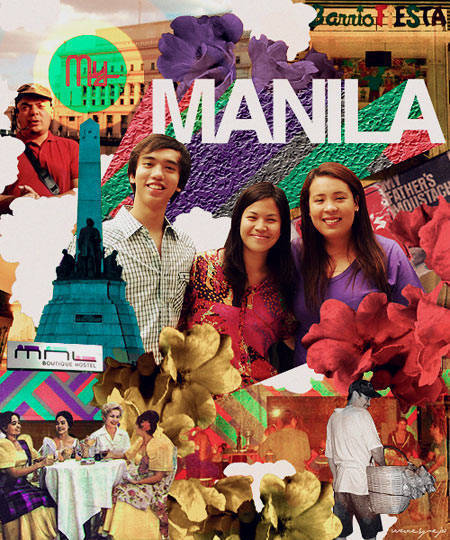 (SPOT.ph) Manila's always had a few scenes that always have something going-food, for instance, and music and clubs, and surprisingly, our art scene is also now slowly climbing the charts. But the backpacking, hostel-staying set? Not quite. Manila, it seems, is only the gateway to the islands, which is the main destination for most travelers who come to the Philippines. They only seem to pass through the city, which is a pity.


Hopefully, that will change soon. The launch of MNL Boutique Hostel opens up Manila to a whole new crowd of travelers. The hostel is spearheaded by two Filipina backpackers who were inspired by the hostels they stayed in abroad. "We loved the vibe and sense of community of hostels," says Celina Cruz, one of the managing partners of MNL. "How you could just talk to everyone and share travel stories, make friends that last you a lifetime."
Come to think of it, hostel culture is something that fits in here, what with our healthy appetite for tambay, a.k.a. hang out. Hostels, you see, boast of common areas (in place of a grand lobby or a snooty bar) where travelers can hang out, essentially tambay, and meet other co-tambays. "MNL really fills in a void," Lesser, a Danish national staying at MNL when SPOT.ph went to visit, says happily. "Especially for solo travelers, hotels can get pretty lonely. At least with hostels, you have a common area, where you can talk with other travelers."
ADVERTISEMENT - CONTINUE READING BELOW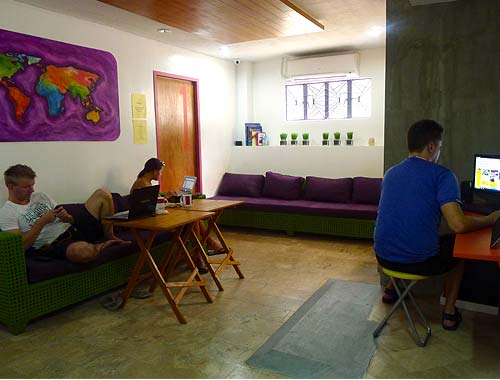 Like most hostels around the world, WiFi is free in the common area


"Our vision is to be able to make Manila more than just a jump off point," Cruz continues. "We want tourists to stay in the capital and we think that the best way we can do that is by showing them true Filipino hospitality and culture." How do they intend to this? What is Manila according to MNL Boutique Hostel? Read on and find out.
ADVERTISEMENT - CONTINUE READING BELOW
Recommended Videos
How do you make Manila more than just a jump off point?
We want to show them true Filipino hospitality and culture. Right now we have our BYOB nights, which is very Filipino, right? Tambay sa kanto [kind of thing].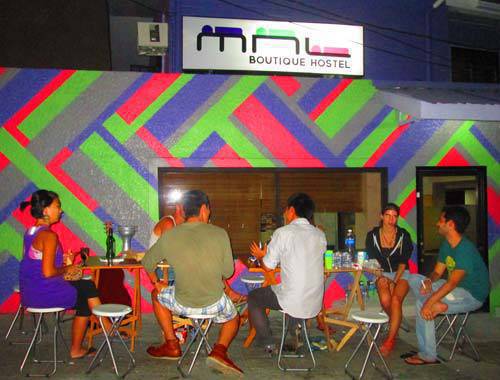 On a BYOB night. Courtesy of MNL Boutique Hostel


Yes, we've been hearing a lot about your BYOB nights! We assume travelers have met San Miguel and you've shown them the Red Horse?
We share with them lambanog, to give them a glimpse of local produce. Since we do BYOB nights on the street, we also patronize the local balut vendor and give our guests that "balut moment." One Korean guest has also introduced Mak Guli, Korean rice wine and I'm absolutely loving it. BYOB is turning into a culture exchange for many!
ADVERTISEMENT - CONTINUE READING BELOW
This is a very novel idea for Manila. What inspired you to bring this idea home?
Last year, Maica and I went to London and stayed in Clink Hostel in the Kings Cross area. We loved how they transformed an old courthouse into a hostel with eclectic and modern design. Their walls were painted all kinds of art and travel verses. They also encouraged mingling in their in-house bar. Separately, we've stayed and hung out in hostels in Singapore, Bangkok, Prague, and Florence. We were inspired by the art we saw in the hostels and wanted to bring it to Manila, with a Pinoy twist. So we did that with our Filipino inspired banig-sawali in pop color façade, and Philippine images in the rooms.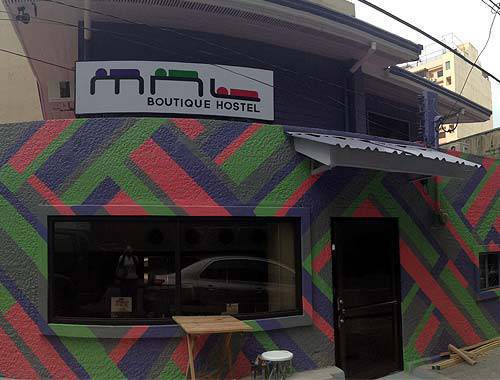 MNL's facade is inspired by the banig! Photo by Tanya Rodriguez


ADVERTISEMENT - CONTINUE READING BELOW
How do travelers see Manila, by the way? What are some of the most common inquiries about our city?
Guests usually ask where to hang out and party in Manila. We recommend Fort Bonifacio, Makati Avenue or Resorts World. But a lot of guests end up just hanging out in the hostel and mingling with other guests.
Any inquiries about food?
Yes, a lot. There's a Barrio Fiesta right around the corner so we bring them there. A. Venue has a street food market on weekends, so we've brought some of our guests there, as well; balut, syempre. Others ask where the good shopping areas are.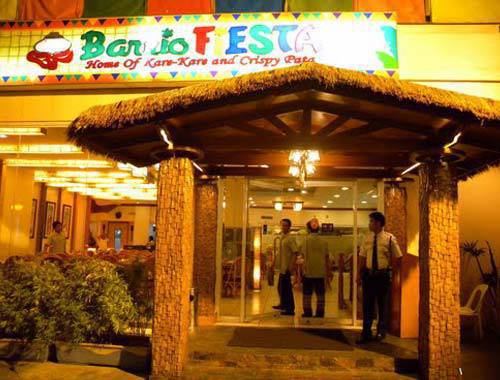 Photo courtesy of yamadatrans via Panoramio
ADVERTISEMENT - CONTINUE READING BELOW
What do you tell them?
We recommend Power Plant for fancy shopping, since it's just walking distance from the hostel. Last week, we brought some guests to Greenhills to buy some pearls.


Does anybody still want to do the cultural heritage thing?
Yes. We recommend Intramuros for some historical sightseeing, and Malate for old Manila. We've also recommended Carlos Celdran's Walk This Way Tour. A lot of our guests usually come knowing about some places like Taal or Pinatubo so they just ask how to get there from Manila.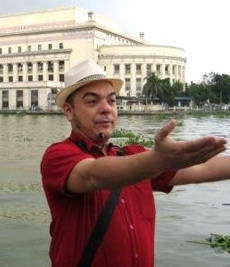 Manila's son Carlos Celdran


ADVERTISEMENT - CONTINUE READING BELOW
One of your guests asked a lot of questions about Quezon City. Why put MNL Boutique Hostel in Makati and not in QC?
When we were deciding where to put the hostel, we put ourselves in a tourist's shoes. If we were tourists, where in the city would we like to stay? We wanted to be at the center of the action, near points of interest, transportation, and together with other tourists, but not in a hyper metropolis and chaotic setting. We found that Makati is a good combination of central, touristy, and modern. It's also more structured than the busy city of Manila.


What's the strangest question about Manila you've encountered?
If they can travel from Manila to Singapore via a boat.


Since you carry Manila in your name, what do you hope for our city?
We hope the city continues to transform into a hub where you can find good food, exciting night life, and quality shopping. We also hope that more cultural landmarks be developed for tourists and locals alike. So far, a lot have been popping up, more quaint cafes, high end malls, parks and museums, and tourists have been enjoying these. We hope that Manila will eventually be more than just a jump off point.


ADVERTISEMENT - CONTINUE READING BELOW
Share this story with your friends!
---
Help us make Spot.ph better!
Take the short survey
Load More Stories