(SPOT.ph) Now more than ever, being "green" has become more than just a fad. More people are also waking up to the fact that there's more to living in the city than just staying nice and cold inside those gigantic shopping malls. Let nature take its course and find its way to you with these 10 green patches around Manila-all natural, healthy, and pocket-friendly, but most of all, they're refreshing alternatives for your next weekend outing.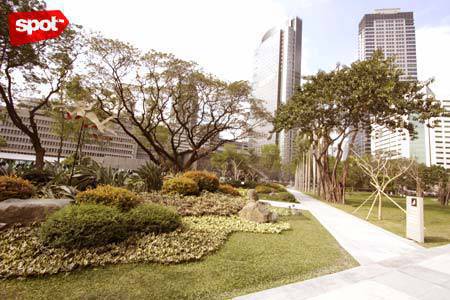 ADVERTISEMENT - CONTINUE READING BELOW
AYALA TRIANGLE GARDENS
The newest attraction in Makati is surprisingly not a shopping mall, but a 20,000 square meter-park right behind the Philippine Stock Exchange building, where the busy streets of Ayala Avenue, Paseo de Roxas and Makati Avenue converge. A project of Ayala Land's Innovation and Design Group, this spacious park gives Makati's pedestrians and commuters a chance to take in their surroundings as early as 6 a.m. all the way to 10 p.m. Park-goers can also sit under the trees with their laptops and take advantage of free WiFi.
The park's formal opening in November featured a lights and sounds show fit for the Christmas season. Abstract sculptures by Ovvian Castrillo-Hill also add touches of color and surprise to the wide expanse of greens and slabs of stone benches. Pets are more than welcome, but just make sure you clean up after them and throw everything in the pet waste cans located in a number of areas around the park. Entrance is free.
ADVERTISEMENT - CONTINUE READING BELOW
Recommended Videos
Check out www.ayaland.com.ph for more information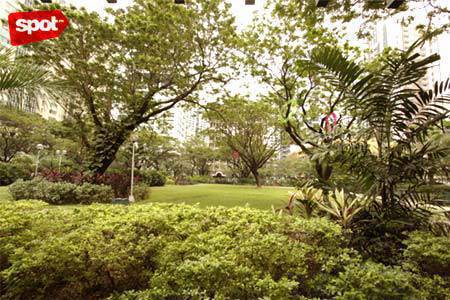 JAIME VELASQUEZ / SALCEDO PARK
Tordesillas Street, Salcedo Village, Makati
More commonly known for its weekend market held every Saturday since 2004, this quiet square in Makati is a breath of fresh air on any given day of the week. It is also the home of Art in the Park, a bi-annual event that started four years ago, and was first held to coincide with the second anniversary of the weekend market.
ADVERTISEMENT - CONTINUE READING BELOW
Strictly no pets, smoking, or ball games allowed, or else be ready to be fined P1,000. Kids are sure to enjoy the playground area, jumping from the colorful swing sets to the monkey bars. A trellised walkway by the side of the park perfectly matches the green setting. The park is named after a one of the chief implementors of the Makati CBD and a former Ayala corporation executive Jaime C. Velasquez (1907-1979). Entrance is free.
Call 813-2446 to 47 or 810-3054 for more information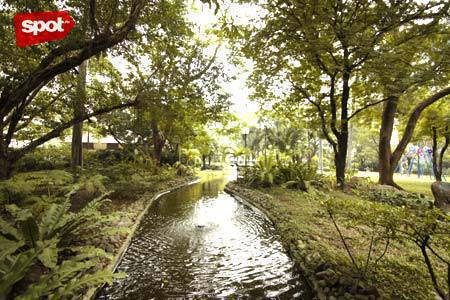 ADVERTISEMENT - CONTINUE READING BELOW
WASHINGTON SYCIP / LEGASPI PARK
Legaspi Street, Legaspi Village, Makati
Just like Salcedo, weekends become busy at Legaspi Park which has also attracted a strong following, not only among Makati residents. Right across the street where the Sunday market takes place is a lush green haven where tall, shady trees stand beside clear ponds and stone bridges. You can quietly read a book in one of the gazebos or take a quiet stroll to read quotations from the park's namesake, written on stones and benches. Impy Pilapil's "The Mangrove-Nature's Embrace" is also an attraction-a tall, multi-colored art piece that stands out among the park greens. Legaspi is also a no-smoking, no-pet zone, similar to its Saturday market counterpart. Entrance is free.
Call 813-2446 to 47 or 810-3054 for more information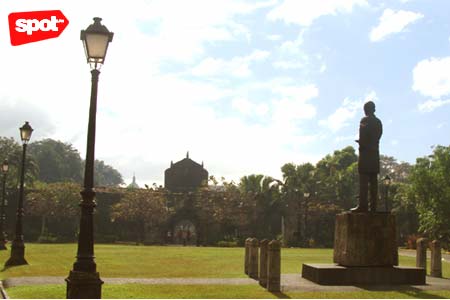 ADVERTISEMENT - CONTINUE READING BELOW
FORT SANTIAGO
Intramuros, Manila
A visit to Intramuros won't be complete without passing by one of the most important places where our national hero spent his last moments. But apart from a view of Rizal's prison cell and a museum chronicling his heroism, there is much to appreciate about the space, with its well-maintained landscape and park grounds. Apart from seeing horse-drawn kalesas and armed guards in costume, you'll also find yourself walking alongside students on field trips and foreign tourists who still flock to the historic site; but catch it on a light day and you're set for a quiet walk around Plaza Moriones or Plaza de Armas, the central areas of the Fort where you can just sit back and enjoy the view.
Pass by the Museum Shop for souvenirs, or take a ride on a tranvia (street car) for a tour of Intramuros (starts at the NIA Compound beside Fort Santiago). Open from 8 a.m. to 5 p.m. daily. Entrance fees are P75 for adults; and P50 for students.
ADVERTISEMENT - CONTINUE READING BELOW
Call 527-1572 for more information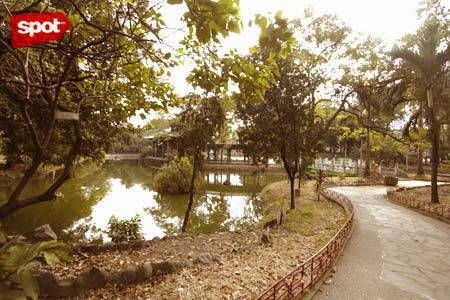 LUNETA/ RIZAL PARK
Roxas Boulevard., Manila
Beyond the Rizal monument is a Chinese garden where you can rest under a shade or take photos by a pond. Initially put up to commemorate Filipino-Chinese Friendship Day (celebrated every year on June 9), it's in better condition compared to the nearby Japanese Garden, but could still use more care from visitors and administrators alike. Outside of the garden and on Luneta's main grounds, there are still a number of areas that have yet to be re-discovered or maintained (like the Orchidarium across the street, which is currently under renovation, and an artist's area at the end of the park); but it still invites several tourists and families who enjoy the quiet ease and free space for simple picnics or even kite flying. People doing early morning exercises such as Tai Chi are also common sights at the park.
ADVERTISEMENT - CONTINUE READING BELOW
Concert at the Park, a weekly cultural project of the National Parks Development Committee held every Sunday afternoon at the Open-Air Auditorium, is honoring National Arts Month with a show on Sunday, February 7, 6 p.m., called Sayaw Pinoy, featuring PowerDance, UE Silangan Dance Troupe, Kislap Sining Dance Troupe, the Quezon City Ballet and the Halili-Cruz Dance Company. Admission is free (for Concert at the Park). Entrance fee for the Chinese Garden is P5.00.
Call 302-7079 for more information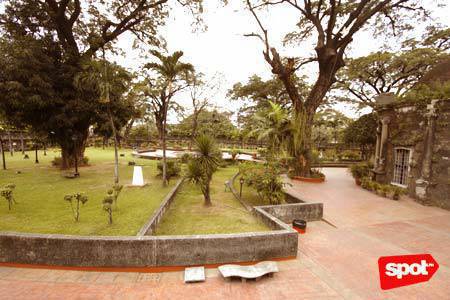 ADVERTISEMENT - CONTINUE READING BELOW
PACO PARK
San Marcelino and General Luna Streets, Paco, Manila
Known as a place where visitors can catch traditional music concerts, Paco Park has also been a favorite wedding venue because of its garden ambiance. But even without the music and festivities, people can still enjoy some quiet time by taking a stroll around the circular park. The central feature of the grounds is the Chapel of St. Pancratius, but hidden on either side of the circle are places of honor for Jose Rizal and Gomburza (martyred priests Mariano Gomez Jose Burgos and Jacinto Zamora)

Paco Park Presents celebrates its anniversary this month, which coincides with Philippine-German month. There will be free concerts held every Friday throughout February featuring acclaimed tenors, guitarists and other instrumentalists. It all began in February 1980, when Dr. Christoph Jessen, a German press and cultural attaché initiated these free concerts as a cooperative venture between the German Embassy and the National Parks and Development Committee during the Marcos administration. The park is open on Mondays to Sundays (except on Wednesdays) from 8 a.m. to 5 p.m. Entrance fee is P5.
ADVERTISEMENT - CONTINUE READING BELOW
Call 302-7079 for more information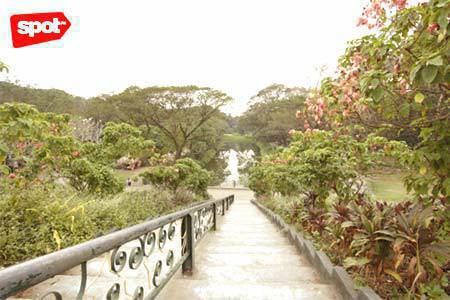 LA MESA ECOPARK
East Fairview Subdivision, Quezon City
It may seem at first that you've been transported to somewhere outside the city upon entering La Mesa Ecopark because of the shady forests and uphill streets. After a short walk amid sprawling leaves and trees, there are picnic spots and a salt-water swimming pool perfect for a summer outing with friends and family. There's also a boating and fishing lagoon, plus the Petron Fitness and Mountain Bike Trail where you can try out 17 exercise stations or go up a forested 1.2 km mountain bike trail.
ADVERTISEMENT - CONTINUE READING BELOW
In case you're not up for an active adventure, there are spacious huts where you can just lie down and rest as you listen to the sounds of nature. There are also different venue pavilions for rent and overnight camping facilities available. Soon to open are the Adventure Zone team building facility and mini-golf course. Open every day from 8 a.m. to 5 p.m. Entrance fees are P50 (regular rate); P40 (QC residents with valid ID and senior citizens who are non QC residents); and P20 (QC students with valid ID).
For more information, call 430-4051 or fax 430-5207; or log on to www.lamesaecopark.com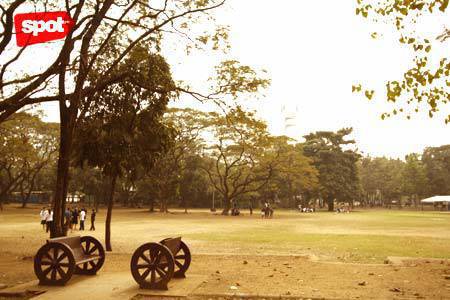 ADVERTISEMENT - CONTINUE READING BELOW
QUEZON MEMORIAL CIRCLE
Elliptical Road, Quezon City
With the inauguration of a new pedestrian underpass in December 2009, more commuters can easily get to the Quezon Memorial Circle and explore what it has to offer. Once managed by the Quezon City Parks Development Foundation, it has now been turned over to the Quezon City government which has developed new amenities to add to the existing lineup of regular activities at the park. Among those that have been done in the past at the park are flower and garden shows; ballroom dancing for senior citizens; calisthenics and other physical fitness programs; games and tournaments; and even public Masses.
Taking in the view from the top of the 66-meter shrine which houses the memorial chamber of late Commonwealth President Quezon is only one of several things to do while at the park. Many find it a good place for jogging, biking or playing basketball and volleyball at the courts; while a spacious playground is perfect for the kids to enjoy. There's also no shortage of restaurants and food stalls in case you want to grab something after that tiring workout. Open every day 5 a.m. to 10 p.m. Parking fee is P15.
ADVERTISEMENT - CONTINUE READING BELOW
Call 924-3412 or 924-3395 for more information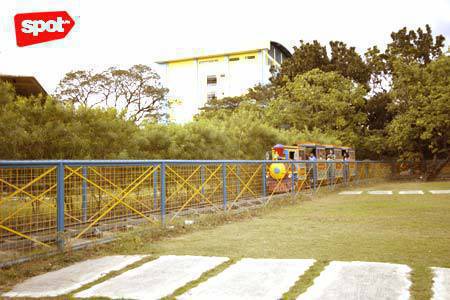 PASIG RAINFOREST PARK
F. Legaspi Street, Barangay Maybunga, Pasig City
Imagine playing your favorite sport, then going to the zoo or a butterfly garden afterwards. It might be an odd combination but these are some of the things you can easily do while at the Pasig Rainforest Park, which combines fitness activities with elements of nature for individuals and groups alike. Aside from having tennis and badminton courts, a swimming pool, a gym and fitness center, there's also a train that can take you around the park. The mini-zoo houses ostriches, crocodiles and monkeys. There's also an aviary, a full-sized amphitheater and a fountain, plus a children's playground and garden for senior citizens.
ADVERTISEMENT - CONTINUE READING BELOW
Students from the nearby school go to the park to hang out with friends or plan their group assignments, and the location is easily accessible even by public transportation. Open from 5 a.m. up to 7 p.m. Entrance is free. Swimming pool rates are P100 (regular rate); and P60 (for Pasig residents).
Call 642-5280 for more information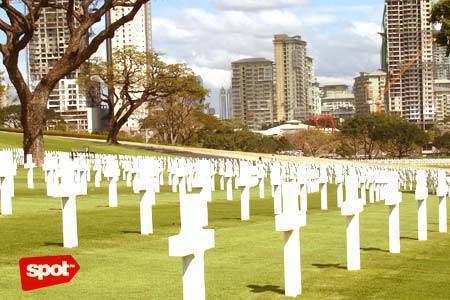 ADVERTISEMENT - CONTINUE READING BELOW
MANILA AMERICAN CEMETERY AND MEMORIAL
McKinley Road, Global City, Taguig
Although it's not a place for exercise, picnics or pets, this venue still provides a meaningful trip through history. Visitors to this memorial need not know anyone personally who gave up their lives in the war. A walk through the Wall of the Missing reveals the names of 36,286 uniformed men and women who gave up their lives and are considered missing in action as a result of World War II. Ten-foot high mosaic maps also illustrate the important routes during the war. Despite the sense of loss that it evokes, it is still a sight to behold for its neatly cut grass, shady trees and rolling hills of crosses that are lined up one after the other.
Managed by the American Battle Monuments Commission, the cemetery has 17,097 white marble headstones located in 11 burial plots which are arranged in concentric rings around the Memorial. You'll hear the sound of lawnmowers once in a while, but this 152-acre space is a peaceful spot, whichever corner you choose to sit in. Entrance is free.
ADVERTISEMENT - CONTINUE READING BELOW
For more information, call 844-0212 or 813.2521; or log on to www.abmc.gov
Share this story with your friends!
---
Help us make Spot.ph better!
Take the short survey
Load More Stories