Neighborhood Guide: Kapitolyo (2014 Edition)
It's only been a year, but Kapitolyo has seen some major changes and additions.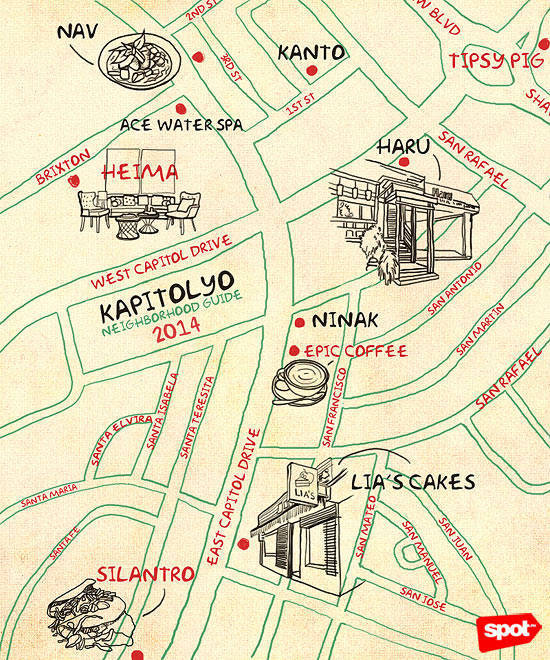 (SPOT.ph) Back when Pasig was the capital city of the province of Rizal, Kapitolyo was the seat of power, fronting the sprawling capitol compound. In 1975, after the informal designation of "Greater Manila" to the city of Manila's surrounding suburbs, the "Metro Manila" thing came along and ate up Pasig. But inconveniently left the capitol for an entire province stuck inside its borders for 33 years. Now, the capitol has moved to Antipolo, and Kapitolyo, which will forever keep its name, is now becoming known for something else entirely: good food.
Kapitolyo has been known as a great eating spot since the time of Three Sisters restaurant (which is still up and running, by the way), but new places keep coming in. In this updated neighborhood guide (check out our 2010 and 2013 versions), we highlight some new and some overlooked spots-and even give you alternatives located in the community. Cause when it comes to Kapitolyo, you're spoilt for choice.
ADVERTISEMENT - CONTINUE READING BELOW
Art by Warren Espejo
ALSO READ:
Neighborhoods: Kapitolyo Pasig
Neighborhoods: Kapitolyo (2013)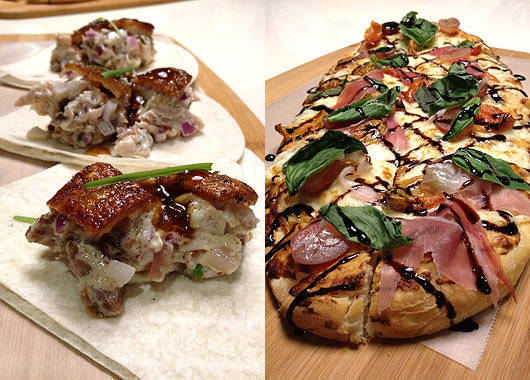 Tipsy Pig
Capitol Commons, Meralco Avenue corner Shaw Boulevard, Pasig City
Tel. No. 470-4620
Open daily from 4 p.m. to 3 a.m. (Monday to Friday) and until 4 a.m. (Saturday to Sunday)
What used to be the old capitol compound is now a high-end, commercial-residential Ortigas development in the vein of Ayala's Bonifacio High Street. The nightspot centerpiece of Capitol Commons is undoubtedly Tipsy Pig, which boasts packed crowds in its loft-style setup, even on weekday nights. Try their signature Salted Caramel Flavored Beer (P110)-served in cute handled jars, it's the perfect dessert-and-drink two-in-one punch. Another interesting dish? The Beer Can Chicken (P750), a whole roast chicken served with a beer can up its butt. You have to see it to believe. Don't forget to sample the Sisig Tacos (P280). On weekends, come before 10 p.m. if you want a seat.
ADVERTISEMENT - CONTINUE READING BELOW
Or You Can: Avoid the crowd and move the barkada next door to Black Olive Cerveseria. Order wine and a Gorgonzola-Manchego-Mozzarella Cheese Platter (P410).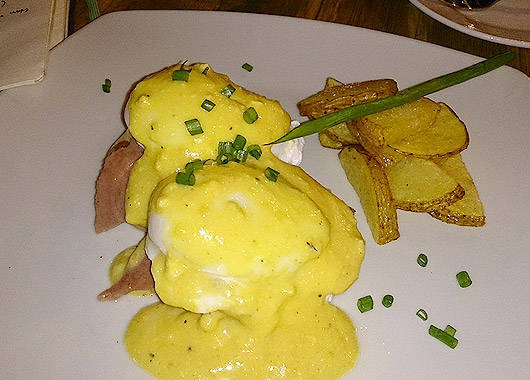 Kanto Freestyle Kitchen
1st Street, Kapitolyo Pasig City
Tel. No.  440-2268
Open daily from 8 a.m. to 12 a.m. (24-hour delivery)
We move onto one of Kapitolyo's best-kept secrets. Well, judging from the crowds, maybe it's not so secret anymore. It is the third branch, after all. In any case, Kanto is one of the cheapest breakfast places in the city-like, Eggs Benedict-for-P90 kind of cheap. We actually recommend that you get the Kanto Boy Breakfast (P90+), which are silog meals with quirky ulam choices that range from Batangas Beef Tapa to Spanish Sardines Tempura to Tuyo and Kesong Puti. It's open 24/7, so you can have your brekkie any time you want-the staff will shout "Good morning" even if you drop by in the dead of night.
ADVERTISEMENT - CONTINUE READING BELOW
Or You Can: Cool down with some Wintermelon Creme (P65 regular/P75 large) at Cha Dao Tea Place.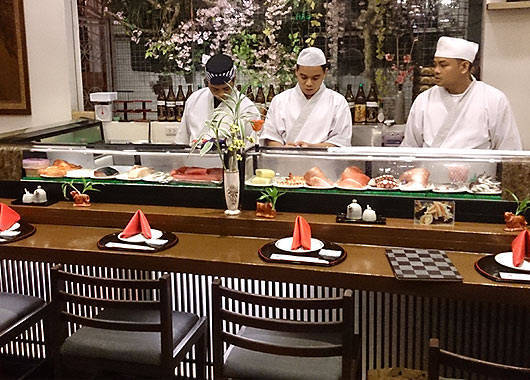 Haru Sushi Bar
21 West Capitolyo Drive, Kapitolyo, Pasig City
Tel. No. 631-0597 
Open daily from 11 a.m. to 2 p.m. and 5:30 p.m. to 10 p.m.
This Japanese place shares owners with Cafe Juanita, so the same over-the-top, clutter-kitsch, love-it-or-hate-it design aesthetic applies here-but with a Japanese flavor. Think fake spring blossoms gussied up with lights, a shelf full of anime robots, a complete set of hinamatsuri dolls, and a gigantic woodcut with some out-of-kimono sideboob. Forget the decor, though; you're here for the food. The menu runs to 18 (!) pages, but you can't go wrong with some of the best sushi in town. Load up on chewy Ika (P130/two pieces), then go for Maguro (P99/two pieces) or Hamachi (P250/two pieces), and cleanse your palate with Tamago (P69/two pieces).
ADVERTISEMENT - CONTINUE READING BELOW
Or You Can: Cross the street and scarf down a Cheesy Mushroom burger (P90+) at Good Burger.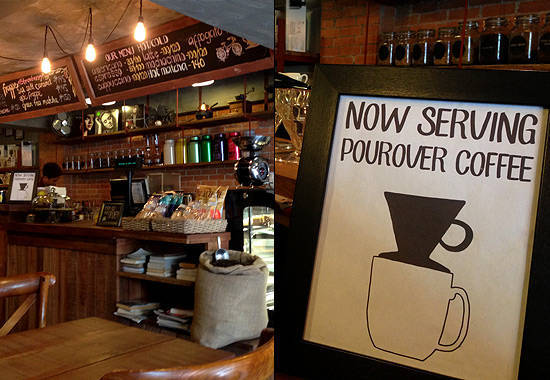 Epic Coffee Roastery
102 East Capitol Drive, Kapitolyo, Pasig City
Tel. No. 631-0058
Open daily from 8 a.m. to 10 p.m.
This handcrafted coffee spot is also known as "Epic Bike Cafe." It's pretty famous for the bikes parked inside-though they were absent on our last visit. Their manifesto still stands, though: "Inspire Artisans. More Bikes. Less Cars. Know Coffee." (Less cars? Good thing we walked to Epic, then.) It's quiet, without the usual coffee-shop crowd, so you can enjoy your Caramel Macchiato (P110/regular, P130/large) or Sea Salt Caramel (P110/regular, P130/large) in peace. Sweet tooth bugging you? The Cafe Affogato (P150/regular, P250/large) awaits.
Or You Can: Move to Ba Noi's for some piping-hot Pho Bo (P260)-or Vietnamese Drip Coffee.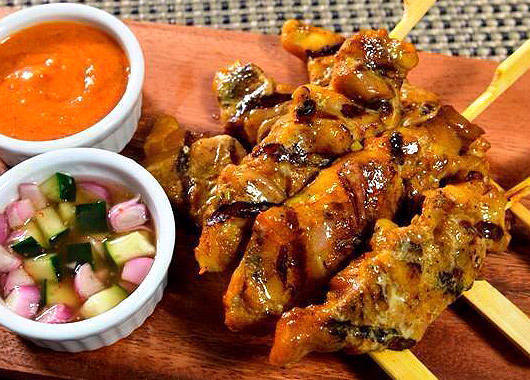 ADVERTISEMENT - CONTINUE READING BELOW
Photo from their Facebook page
Ninak
Unit 101 Seven East Capitol Building, East Capitol Drive corner Sta.Rosa Street, Kapitolyo, Pasig City
Tel. No. 655-6902
Open daily from 11 a.m. to 3 p.m. and 6 p.m. to 10 p.m.
Right beside Epic Coffee is Ninak, the name of which is, cleverly, kanin spelled backwards. They offer comfort food from all around Southeast Asia-Pinoy faves like Beef Sinigang (P290) shares space with Hainanese Chicken (P285) and Phad Thai (P280). We're partial to the Chicken Satay (P255), but for our money, the most clever item on the menu would be the Turon Halo-Halo (P120), a two-in-one dessert that packs classic halo-halo toppings inside a fried roll.
Or You Can: Grab a stick of Barbecue (P40) at the classic Three Sisters. Heck, why not make it two?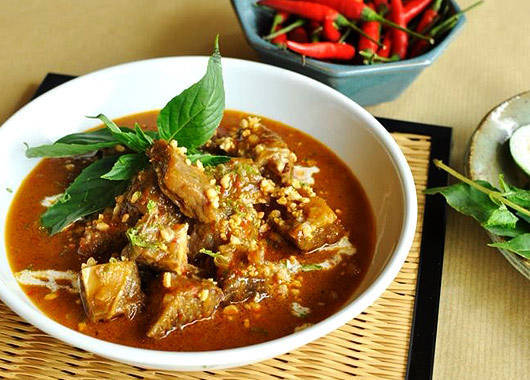 Photo from their Facebook page
Nav Modern Thai Cuisine
16-C United Street, Kapitolyo, Pasig City
Tel. No. 655-8395
Open from 11 a.m. to 11 p.m. (Sunday to Thursday) and 11 a.m. to 12 a.m. (Friday to Saturday)
ADVERTISEMENT - CONTINUE READING BELOW
Set near the border of Kapitolyo, it's easy to overlook this restaurant. You shouldn't, though. With its small space and lack of crowds, it is a great venue for a spontaneous date. The vibe is restrained and subdued, which is the complete opposite of its punchy food. More sweet than spicy, you can't go wrong with the Nav's Pad Thai (P280) and Wok-Fry Green Curry (P240). There's also an excellent appetizer dish called Son in Law Eggs (P195), which sounds like a grisly inside joke, but is actually boiled eggs that have their exteriors fried to a crisp and topped with tamarind sauce.
Or You Can: Go next door to the neighboring Uncle Moe's Shawarma Hub and have some beer with Beef Kebab and Buttered Rice (P150).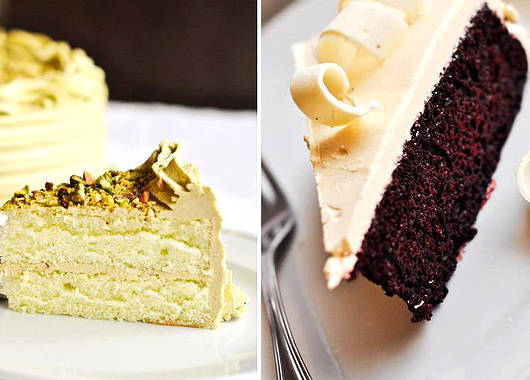 Photo from their Facebook page
Lia's Cakes in Season
25 East Capitol Drive, Kapitolyo, Pasig City
Tel. No. 633-1937,0917-660-5427
Open daily from 10 a.m. to 10 p.m.
ADVERTISEMENT - CONTINUE READING BELOW
Dessert junkies can ditch the savory offerings all over Kapitolyo and just decamp here. Known for years for their Avocado Cake (P85 slice/P670 whole)-a nutty, fluffy confection that stars an ingredient you don't usually see in pastry-you can also try their tangy Calamansi Tea Cake (P45 slice/P340 whole) and the very sweet Strawberries & Cream (P65 slice/P520 whole). Once you've cleared your plate, don't be selfish and order a whole cake for the folks back home.
Or You Can: Make like an Irish reveler and have a St. Paddy's Original Wings (P280) and a Guinness at St. Patrick's bar just across.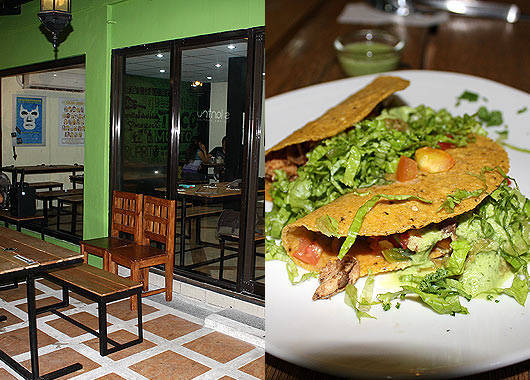 Silantro Fil-Mex Cantina
75 East Capitol Drive, Kapitolyo, Pasig City
Tel. No. 0917-508-4748
Open daily from 11 a.m. to 12 a.m.
Hailing from Dagupan, this cantina's been bringing in a loyal clientele thanks to its supersized servings and good food that's liberally topped with (what else?) cilantro. As the Mexicans have known for centuries, cilantro makes everything taste awesome, and this joint employs it to full use, sprinkling it all over their barkada-pleasing Beef Nachos (P160), or the too-tasty-to-share Completo Lucho Taco (P100). Wash it down with their Mojito (P110), a cocktail with kick.
ADVERTISEMENT - CONTINUE READING BELOW
Or You Can: Head on to RUB Ribs & Barbecue and have your fill of tasty ribs with their Family Brunch (P685). It's good for four-or rather, three, cause it's too good to stick to just one serving.
NOT IN THE MOOD FOR EATING?
Ace Water Spa made it onto our list of Top 10 Best Swimming Pools in Manila, thanks to its extensive amenities. (The ground floor also has a host of dining choices, including Eleven Tables, Persian Grill, and Size Matters).
Rawlicious also has a stall along West Capitol Drive so you can restock for your juicing needs. Bottles will set you back around P120 to P215 while a Three-Day Cleanse set costs P2,520.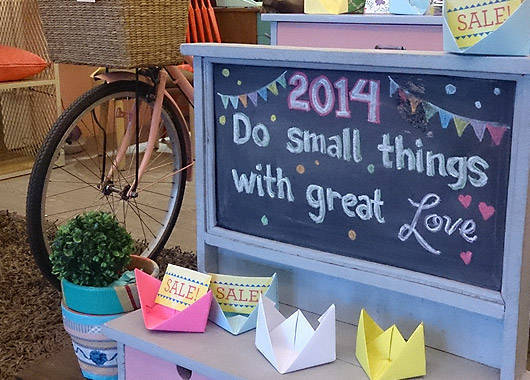 Heima
And, it's not technically inside Kapitolyo (it's located just outside the barangay gates), but Three Brixton houses hipster haven Heima, yoga center Urban Ashram, and creative workspace Co.Lab. Vegetarians are also singing praises about Edgy Veggy, located right next door to Heima.
ADVERTISEMENT - CONTINUE READING BELOW
ALSO READ:
Neighborhoods: Kapitolyo Pasig
Neighborhoods: Kapitolyo (2013)
Load More Stories